The National Hurricane Center began issuing advisories for Tropical Storm Bret on Monday, and we're also tracking a second system not far behind that likely will also become a named storm. Both of these systems have formed in the "main development region" of the Atlantic where tropical systems often begin their lifetimes. However, the season for storm formation in the main development region typically does not kick off until August.
So what's happening out there? Well, it's blazing hot.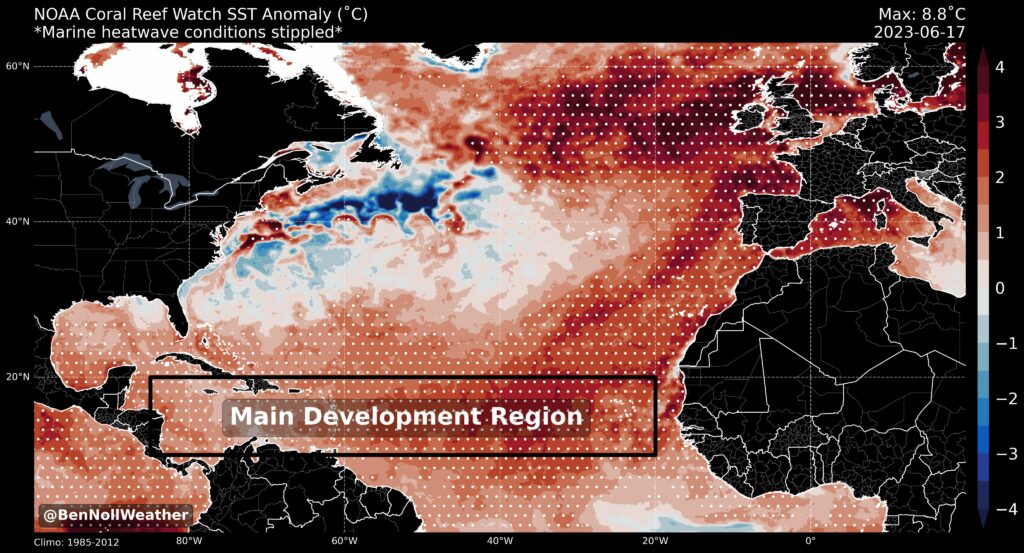 Ben Noll, a New Zealand meteorologist, noted on Monday that sea surface temperatures in the main development region are the warmest they've been on record for June. In fact, the seas are as warm now as they typically are in late August or September, when the Atlantic hurricane starts to peak. That's one reason why we're seeing a spate of early season activity.
A second chart from Ben is equally concerning, as it shows temperatures in this region presently exceeding those of the 2005 and 2010 Atlantic hurricane seasons, both of which produced frenetic activity. The 2005 season remains the most active year in my lifetime, and Gulf Coast residents will doubtlessly remember Katrina, Rita, and Wilma all reaching Category 5 status in the Gulf of Mexico.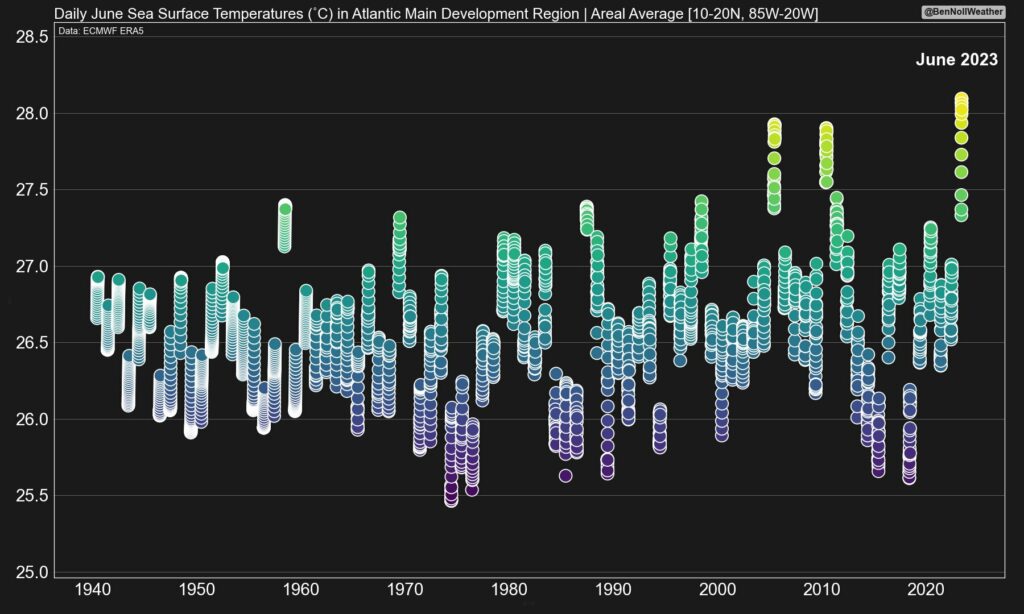 Warm seas are not the only factor in storm formation, of course. This year, with El Niño in the Pacific, we can have some hope that wind shear will counteract the formation of storms. But worryingly, so far, warm seas appear to be winning out against El Niño. I have to say that I am starting to get mildly concerned about what is to come this year, particularly in August and September.
One-sentence summary
We're tracking Tropical Storm Brett as well as Invest 93L, which has been given an 80 percent chance of developing this week into a depression or named storms in the coming days.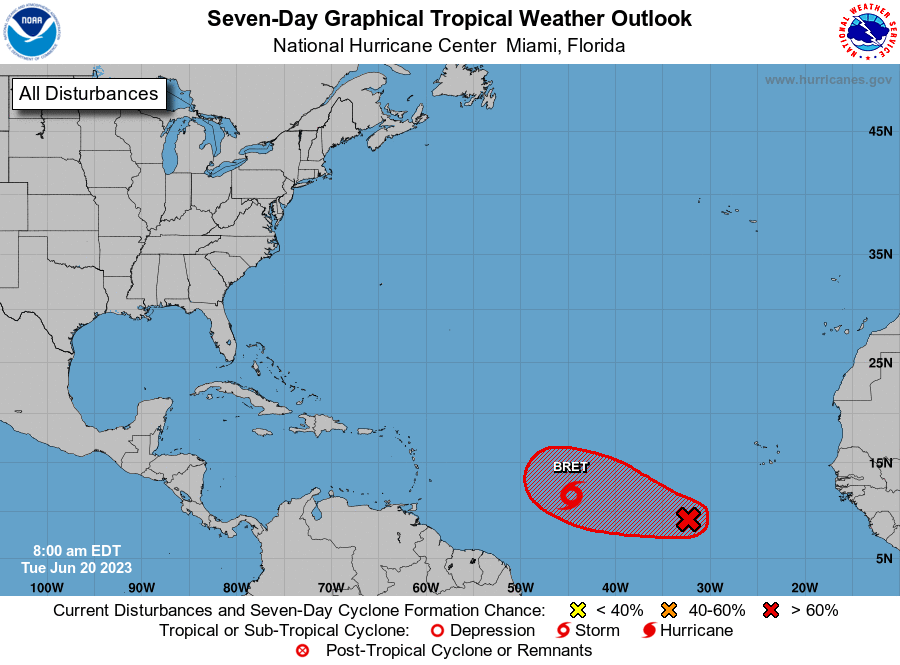 Happening now: The stage is set for Bret, with a possible encore
Here's what we know about the two tropical systems out there.
Tropical Storm Bret
First of all, with apologies to fans of George Brett, this system has just one "t." After forming on Monday the storm has changed little in intensity overnight, with sustained winds of 40 mph. This is likely due to some moderate wind shear nearby. Not enough to break the storm apart, but enough to keep its organization at bay.
The system has about three days to get its act together before shear is expected to increase, in which case Bret should start to weaken. At present the National Hurricane Center brings Bret to hurricane strength briefly, before winding it back down on Thursday night as it approaches the Lesser Antilles islands in the Caribbean Sea.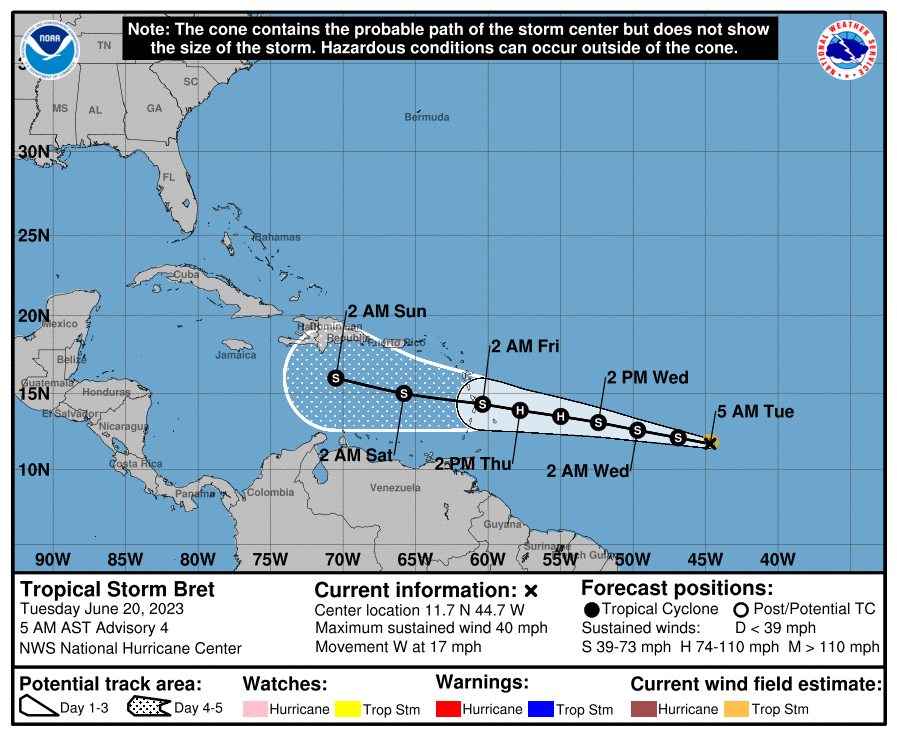 No one wants to see a tropical storm headed their way, and Bret is something that people in the Caribbean Islands, including Puerto Rico, the Dominican Republic, and Cuba will want to keep an eye on. Damaging winds and heavy rainfall are definitely possible with Bret later this week or weekend, although I don't think we're looking at a situation where this storm really blows up. My biggest concern is flooding, but it's not really possible to say where the heaviest rain will occur. We should have a better handle on the overall threat tomorrow morning.
Invest 93L
Much like its predecessor, Bret, how well this tropical system gets organized is tied up with where it goes, with a better organized disturbance likely turning northwest before the Caribbean and a less organized one likely following 92L to the west and into the islands. For now the most likely outcome, I believe, is that this system turns north before reaching the Caribbean Sea. That would be best for all concerned, except maybe for the fish.
The medium range (days 6-10): And then there were three?
As Matt noted on Monday, there are some signs in the models that yet another disturbance will emerge off Africa soon, and that this may be something that could develop over the weekend or next week. However the models don't appear too excited about this system becoming a big deal, likely due to a fairly uninviting environment overall for development. Certainly at The Eyewall we're rooting for shear to have its day.
Fantasyland (beyond day 10): Possibly calmer to end June
After this present spate of activity, the overall tropics may turn a bit quieter to end the month and start July.
Hopefully?