With the Atlantic tropics (and Pacific to a lesser extent) quieting down now, our schedule at The Eyewall will take on more of a "less regular" pattern. We will update on significant US or late season tropical weather events, and we'll work to incorporate some suggestions for other content we can offer. For now, expect at least a post on Mondays to table set the week ahead.
Our ultimate goal is to be a daily one-stop shop for weather news and notes, with a focus on hurricanes. Sort of like "The Morning" or whatever other favorite morning newsletter you use — but for weather. So look for coverage of major storms, cold outbreaks, blizzards, etc. irregularly (for now) in the coming months.
And please, continue to spread the word to your friends and family. We've had a great first few months building up a base thanks to our coverage of storms like Lee in Canada, Idalia in Florida, and Hilary in the West. Our top cities for viewers come from Houston obviously but also Dallas, New York, Halifax, Chicago, Atlanta, Miami, and Boston.
My two favorite posts so far have been our in depth look at what has fueled an increased frequency of major Gulf hurricanes, as well as our post explaining why Hurricane Otis did what it did recently to Acapulco. We will recap the Atlantic season next month when the final tally is in.
Feel free to offer any suggestions for things you want from us in the comments. Or things you don't want! We can't promise anything, but we'll do our best to work in suggestions.
Continue to give us a follow on our social media platforms, as we'll update those periodically through the next few months as well.
Facebook
Instagram
TikTok
Twitter
Threads
Bluesky
Mastodon
Thanks for your support in our first 5 months, and here's to our future growth!
One-sentence summary
Invest 97L now seems unlikely to develop, but it will bring a healthy amount of rain and flooding risk to Central America in the coming days.
Invest 97L: Probably out of time to develop, but will still bring big rains to Central America
In the words of the legendary Hall & Oates, "I'm out of time." Or at least that's what Invest 97L is saying at this point.
Invest 97L is struggling mightily this afternoon. Development chances have dropped to a paltry 20 percent with this system as it approaches Central America.
And judging by the satellite picture I pinned above, even 20 percent might be generous. Whatever the case, an area of disorganized showers and thunderstorms will approach Central America over the next few days. Two things: First, credit to the European model for being very lukewarm on organization with this, whereas the GFS was quite bullish on intensity. Second, this remains a heavy rain and flooding threat for Central America and places ringing the Gulf of Honduras. Rain totals as forecast by various models continue to show anywhere from 5 to 15 inches or even more in spots. I am most concerned about the coast of Honduras, Guatemala, and Belize, as well as far northern Nicaragua.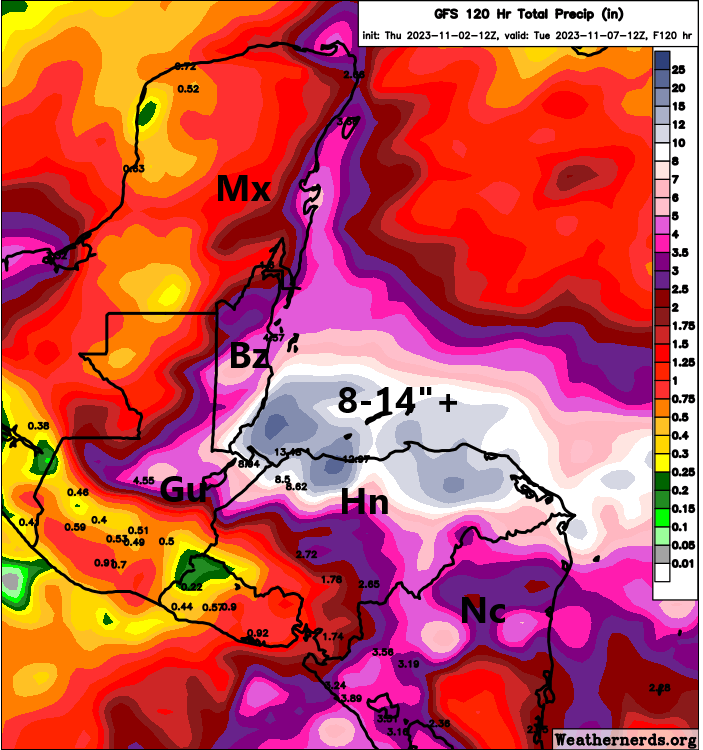 Rain of this magnitude will likely lead to flash flooding, as well as the potential for mudslides in these areas. And this assumes little to no organization of 97L, so as we have been highlighting, we can view this as a big time rainmaker.
Elsewhere, both the Atlantic and Pacific look quiet over the next week, with no real land issues expected.
The rest of the U.S. looks pretty quiet with no significant extremes in temperature expected over the next 5 days or so. Rain will continue but should be manageable in the Northwest. Mountain snow, not atypical for November will continue in the interior West at times.