Evacuation ahead of a hurricane can be a chaotic, difficult, and excruciating experience. As meteorologists, we are here to provide the best information possible to inform your decision-making. Our advice to our readership will always be to follow the instructions of local officials when it comes to evacuation decisions. We cannot answer specific questions about evacuating your specific location, as everyone's circumstances differ. Some people simply choose not to evacuate. Others do not have the means or safety net to absorb such an economic upheaval and are forced to remain.
Make a plan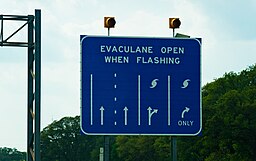 What we do want to do is provide you with links to resources to help you no matter what situation you find yourself in. The general rule of thumb is to know your risks for your particular location. Hurricanes are complicated. Hazards from storm surge, wind, and inland rainfall are all part of these storms, so it's important to first note if you are even at risk for any of these things. Understanding your location's specific risks can help you to build a plan for work, life, childcare, pets, relatives, and evacuation if applicable. It will also allow you to know what to do to secure your property in the event a storm threatens.
Build a kit
Once you develop your plan, build a supply kit to have essentials on hand for a lengthy evacuation trip. Do this during the offseason or early in the season to save yourself hassle, time, and stress. Harris County, TX has developed a handy checklist for these things. Acquire as much as you can, and have it ready to go on short notice.
Documents!
Next, it's critical that you have copies of important household or financial documents handy or safely secured somewhere digitally or physically. This will help in the event of damage or anything else that comes up, should the evacuation become lengthy.
Make sure your family is aware of all these things, recognizing that they may need to act quickly when a storm is near. There may be storms that provide less lead time than desirable for county officials to order an evacuation, so be prepared for the potential that you may go from monitoring the situation one morning to quickly evacuating by evening.
By no means is this an exhaustive list of things to do, but taking these steps ahead of time to secure your personal life before the event will help shave a bit of stress off the physical act of evacuation, should you need to do so.
Links to state and local evacuation information
We have efforted to compile a list of links to each coastal state's hurricane preparedness sites, almost all of which should direct you to evacuation information. Additionally, we have added some local or county level sites as well. These links are current as of May 2023. If you see any broken links, please let us know via a feedback form, and we'll get them fixed as quickly as possible.
Houston-Galveston Area Council Evacuation Info & Tips
Louisiana Emergency Preparedness Guides
NOLA Ready (New Orleans)
Mississippi Hurricane Preparedness
Alabama Hurricane Preparedness
Florida's Essential Guide to Hurricane Preparedness
Fort Lauderdale Hurricane Preparedness
Hillsborough County Hurricane Preparedness (Tampa area)
Orlando/Orange County Hurricane Safety Guide
JAXReady (Jacksonville)
Lee County Hurricane Preparedness
Georgia Hurricane Preparedness
South Carolina Hurricane Guide
Charleston Hurricane Preparedness
Ready North Carolina Preparedness
Outer Banks Hurricane Preparedness (Dare County)
Maryland Hurricane & Tropical Storm Preparedness Tips
Hurricane Survival Guide for New Jersey
New York State Hurricane Preparedness
New York City Coastal Storms & Hurricane Guide
Connecticut Guide to Hurricane Preparedness
Rhode Island Hurricane Preparedness
Massachusetts Hurricane Season Preparedness