One-sentence summary
There are a couple things down the road to monitor, but in the near-term Invest 96L is beginning to run short on time, as generally dry air and wind shear hinder it from organizing.
Happening now: Invest 96L struggling
One of the things that has stood out to me personally this hurricane season so far (and granted, it's still early) is that modeling has been very hellbent on at least 3 or 4 systems developing that have never gotten past the invest or depression stage. It indicates to me that there is some sort of disconnect between what makes meteorological sense (what the models would depict) and reality. It's clear that there has been some sort of inhibiting factor that is limiting storm development this season. So far.
Invest 96L is another feather in that cap, as it is struggling this morning, despite odds as high as 80 percent for development yesterday.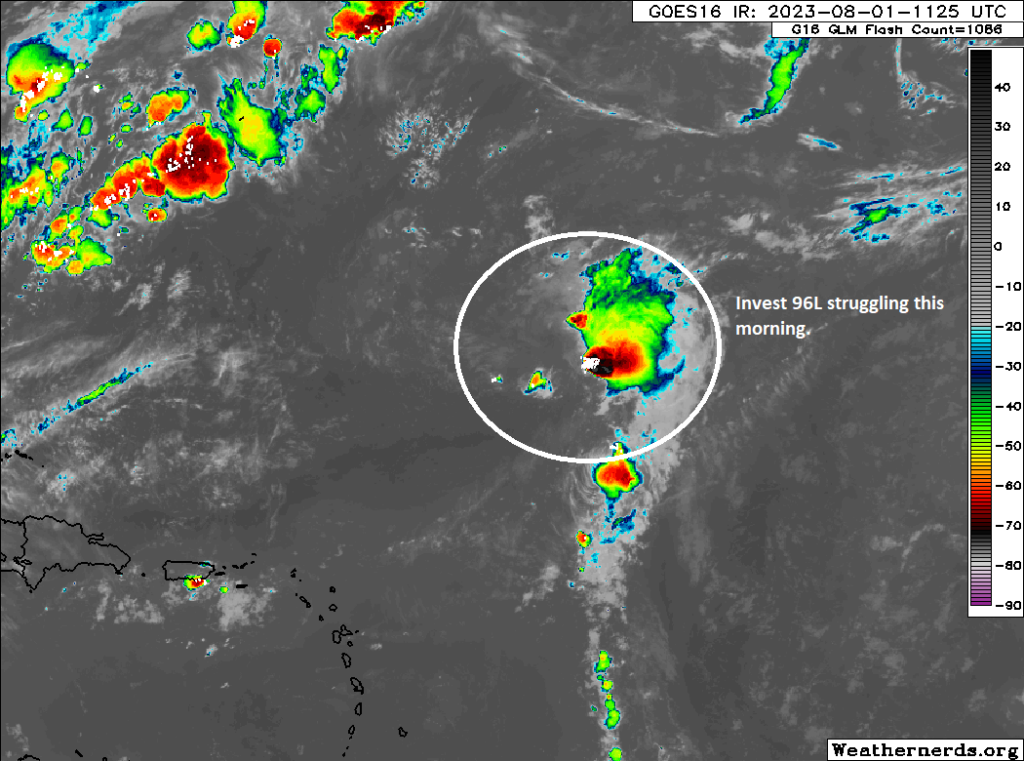 Those odds are down to 50 percent this morning, and quite frankly, we're going to run out of time. 96L has been dealing with a lot of wind shear of late, and that surely is not helping matters. It seems to also be embedded within a residual Saharan air layer pocket, which means it's also struggling with some dust and drier air.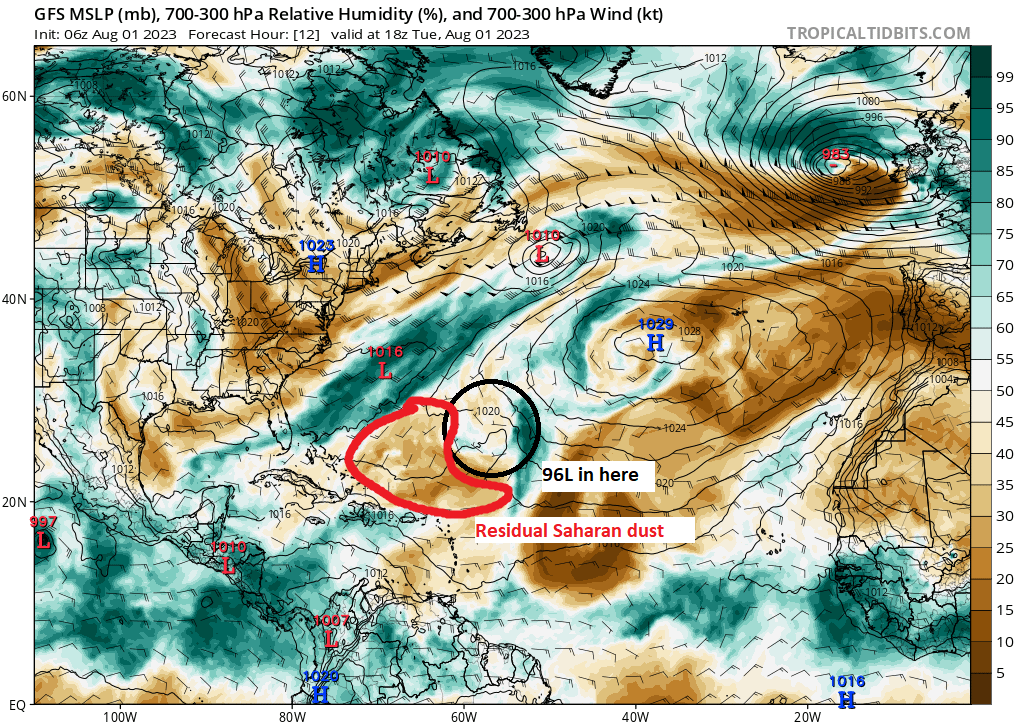 Whatever the case, if 96L develops or not, its future is pretty clear that it will turn out to sea and run out of time to develop by about Thursday or Friday. It will not impact land.
Elsewhere, the next few days look quiet.
The medium range (days 6 to 10): A wave to watch, maybe
If we squint, maybe the tropical wave emerging off Africa today and tomorrow has a chance to do something. This will plod west over the next several days, unlikely to develop, initially. If we look at the day 9 forecast for the upper air pattern over the Atlantic, a sprawling area of high pressure is expected to focus near and just south of Bermuda.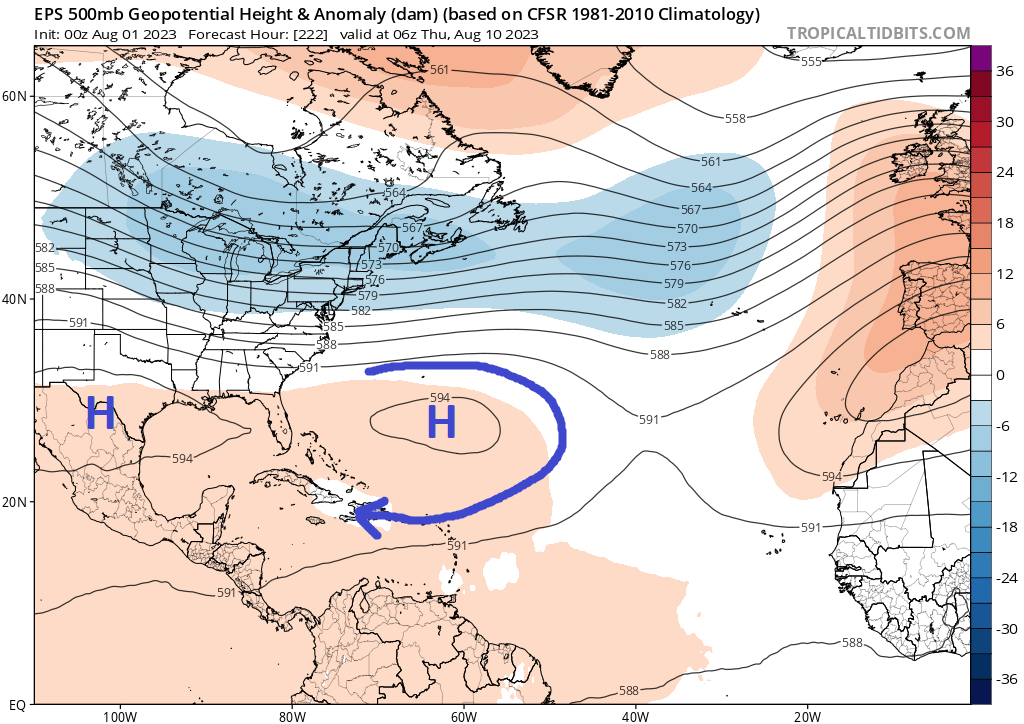 This will likely force any tropical wave to initially go south and west toward the Caribbean. Thereafter, there are many questions. You can see another high over Texas on this European ensemble forecast above. Options would include the wave staying in the Caribbean if either high pressure can check in stronger or something "splitting the gap" between the two high pressure centers as explicitly shown above. Or something else. It's early. So we'll keep an eye on things and see if this becomes actually something to watch or just another tropical wave that fails to find a home in the Atlantic.
Fantasyland (beyond day 10): GFS going wild
Yesterday, the 12z GFS model brought a healthy storm into the Southeast U.S. after developing it from some sort of shenanigans off the Southeast coast. Interestingly, it repeated that overnight and brought a storm into the Gulf. That won't happen as shown, but I am wondering if some of this is just the models failing to "resolve" the tropical wave shown above. Any ensemble support for development in Fantasyland seems to be connected to that wave. So the activity showing up here may be linked to what we see in the medium range. Either way, it appears things may get at least a little more active here, though how much so remains to be seen. Admittedly, I am a bit more intrigued by <waves hands> all this than I have been by much this season. We'll keep watch.