One-sentence summary
While there remains a lot of noise in the Atlantic for the next 7 to 10 days, the main items of interest from a land-impacting potential may be disturbances that try to form closer to home in the Gulf or near Central America.
Happening now: Noisy but not expecting a whole lot to formally develop this week
Tuesday morning in the Atlantic basin shows a conga line of thunderstorms stretching from northeast of South America all the way to Africa. This is the inter-tropical convergence zone (ITCZ).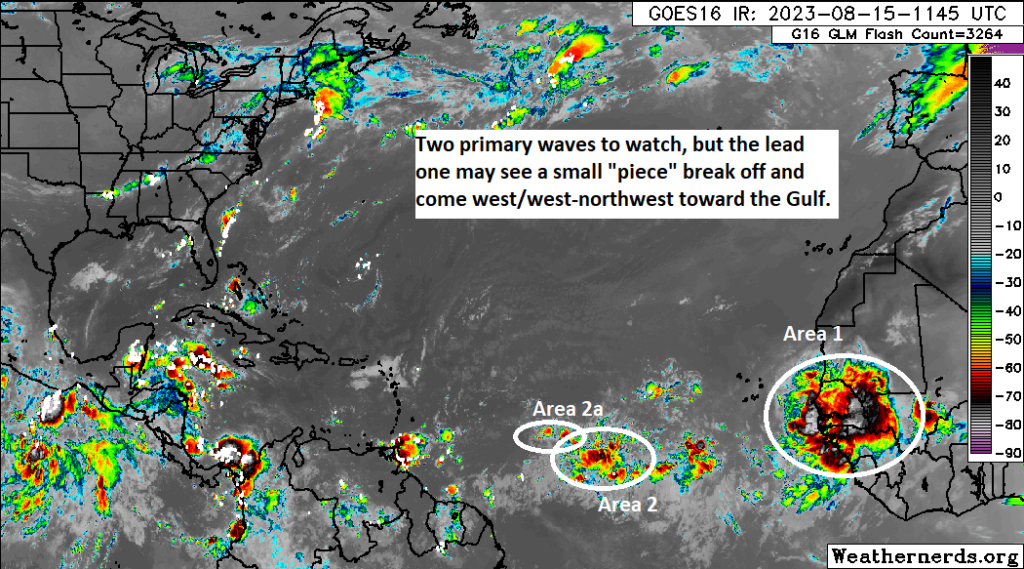 On the map above, I've annotated the various things we're watching. Let's walk through them and what to expect through early this weekend.
Area 1: Easternmost tropical disturbance with 30% odds of developing per NHC
The area with the highest risk of developing over the next week is still over Africa this morning. This particular feature is expected to emerge later today or tomorrow into the Atlantic. It will take a couple days to organize after that, and any development before this weekend would be on the low-end.
I'm actually going to refer you to yesterday's medium range section for more discussion on this system. Not much has changed in terms of the influences it will feel and why we believe it will launch out to sea. Yes, it has a chance to develop. No, we don't believe it will develop significantly. And for now at least, we do not anticipate that it will impact land.
Area 2: Tropical wave embedded in the ITCZ halfway across the Atlantic with 10% development odds
The second area highlighted by the NHC is the tropical wave about halfway across the Atlantic. This is embedded in the ITCZ right now, which means it will probably need to break free to really develop. I'm not entirely sure that's going to occur, and even if it does, this wave will likely be surrounded by dry air and have to fend off some wind shear as it approaches the Caribbean.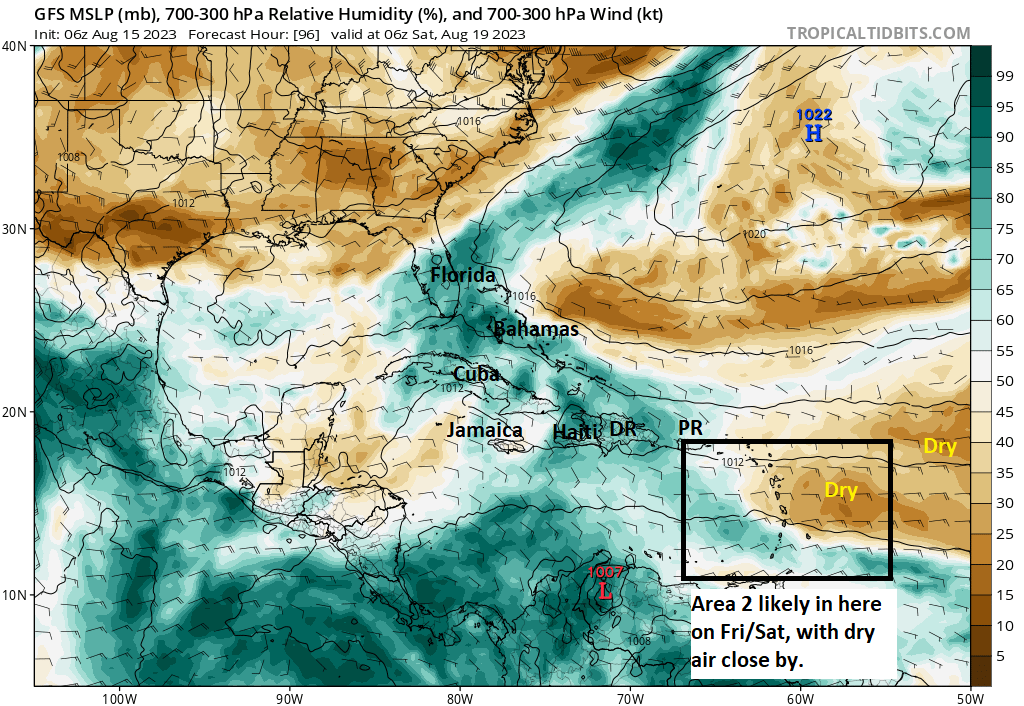 So, the 10 percent odds seem reasonable right now, which is to say not impossible that it might develop but unlikely.
Area 2a: A "piece" of that tropical wave that may race toward the Gulf next week
So, to be clear, no development is expected from this area over the next 5 days. But, if you look at some upper level maps, you can pick out a "piece" of this mid and upper level disturbance that comes hauling, I mean hauling west over the next 5 days. It makes it from the middle of the Atlantic to beyond Florida by day 5.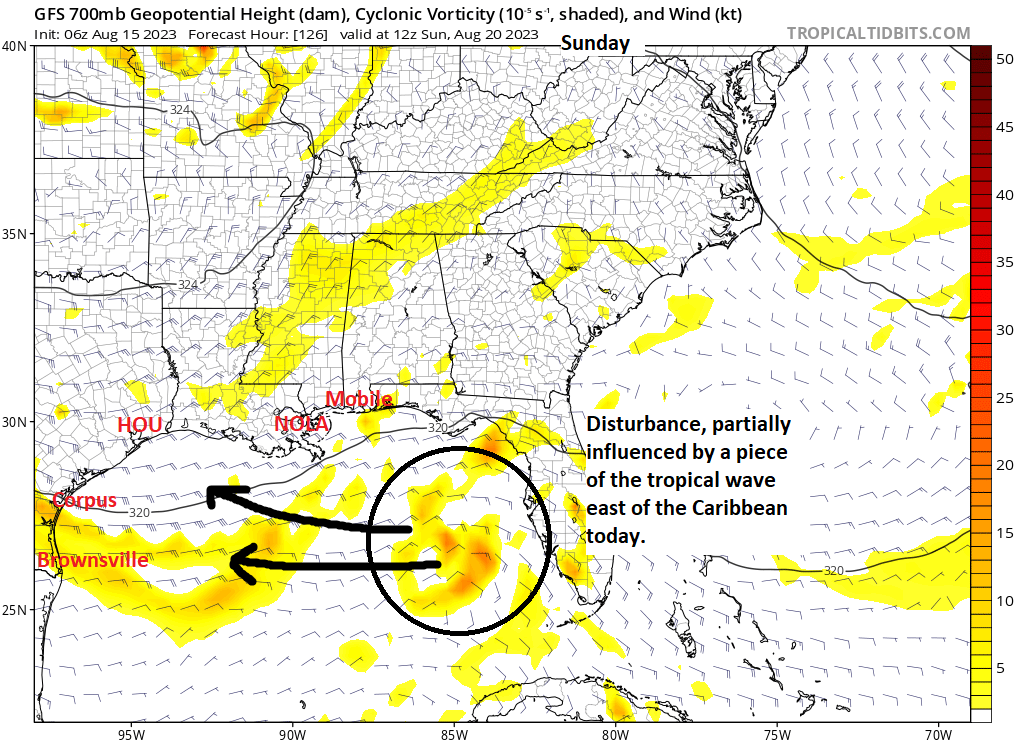 By the end of the near-term, this disturbance is mostly unchanged and continuing to race west. Again, no development is expected.
The medium range (days 6 to 10): Watching the Gulf? Kind of.
Continuing from above, by day 6 (Monday), the disturbance we're watching moves to just south of Louisiana. And by day 7 (Tuesday) it has come ashore in Texas. There are significant model differences in exactly where this disturbance will go, but it will likely lead to some tropical rains in parts of Texas and/or Louisiana. But given the uncertainty, it bears some watching.
The speed of this disturbance is something else. That is both good and bad. The good news is that a quick moving disturbance will limit its residence time over a record warm Gulf of Mexico.
Less time over water means less time to organize. Truthfully, the speed of this disturbance itself will be a detriment to development, as systems that move this fast hardly have time to get their acts together. It would be one thing if it were already organized, but it won't be. Between all that and some moderate wind shear, it seems that this system is unlikely to organize.
The good news is it will bring a meaningful chance of some rain to a bone dry, drought-plagued western Gulf Coast.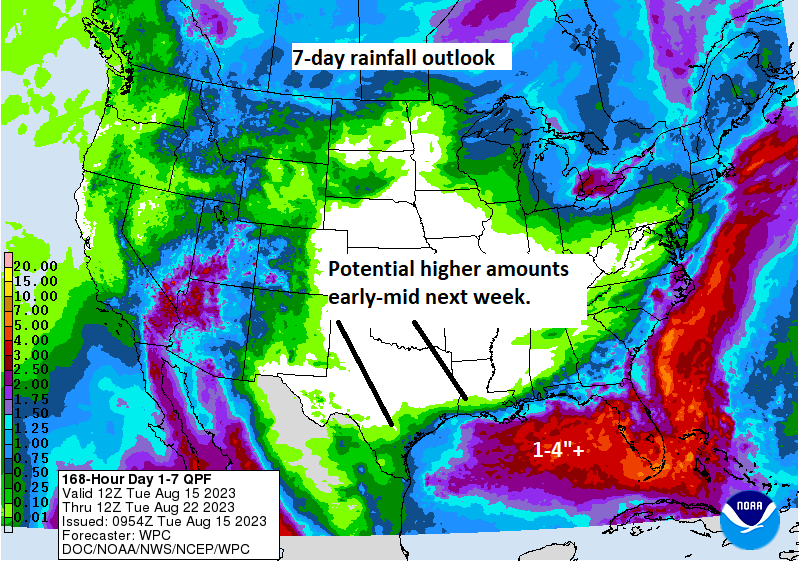 The bad news is that because it's moving so fast, any benefits may be very brief. We will have more on this as it gets closer.
Aside from the Gulf, we'll continue to watch the system off Africa that we expect to turn out to sea. There may be a second wave that emerges later in the period as well that has some development chances.
Overall, I think you can classify the next 10 days as semi-active. Yes, we have development opportunities, but none are slam dunk cases.
Fantasyland (beyond day 10): Looking closer to home
I'm not entirely sure how the extended range is going to play out. Broadly, the Atlantic basin looks favorable for development. Realistically, however, there's not a lot sticking out right now. But there seems to be a slight signal in the modeling that some type of hot spot may exist in the Gulf or near the Yucatan, possibly courtesy of a Central American Gyre (CAG) type pattern. Maybe. Gyres are tough to predict, and specific tropical systems emerging off CAGs are even more difficult to predict more than 5 to 6 days out. So I won't rampantly speculate for you. Other sites can do that.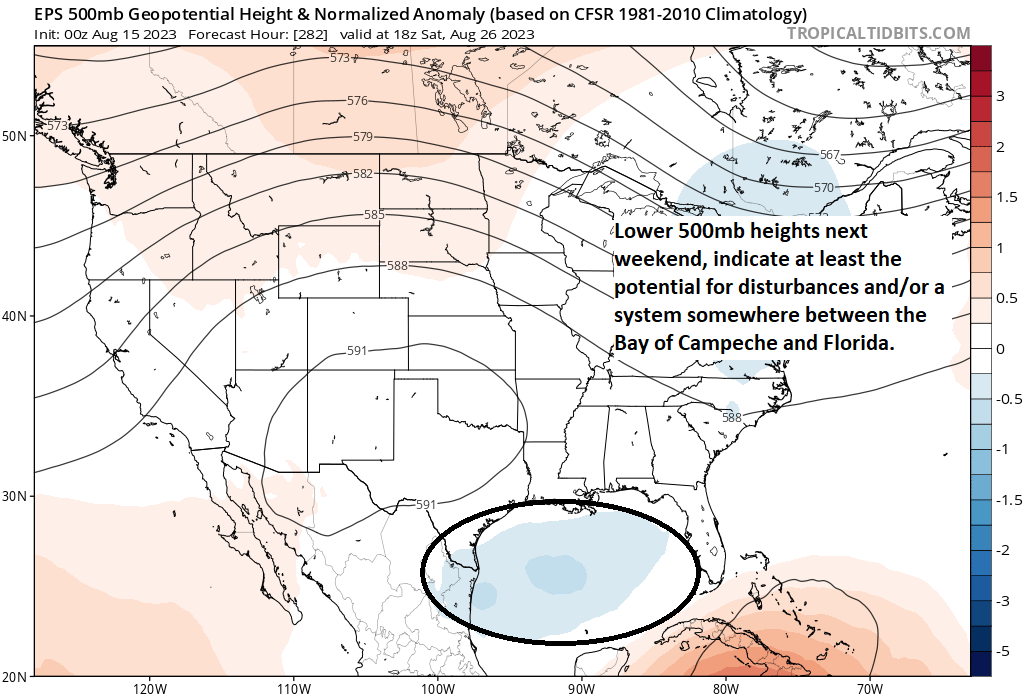 The map above shows the 51 European model members averaged together to produce a "normalized" 500 mb height anomaly next weekend, or basically what the pattern is doing 20,000 feet above our heads. There's clearly a signal that some type of upper low or disturbance may be in the vicinity of the Gulf closer to days 12 to 15. Whether that's an non-tropical upper low, a disjointed area of storms, an organized tropical system, or nothing at all I could not tell you. I've done this long enough to know not play speculation games with CAGgy-type setups (and even non-CAG setups too!). For now, I'll just say let's watch and wait; there's enough signal in the models that says "let's monitor the Gulf." However, I would not expect much clarity on the specifics of the final days of August for another week or so.
Aside from that, we'll keep watch on the Atlantic, but I'm not enthused by anything in particular at this time.