One-sentence summary
No tropical development is expected over the next few days, but there is some chance that a tropical wave coming west across the Atlantic will make an attempt heading through next week.
Happening now: All noise, no substance for now
Looking out over the Atlantic's main development region (MDR) this morning, there is definitely some thunderstorm action but there is nothing near organization.
I'm not sure that I would assign a zero percent chance to this developing, but over the next 2 to 4 days or so, there is surely nothing imminent from the slop out there. Either way, look for storms to gradually work west or west-northwest across the Atlantic basin.
The medium range (days 6 to 10): Same story, same places
As we watch the Atlantic's MDR over the next several days with these emergent waves, I don't think the medium range will offer a whole heck of a lot different: Keep watching the MDR. There are no signs right now of anything close to home, and the north Atlantic looks quiet at this point. So we'll keep watching between the Cabo Verde Islands and the Caribbean. If anything were to really get going from this stuff, it would probably wait until it got closer to the islands or the Americas.
Let's briefly talk about what is expected out around day 7 or so. If we look at the forecast upper level map from the European ensemble mean (an average of about 50 different European model runs), we can see two areas of high pressure. One is over Texas and Mexico; another is over the Atlantic, southeast of Bermuda.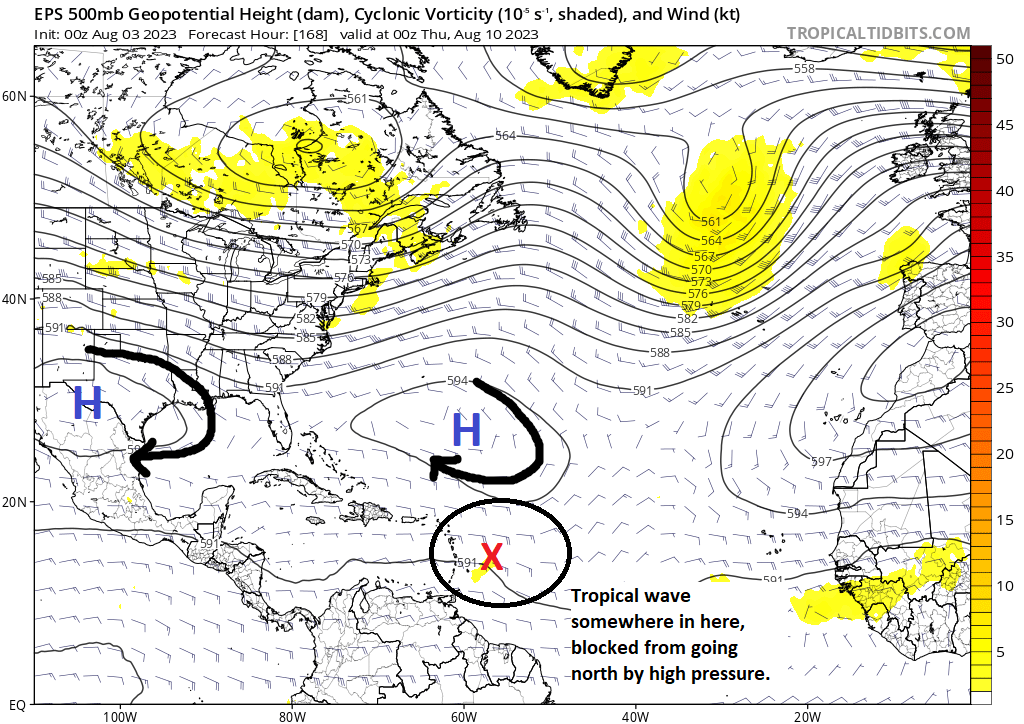 What this setup should do is take the tropical wave, assuming it doesn't develop, and steer it west toward the Caribbean islands. So I would anticipate some better rain chances in that region by midweek next week. Beyond that, the pattern should allow for the wave to continue west toward the Gulf, unlikely to develop still by late in the period.
Fantasyland (beyond day 10): Nothing coherent, but stay tuned
If you believe the GFS operational model, the wave discussed above will develop at some point in the Gulf. I'm skeptical that will happen, surely as shown by the GFS, but given this is 10 days or more out there's enough reason to keep watching the progress of this wave.
Overall, there is certainly more persistent "noise" in the extended forecast right now, but beyond monitoring that one wave, there is little else specific for us to really latch onto. So the moral of the story at this point is to just keep watching. We'll almost certainly have something to talk about before the end of the month.