One-sentence summary
There is some sporadic tropical wave activity out there in the Atlantic right now, but nothing worth getting too worked up about—but next week, maybe?
Happening now: Not a whole lot
This morning's satellite snapshot of the Main Development Region for tropical systems, between Africa and the Caribbean Sea, shows some waves dinking and dunking along. But there's just not much that's too impressive out there. And anything that gets too frisky is likely to get sliced up like sushi due to fairly high wind shear levels across much of the basin.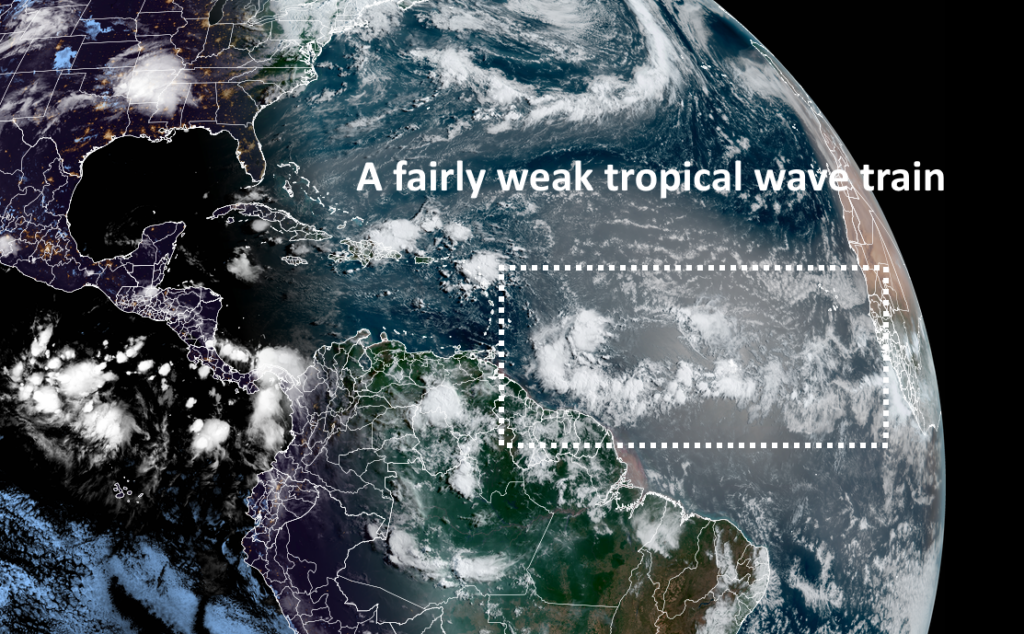 I would expect this pattern to persist for the rest of this week.
The medium range (days 6 to 10): Some tropical-ish near Cuba?
The medium-term is a little bit more interesting. Various ensemble members of the European model, in particular, seem to latch on to a low pressure system in the northwestern Caribbean Sea this weekend, and drag a weak low pressure system into the Gulf of Mexico next week. I'm not bullish on development, but if anything does it probably would be driven westward into Mexico due to the persistent high pressure over Texas.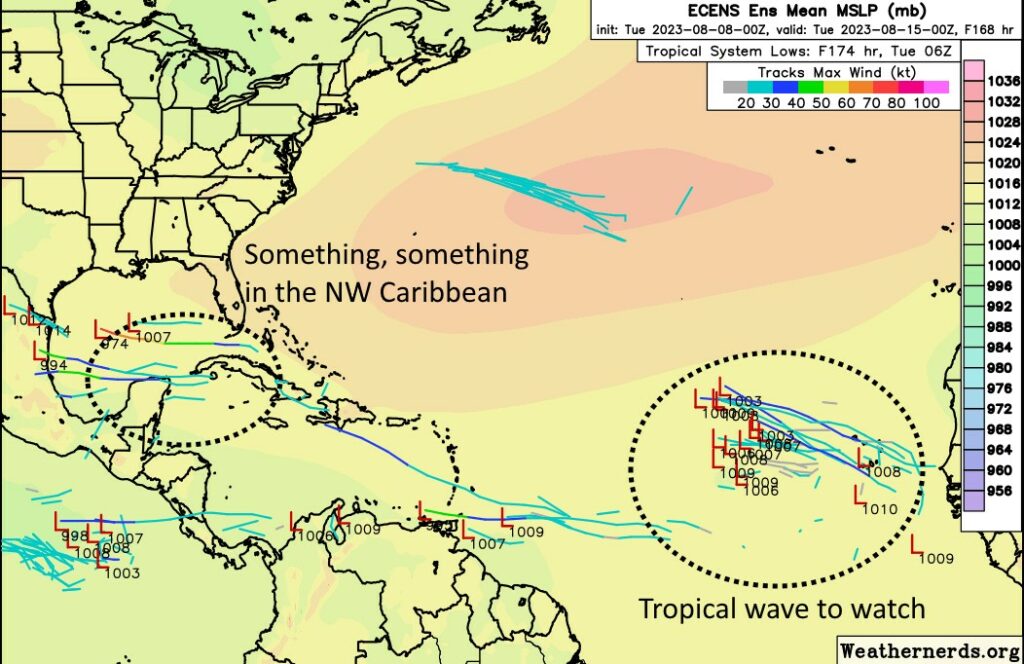 The models are also latching onto a tropical wave that will probably emerge off the coast of Africa this weekend, and suggesting it may have some chance of developing in a week to 10 days over the open Atlantic Ocean. That's certainly possible, and something we'll perhaps be discussing in the coming days. We shall see. For now, there's not much more to say.
Fantasyland (beyond day 10): All eyes on the Main Development Region
The main take-away is that, overall, we're in a good position heading into mid-August. There are no signs of the tropical Atlantic imminently lighting up like a Christmas tree. That doesn't mean it won't happen, but there are no signs that it will. Which is great.
The other thing to say is that our focus, increasingly, is going to be on the Main Development Region, and new tropical waves emerging off of Africa. This wave train typically becomes much more prominent during the final weeks of August and, of course, throughout September.