One sentence summary
Franklin has intensified into a major hurricane, with 130 mph sustained winds, overnight; but the bigger threat to land is Tropical Storm Idalia, which could become a major hurricane before striking Florida's Gulf coast later this week.
Tropical Storm Idalia
We're going to start with Idalia, because that poses by far the biggest threat. As of this morning, Idalia is nearing hurricane status with 65 mph winds, and it will probably reach that milestone later today. Unfortunately, it is likely to strengthen further over the next two days as it crosses over Gulf of Mexico waters that are extremely warm and, critically, moves into an upper atmosphere that should not significantly hamper intensification. For now, the National Hurricane Center forecasts that Idalia will become a Category 3 hurricane prior to landfall, but the storm could easily be a category stronger or weaker by Tuesday night as it nears the Florida coast. The one saving grace here is that Idalia will only have a little more than 24 hours over the open Gulf of Mexico waters to strengthen, and some modest wind shear may limit its ceiling.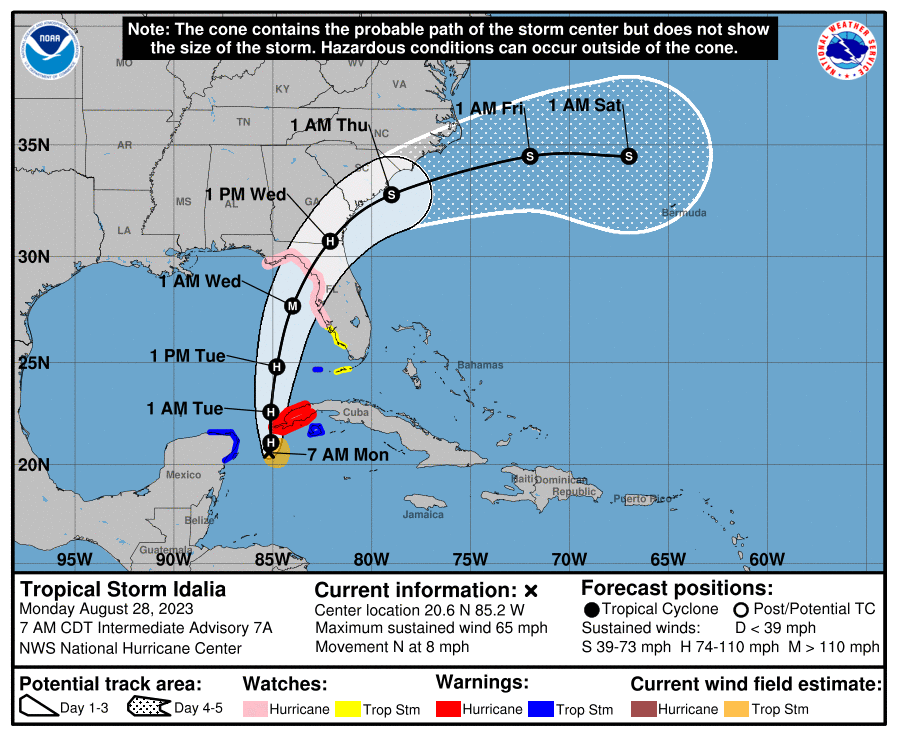 So where will Idalia go?
Later today the storm will cross the far Western edge of Cuba, and then move into the Southeastern Gulf of Mexico. After that it will move north-northeast, toward Florida. Our best forecast models are increasing in confidence, but there's still some uncertainty in where Idalia's most devastating winds and storm surge will go. The most likely area for landfall is the Big Bend area of the Florida coast, but a landfall from Panama City down to Tampa remains possible. The populated area of Tampa is on the right side of the storm, susceptible to the strongest winds and storm surge. However, based upon our best forecasts right now, the Tampa region would miss out on Idalia's worst. But it's going to be close.
Hurricanes produce three major threats: inland rainfall, storm surge, and damaging winds. In Idalia's case, inland rainfall is slightly less of a concern because the storm is expected to maintain a reasonably high forward motion on Tuesday and Wednesday, as it crosses Florida and Georgia. That is not to say there will not be inland flooding from Idalia, particularly in areas such as Georgia and the Carolinas, but it should be mitigated by forward speed.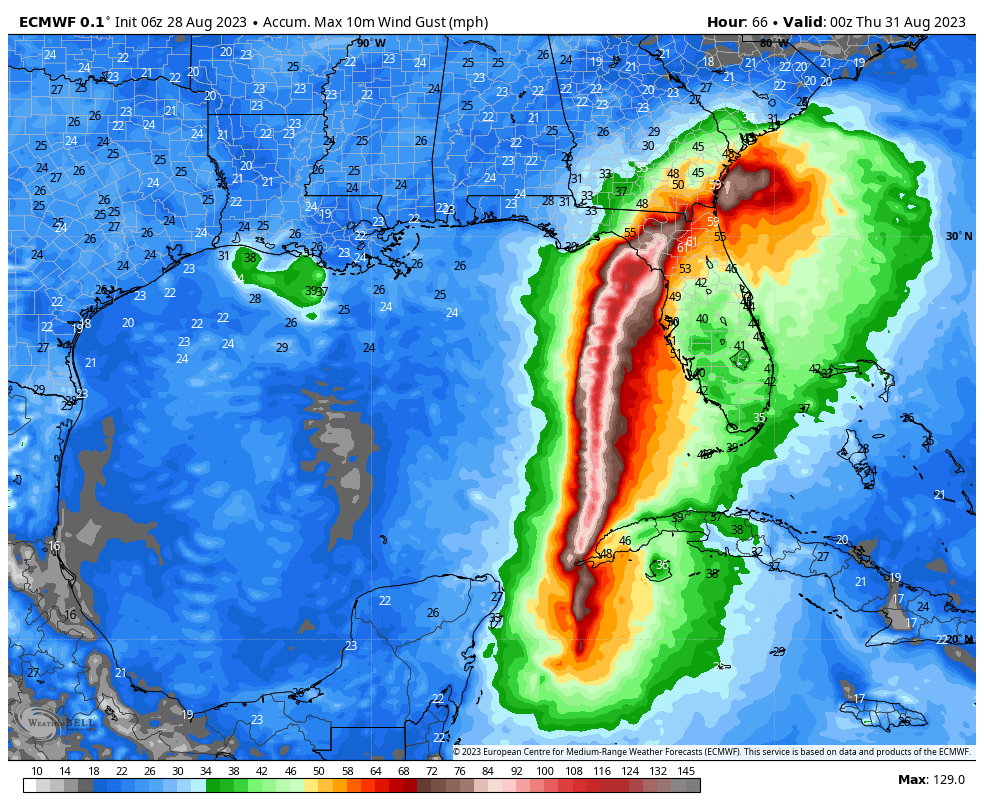 So the bigger issues are likely to be storm surge and damaging winds. Both of these effects will be most intense along the line of the storm's track, and to its right-hand side. We can see this in the forecast "wind gust swath" from the European model. Now this is just one model run, and most definitely subject to change, but it gives you a sense of how the worst of the winds will be relatively localized, near the core of of the storm. Wind gusts of up to 130 mph are possible, based on this forecast.
As for storm surge, this again will depend on the track's location. For now the worst of it looks to occur in the Big Bend area of the Florida coast.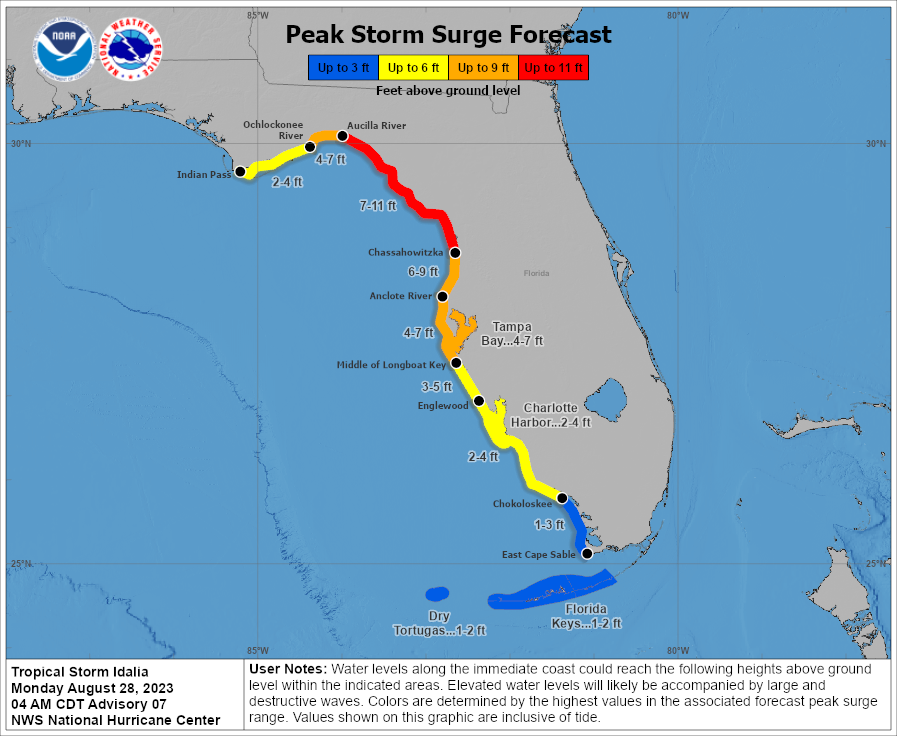 We will have an update on Idalia later today. The bottom line is that if you live in Florida, including the Tampa area, today is the last full day to make preparations for the impending storm. This is a storm to be taken seriously. Tropical Storm-force winds could arrive in parts of the state as early as the middle of the day on Tuesday.
Major Hurricane Franklin
Franklin has continued to strengthen overnight, and as of 7:35 am ET this morning the National Hurricane Center reported that the storm had reached sustained winds of 130 mph. Some further strengthening is likely later today as Franklin continues passing over warm waters and enjoys low wind shear.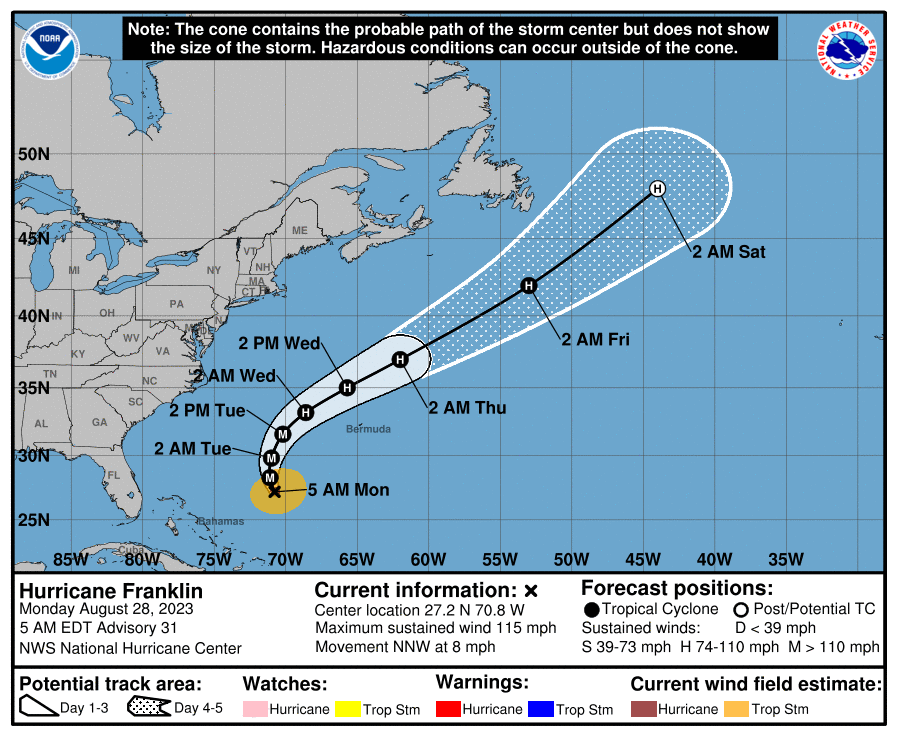 Fortunately—very fortunately—Franklin is behaving for a storm in the Western Atlantic Ocean. Its projected track will follow a course far enough off the Atlantic seaboard of the United States to spare the coast of any significant effects. Moreover, Franklin should remain just far enough west and north of Bermuda to also spare the small island of its worst effects. Some tropical storm warnings may still be necessary for Bermuda, but it should be miss out on anything close to the worst of what the Atlantic season's first major hurricane could dish out.
So go on Franklin, get on with your bad self.
What else is out there?
After Franklin and Idalia there is another system likely to develop from a tropical wave that will move off Africa on Tuesday. However, we don't anticipate that this system will track toward the Caribbean Sea or the United States. It likely is not a concern as we head into early September.