One-sentence summary
Hurricane Idalia is expected to rapidly intensify today and tonight and come ashore somewhere in the Big Bend area of Florida as a major hurricane tomorrow, producing extremely dangerous storm surge, in addition to strong winds and heavy rain well away from the center.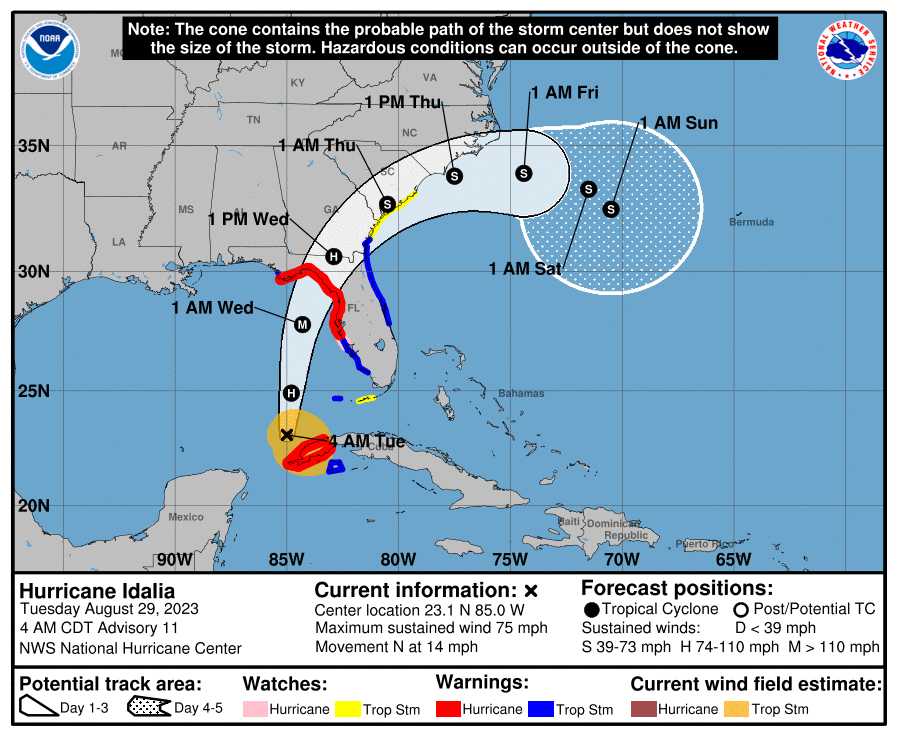 Hurricane Idalia
The bottom line on Idalia is that it is expected to come ashore near the Florida Big Bend as a major hurricane, without much modern precedent in this area. This will lead to severe wind and potentially catastrophic storm surge in many communities in this region. Preparations need to finished quickly today, and advice of local officials should be heeded.
What's changed overnight?
The only notable change overnight (besides becoming a hurricane) may be that model forecasts have nudged the landfall point a little to the west. This further increases the odds of a historic surge event and hurricane impact in the Big Bend. There were no serious changes to watches or warnings, and you can see that Hurricane Warnings are posted from Manatee County north through coastal Franklin County in the Panhandle, as well as inland along and west of I-75. Tropical Storm Warnings are posted for the East Coast from Brevard County north past Jacksonville and into coastal Georgia just past St. Simons Island, extending inland across much of southeast Georgia.
Idalia's track to Florida
Hurricane Idalia is expected to track steadily north/north-northeast today and tonight. The exact landfall point remains a bit fuzzy, but the overnight shift west is somewhat notable. There is a bit more risk in parts of Apalachee Bay than there perhaps seemed yesterday. But generally speaking, the Big Bend into Apalachee Bay seems most likely for landfall.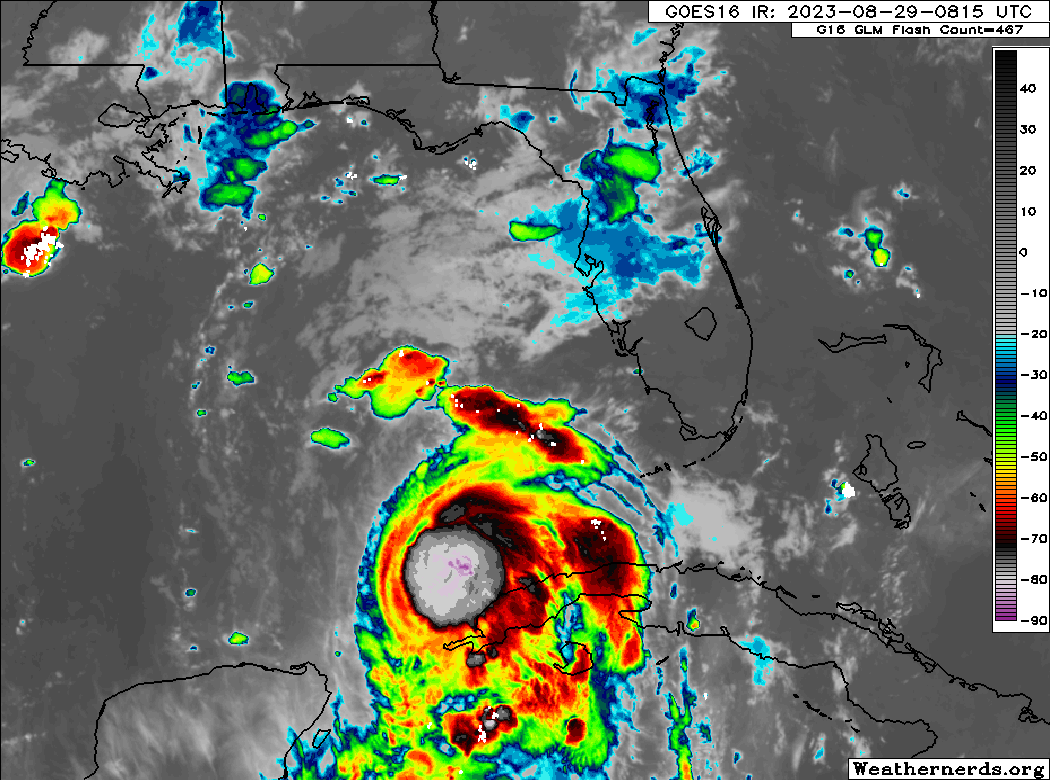 Idalia's storm surge
With the track where it is, there have only been minor adjustments to the storm surge forecast from the National Hurricane Center.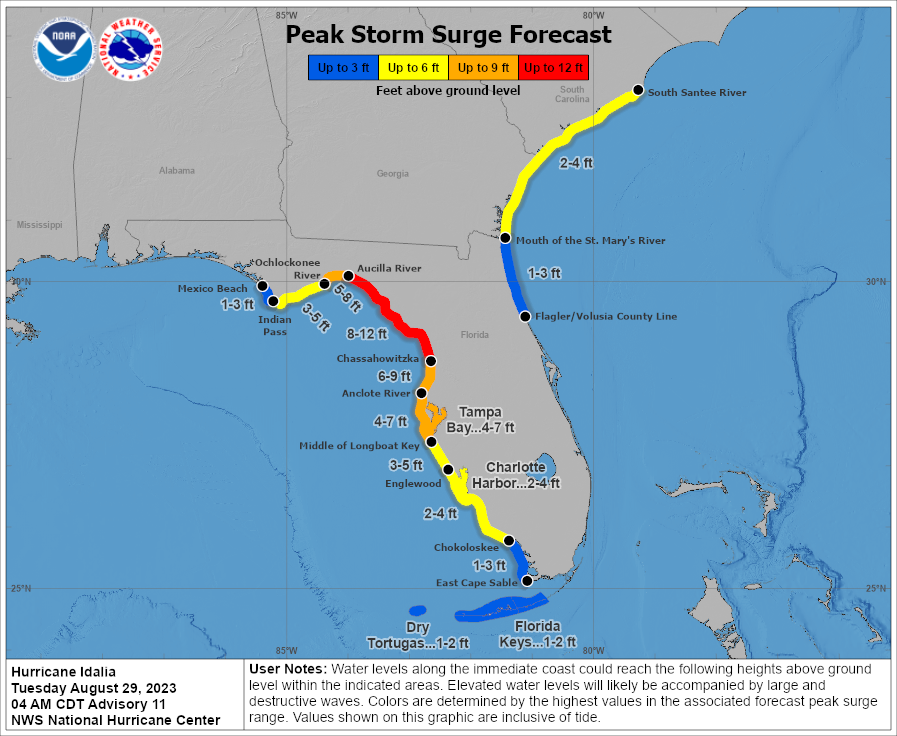 At this point, from Tampa south, most of the surge forecast is now baked in. North of Tampa, the bullseye of surge may shift a bit with landfall, closer to Aucilla River and in Apalachee Bay with a shift west in track, or just a bit down coast toward Homosassa with a little eastward shift. But in general, this morning is the time to finalize preparations for as much as 8 to 12 feet of water in the Big Bend and east side of Apalachee Bay.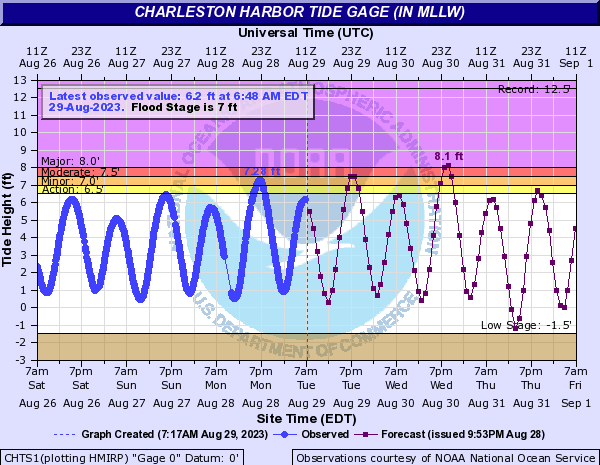 On the East Coast, we continue to see forecasts of about 2 to 4 feet of surge for Georgia and South Carolina south of the Santee River. For Charleston, there could be "major" flooding levels hit with this during Wednesday evening's tide cycle.
Idalia's wind
The wind forecast for Idalia brings it ashore as at least a 120 mph category 3 hurricane. There is some chance it could be stronger than that. Major hurricane force winds will be confined to a small area near the center as it comes ashore. Hurricane-force and tropical storm-force winds will extend out rather far from the center, especially to the east.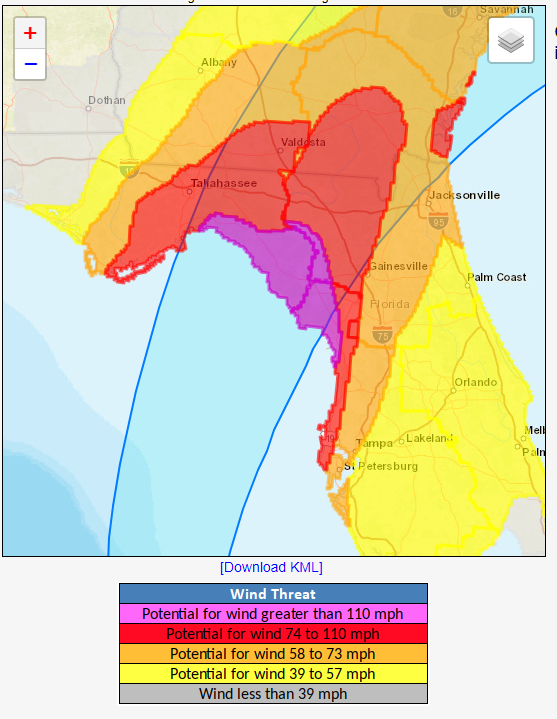 The primary wind damage risk will be in the purple shaded region above in the Big Bend. Tallahassee, Valdosta, and Gainesville into the extreme coastal northern fringes of the Tampa metro may see hurricane-force winds as well. Those winds may also occur on the immediate Georgia coast as well. Tropical storm-force winds will include much of Tampa and Jacksonville up toward Savannah and farther up coast into South Carolina. Power outages are likely for a chunk of north Florida, south Georgia, and coastal South Carolina.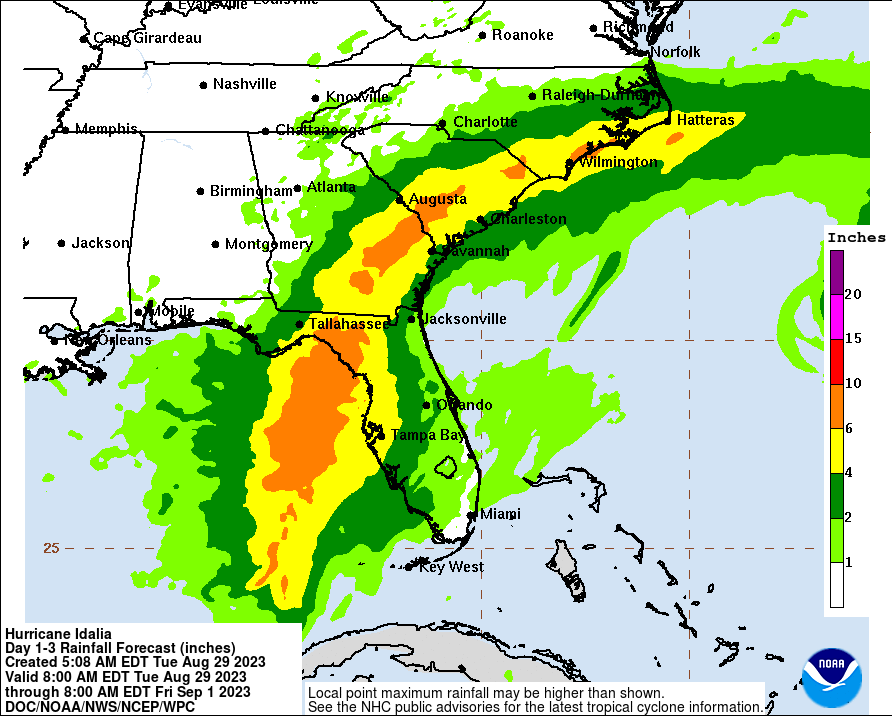 Idalia's Rain
We continue to view rain as more of a secondary hazard from Idalia, as its forward speed *should* allow for some mitigation of outcomes there. Still, you could see as much as 6 to 10 inches of rain in spots, and in addition to causing localized flash flooding, this could exacerbate tidal flooding along the immediate coast or bays. Flood Watches are posted in many spots and may expand north through the day today. We'll hone in some more on this later.
Idalia's exit and distant future
What happens after Idalia exits the U.S. coast? That's a great question that we just don't have a great answer to right now.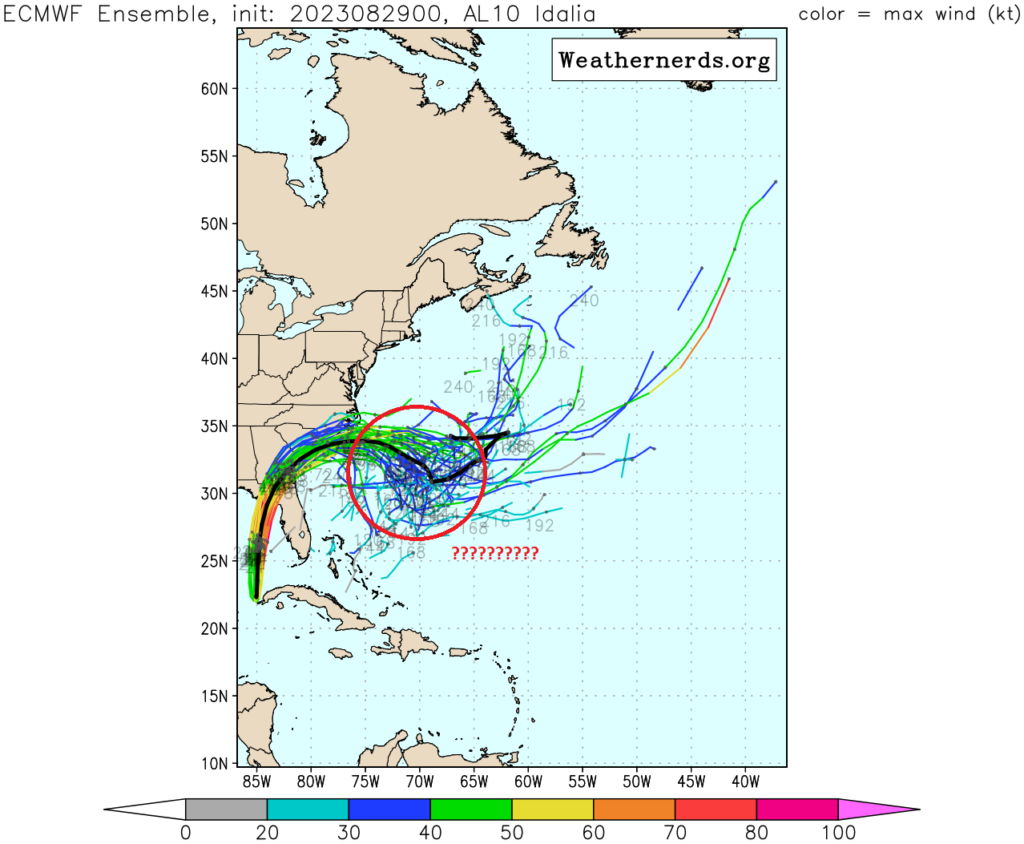 The pattern that will steer Idalia becomes more convoluted this weekend once it moves offshore of the Southeast. From there, models are, for lack of a better term, confused about where it will go or if it will even maintain identity at that point. The bottom line here is that no one needs to currently worry about a second act from Idalia, but we'll keep tabs on this in the coming days to see what, if anything happens.
Hurricane Franklin
Franklin became a textbook category 4 hurricane yesterday, and it's producing rough surf and dangerous rip currents in Bermuda and along the Eastern U.S.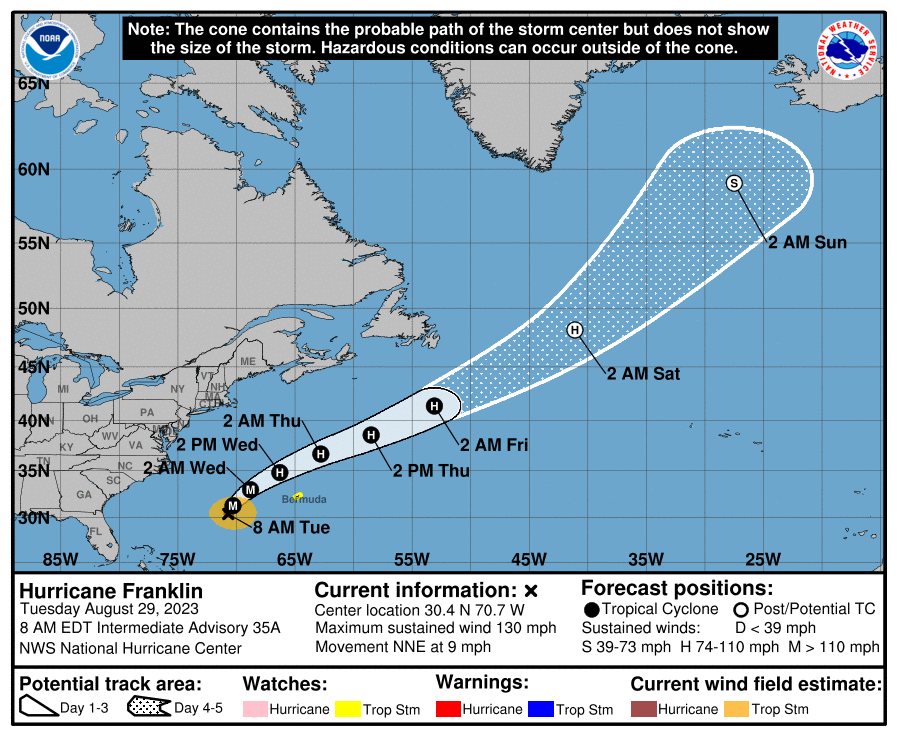 Franklin is going to steadily head out to sea over the next 5 days, and it should eventually get drawn back north and west, absorbed into a high latitude storm over Greenland.
Elsewhere
Old Invest 92L has a shot at developing into a weak system east of Franklin's track. A new wave emerging off Africa has about a 70 percent chance of development over the next week as it heads out to sea. No threats to land are seen beyond Idalia over the next 7 to 10 days.