One-sentence summary
We continue to see the potential of a system developing in the open Atlantic heading into next week, but it will likely struggle through Monday or Tuesday and no land is threatened by this system.
Happening now: Tropical wave in the Atlantic no better organized today
Today's National Hurricane Center outlook shows the wave in the Atlantic as having 60 percent odds of developing now, up from 40 percent yesterday.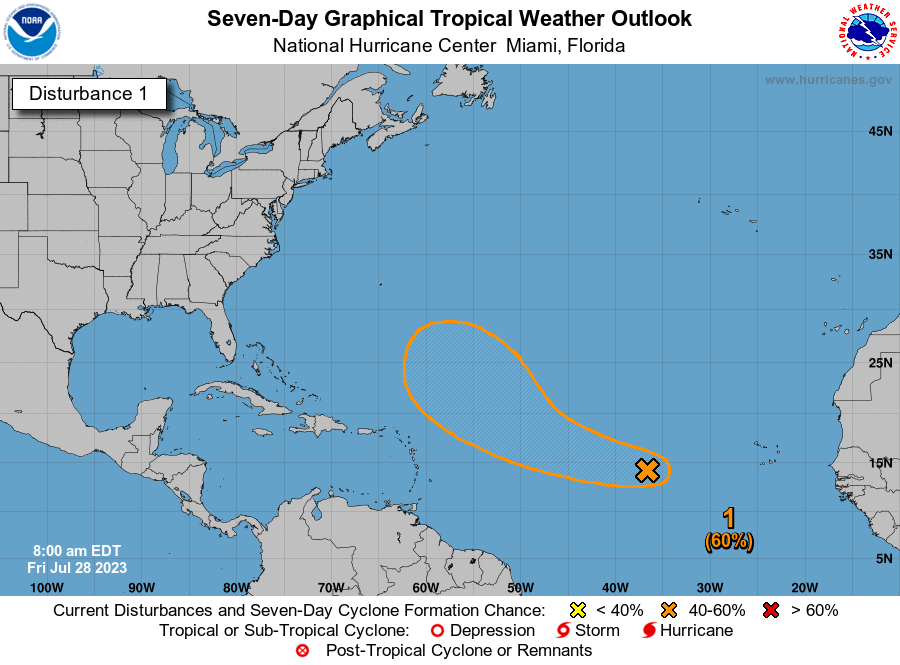 We are still a couple days away from this happening. If you look at satellite this morning, well, it's not exactly organized, although it's a lot more active looking than it has been the last couple days.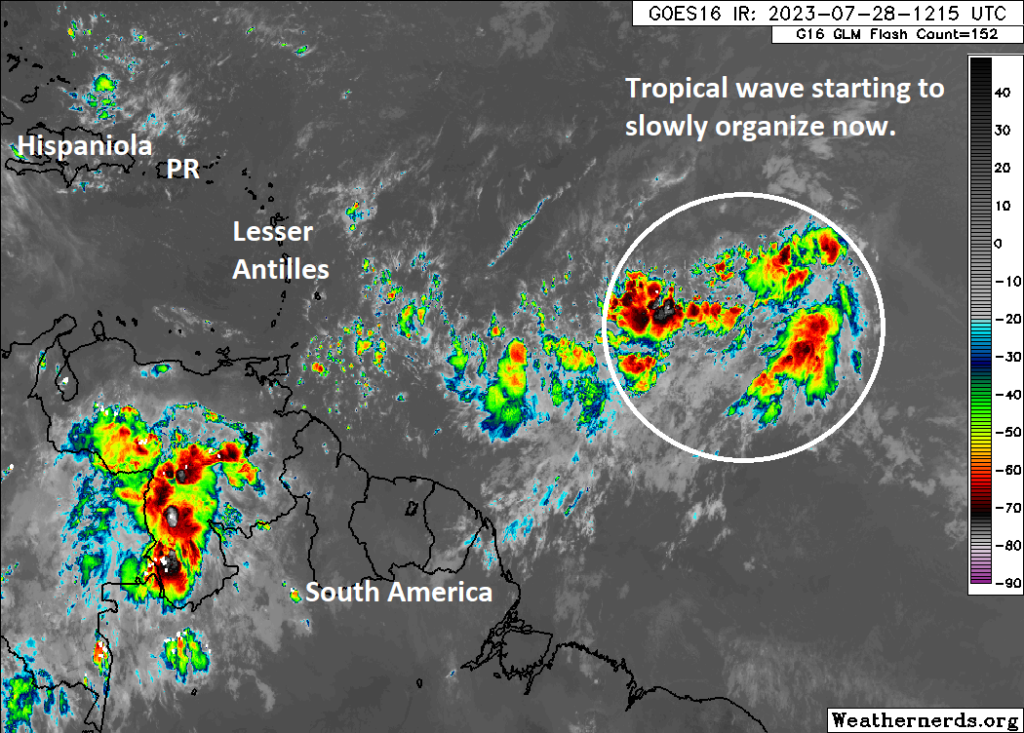 Over the next 2 to 3 days, this wave should slowly organize. It will continue west-northwest and eventually turn more northwest and then north before getting to the islands. One very significant inhibiting factor for this system will likely be wind shear, which is extremely strong ahead of the wave and is expected to remain strong into this weekend.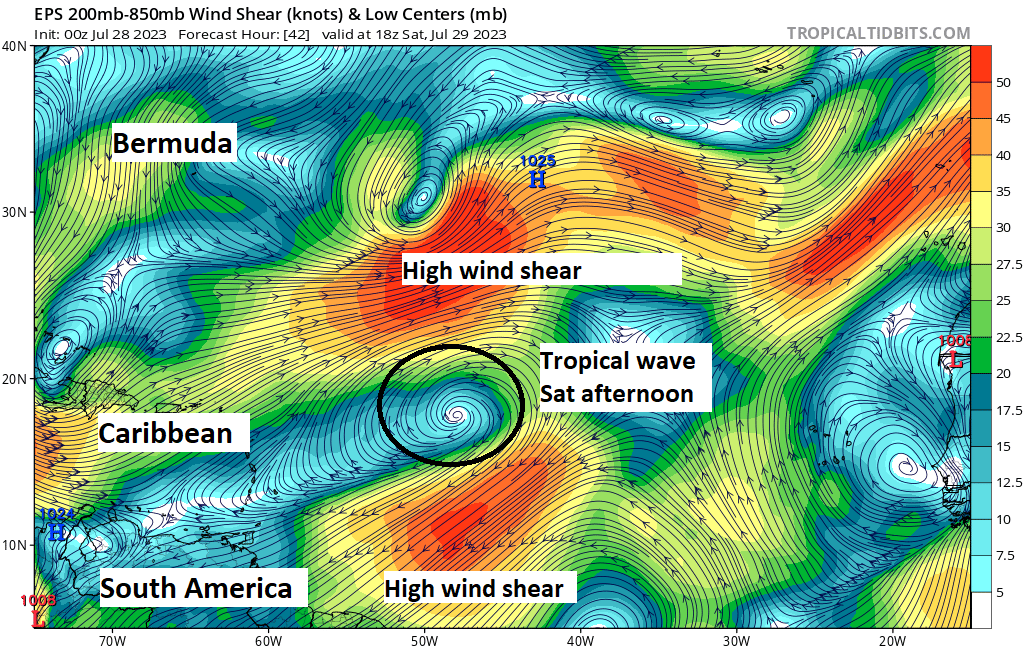 Wind shear will probably act to limit the system's initial development through Monday. By the time the shear relaxes, the disturbance should be comfortably out at sea and away from land.
In summary, very, very slow organization is possible through Monday, but the wave will also begin to turn out to sea so that when it does have breathing room to possibly organize further it will be safely away from land.
Elsewhere, the NHC did re-tag the old Invest 95L in the far western Caribbean (heading toward the Pacific) and the upper level disturbance near Florida again this morning, but odds of any development are near zero at this time.
The medium range (days 6 to 10): Nothing new
For now, everything seems quiet looking next week. We'll watch to see that open Atlantic wave likely turn north and northeast out to sea. Aside from that one system, there's nothing we see on our radar that has much potential. We're likely entering a brief period of calm now.
Fantasyland (beyond day 10): The calm before the storms, maybe
We start to scour the ensemble members this time of year for hints of activity. Remember that ensembles are just models run roughly 30 (GFS) to 50 (Euro) different times with initialization tweaks to give us a realistic spread in outcomes. As a meteorologist, you're looking for any sort of hint of activity within that spread to try to hone in on something. We see nothing notable right now. As noted in yesterday's post, we do expect things to pick up some around the 10th or so of August. That thinking has not changed.
We may post briefly to update the Atlantic system this weekend. On Monday, we'll update the status of the season to date and talk more about early August.
Connecting with us!
We are grateful to the readers who have added us to their repertoire each day! We continue to grow, and with no advertising budget, we rely on our readers to spread the word. Thank you to those that do! We just want to remind you that we're all over social media. We're trying our hardest to reach people where they are, and that's why we have a bunch of accounts. Check us out and give us a follow on your favorite platform.
Facebook
Instagram
TikTok (Matt tries to post a 1-2 minute or less update each day)
Twitter
Threads (the Meta Twitter competitor)
Bluesky
Mastodon
Thanks as always for your support!