Good Thursday morning, and welcome again to The Eyewall! We hope that we can be your companion through hurricane season, with daily updates on what's happening and in depth coverage if storms threaten. Today is the first day of the 2023 Atlantic hurricane season, so settle in for the next several months.
We have a couple resources for you on the site. First, we've compiled some tips and a whole bunch of links to preparedness and evacuation information. You'll find links to local pages where you can view evacuation zone maps, locally themed preparedness pages, and more. Additionally, we have compiled some links to sites we feel good about when it comes to real-time weather information on the tropics. We hope these are helpful for you.
With the start of hurricane season, one of the most common questions often revolves around the name list. Well, here you go, courtesy of NOAA: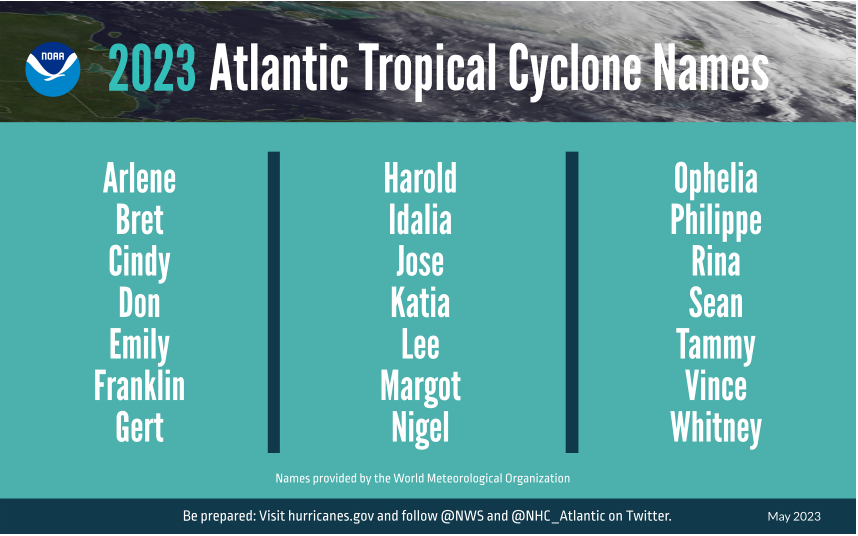 The other common question is "what's the forecast?" While it's important to remember that only one bad storm can make it a bad season for you, we recognize the interest in these forecasts. NOAA released their outlook last week, calling for a "near average" season. Colorado State is expected to update their outlook shortly after this post is published, but it should not deviate a ton from their April view of (also) a near average season. Much of this somewhat reined in expectation is due to El Niño, which is emerging quickly in the Pacific. You can read more about that in those agency's outlooks, and we'll certainly get into more on the Niño as the season progresses.
Today marks the beginning of a lengthy marathon through October and into November, and we're not starting off the year quietly. Just last weekend, we saw a storm system move into the Carolinas with some strong wind gusts and almost 6 inches of rain in the mountains of North Carolina. There was also a cruise ship incident. Today? We're watching a disturbance in the Gulf of Mexico that has been tagged as Invest 91L. (A reminder: In the Atlantic basin, "invests" are basically defined as "areas of investigation." In other words, they're areas of interest that are "tagged" by the National Hurricane Center that allows for a bunch of additional weather model data to populate as a result. There's no strict definition, and many invests go on to dissipate in time. "L" indicates it's in the Atlantic, and the number preceding the letter rotates between 90 and 99 and recycles throughout the season)
One-sentence summary
Invest 91L in the Gulf of Mexico has about a 50/50 chance of developing into a depression or low-end tropical storm over the next couple days as it tracks generally south and east, across Florida and into the Atlantic, dumping locally heavy rain in parts of Florida.
Happening now: A difficult road ahead for 91L
This morning, Invest 91L looks a bit "blobby" in the northeastern Gulf. There's basically an area of storms south of Panama City that is sort of stationary or drifting southeast — thankfully offshore.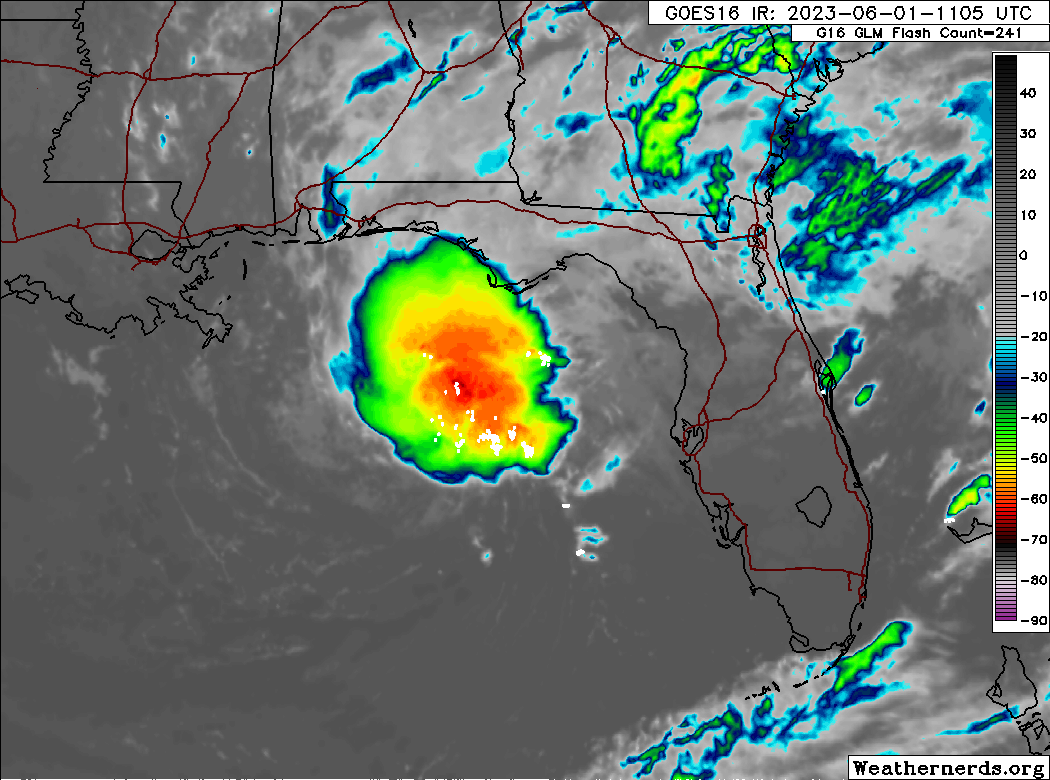 Radar estimates that 8 to 10 inches of rain has fallen over the open water of the Gulf. If you look close enough, you can definitely see a little "spin" to the cluster of storms as well. There is not a super well-defined low pressure system in the Gulf, but there's something defined there. Thus, the National Hurricane Center bolstered odds of development to 50 percent over the next 48 hours this morning.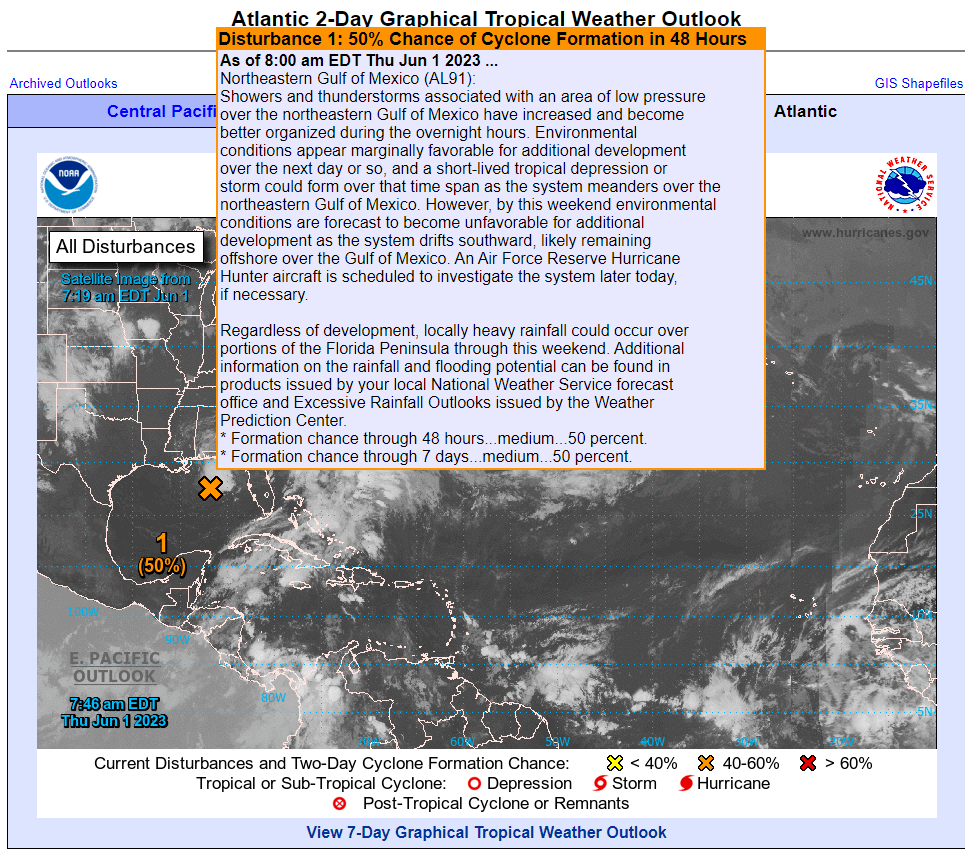 Wind shear is going to be a significant inhibiting factor for development of 91L. I would not say it's in a low shear environment by any means right now, but in about 48 to 72 hours, it's going to be in a very rough one.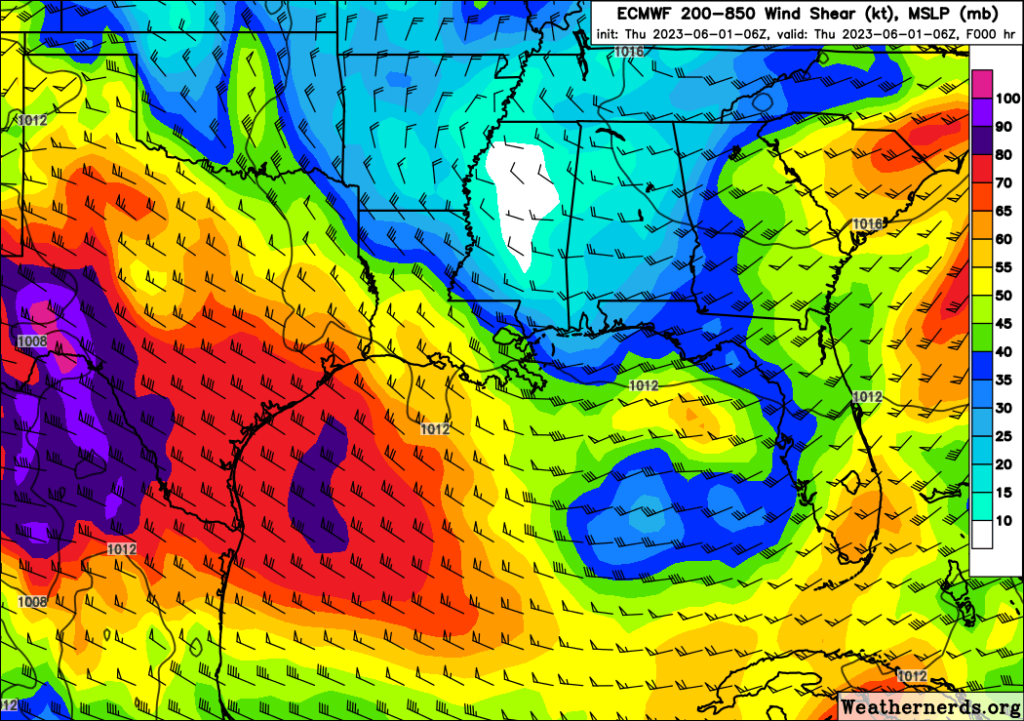 When tropical systems develop, they like a generally calm atmosphere around them. Wind shear indicates a lot of turbulence and usually acts to slow or even prevent storm development. It's important to note that with systems this close to shore, wind shear does not prevent impacts; it can still rain a lot or be breezy or even flood some at the coast. But it does usually put a cap on how strong or well-organized a storm can become.
For Florida, the main impact from 91L should be a bolstered chance of showers and storms with locally heavy rainfall. We saw this yesterday with portions of DeSoto and Manatee Counties in southwest Florida seeing over 4 or 5″ of rain.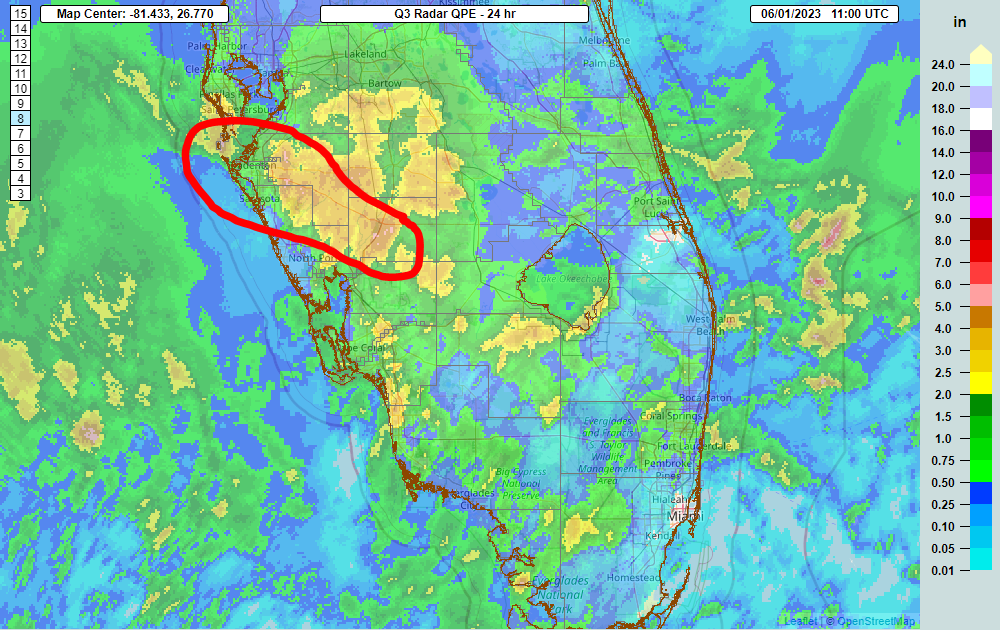 Additional rains are expected in Florida over the next few days, with amounts generally 1 to 2 inches with isolated higher amounts possible. Because of that, there is a flood watch in effect for coastal southeast Florida, including Miami-Dade, Broward, and Palm Beach Counties, as well as around Lake Okeechobee.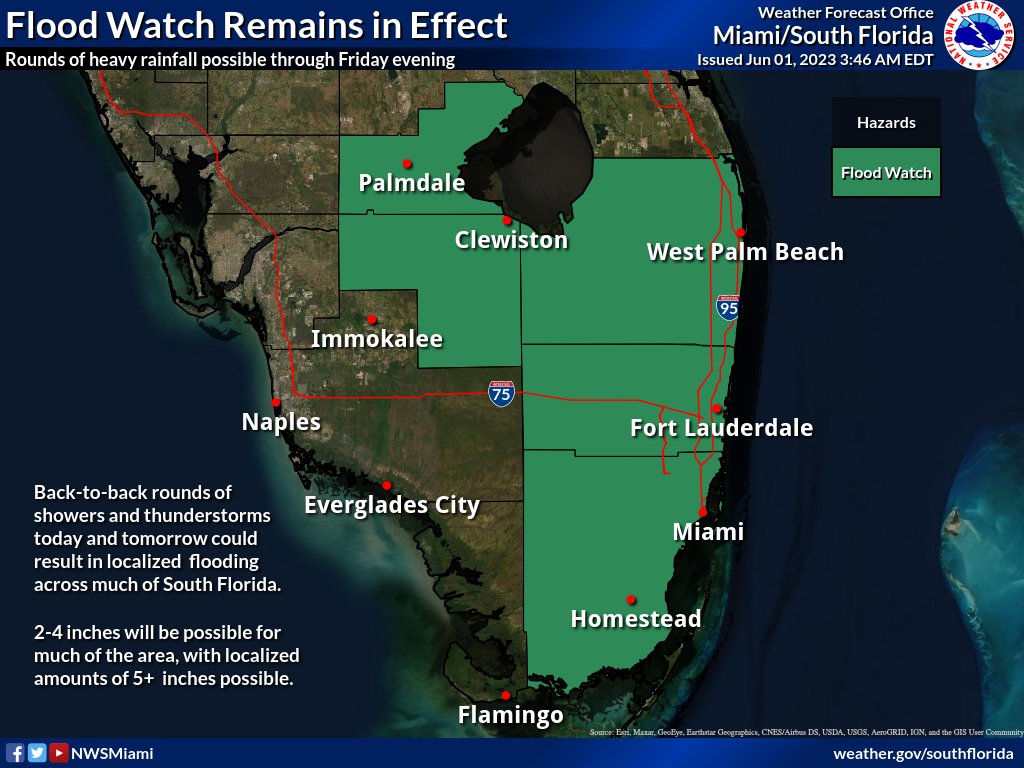 Bottom line: Invest 91L has about a 50/50 shot of becoming a depression or weak tropical storm before Saturday, but it would likely remain on the weak side. That said, there is a legitimate risk of flash flooding due to heavy rain, particularly in southeast Florida but also potentially in a few other Peninsula locations as well. 91L will race off to the east next week into the open Atlantic.
This is a good reminder to get your hurricane kits stocked and review your evacuation plans for later in the season.
Medium term (Days 6-10): Minimal action
There is not a lot showing up in the medium range horizon right now that supports tropical development. There will be a non-tropical system in the Northeast next week, leading to rain and ugly June weather for New England, with Boston not escaping the 50s for a couple days. But nothing is out there in the tropics.
Fantasyland (beyond day 10): Quiet
We will cover the "fantasyland" section each day. We often see models place rogue storms late in their runs (day 10+), and often that is what drives social media fear and hype over storms. We'll let you know a little about the extended range period here, and if there's reason to take those periodic scares seriously. Today, there's little to nothing to speak of in fantasyland. The models have been fairly well-behaved of late in terms of showing any rogue systems. So, we expect mostly quiet conditions overall through mid-June.
Our next update will come tomorrow morning, or this evening if 91L happens to get an upgrade, as hurricane hunters are scheduled to investigate this later today.