One-sentence summary
Atlantic action stays out at sea, a Gulf system remains a possibility next week, and <checks notes> California will be impacted by Hurricane Hilary.
Happening now: Still waiting
We're not ones to tempt fate here at The Eyewall. We legitimately want everyone to have a peaceful hurricane season with minimal stress and anxiety. So, while we are still waiting for something to come of the "noise" in the tropics this week, we're not complaining either.
Two waves in the Atlantic have a 60 percent chance each to develop in the coming days. They have been dubbed Invest 98L (east) and Invest 99L (west). Both are expected to remain out at sea, thankfully, but you can see them on satellite this morning.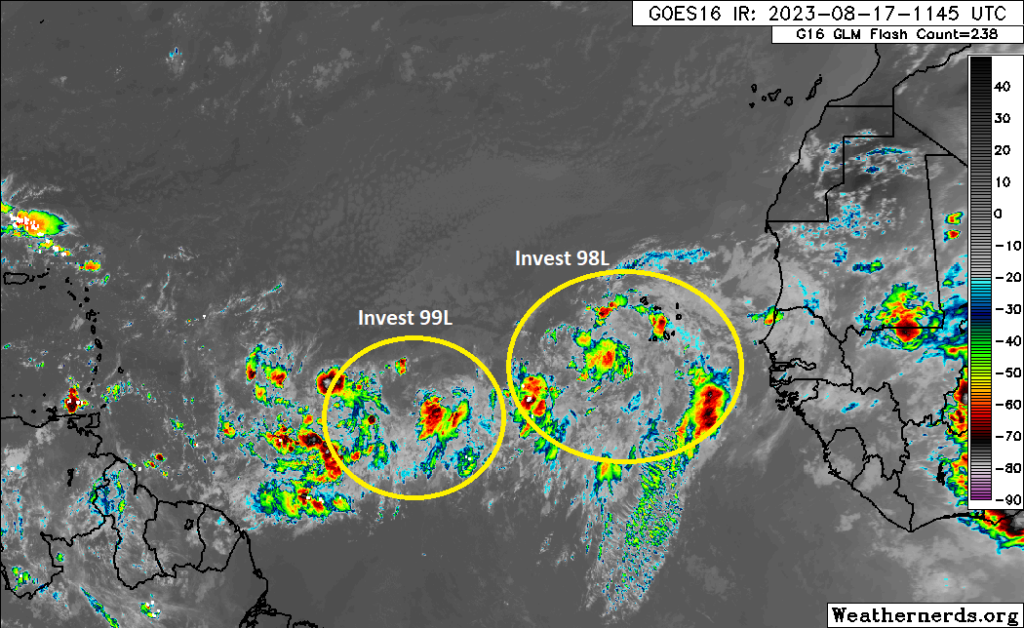 Earlier this week, I said the trailing wave might have a better shot to do something. As of today, I think it's really a toss-up. Either invest could be "the one," but neither looks exactly superb as of yet. We still anticipate that the upper level pattern will safely steer both disturbances out to sea.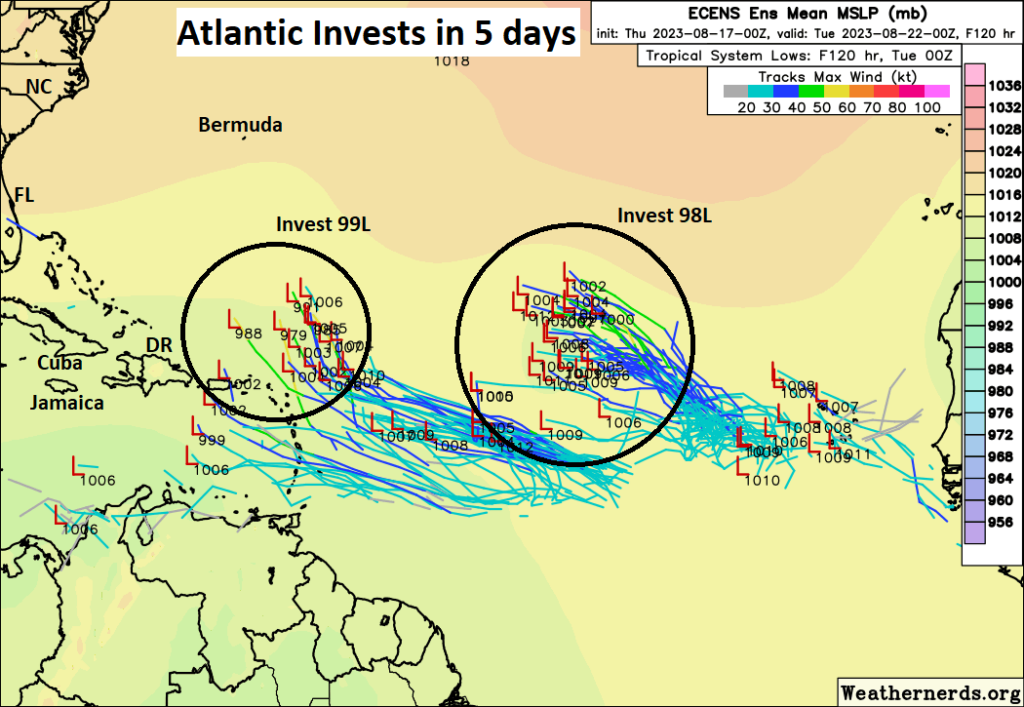 Interests in the Lesser Antilles should make sure this doesn't change, so keep an eye on things the next couple days just to be safe. Meanwhile, let's look closer at the northern Caribbean and southwest Atlantic this morning, where the ingredients for our more meaningful Gulf disturbance will slowly come together over the next few days.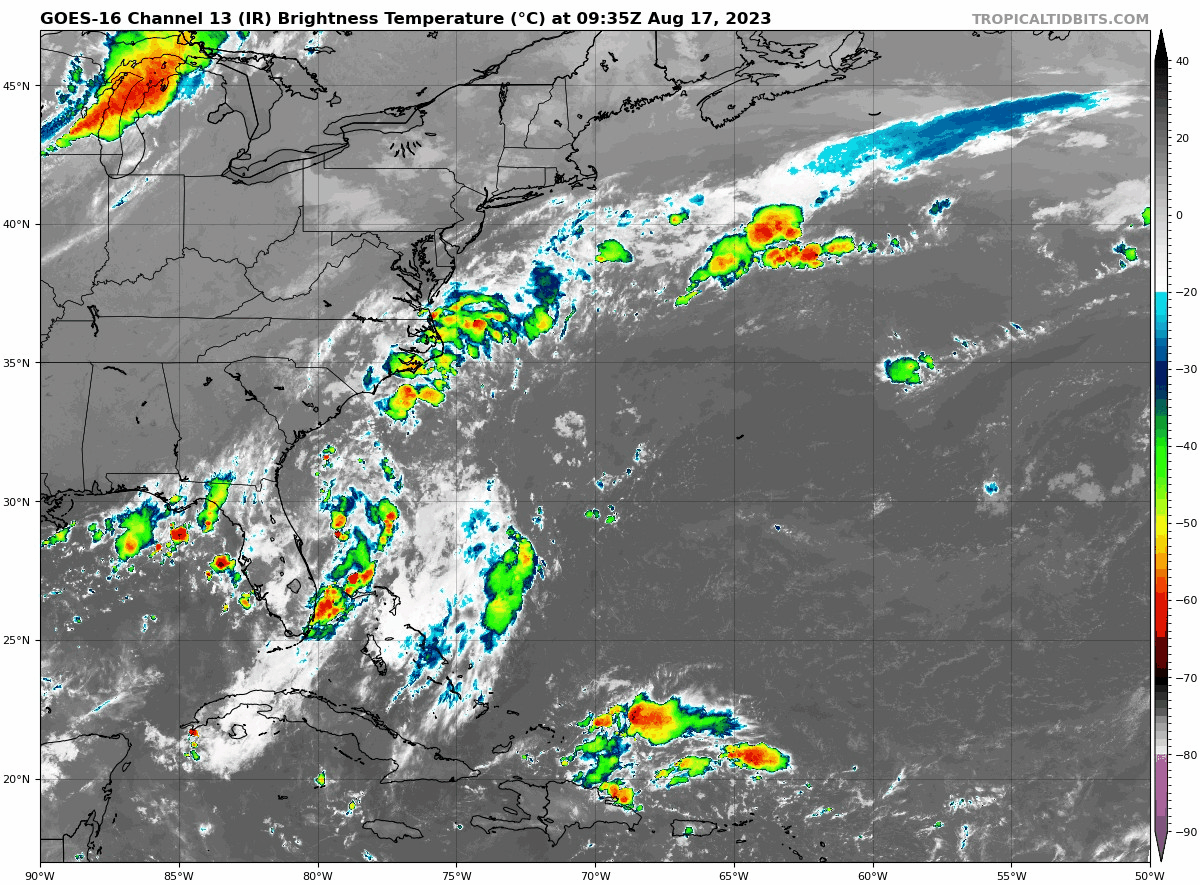 The primary impetus for this disturbance is currently just north of Hispaniola. This will race off to the west-northwest and merge with some additional activity in the eastern Gulf and we'll have our disturbance. The NHC gives it a 30 percent chance of developing next week. The general spirit of things: "A disturbance with a low ceiling potential for development will race west across the Gulf next week toward Texas" seems to remain the story here. A good idea to keep tabs on this one, but there's a very good chance this will not cause any significant problems.
What of the rain? The hope was (and still is) that this disturbance can drag enough Gulf moisture into drought-plagued Texas and/or Louisiana to help deliver some rainfall and provide some relief from drought. If you look at the forecast rain totals next week from the deterministic and operational GFS (left) and Euro (right), you can see some substantial differences. The GFS suppresses diffuse rain to the south, while the Euro is like "Heck yeah, brother!"

Well, let's look specifically at the Euro. If you unpack the Euro ensemble, which is an average of 50 different European model runs with different tweaks at initialization, the picture that's painted is a bit different than that of the operational model shown above. The map below shows the European ensemble probability of 1″ or more of rain. Not high!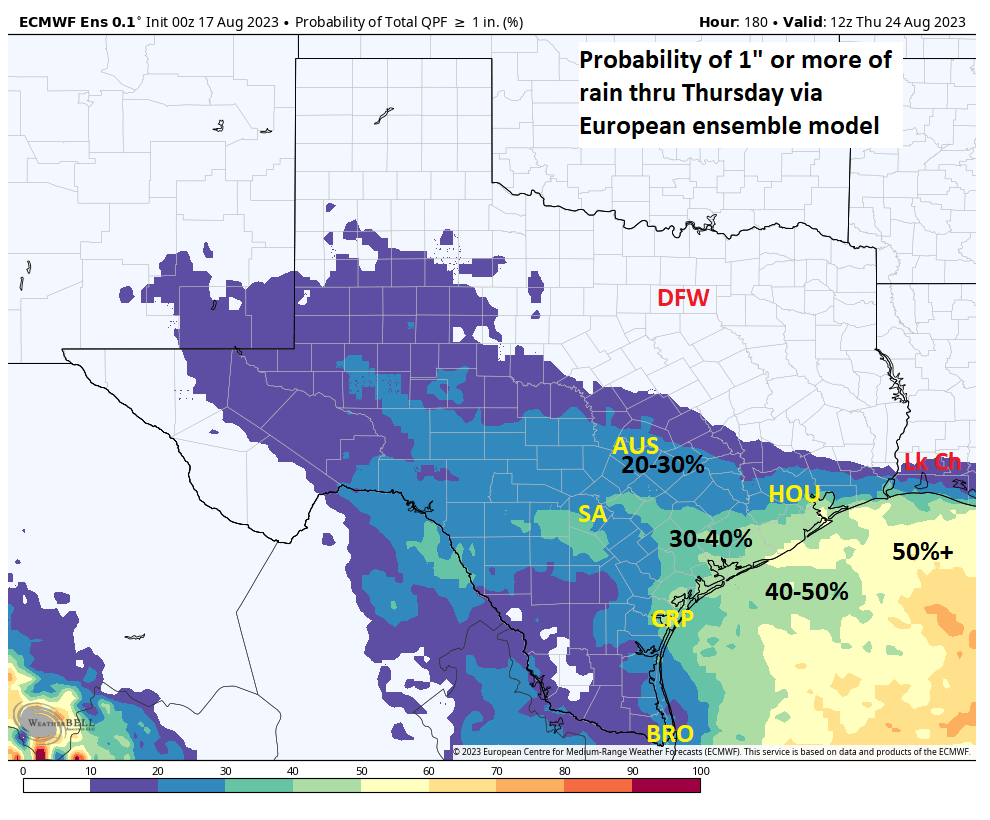 Ensembles help us a lot in these situations because they can validate or invalidate critical deterministic guidance. In this case, it puts an awful lot of doubt on that European operational model that brings 1 to 4 inches of rain to Texas and southwest Louisiana. It has the placement farther south and west and probably with lower odds.
Bottom line: While some rain is likely in drought-stricken Texas, this may not be the droid you're looking for.
Interlude: Californication
Our site is intended to primarily cover Atlantic tropics, but every so often, something interesting and worth discussing happens on the Pacific side too. Today we focus on California.
Rare as it is, California can get impacted by tropical storms, although it takes a heck of a lot of things to come together to get that to happen. The last time this officially happened was in 1939 when a tropical storm made landfall near San Pedro (between the Port of Long Beach and Rancho Palos Verdes). As recently as last year, Hurricane Kay brought remnant impacts to California that were rather significant. Suffice to say though, it's unusual. Hurricane Hilary just formed in the Pacific, and the official forecast track will raise an eyebrow or two.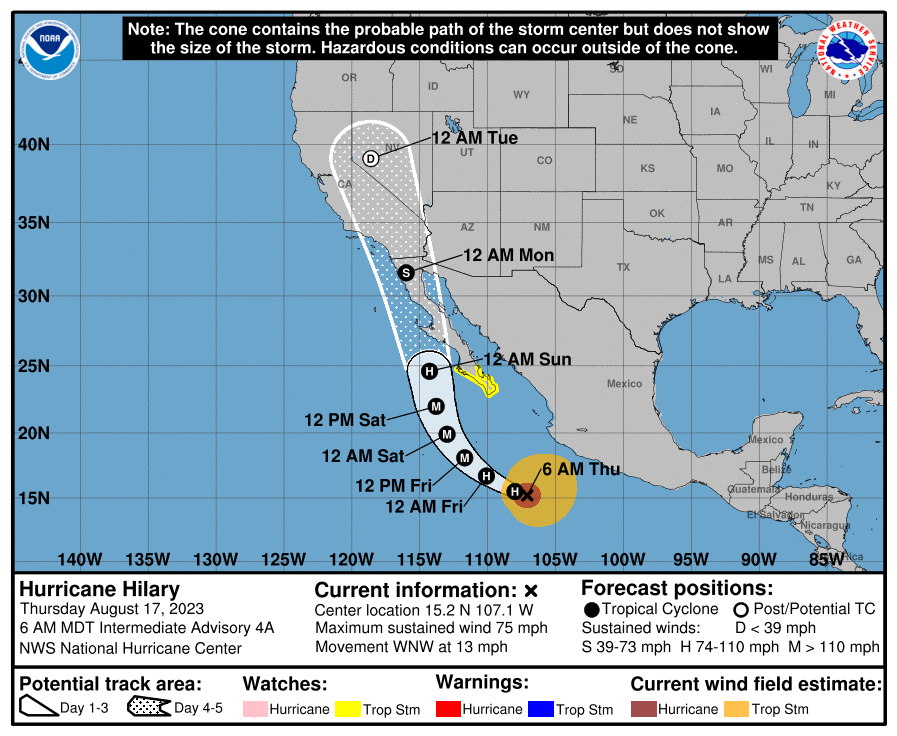 This has support from modeling. As Hilary comes north, it will be steered by a trough to its north and the insanely sprawling, near-record ridge over the Midwest and Plains. Hilary should come north, roughly parallel to Baja but offshore initially. It will then likely get drawn inland somewhere between Point Conception (west of Santa Barbara) and the central coast of Baja in Mexico. The most likely outcome right now is a Baja landfall north of Cabo and San Carlos. Anyone in Cabo, tropical storm conditions are possible, but hurricane conditions are currently expected to stay offshore.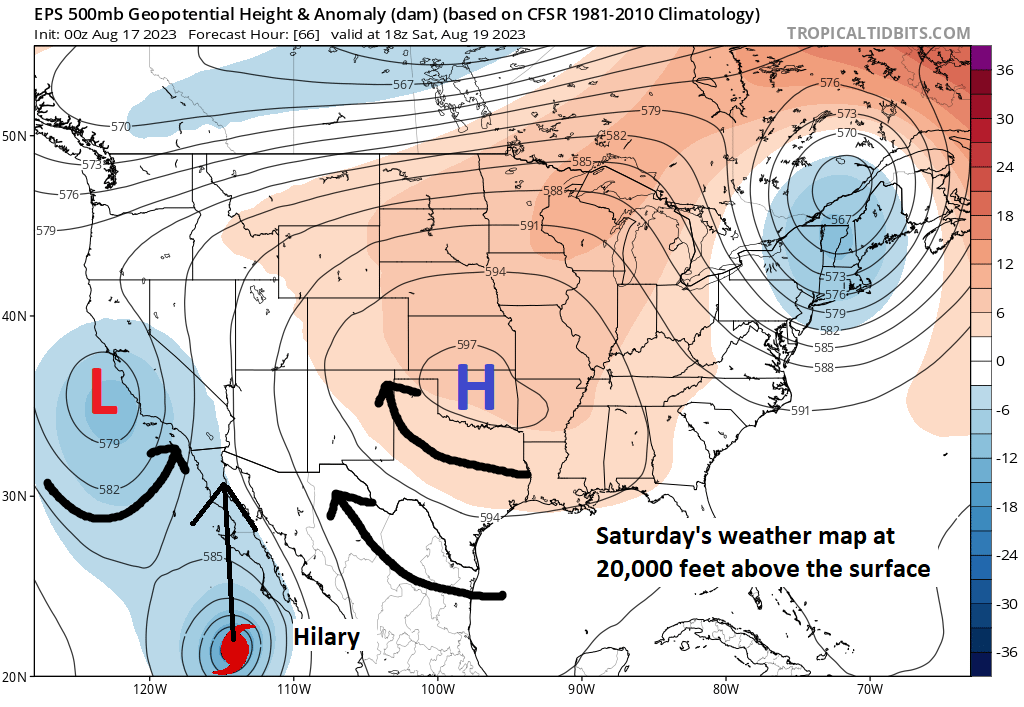 Since yesterday, modeling seems to have coalesced around another storm not making official landfall in California, and as shown by the NHC above, it will probably make land in Baja. However, the general theme of things, bringing Hilary north will bring the remnant moisture northward too.
In general, you should expect a good chance of heavy rain in SoCal, especially in the desert and up into Nevada and for portions of western Arizona and southwest Utah beginning Sunday into Monday, but specifics will be tough to nail down. Additionally, strong winds in passes and at higher elevations will be an issue.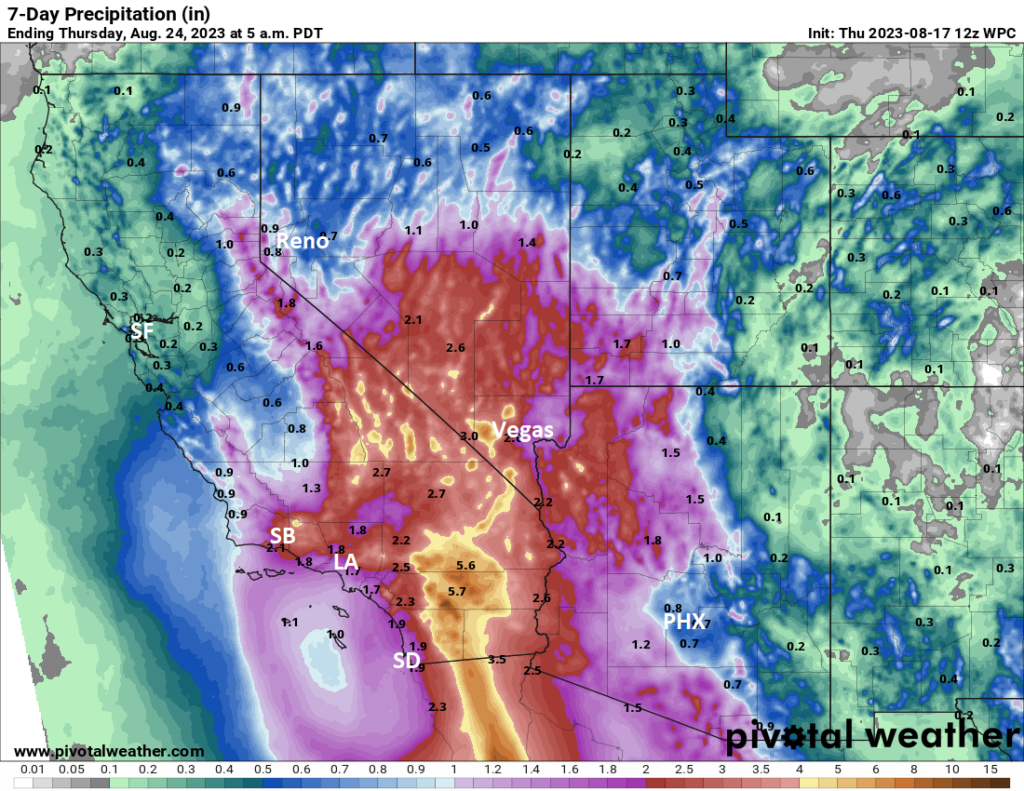 That type of rain (3 to 6 inches) in the desert can cause severe flooding issues, so folks between Phoenix and San Diego northward (as well as on Baja obviously) should be monitoring Hilary's progress. Check out your local National Weather Service office for more localized details.
The medium range (days 6 to 10): A bit of an interlude period
I think the medium range period right now looks like a quieter one with the potential of lingering open Atlantic activity and then a bridge to extended period development in the Gulf, Caribbean, or southwest Atlantic. There are no specific concerns at this time beyond Hilary in California and babysitting the Gulf wave next week.
Fantasyland (beyond day 10): More to come
The system (meaning the atmosphere) remains cranky and noisy beyond day 10 I think. There are several things that might happen, but there is nothing we necessarily feel convicted about that will happen.
For one, as both Eric and I have alluded to in recent days, we could see a gyre setup over Central America, which could spice things up a bit, especially in the Caribbean or eastern Gulf. Some modeling is suggesting that stuff could creep north toward the Bahamas or off the Southeast U.S. coast. The eastern Atlantic may settle down a bit here.
What will ultimately dictate things in the extended range will be the upper pattern. Do we have another ridge over Texas? Will it have nudged back to the Southwest? Will the Bermuda high remain mostly at bay in the Atlantic, keeping the exit door open north and northeast? A lot of things to answer here. We can only speak in broad, vague terms right now. Our advice: Stay tuned.