One-sentence summary
A much less intense Idalia should move toward Bermuda heading into this weekend, but there is a bit of uncertainty about what happens next week, while a couple other systems meander out to sea elsewhere.
Tropical Storm Idalia: 60 mph, moving ENE 21 mph
Idalia is moving off the coast of the Carolinas now, as it begins its march toward Bermuda.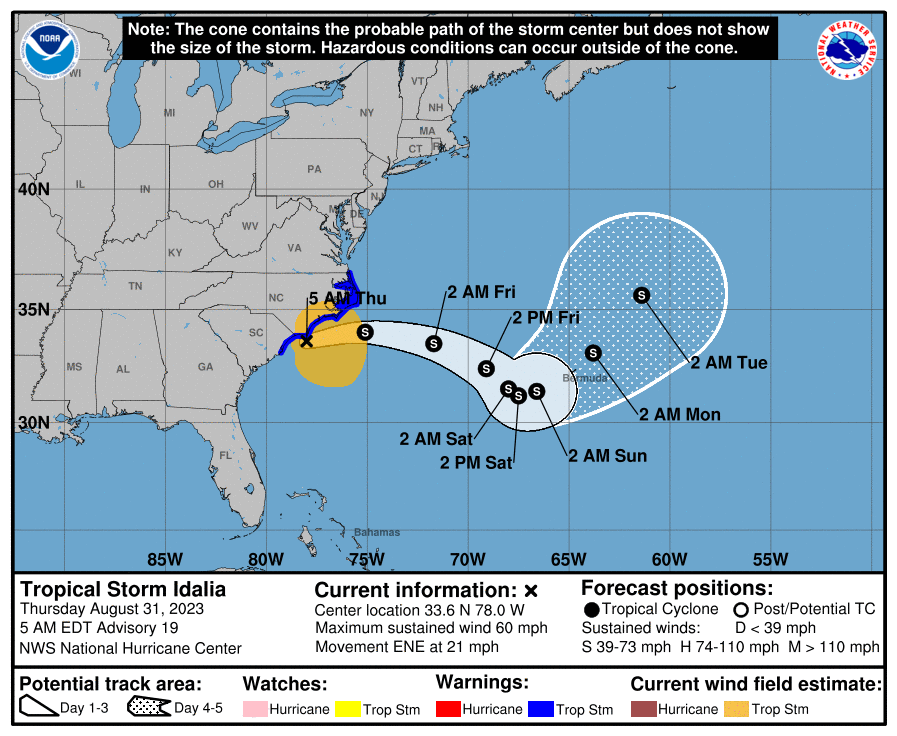 Heavy rain continues from Idalia over far east North Carolina, with some flash flood warnings posted for the Outer Banks this morning. Some locally hefty rainfall amounts are occurring in that area. Wind gusts generally in the 40 to 50 mph range with a couple exceptions have also been occurring. A tropical storm impact in this region for sure.
Idalia will continue eastward today and tomorrow with gradually improving weather over the Carolinas.
As Idalia heads out to sea it should hold its own or weaken a bit further, encountering a lot of wind shear. Because of Idalia's size, tropical storm conditions or breezy rainfall could begin in Bermuda as early as later tomorrow or Saturday.
Through day 5, the forecast for Idalia is pretty straightforward. It will slow down as it approaches Bermuda and meander for a couple days, so by Monday it's somewhere near or north of Bermuda.
From there, things get weird. On the map below I plotted the 500 mb pattern, or what would steer Idalia at about 20,000 feet up. Areas highlighted in red indicate warmer than normal, or what we'd refer to as "above normal heights." Areas highlighted in blue are below normal. The yellow is an overlay I did of "spin" in the mid-levels of the atmosphere to identify Idalia relative to the 500 mb pattern. Confusing? A little, but it paints a picture I can use as a meteorologist.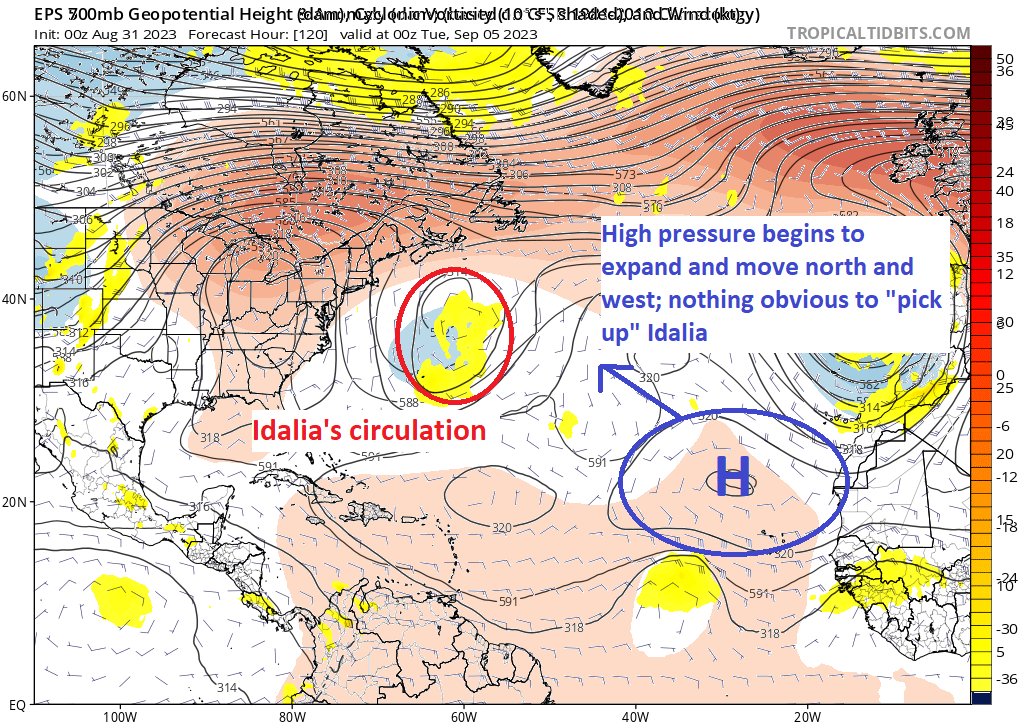 The lack of blue color means there is a lack of lower heights or troughs that could pick up and move Idalia. Instead, Idalia on Monday night is stuck between a rock (high pressure over the Eastern U.S.) and a hard place (building high pressure from near the Cabo Verde Islands). This should produce erratic, uncertain movement early next week. And it's plausible that Idalia has a lack of an exit, so whatever is left of it at this point would just sit and spin. This isn't spectacular news as this could lead to an extended period of rough surf and rip tides on the East Coast that began this week and may extend into next week.
It also does open the door up for weird things like a track back toward the coast, except in the Northeast, not Florida. A couple things to note here: Idalia may or may not be a tropical system at this point. It surely should not be a strong tropical system if it is, but it may be a broad one size-wise, which means it would be capable of rough surf or offshore gale conditions. I think once we see how Hurricane Franklin's exit goes, we'll have higher confidence in the early next week period, hopefully in a day or two. But in general, we have a long way to go here, so we'll keep an eye on things. Idalia should impact Bermuda in some fashion beginning by this weekend.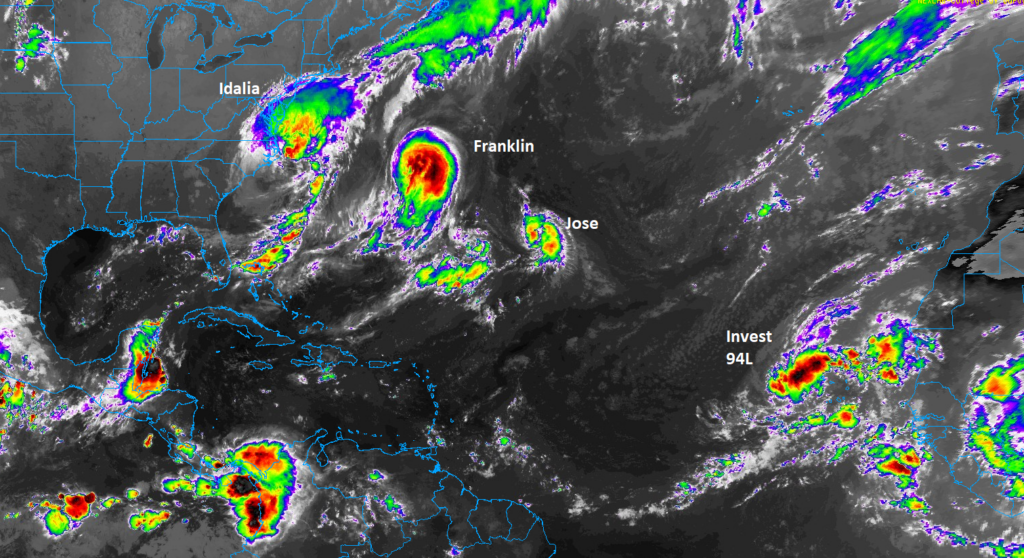 Elsewhere
Hurricane Franklin: 100 mph, moving ENE 15 mph
Franklin remains a category 2 hurricane, but it is beginning the process of accelerating out to sea.
No other impacts to land are expected as Franklin heads out.
Tropical Storm Jose: 40 mph, moving N 5 mph
As all the chaos broke with Idalia, Tropical Depression 11 formed out in the middle of the Atlantic this week. Overnight, that became Tropical Storm Jose. This will be a short-lived storm, and there's no way Jose will impact land.
Invest 94L
Far out in the eastern Atlantic, we have Invest 94L , which is currently over the Cabo Verde Islands. This has about a 70 percent chance of becoming a tropical system over the next few days. But it will be heading northwest or due north away from any land impacts.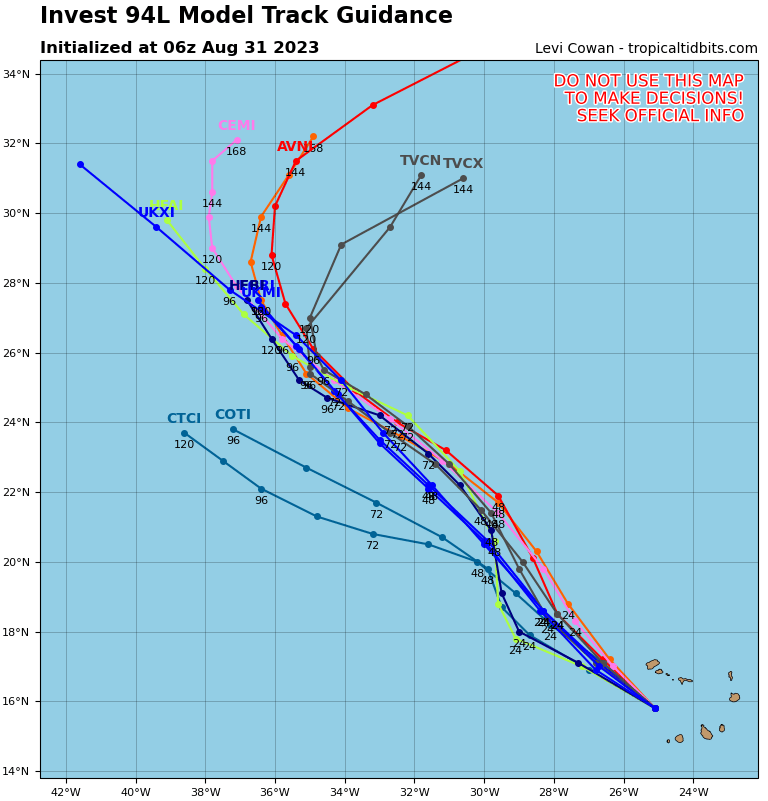 Looking ahead
Other than monitoring Idalia, it will be a relatively quiet weekend into early next week. There are some signals of another Cabo Verde type system that could get going later next week or next weekend, but that's far out there, and given the high uncertainty in the northern half of the Atlantic, I don't really want to speculate on what might happen with that one.
That's about it at the moment. We have a couple days to catch our breath and focus on hopefully lower-end impacts of Idalia in Bermuda. We'll then see what happens next week and keep tabs on the next system emerging off Africa later next week.