One-sentence summary
Idalia is heading to the ocean again, and it will continue offshore with diminishing rain and wind in the Carolinas overnight and a potential date with Bermuda late Friday or Saturday as a tropical storm.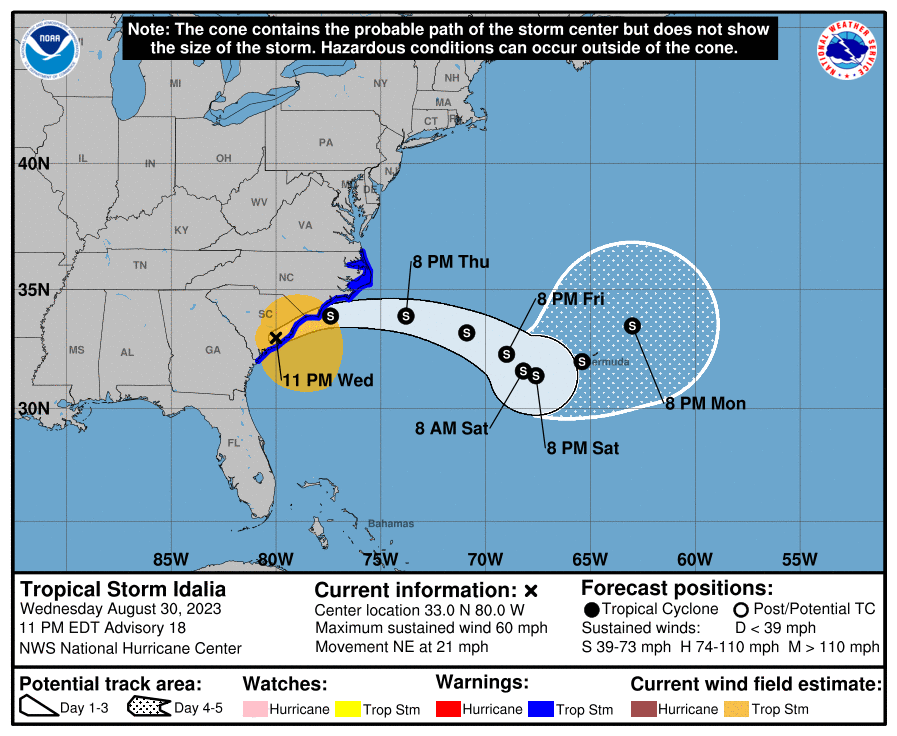 Tropical Storm Idalia: 60 mph maximum winds, moving NE 21 mph
What's changed since early evening?
Idalia is headed for the exits with no real forecast changes of note.
Charleston, SC recorded their 5th highest tide on record, maxing out at 9.23 feet tonight, about a half-foot higher than forecast.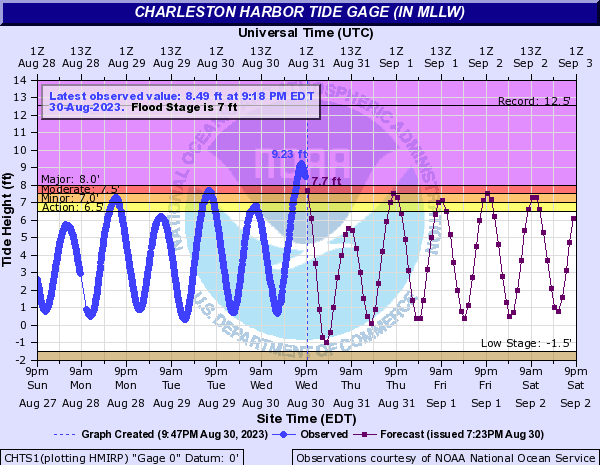 Myrtle Beach managed a 9.13 foot tide, which, if confirmed, is their sixth highest on record.
What's next? Idalia and Bermuda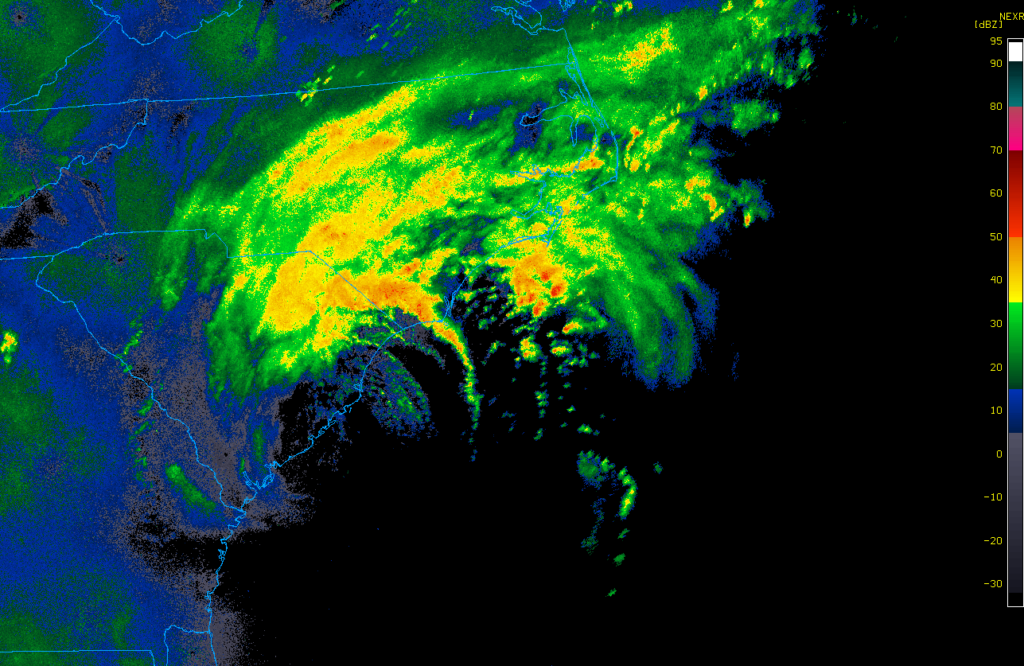 Idalia is on its way out to sea. Heavy rain will continue over eastern North Carolina and northeast South Carolina into the night. Localized flash flooding remains a concern. Otherwise, the wind and surge aspect of Idalia should begin to level off. Rough surf, beach erosion, and rip currents will continue along much of the East Coast due to both Idalia and Hurricane Franklin. If you're kicking off Labor Day weekend early, please keep that in mind on the Eastern Seaboard.
Again, to emphasize, Idalia is heading out to sea. It is unlikely to pivot back west toward Florida again. And even if it did do that, Idalia is not the same Idalia that it was this morning. This is a much more disheveled and disorganized storm. Conditions in the Atlantic are going to be absolutely raging with wind shear over the next few days, so we'll see if it can even survive that. Bottom line: You don't need to worry about a second act of Idalia right now.
For Bermuda? Idalia is worth watching over the next few days to see how it manages to navigate the Atlantic wind shear. A tropical storm impact could occur there as early as late Friday and linger into the weekend. I'm more concerned about the length of time and proximity Idalia may spend near Bermuda than the intensity of the storm right now, so we'll see how this unfolds. Interests in Bermuda need to monitor this over the next few days.
After early next week, I cannot tell you where Idalia will go, except to say probably out to sea eventually. We'll stay on top of it.
Our next update will be our regularly scheduled morning outlook on Thursday, where we'll catch you up on what's happening elsewhere in the Atlantic.