For those of you just interested in the Atlantic & Gulf activity, scroll down. We will begin again today with Hurricane Hilary. For folks in California, charge your phones, as power outage risks will increase today with Hilary coming north.
Some people will be apt to call this a "bust" already. As those of us in Houston know all too well, when round one of rain ended and the sun even came out for a time, a lot of people were caught off-guard by Harvey's main event that night. Hope for the best, but the forecast data has not markedly changed and severe impacts remain a likely outcome, especially in the desert.
One-sentence summary
Hurricane Hilary is expected to impact the Desert Southwest today with extremely heavy rain and a high risk of significant flooding, while South Texas eyes beneficial rains from a tropical wave this week, one of several Atlantic disturbances right now.
Hurricane Hilary: Still likely to bring severe rain & flooding to the desert
The majority of the forecast is on track, with a few noteworthy changes today, mainly in the form of higher wind forecasts in southeast California, Nevada, and southwest Arizona. Hilary is approaching the coast of Baja this morning with its 85 mph winds, mostly as expected.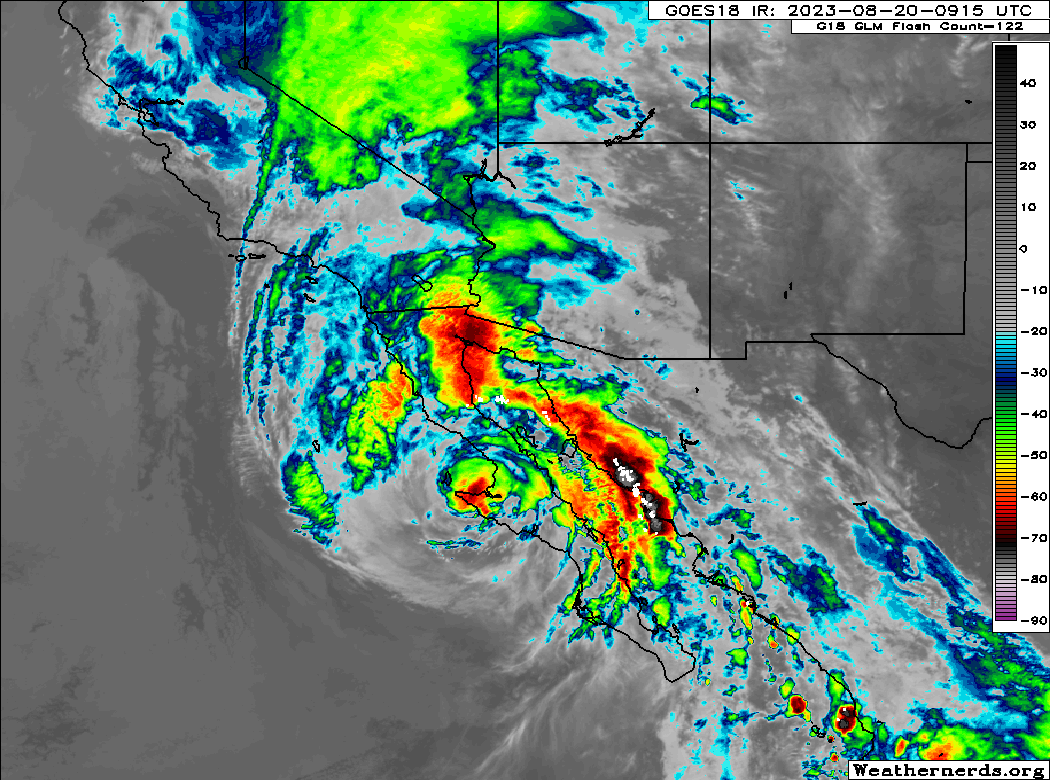 Very little has broadly changed in terms of the track, but a few nuances lead to a little more wind for the Southwest U.S. Hilary should come north as a tropical storm into California, transitioning to a depression near Death Valley, and then getting absorbed into the U.S. weather pattern over Nevada.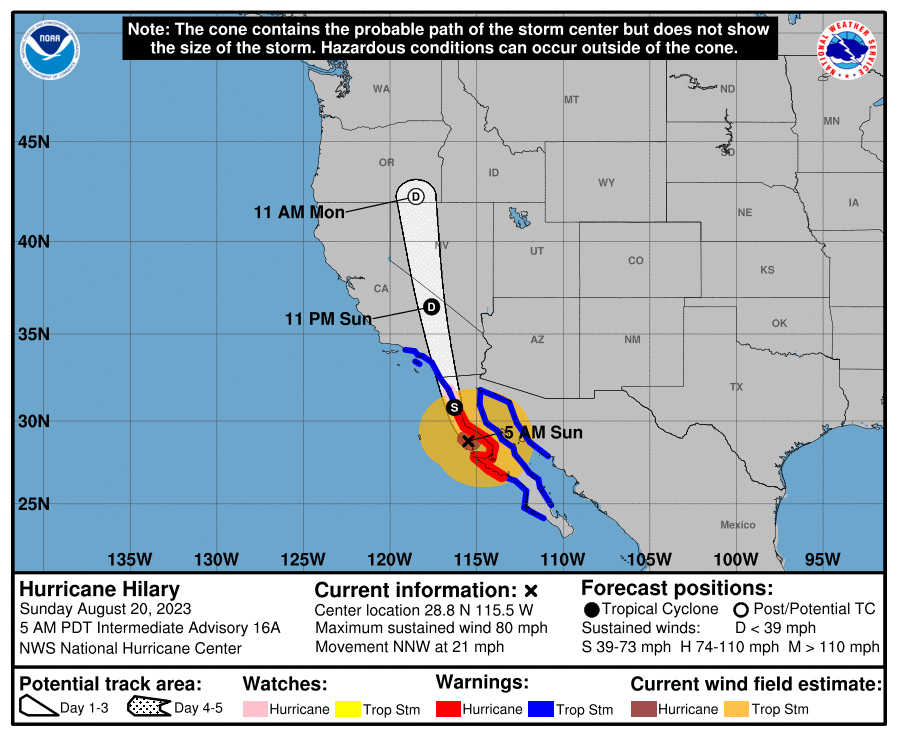 Let's walk through impacts again today.
Coastal SoCal Metros (Santa Barbara-Ventura-LA-OC-San Diego)
For most in these areas, Hilary will be a considerable inconvenience. However, there will be issues with flooding in spots. There will also be concerns about mudslides and debris flows in the foothills and near burn scars. While the majority of valley and coastal locations will see 1 to 3 inches of rain, that will be enough to cause flash flooding of roads, and travel later today may become a little difficult. Urban flooding is always a concern when you get rain rates of an inch an hour possible, which may be what occurs in spots.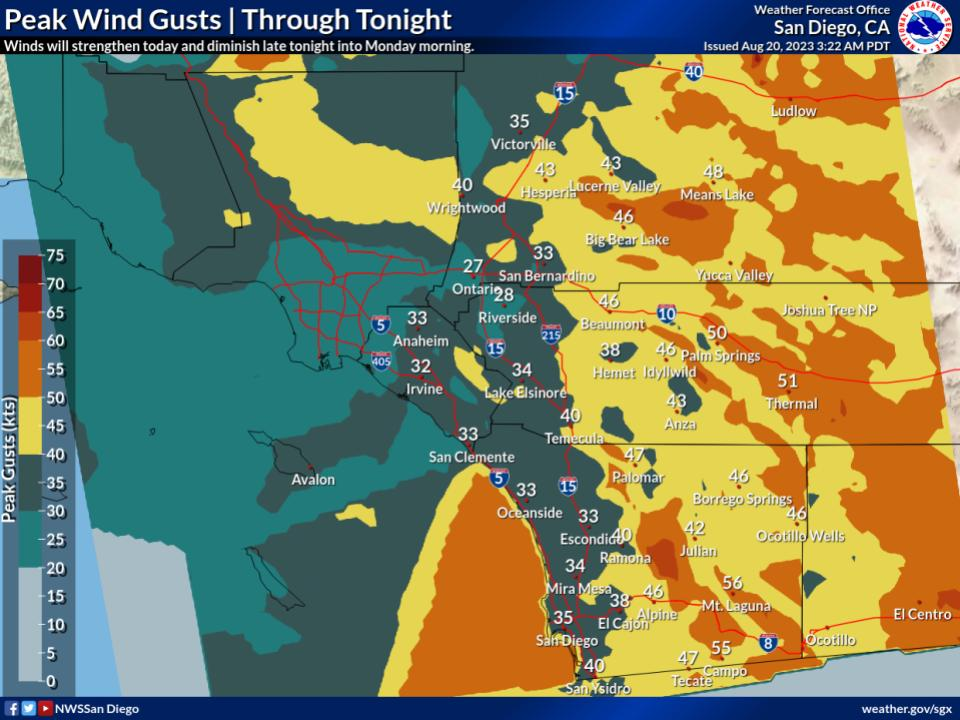 Flood watches are posted, and honestly if you don't need to be out later today, it's best to stay put.
While winds may not look dramatic on the map above (with 30 to 40 mph wind gusts on the coast), there will be stronger winds in spots and likely some power outages.
Conditions from Santa Barbara through San Diego will improve tomorrow.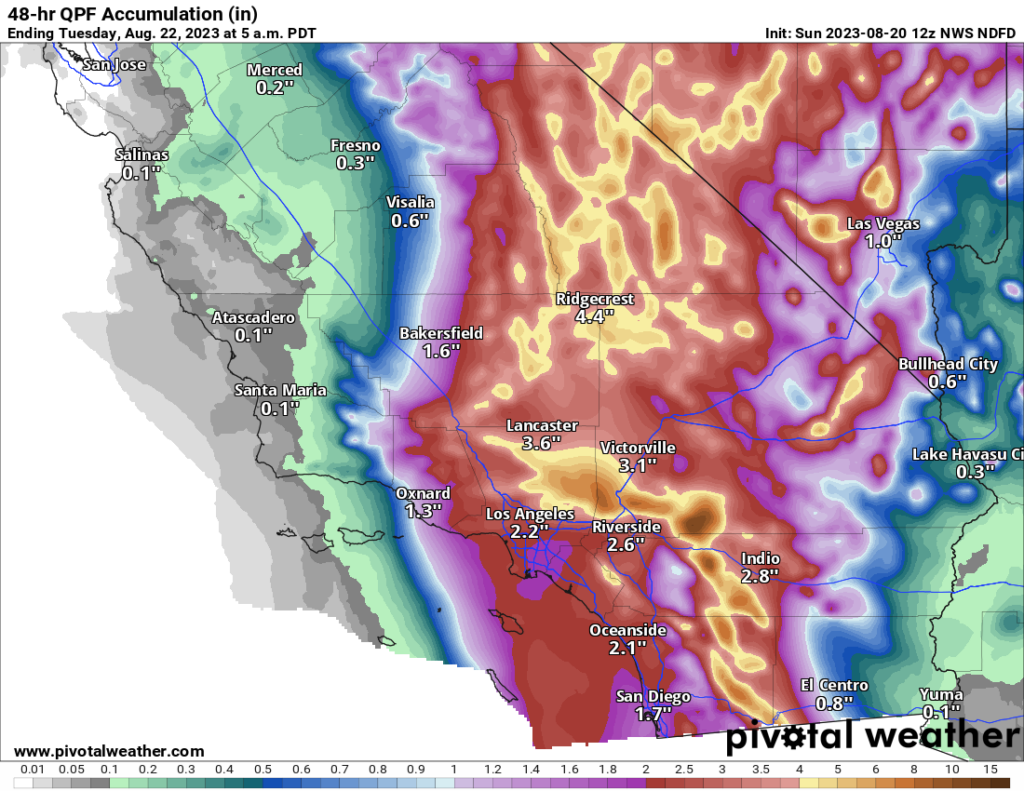 Inland SoCal Metro Valleys and Mountains
The impacts inland from the coast will vary. North and east-facing mountain slopes will likely see the heaviest rainfall with 3 to 10 inches likely and higher amounts not out of the question. Rate rates will be intense, and in those particular mountains, we may see mudslides, rock slides, and the potential for significant, rapid-onset flooding. This will include the mountains east of San Diego, the north side of the San Gabriels, San Bernardinos, and Ventura County mountains. The Antelope Valley north of LA may be very susceptible to flooding due to rain in the mountains upstream.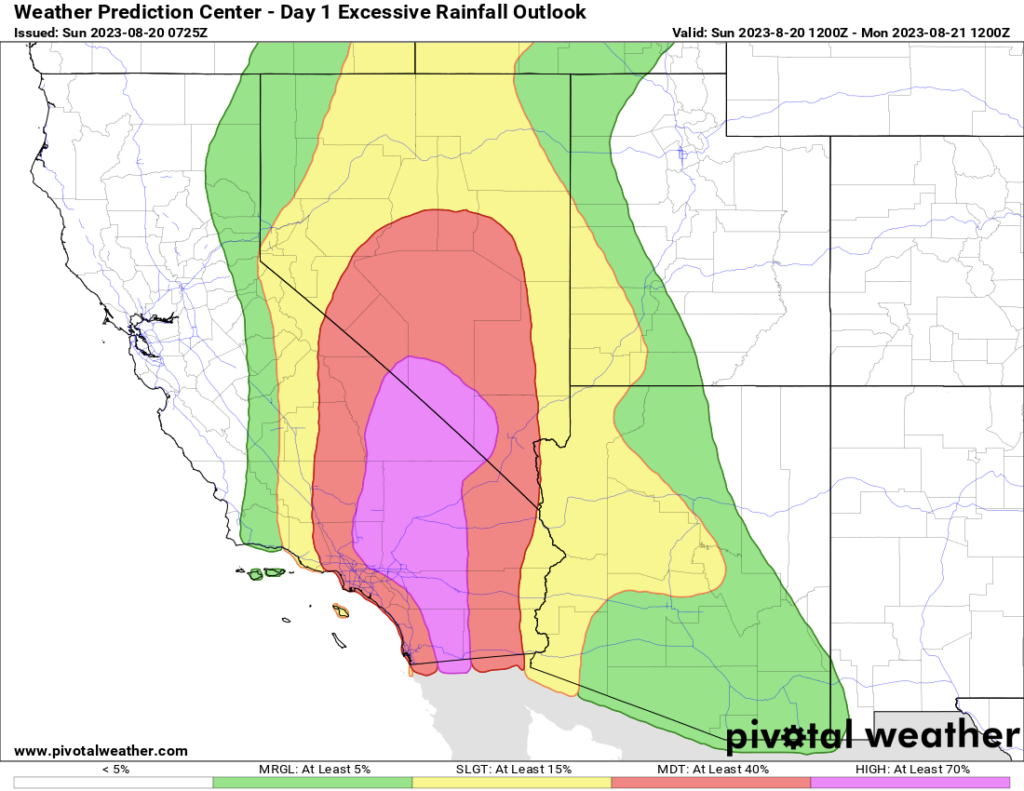 Flash flooding or debris flows will be likely in some of the foothills and mountains, and travel, particularly into the mountains or across the Antelope Valley will be discouraged later today.
Winds will mimic patterns that we usually see in these regions during Santa Ana wind events, with gusts locally up to 50, 60, or 70 mph possible. This isn't a Santa Ana, but because the wind direction of an approaching tropical storm is similar to how winds setup in Santa Anas, you'll get that pattern. Prepare for power outages in some of these areas.
California Deserts
As noted above, the Antelope Valley will be particularly susceptible to heavy rainfall, but the Mojave Desert as a whole will be as well. That high risk from the NWS Weather Prediction Center remains in effect today, as it has since a few days ago. Confidence is high in major, damaging flooding impacts in these areas, which may see the equivalent of a year or more worth of rain today. Areas from the Imperial Valley and Salton Sea north to Death Valley are at highest risk for poor outcomes today. Locally, mountain peaks will enhance rainfall some, including the Panamints near Death Valley. Travel is discouraged today in the deserts and between the coast and interior.
Winds will also be an issue here, with 40 to 60 mph gusts widespread and risk for higher in spots. Prepare for power outages in these areas.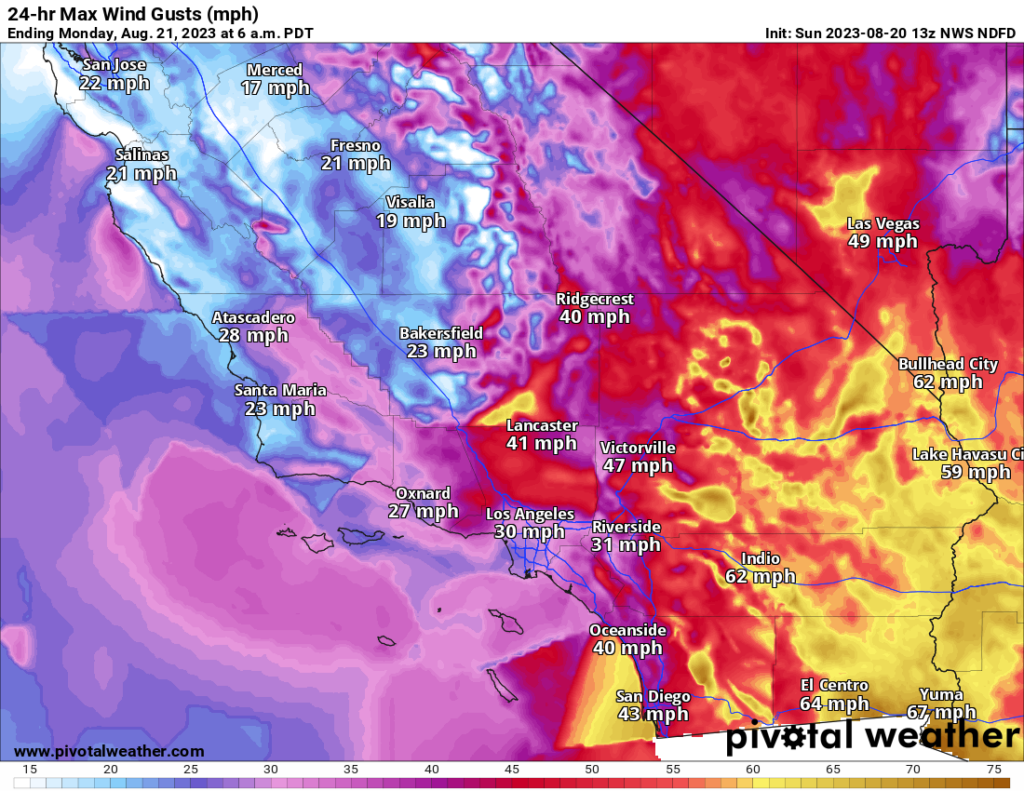 Arizona
Conditions tend to lessen some in Arizona, but there will still be issues with flooding and strong winds in the western part of the state.

Rain totals were dropped a good bit near Yuma today, as it appears a "dry slot," or an area of dry air in between rainy bands may set up near Yuma.
Nevada
For Las Vegas, the threat of flash flooding is real, even if the highest risks are to the west of there. Urbanized desert is especially susceptible to flooding, so if a cell or band of heavy rain just happens to set up over the Las Vegas Valley, you will have a recipe for significant urban flooding. Be aware and prepared today in Vegas.

The heaviest rain may occur near Mount Charleston. As the NWS in Las Vegas noted this morning, the Nevada 24 hour state rainfall record previously occurred there. The 7.78 inch total on Mt. Charleston may get challenged today.
In addition to the rain, strong winds will be an issue here as well and power outages are possible in southern Nevada.
Conditions should improve from south to north tomorrow.
Lots of Atlantic nuisance and noise
Shifting into the Atlantic basin now. The NHC's outlook map looks more like a leaked flag football playbook or something.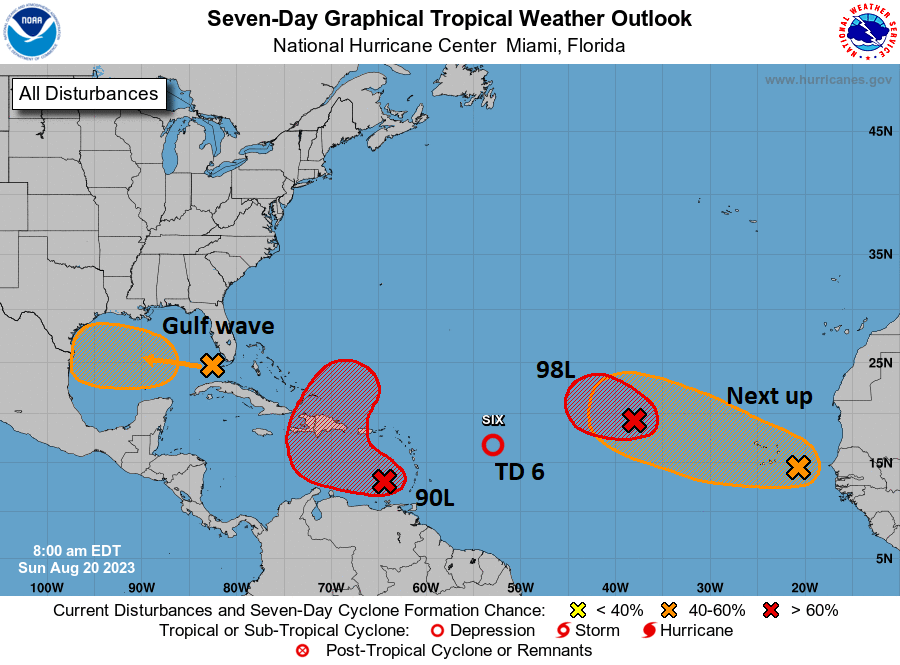 Right out of the gate, let me just say that none of these systems look particularly menacing or troublesome for any areas. Busy as it may be, we'll call this a nuisance setup. Let's walk through these things.
Gulf wave: A rainmaker in South Texas
The tropical wave we've been talking about for several days is finally in the Gulf of Mexico this morning, and based on satellite imagery, it is not terrible looking. Organized, no, but vigorous, yes.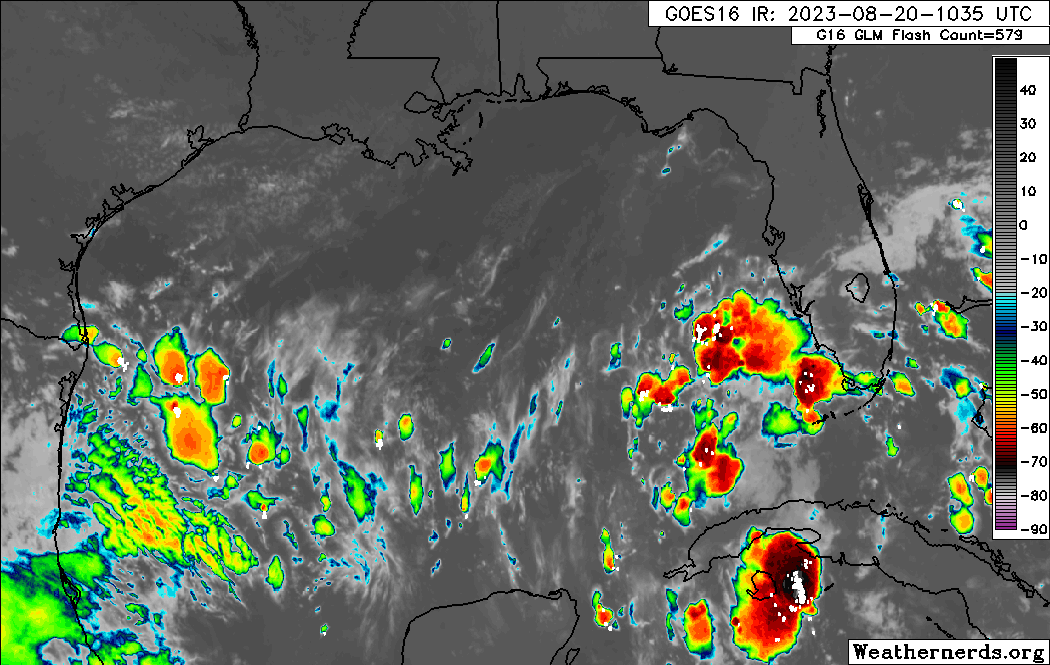 This will continue due west across the Gulf and make it into Texas by Tuesday morning. This has a 50/50 shot of becoming a depression or low-end tropical storm as it approaches Texas, but it is unlikely to surpass that level. The main impact from this system will be rainfall in Texas, a needed commodity. Sadly, for Houston and drought-stricken east Texas, this will do next to nothing. However, South Texas needs the rain too, and they will get some as this system moves in.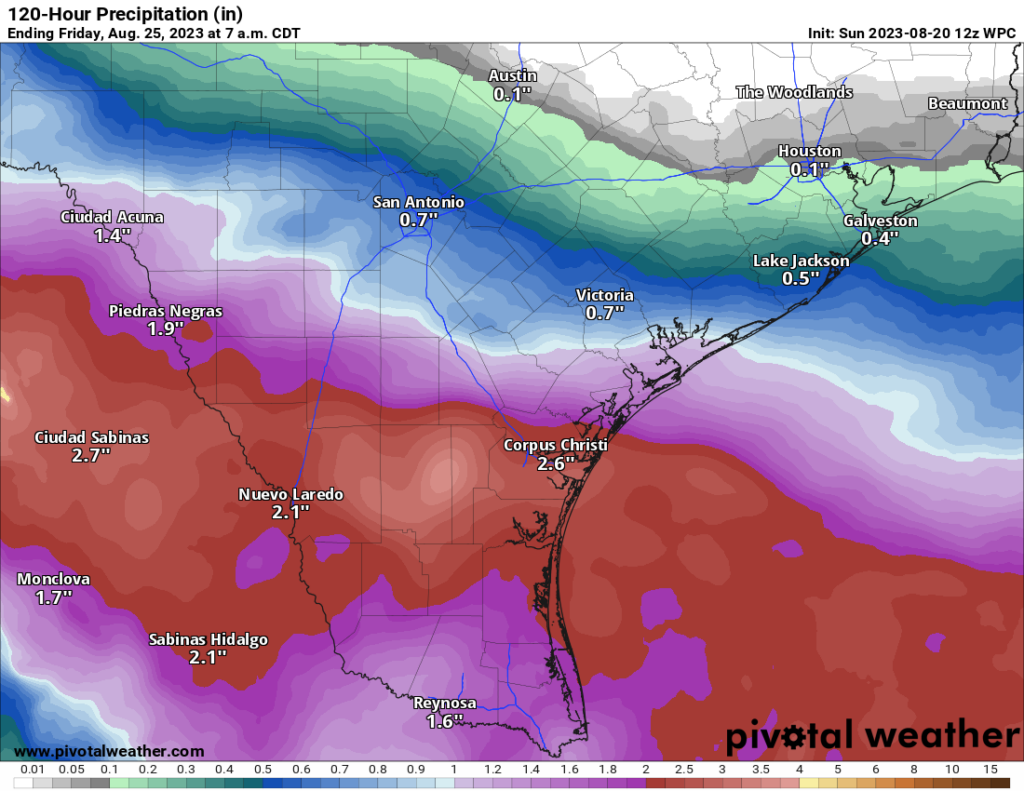 Look for about 1 to 3 inches of rain for areas south of Matagorda Bay and lesser amounts north of there, to near 0 rain for the I-10 corridor in Houston and SE Texas.
Invest 90L: May develop today, rain for Hispaniola, Bermuda in the future?
The next wave to discuss is Invest 90L, which is located in the southeast Caribbean. It is beginning to attempt to develop there, and there's some chance this becomes a depression or even Tropical Storm Emily today.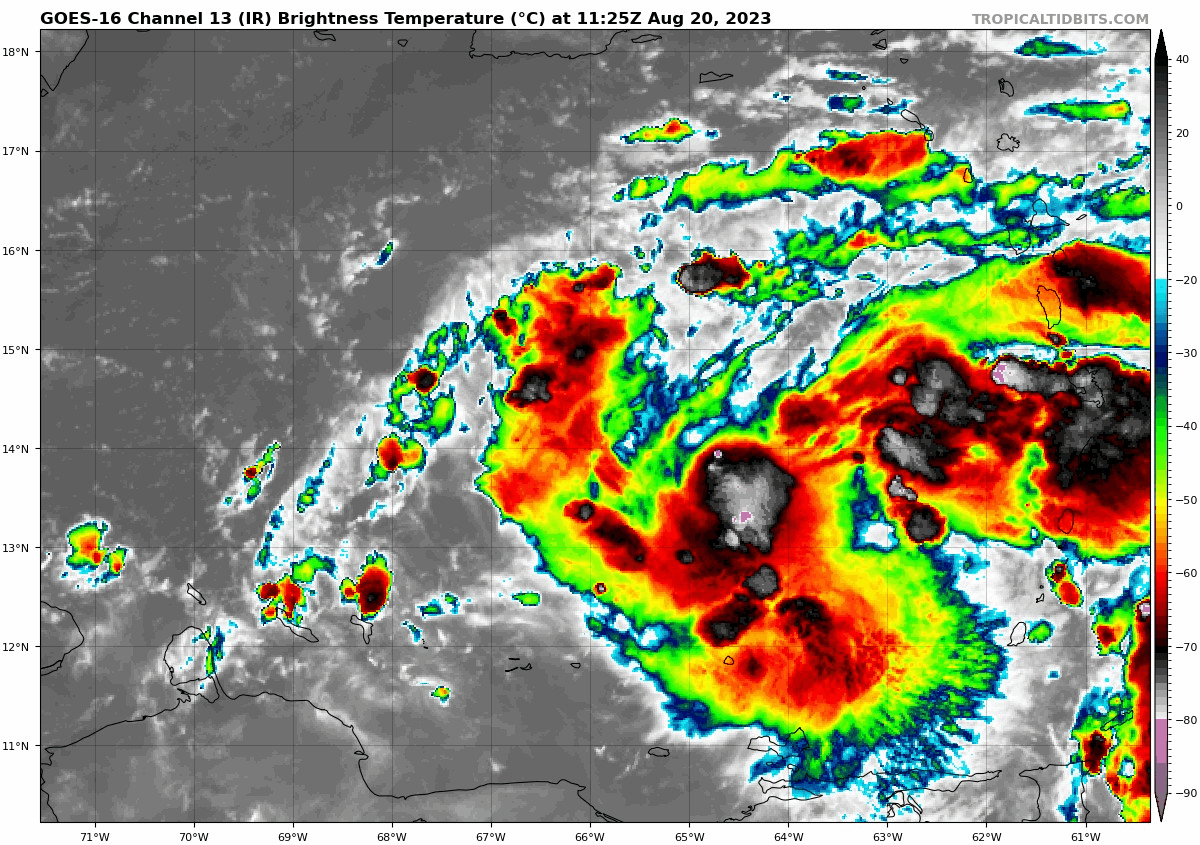 If you look at the NHC map above, you can see how 90L's potential development takes on an "L" shape. The good news is that 90L should be drawn up north and out to sea rather quickly. The bad news is that it could impact Hispaniola, particularly with heavy rainfall. Bermuda may also want to keep an eye on 90L's progress over the coming days. We will watch this closely for those areas this week.
Tropical Depression 6: Heads for the exits today
Invest 99L turned into TD 6 yesterday, and it will degenerate back into a wave today. Thanks for joining us.
Invest 98L & Africa waves
We expect development of Invest 98L in the next day or so, at least to a depression, maybe a tropical storm. But it will stay out at sea. Subsequent waves off Africa will likely behave similarly in the coming days.