Editor's note: Idalia made landfall with estimated 125 mph winds, making it a category 3 major hurricane
One-sentence summary
Idalia is about to make landfall as a category 4 hurricane in Taylor County, FL, with catastrophic storm surge in the Big Bend and wind, tide, and rain impacts spreading north into Georgia and the Carolinas later.
Hurricane Idalia: 130 mph, moving north-northeast at 18 mph
Idalia looks prepared to make landfall on the eastern side of Apalachee Bay in Taylor County or on the Taylor/Dixie County line.
What's changed since late last night?
Idalia is now a category 4 major hurricane with 130 mph maximum sustained winds. It is nearing landfall. Because of Idalia's fast forward speed, hurricane warnings are now in effect on the East Coast from just north of St. Simons Island, GA to Edisto Beach, SC. Storm Surge Warnings are also posted from St. Catherine's Sound in Georgia to the South Santee River in South Carolina. Tropical Storm Warnings are in effect north from Surf City, NC to the North Carolina and Virginia border.
Forecast tides in South Carolina are a little higher today.
An extreme wind warning is in effect for Taylor and portions of Dixie County, FL as Idalia approaches landfall.
Idalia's surge
The storm surge forecast remains on track in Florida, with a little expansion of surge this morning forecast for the South Carolina coast, now up to 3 to 5 feet in the Charleston area.
With Idalia coming ashore in Taylor County in all likelihood, surge may be a bit under the forecast west of the Taylor/Jefferson County line. This is accounted for in the map above, but it may even drop off a bit faster than shown. Still, as much as 12 to 16 feet of surge should be in the process of rolling ashore in the Big Bend. Charleston's forecast is now up to 8.5 foot tidal levels in the harbor.
This is now forecast to be up to about November 2021 levels and close to cracking Charleston's top 10 list.
There has not been much change in Savannah this morning, with a 10.3 foot crest expected.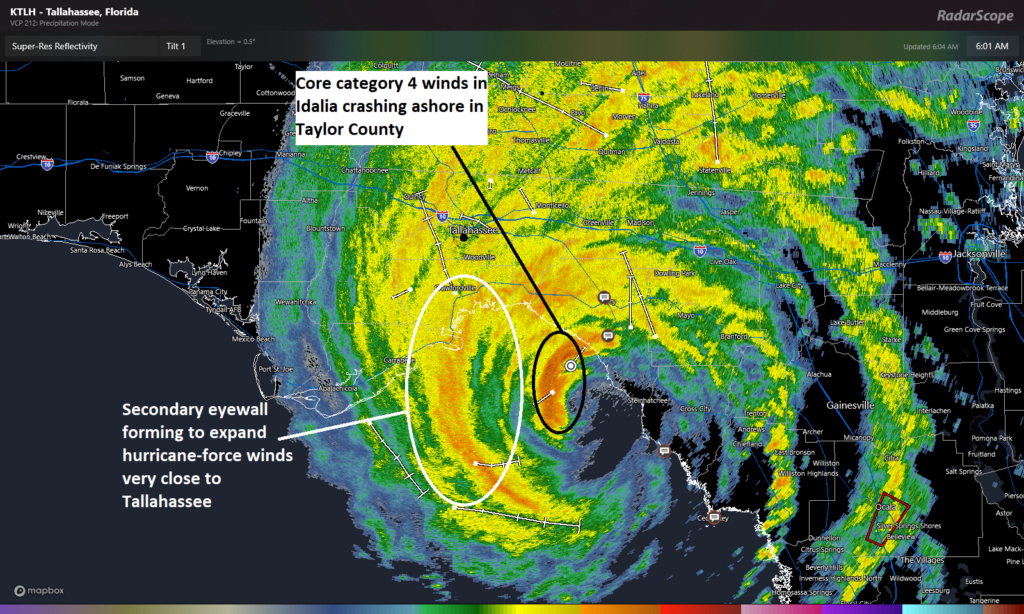 Idalia's wind
The core of Idalia's category 4 winds, the real catastrophic winds will push into Taylor County, FL and right toward Perry, FL over the next hour or two. Those will cross I-10 near or west of Live Oak in all likelihood. Strong winds are likely in a secondary eyewall forming to expand Idalia's wind field this morning. That will push inland on the west side of Apalachee Bay and come very close to Tallahassee.
Idalia's wind field is expanding but the intensity will gradually lessen as Idalia push inland and weakens. Still, this storm will be capable of big wind and many power outages as it comes north and east.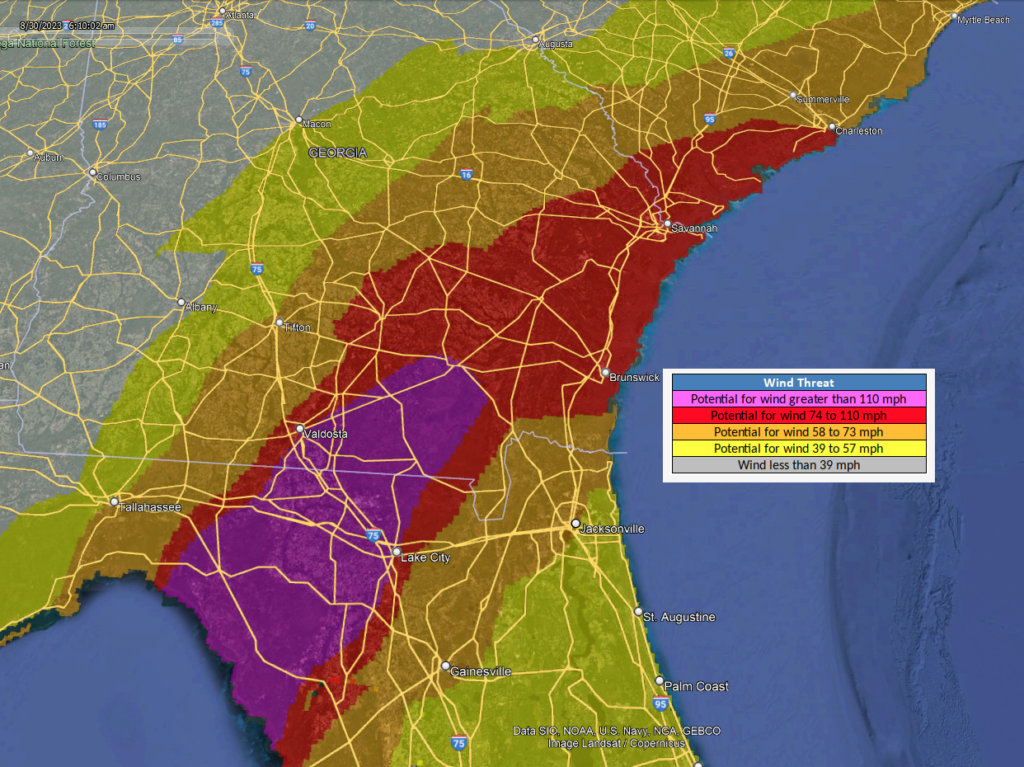 The strongest winds will hopefully avoid Valdosta, but much of southeast Georgia will see very strong winds as Idalia races northeast. Hurricane-force winds will also be possible in southeast South Carolina.
Idalia's tornadoes
A Tornado Watch is posted for most of North Florida and southeast Georgia through mid-afternoon.
Tropical systems do produce isolated tornadoes, so this will be a possibility anywhere in the watch area.
Idalia's rain
Idalia is expected to produce a narrow but lengthy corridor of 6 to 10 inches of rain into southeast North Carolina.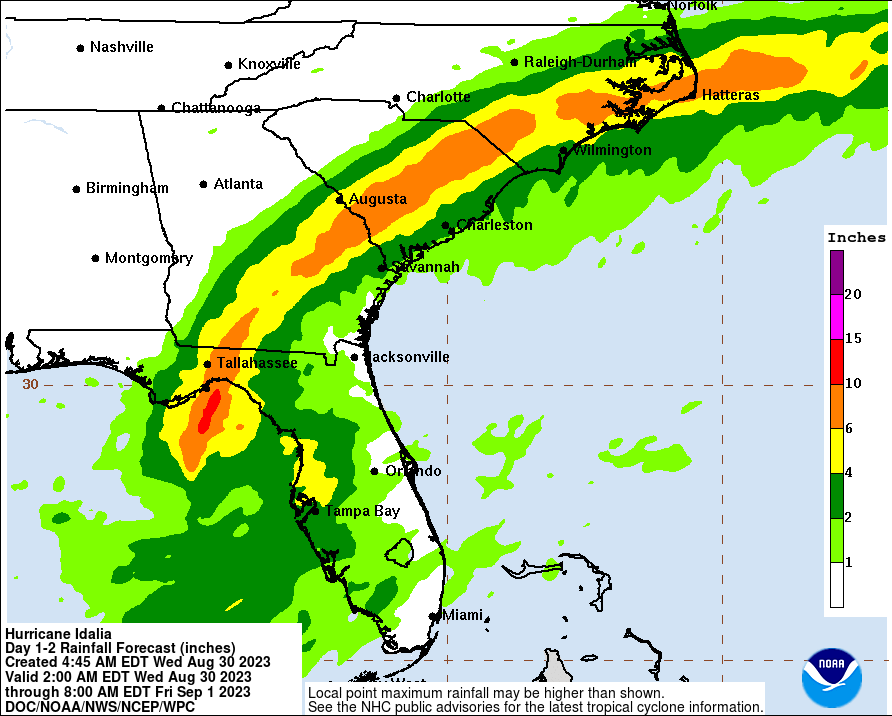 Flash flooding is likely in spots as it comes northward.
Our next update will be posted around Noon ET with the latest on Idalia as it comes northeast.