One-sentence summary
While tropical development is not expected over the next week or so, there are a couple features to keep tabs on in the Atlantic.
Happening now: Watching the Atlantic
After the weekend, we start the second week of July off with a couple items of note in the Atlantic. Just to be clear here, we aren't necessarily expecting anything important to come from this, but given the warm ocean waters, it's not the worst idea in the world to keep an eye on things.
Let's start with the current picture of dust and disturbances.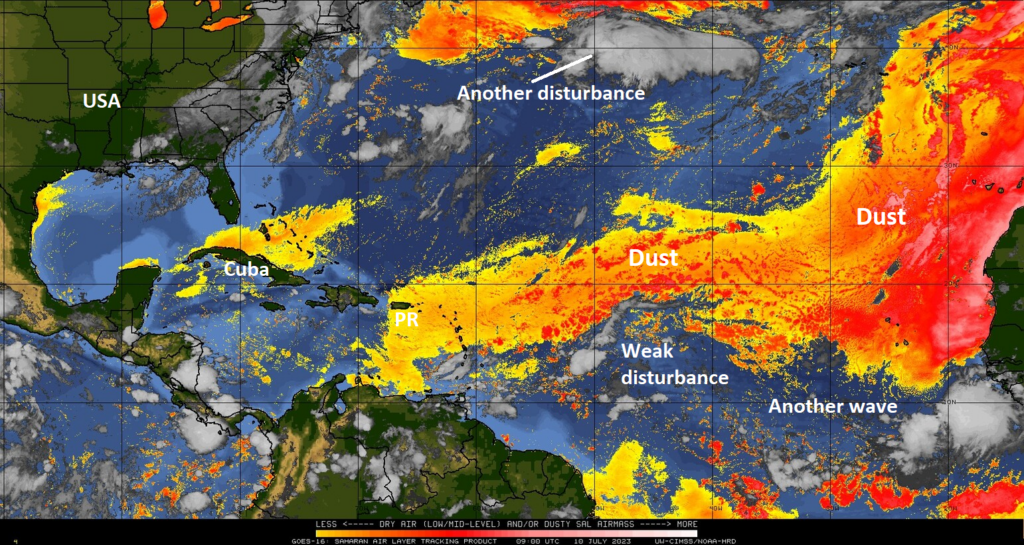 You can see a pretty healthy area of dust stretching across the Atlantic from Africa to the Caribbean islands. Surely not the most impressive we've ever seen, but it's definitely there. Anyway, most of the dust stretches across 20°N latitude until you get close to the Caribbean. Underneath that band of dust is a tropical wave. This has shown flashes of coherence through the weekend, and the European ensemble model in particular has at times latched onto this becoming A Thing over the next few days. Frankly, it's hardly impressive looking today, likely battling some of the dust on its periphery and running into a wall of shear on its west side.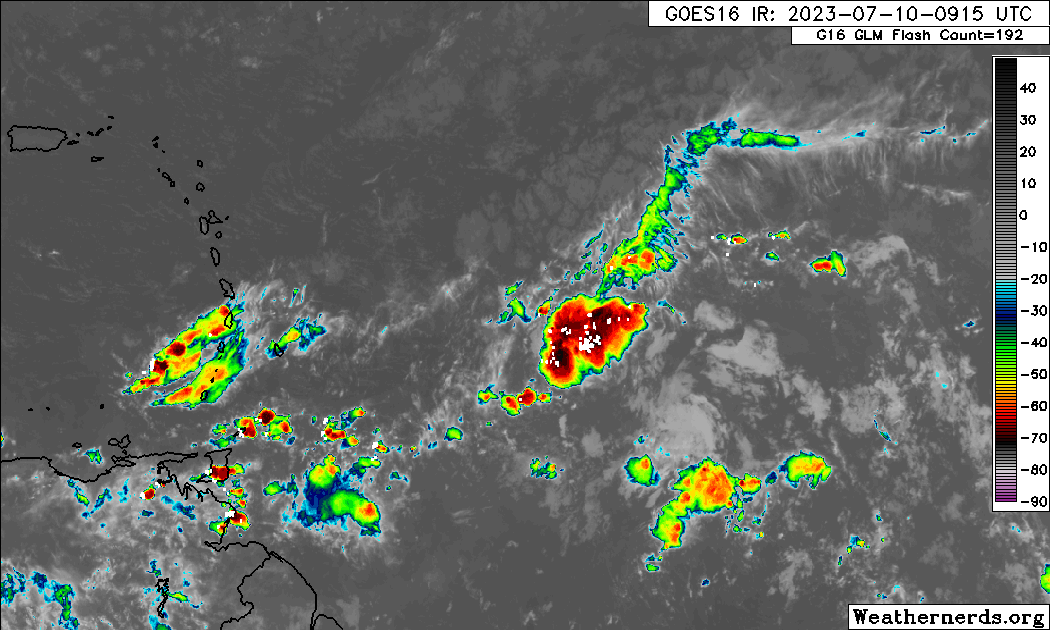 Modeling has gotten a good deal less excitable about this wave, so I don't think it merits close watching, but we'll see how it goes over the next day or two.
The medium range (days 6 to 10): Watching the far north Atlantic
Outside of that disturbance above, we had mentioned last week that the far north Atlantic might see some noise this week. Indeed, we have a pair of disturbances sitting up there. An actual surface low should develop in the coming days from the smaller area of storms at left on the image below (exiting Bermuda) and we may see this area become a development one.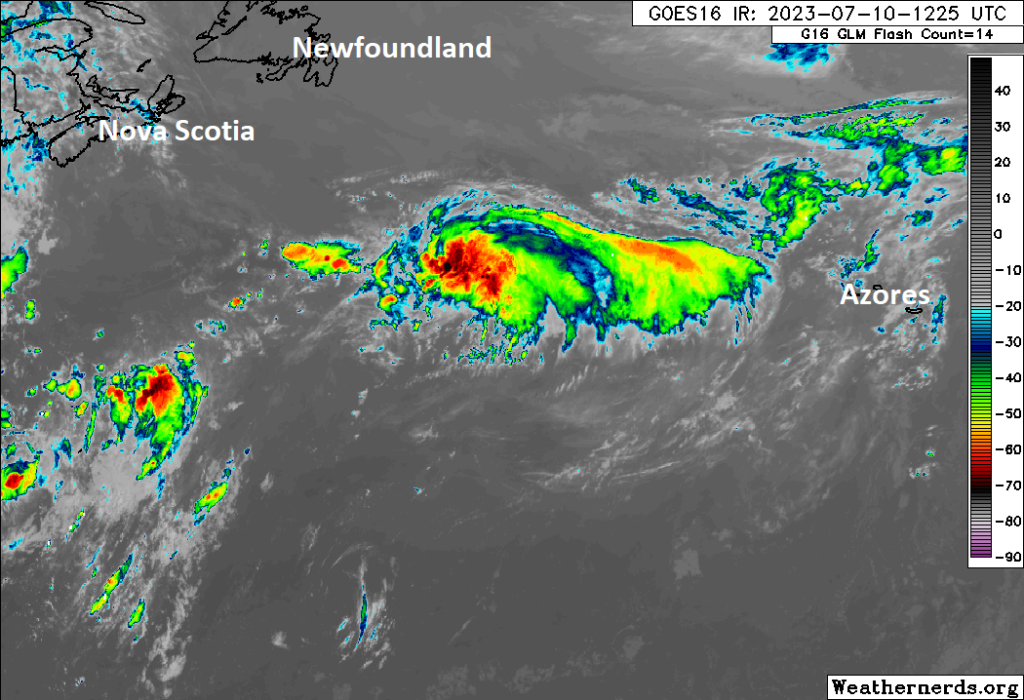 The National Hurricane Center is assigning about 30% odds for that to occur. If it does happen, the system would likely meander somewhat incoherently, as if it were 2 AM and last call around the North Atlantic generally toward the Azores over time. We'll see if it become a threat to those islands. For now, we'll say this is not a big deal but does bear a little watching.
Fantasyland (beyond day 10): Mostly quiet
The good news is that despite the slight uptick in "noise" today, the day 10+ period does not look that interesting right now. Not to say that things will not change, but at this point, I'm not seeing much of anything that warrants a lot of our attention.
Sidebar: New England flooding
Flooding in New England is not uncommon. The region has a long history of flooding events, often with remnant tropical systems. But what is expected today, particularly without the involvement of a tropical system is troubling. That region is in line for some serious rain and flooding today, as a pipeline of moisture extends from the warm Gulf up through the warm Atlantic into New England.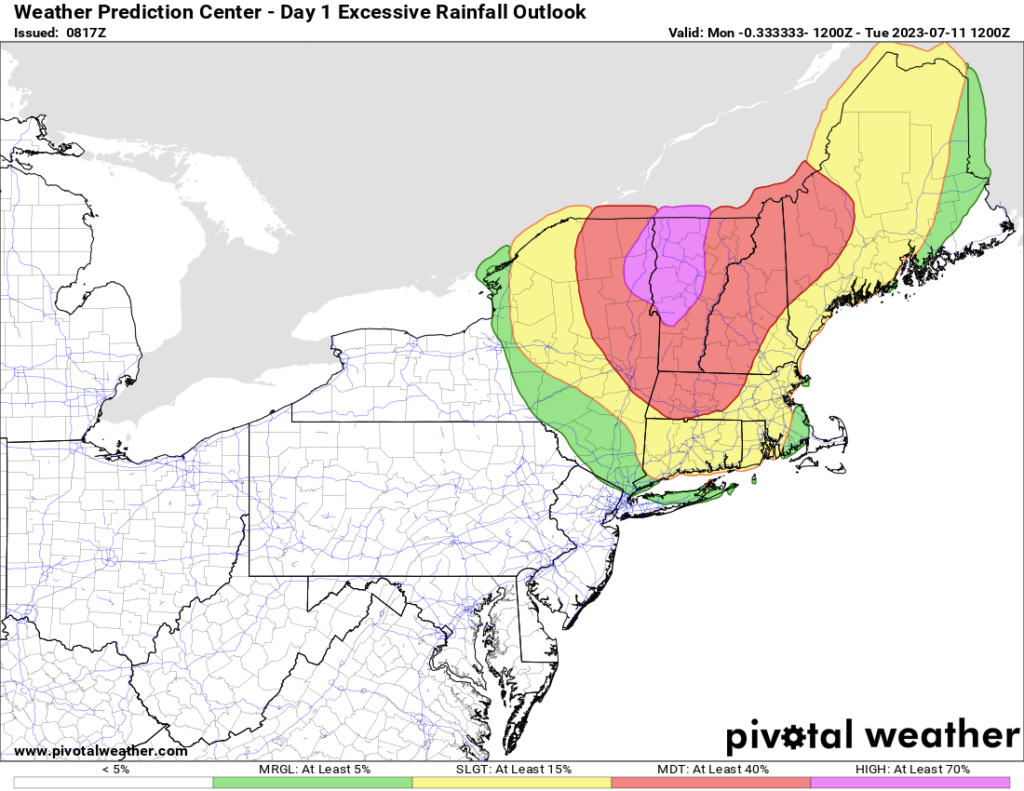 The Weather Prediction Center has parts of northern New York and Vermont in their rare "high risk" category for excessive rainfall, which usually correlates strongly to bad outcomes. Significant to catastrophic flooding is expected in parts of New England and New York today because of this setup. Rainfall warnings extend into Quebec as well.
It's also a good opportunity for us to look at sea-surface temperature anomalies and see just how warm things are right now.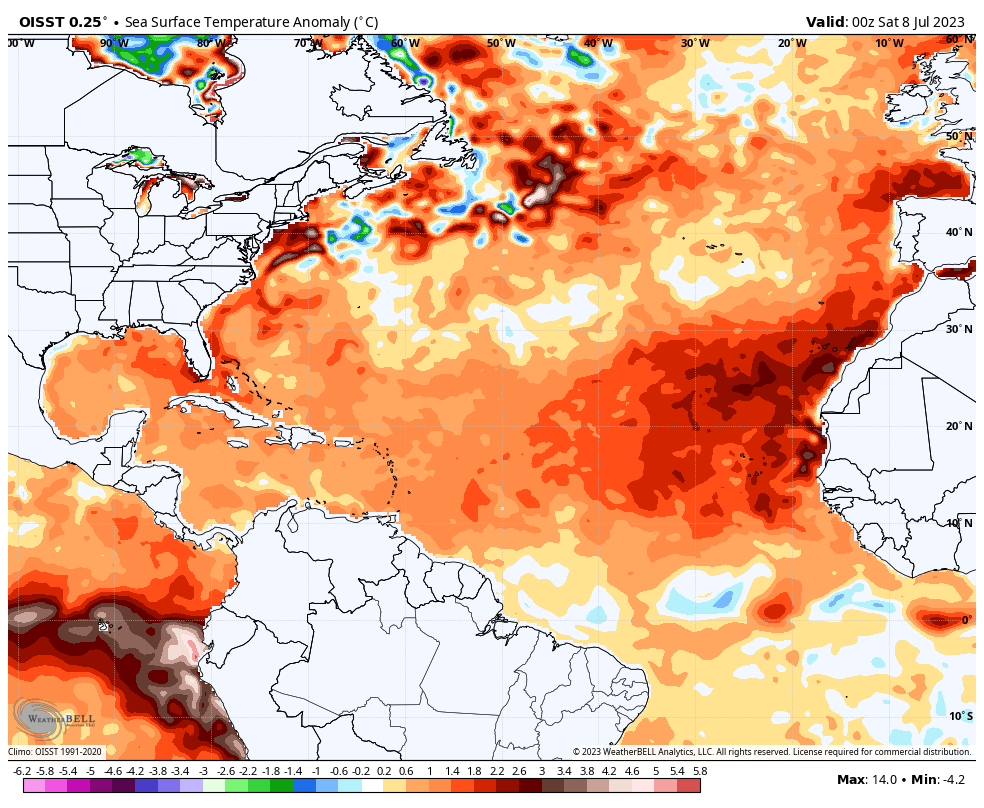 There is hardly any cooler than normal water to be found anywhere in the Atlantic, Gulf, or Caribbean. This is one reason why it's tough to forecast a slow hurricane season. At any rate, our thoughts are with the folks in New England that will be dealing with a very rough go of it today.