One-sentence summary
The majority of the tropical Atlantic will remain fairly quiet, however it appears increasingly possible that a tropical system could form several hundred miles east of Bermuda during the next week.
Happening Now: No worries for most
In the Atlantic this week all eyes are, improbably, on an area of low pressure located about 500 miles to the east-northeast of Bermuda. As Matt pointed out on Tuesday, historically this is a very unlikely place for a tropical system to form in mid-July. But as we'll discuss a bit more below, this is not a normal year. The seas in the Central Atlantic Ocean are fairly warm for this time of year.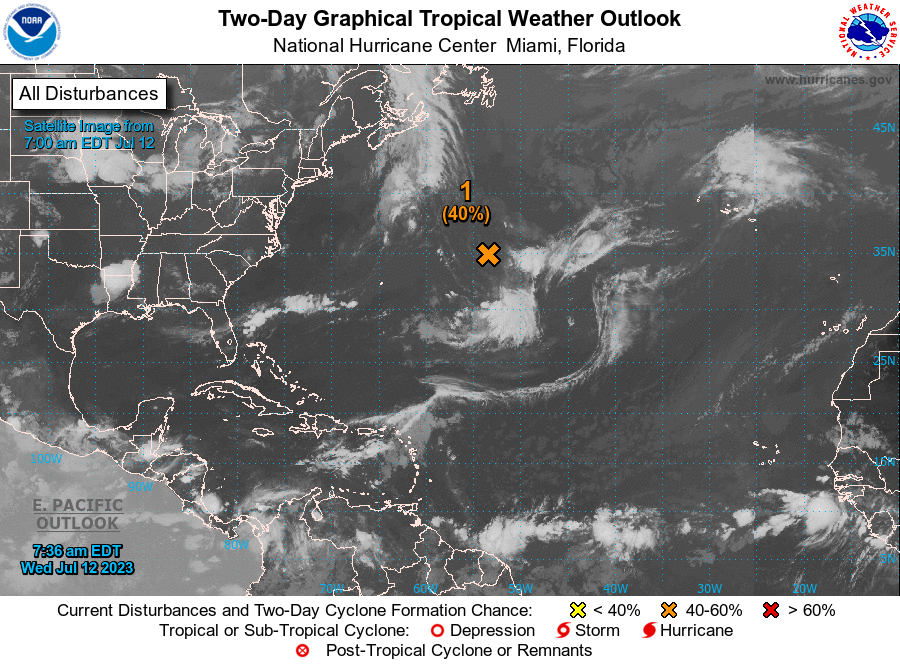 The National Hurricane Center gives this system a 50 percent chance of becoming a tropical depression or storm over the next seven days before it would likely fizzle out, moving further north into waters less favorable for development. Given that this system almost certainly will remain out at sea, it should ultimately be of little concern to to us in terms of impacts. Unless you're a fish. Or run a shipping company.
The medium range (days 6 to 10): Let's talk about the Gulf of Mexico
Beyond the system in the Central Atlantic, there's not much to say in terms of activity. But that's perfectly normal for mid-July, when there's often a lull in the tropics. However, I do think the warm water that's allowing the Central Atlantic system to form offers us a cautionary tale.
If we turn our gaze to the Gulf of Mexico, we see very high sea surface temperatures. If you live anywhere along the coast, from Brownsville, Texas to Miami, Florida, you've probably noticed the very warm nights this summer. This is due, in part, to temperatures in the Gulf of Mexico that are running from 1 to 5 degrees Fahrenheit above normal. This onshore flow adds to the overall mugginess of the air.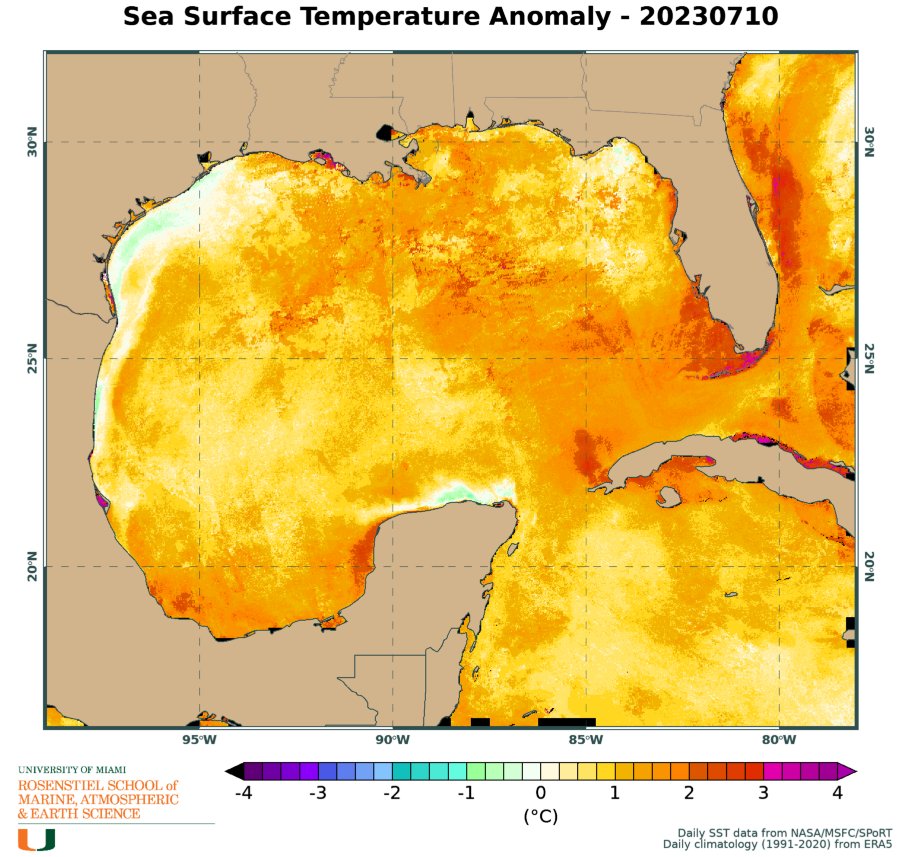 This is not a concern now for tropical activity, as wind shear remains fairly robust across the Gulf, inhibiting storm formation. But it will become a significant concern as we get into August and September, when wind shear tends to relax a bit. I'm not making any concrete predictions here, but with sea surface temperatures this warm, if tropical systems do form they will have the potential to become very strong, very quickly.
Fantasyland (beyond day 10): Still quiet
Fortunately, there remains no sign of anything notable in the extended range right now. This is likely to change as we get toward the end of July and into August, but for now things are quiet.