One-sentence summary
Impacts from Calvin will diminish later today in Hawaii, while in the Atlantic Don swirls and a couple tropical waves will stir.
Happening now: Calvin hitting Hawaii, while Don swirls in the Atlantic
Heavy rain continues to fall across Hawaii as Calvin passes through today. As of 2 AM Hawaii time, over 5 inches has fallen just west of Hilo in the upslope terrain there, while Hilo itself has seen just shy of 2 inches. Continued rain bands are likely over the next 6 to 12 hours before things settle down.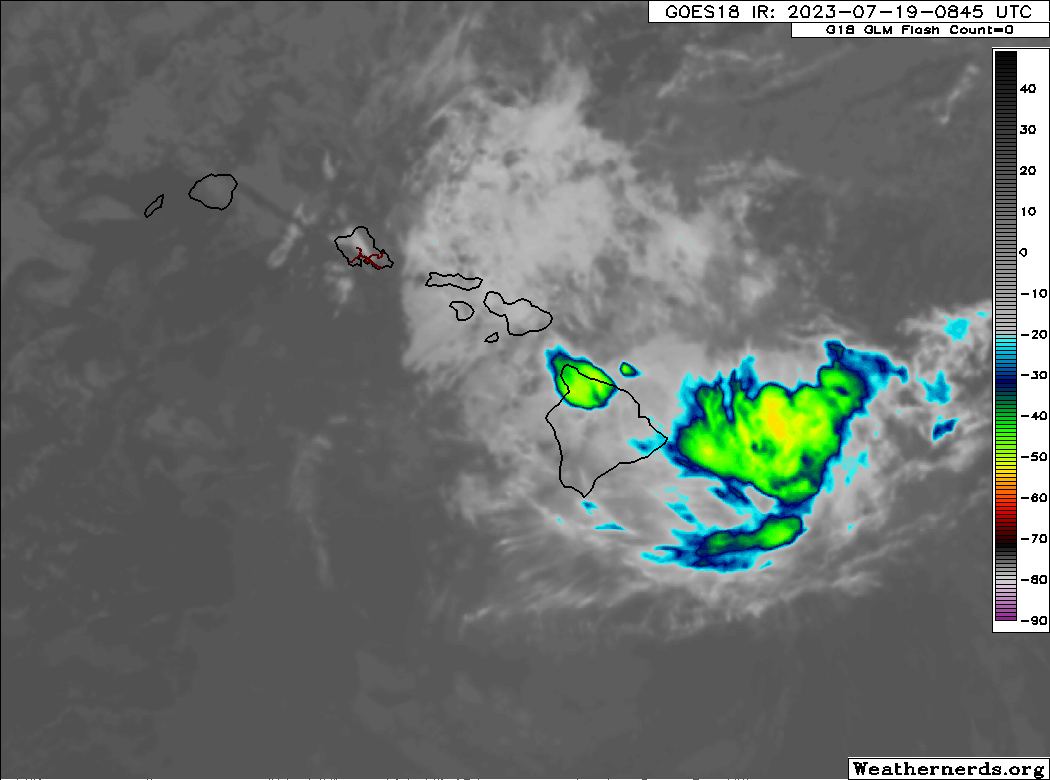 Winds have been mostly gusting into the 30 mph range in spots, with gusts as high as 45-50 mph or so right now at high elevation. Winds should be near their peak now before things slowly improve this morning. The strongest winds over the next few hours will be over and just downwind of terrain across the islands. Overall, things will improve later today from east to west.
Meanwhile on the Atlantic side, Tropical Storm Don continues its maneuvering in the open waters.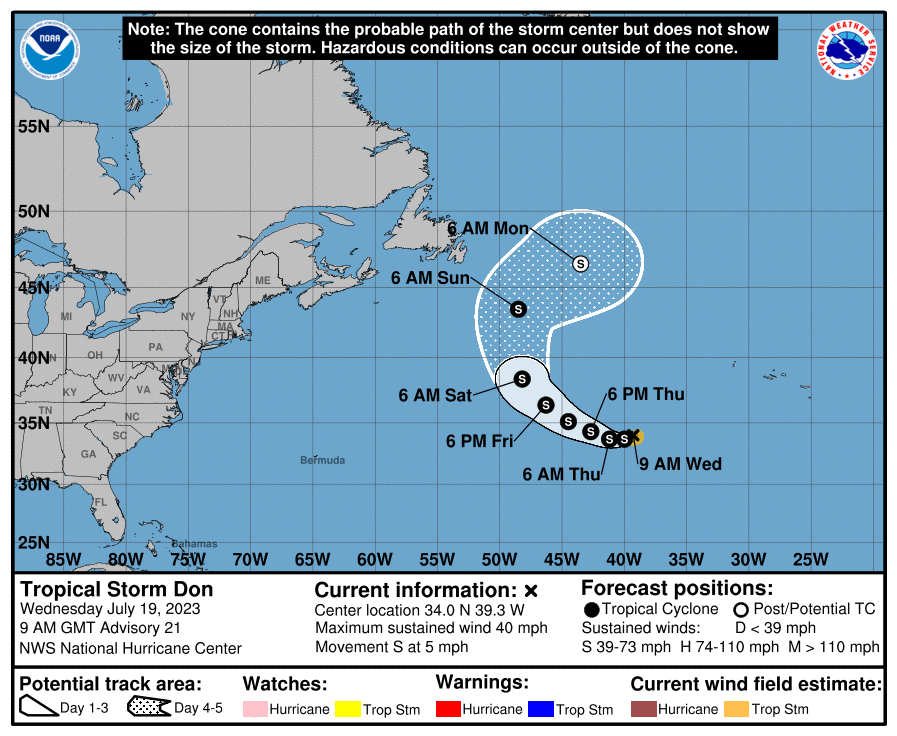 We're starting to see the exit strategy come into view now, with Don expected to continue its loop and turn northwest, north, and eventually accelerate northeast out to sea. Don's remnants will likely be absorbed into the jet stream and head into Europe next week as part of a storm system there, as is often the case with recurves.
The medium range (days 6 to 10): Atlantic waves march west but have a lot of dry air to fight off
Two days ago, I wouldn't say I was bullish on the medium range, but I saw a pathway toward a depression or storm. Today? Not so much. I just really think the dust is too extensive out there to allow for anything to get going. That said, the National Hurricane Center did peg a tropical wave in the eastern Atlantic with a 20 percent chance of development over the next 5 to 7 days as it comes west.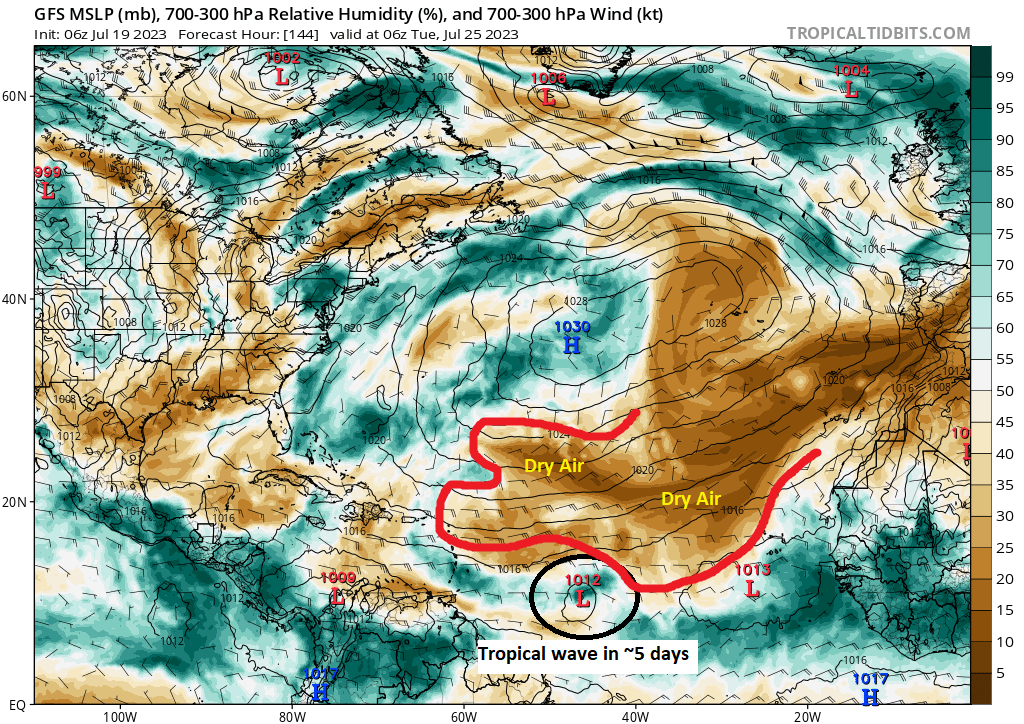 You can see from the map above that any waves will have to navigate this drier air to get going. That won't necessarily be easy. These waves are worth monitoring, but I really do believe they will struggle a bit through days 7 or 8 as the lead wave approaches the islands.
Meanwhile, in that dry air is a lot of Saharan dust, and that will be making its way across the Caribbean and into the Bahamas, Cuba, and Florida over the next couple days. Eventually, that should arrive in the Gulf and impact the U.S. Gulf Coast and parts of Mexico too.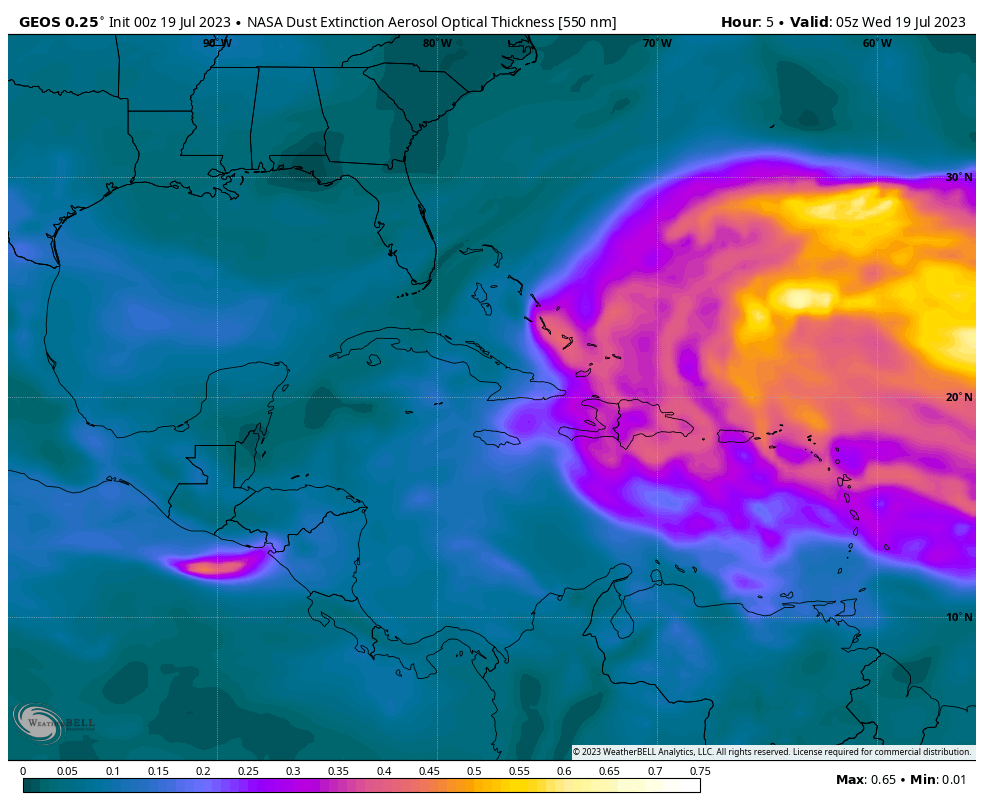 So look for haze, milky or brown colored skies, some airborne irritants, and hopefully some above average sunrises or sunsets in those areas next week.
Fantasyland (beyond day 10): One trick ponies
The GFS operational model is essentially a one trick pony until August. It usually fires up storms, mostly unrealistic ones, and then eventually corrects to reality in time. We may be seeing that now with the tropical wave in the Atlantic that it periodically tries to blow up as it moves toward the US Southeast coast.
There remains very little ensemble support for this type of outcome. Remember, ensembles differ from operational models in that they are run multiple times with tweaks in the initialization that allow for a broader and more realistic array of potential outcomes. That ensemble support has held steady this week, meaning a small minority show it happening, but we have not added any to that. This tells me that there is not much support for this outcome, and as discussed above, I think this dry air is really going to hamper things. So, yes, we'll keep watch, but right now, we don't expect a lot to come of things through the end of July.