One-sentence summary
As Tropical Storm Don swirls in the Atlantic, we're watching another system that likely will not develop due to dry air.
Happening now: Don
Tropical Storm Don looks a little better this morning in its satellite appearance, and has a window to strengthen somewhat over the next day or two. During this time it probably will top out as a reasonably strong tropical storm, but northing more. Fortunately Don continues to follow a track that will keep it far out to sea.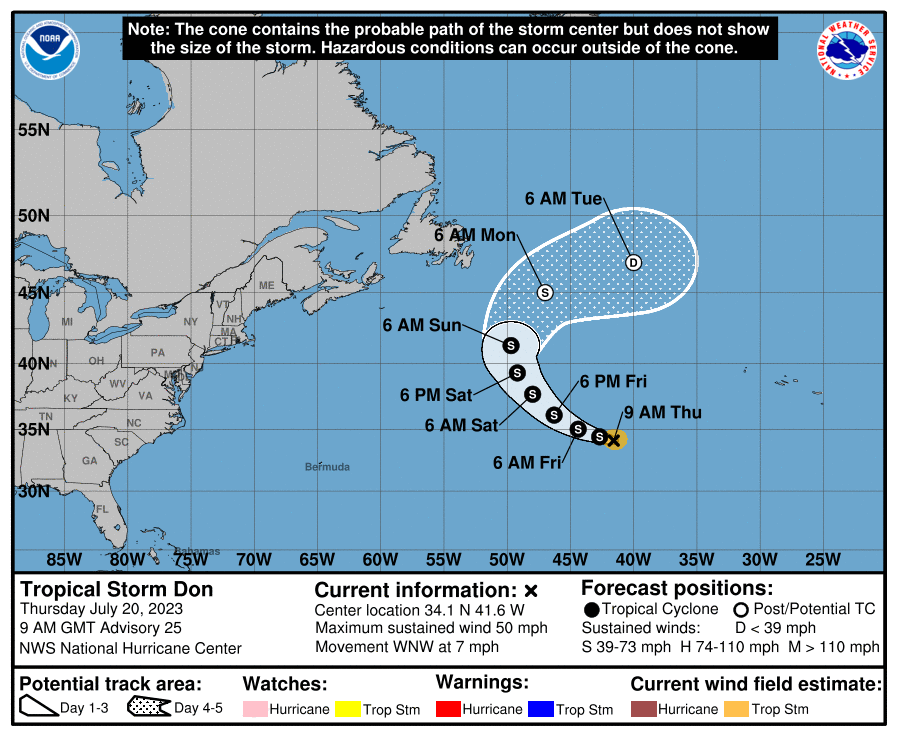 By this weekend Don should lift far enough north that water temperatures will become too cold to sustain tropical storm characteristics. Once Don reaches waters below 70 degrees Fahrenheit this weekend, it is safe to say that Don will knotts be long for this world.
The medium range (days 6 to 10): Atlantic waves march west but have a lot of dry air to fight off
The National Hurricane Center continues to call attention to a tropical wave in the eastern Atlantic, forecasting a 20 percent chance of development over the next 5 to 7 days as it comes west. If I were buying stock in storms, I would give this one a "sell" rating due to a number of factors, including dry air to the system's north and, eventually, probably in the Caribbean as well. Matt mentioned yesterday that the Saharan dust inhibiting this system is on its way toward the Gulf of Mexico eventually, so look for some reddish sunsets later next week along the U.S. Gulf Coast.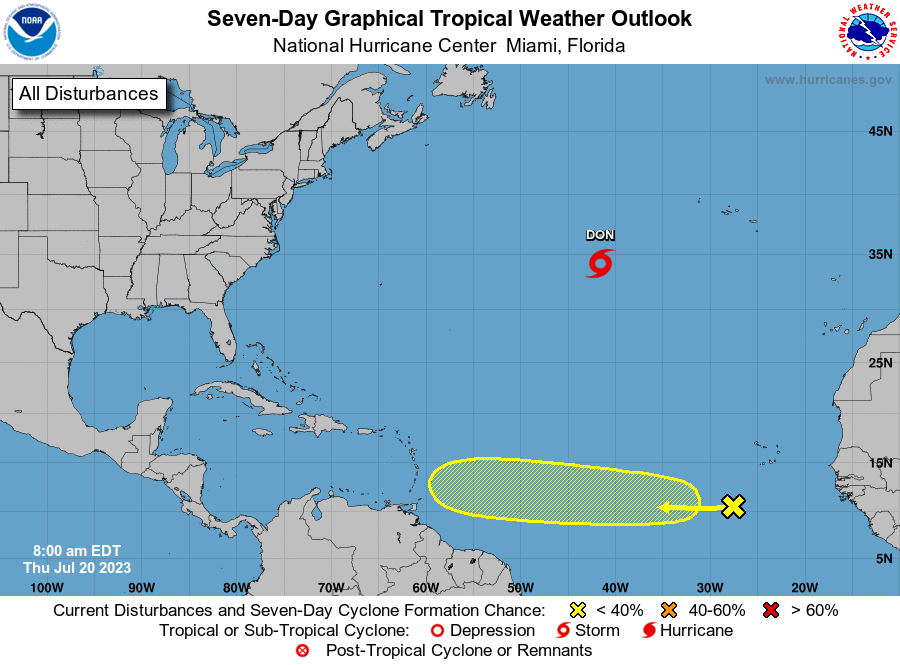 As for this tropical system, there may be a brief window in about five days, before it reaches the Caribbean Sea, for a depression of tropical storm to develop. Therefore areas such as the Lesser Antilles should probably watch this system. But it's not the kind of thing we need be too concerned about. Certainly, there will be bigger fish to dry the deeper we get into the season, in a few weeks' time.
Fantasyland (beyond day 10): Biding our time
Overall, aside from Don, and potential shenanigans from the system mentioned above, things look fairly quiet for the rest of July.
But for those who know the Atlantic hurricane season, that's to be expected. The real action often does not begin until the first or second week of August. At that point we're going to have to see whether wind shear from El Niño is able to counteract historically warm sea surface temperatures in the tropical Atlantic. If not, well, we're going to be busy here at The Eyewall.