As promised, let's take a look at the dust situation in the Atlantic today.
Michael Lowry, in his excellent tropical weather blog last week noted that dust has been running very, very low so far this season in the key main development region (MDR) of the Atlantic basin. Indeed that's the case. While low dust does not mean no dust, as seen on the Saharan air layer color-infused satellite image from the University of Wisconsin below, it certainly has been a bit lackluster thus far.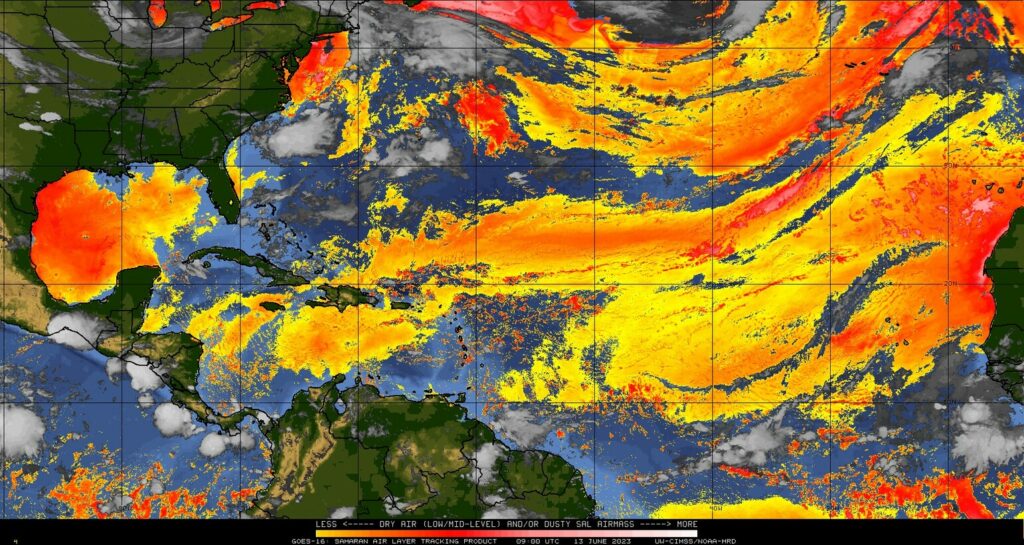 Note the presence of extremely dry air in the Gulf of Mexico. That isn't dust; it's just that dry as high pressure begins flexing over Texas.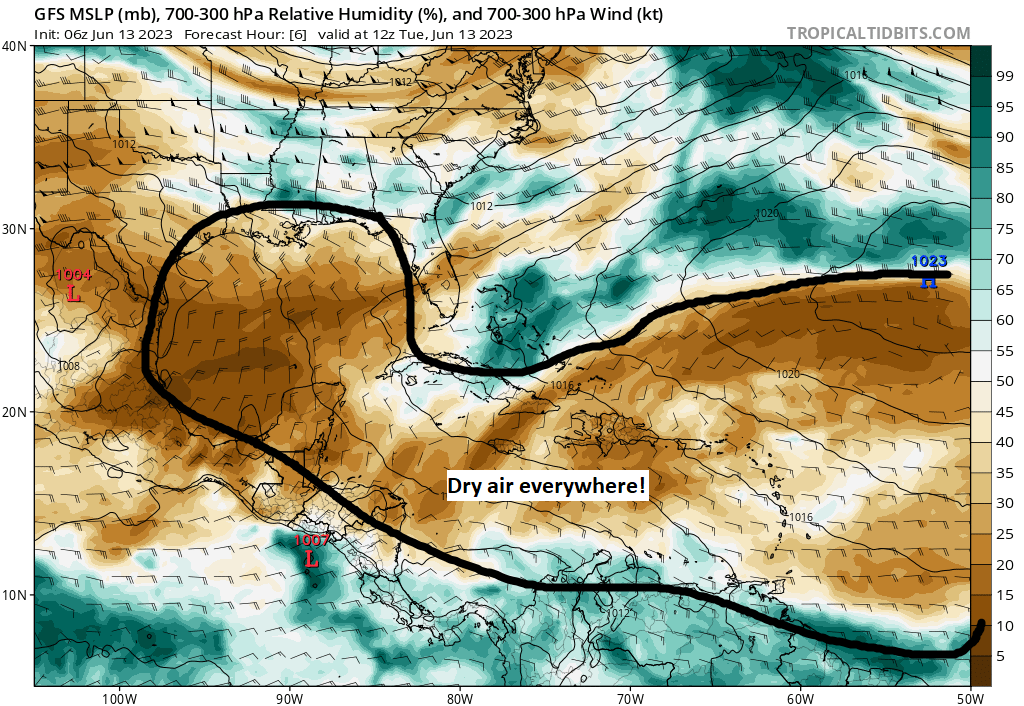 Brown on the image above implies dry air, while green implies moist air. More brown than green in key areas we care about means that dust or not, the atmosphere is not terribly conducive for development.
Over the next 7 to 10 days, we will likely see pockets of dust begin to migrate further across the basin, tinging the skies in the Lesser Antilles, Puerto Rico, and Hispaniola with dust by later this week and again next week.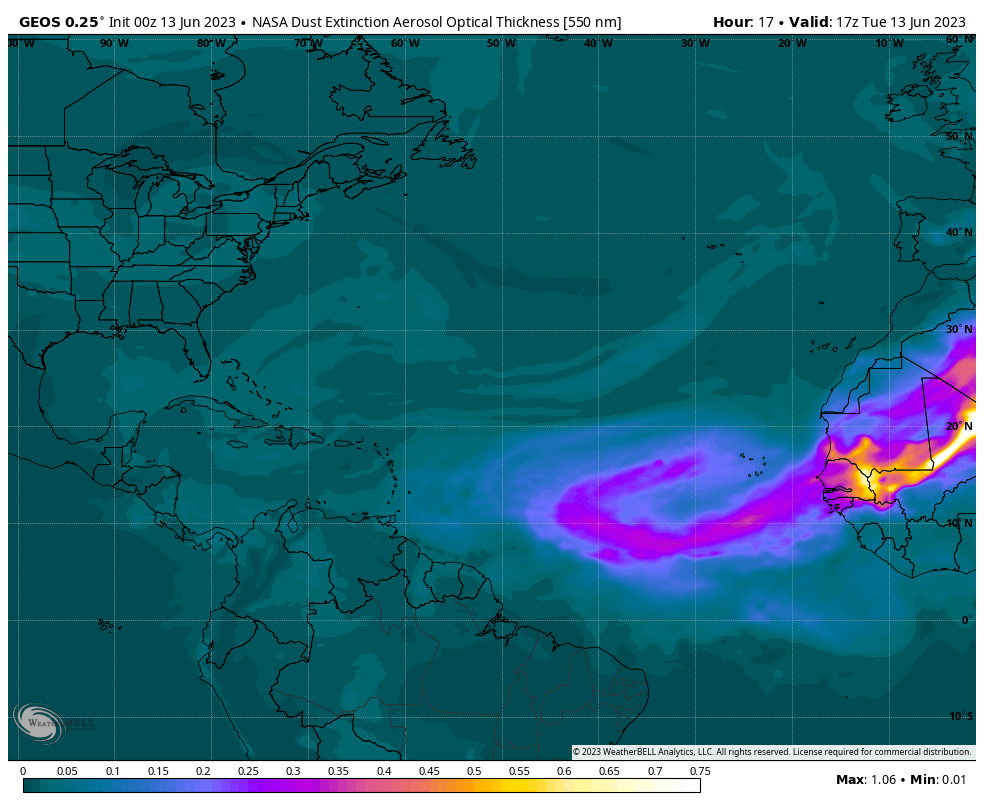 This also keeps much of the Atlantic basin quiet, as it should be this time of year. We'll keep up on dust as it peaks in the coming weeks before declining in concert with the ramp up in hurricane season historically.
One sentence summary
Conditions continue to look relatively benign across the Atlantic, but a couple items pique our interest in the medium and longer range.
Happening now
All remains quiet this morning with no areas highlighted in either the Atlantic or Pacific basins by the National Hurricane Center over the next couple days.
The medium range (days 6-10): Mostly fine but not quiet
No real concerns are seen out through the weekend and into early next week. But there are a couple things to watch. First, the NHC did add an area to watch in the Pacific over the next 7 days, the first sign of change since the very beginning of the month.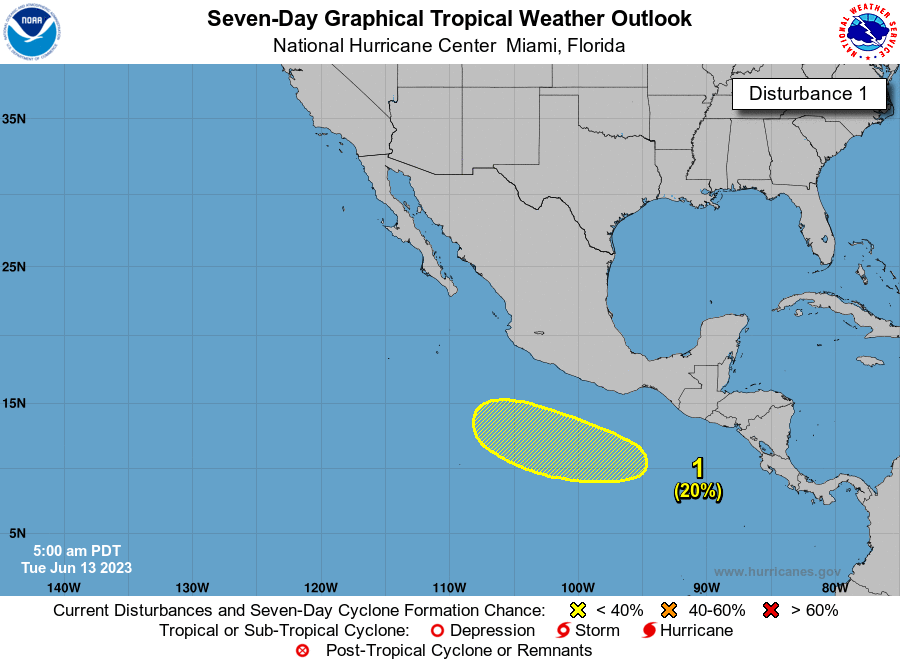 Meanwhile, in the Atlantic, there are some subtle model hints that low pressure may try to slowly develop just south of the main area of dust and dry air in the Atlantic just east of the Windward Islands. The map below shows the individual ensemble members of the European model on day 8 (next Tuesday), and about 20 percent of the 51 members show development, a minority to be sure but interesting nonetheless.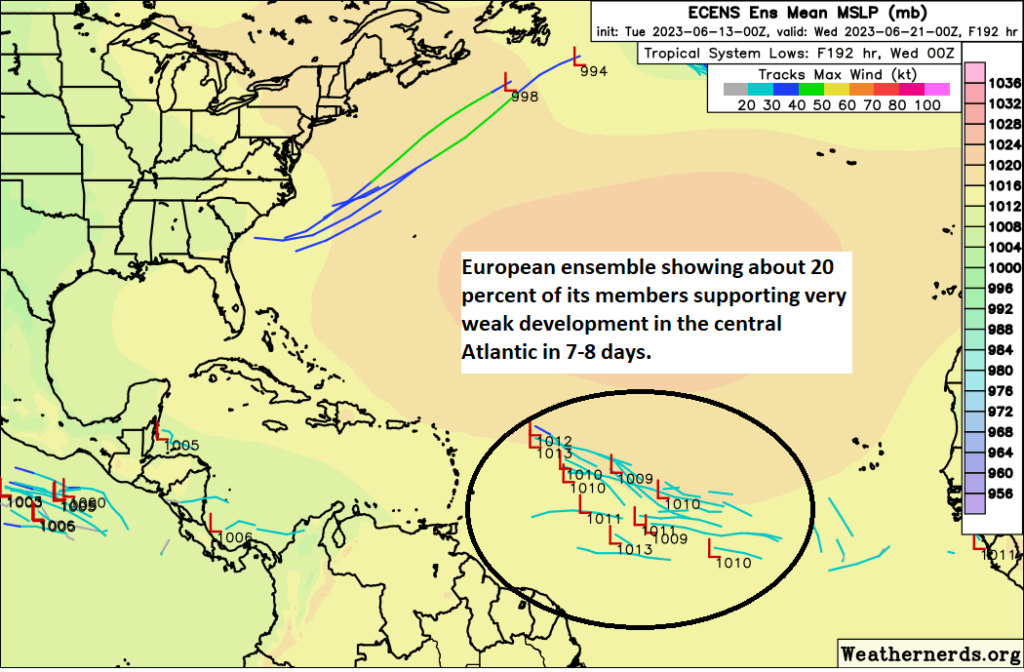 Remember, one off model runs like the GFS operational we've been discussing in fantasyland since last week are called deterministic models. Ensembles are when we tweak the initialization of each model run a bit and run it 30 to 50 different times. This creates wider goal posts, which is what we want as meteorologists. We need to see a realistic buffet of options when forecasting 5 to 10 days out, not a singular deterministic outcome.
We have seen a barrage of waves in the Atlantic so far this season, and although nothing has organized, they may be trying to prime the pump a bit for something. I don't believe any system that forms next week would become a serious issue, but I would not be floored to see something out there. We'll look closer at that tomorrow and Thursday.
Fantasyland (beyond day 10): A little noisy
We continue to see plenty of signs of some noise in the Caribbean or southwest Gulf in the fantasyland timeframe. But we also continue to see no reason to believe anything organized will come of it at this point. The GFS continues to periodically try to develop spurious storms, but we will continue to ignore it completely.
We will join you again tomorrow!