Good morning. Eric here. Before we jump into the forecast I want to provide a couple of programming notes. First of all, I'll be filling in for Matt most of the time on Wednesdays, so you can look forward to this (or skip hump days, accordingly) for the rest of the season.
Additionally, be sure and check back on The Eyewall later this morning (9:30 am CT or 14:30 UTC) for an in-depth post by Matt about hurricane activity and the Gulf of Mexico. We've seen a spate of major storms in the last six years, particularly with rapidly intensifying and extremely damaging hurricanes. Matt dives into the latest research and speaks with hurricane scientists about whether this is really a trend, and what it means for coastal residents. It's an excellent, informative long read.
One sentence summary
Conditions continue to look fairly benign across the Atlantic, but in about a week we may have an item or two to watch.
Happening now
All remains quiet this morning with no areas highlighted in the Atlantic basin by the National Hurricane Center over the next seven days.
The medium range (days 6-10): Perking up a little bit
The global models are continuing to drop hints about the potential development of a tropical wave about one week from now in the Atlantic Ocean, to the east of the Windward Islands. There is now some support for this in both the European and Canadian global models, but neither really develop it significantly. Wind shear will likely play a role in hampering its development.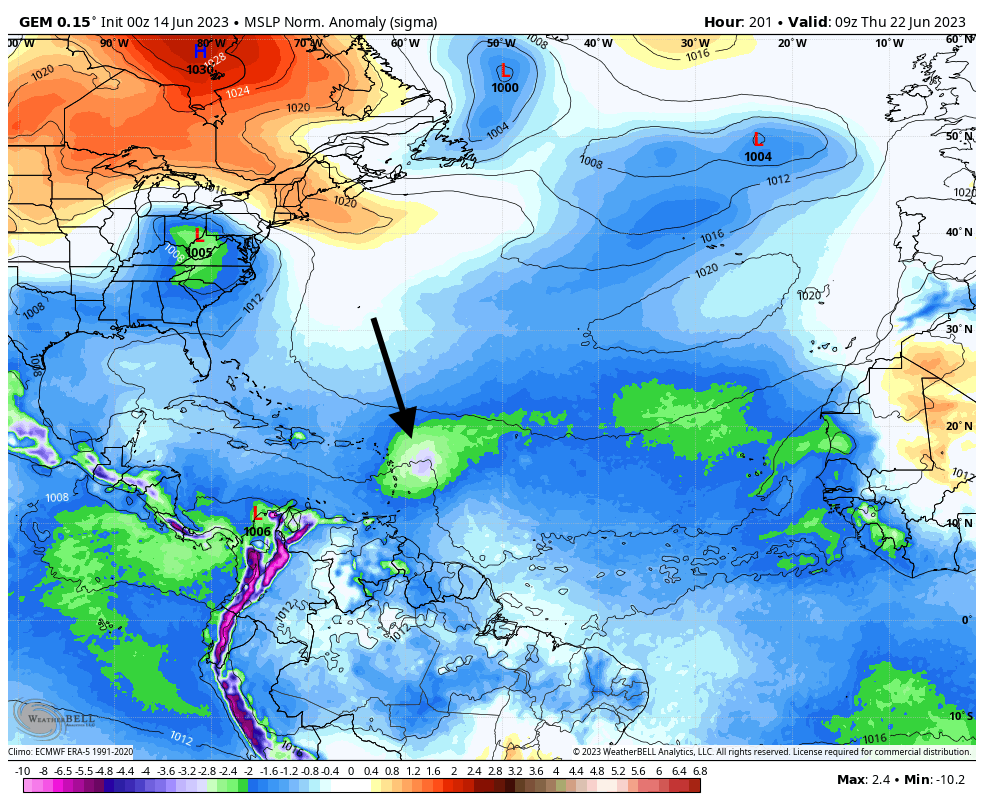 These tropical waves will become more potent later in the season, when they spin off of Africa more frequently, and the combination of lower wind shear and peaking sea surface temperatures aid their development. For this wave, since it is June, we just really don't have any significant concerns. We're only mentioning it now because there is just not a whole lot else to talk about.
The other area to watch is the southern Caribbean Sea, where low pressure may congeal into something approaching a tropical system. This could happen during the period of about a week from now. This may eventually push some storminess northward toward Cuba or Florida, but at this time I don't anticipate anything too organized. We will, of course, keep an eye on all of this and more, updating you as things change.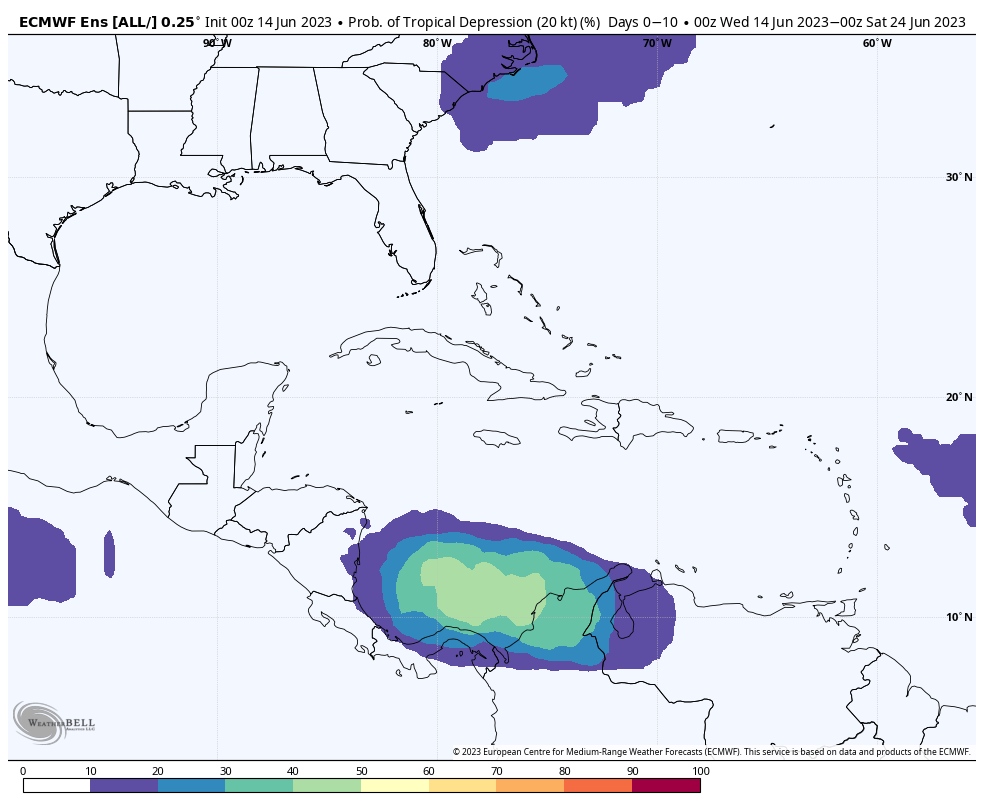 Fantasyland (beyond day 10): A little noisy
Overall, this is just an extension of the medium-range outlook. The GFS model, for a time, gets pretty excited about the system in the southern Caribbean Sea, but since this is a distinct outlier at this time—and entirely consistent with that model's predilection to take even a whiff of low pressure and go hog wild—it is not something worth getting worked up about.
Matt will be back with you on Thursday!