Tropical Storm Bret is a feisty fellow this morning. It's about as strong as you can get for a tropical storm before becoming a hurricane. Again, keep in mind that these 70 mph winds are in a small area, not over the entirety of the storm. Hazards such as heavy rain and rough surf will be bigger issues for most of the impacted islands. The good news is that Bret will likely peak in intensity soon before beginning a weakening trend leading to its demise this weekend. Behind Bret, Invest 93L was upgraded to Tropical Depression 4 overnight. It is currently no threat to land.
One-sentence summary
While the Atlantic is bustling with action, the main item to watch is Tropical Storm Bret which will impact the Lesser Antilles with heavy rain, rough seas, and gusty winds today before exiting into the Caribbean and dissipating this weekend.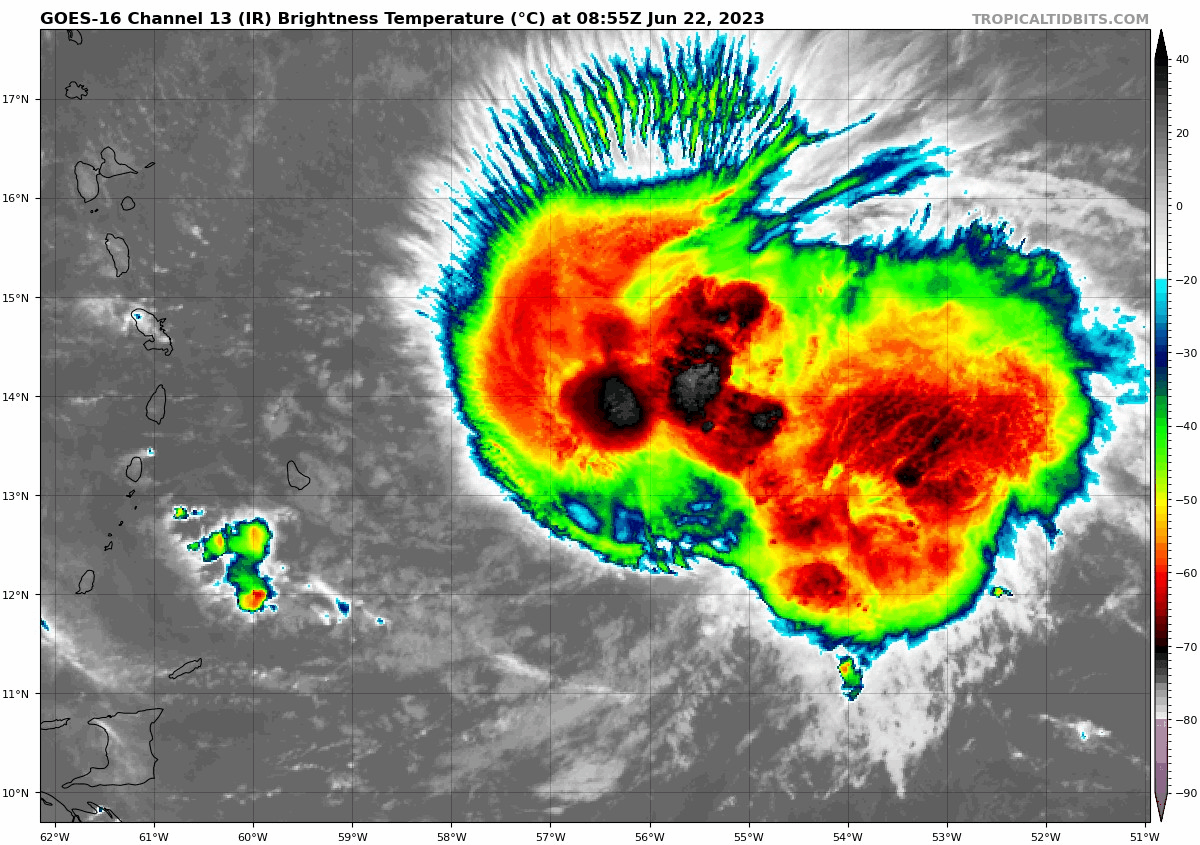 Happening now: An August-like Atlantic with TS Bret and TD 4
It's not often we have two Atlantic storms in June, let alone simultaneous ones, but these are not normal times. Here's the latest.
TS Bret
Per the National Hurricane Center (NHC) discussion this morning, there were some pretty healthy winds measured overnight in Bret, but they were pretty isolated. Bret is trying to form an eye, but because of shear, that eye feature is displaced east of the surface center. In plain language: Bret is trying hard to fight the shear but it can only do so much. Here is a more annotated look at Bret's structure this morning.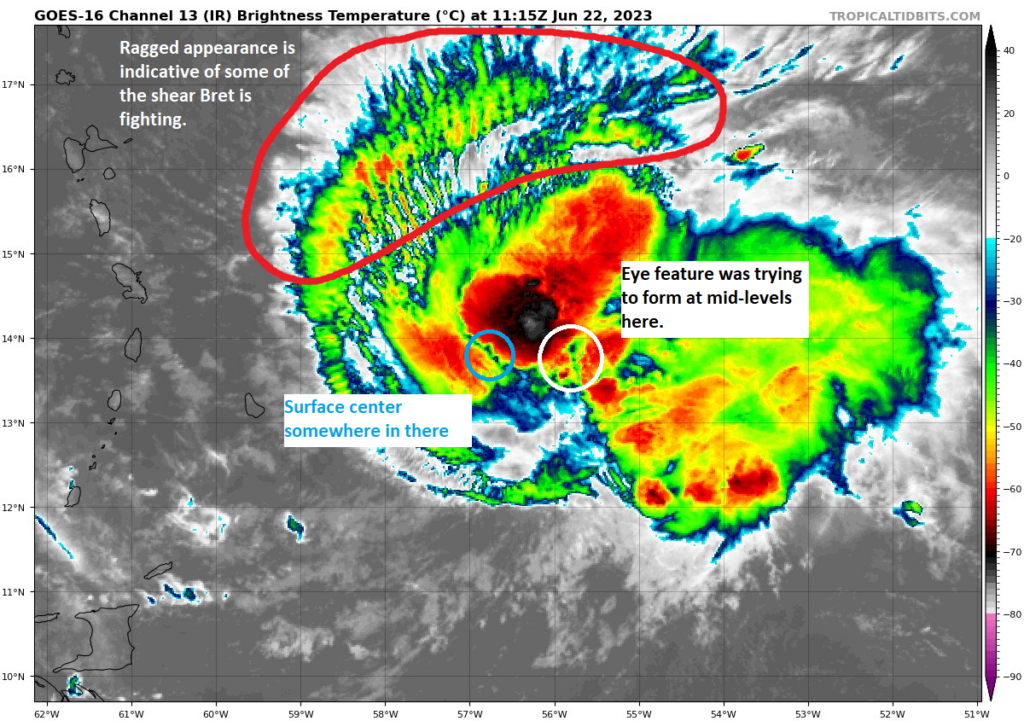 Anyway, the NHC has set the intensity to 70 mph, which again is in a small area. Bret's biggest impacts to the islands will be via heavy rain and rough seas.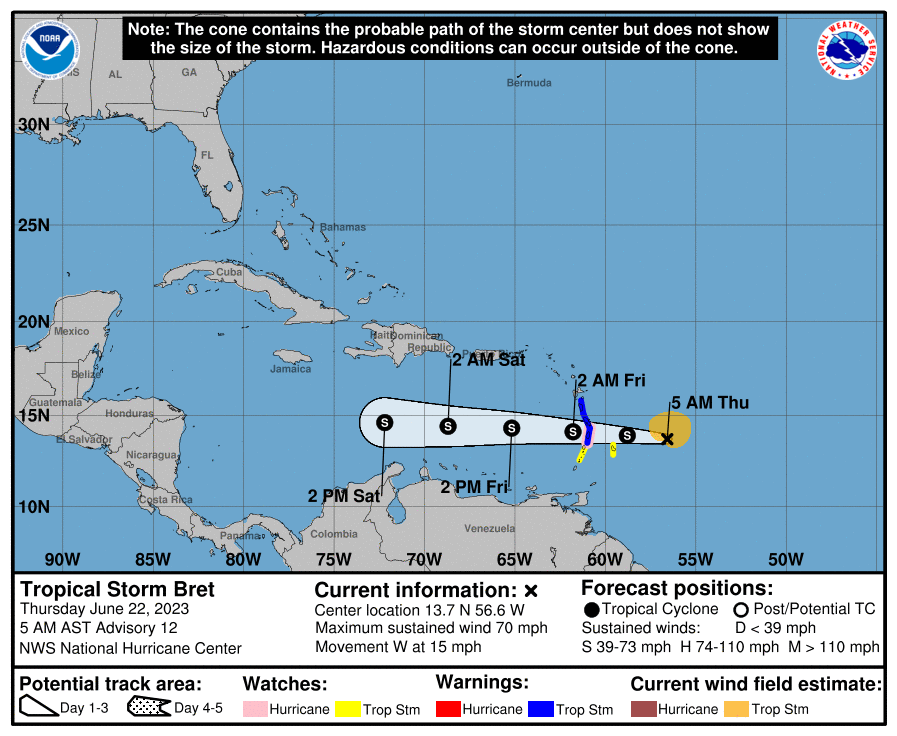 As of the 5 AM AST advisory:
Tropical Storm Warning (TS conditions likely within 36 hours): St. Lucia, Martinique, Dominica
Hurricane Watch (Hurricane conditions possible within 48 hours): St. Lucia
Tropical Storm Watch (TS conditions possible within 48 hours): Barbados, St. Vincent and the Grenadines
Expect Bret to pass near or make landfall on St. Lucia tonight. In terms of wind, the strongest winds will be along and north of where the center tracks, so St. Lucia and Martinique are likely to see the most gusty conditions and the best chance at sustained tropical storm force winds. The higher terrain of some of these islands will be most exposed to strong winds. Given Bret's size, tropical storm force winds and gusts could extend from Barbados and St. Vincent north to Dominica. Most places will not see the 70 mph winds, however.
Rough seas will be the most widespread concern. They will continue to build today, with 8 to 11 foot seas expected as the storm approaches and passes in much of the central part of the island chain.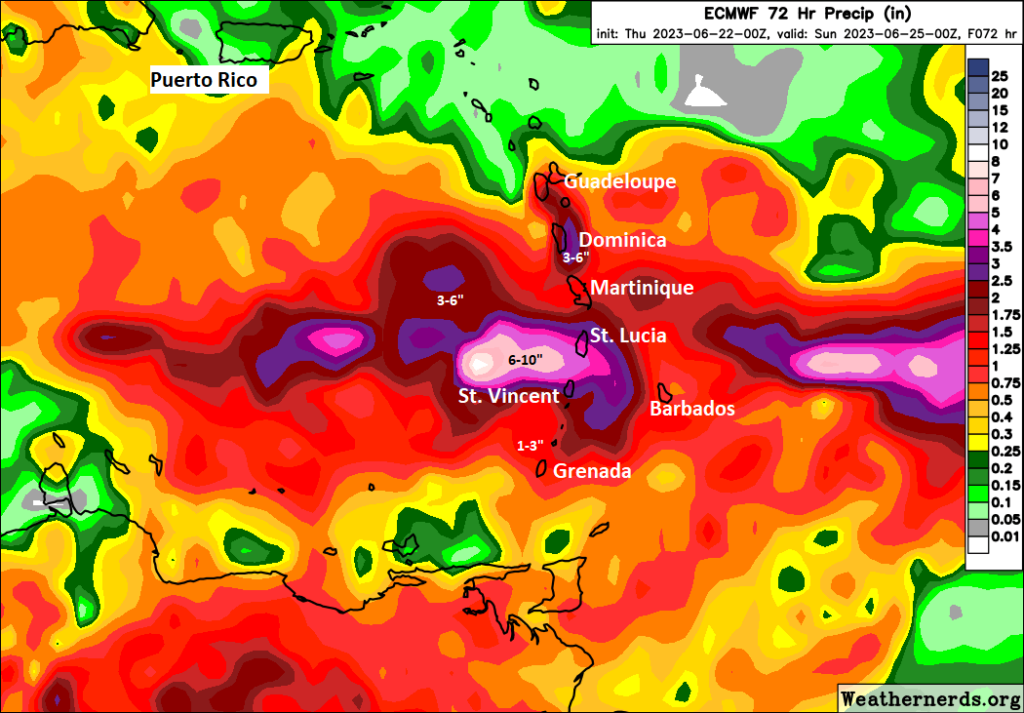 Rainfall may be the most serious concern with as much as 6 to 10 inches of rain, especially at higher terrain. The most likely islands to experience those higher end totals would be St. Lucia and St. Vincent. But I would not be shocked to see some higher end totals on Dominica, Barbados, or Martinique also. In general, 3 to 6 inches of rain will fall, but totals will ultimately vary.
Why are we confident that Bret will dissipate in the Caribbean? It will run into a face-ripping amount of wind shear. That's never good for tropical systems, and Bret will be the next in a long line of storms to enter the Caribbean and not survive the trip.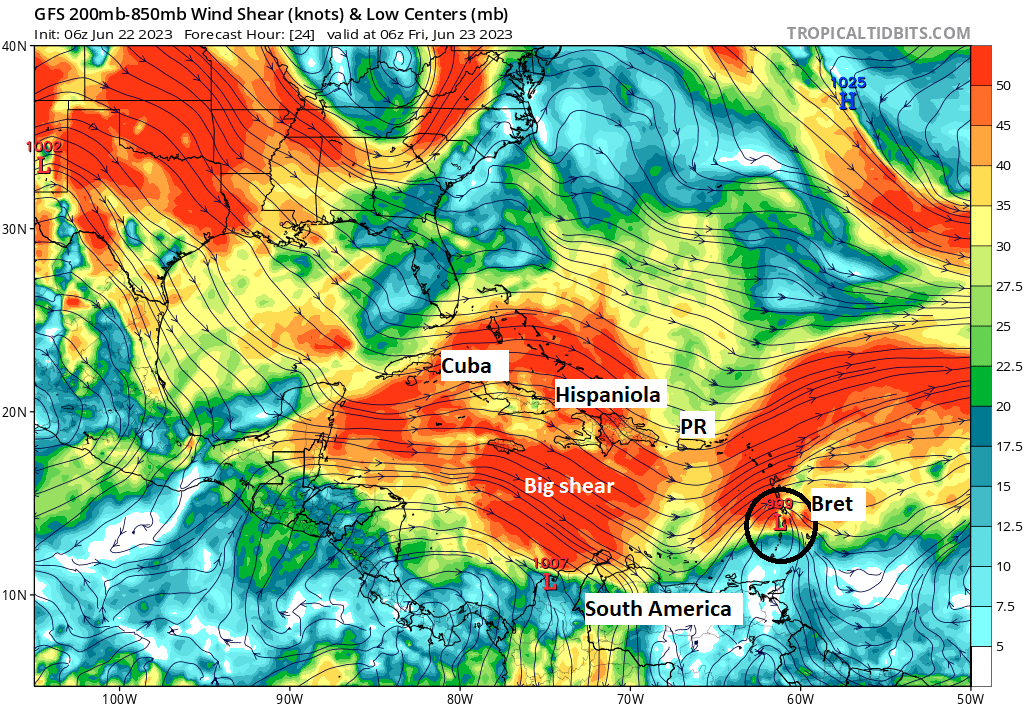 So to summarize: We are mainly watching rough seas and heavy rain with Bret from Dominica south to Grenada, although a few areas will see some considerable winds, as Bret is a strong tropical storm.
Tropical Depression 4
Looking east of Bret, we have TD 4. This system does not look especially well-organized this morning, but it may do just enough in the next day or two to attain tropical storm status. The next name is Cindy.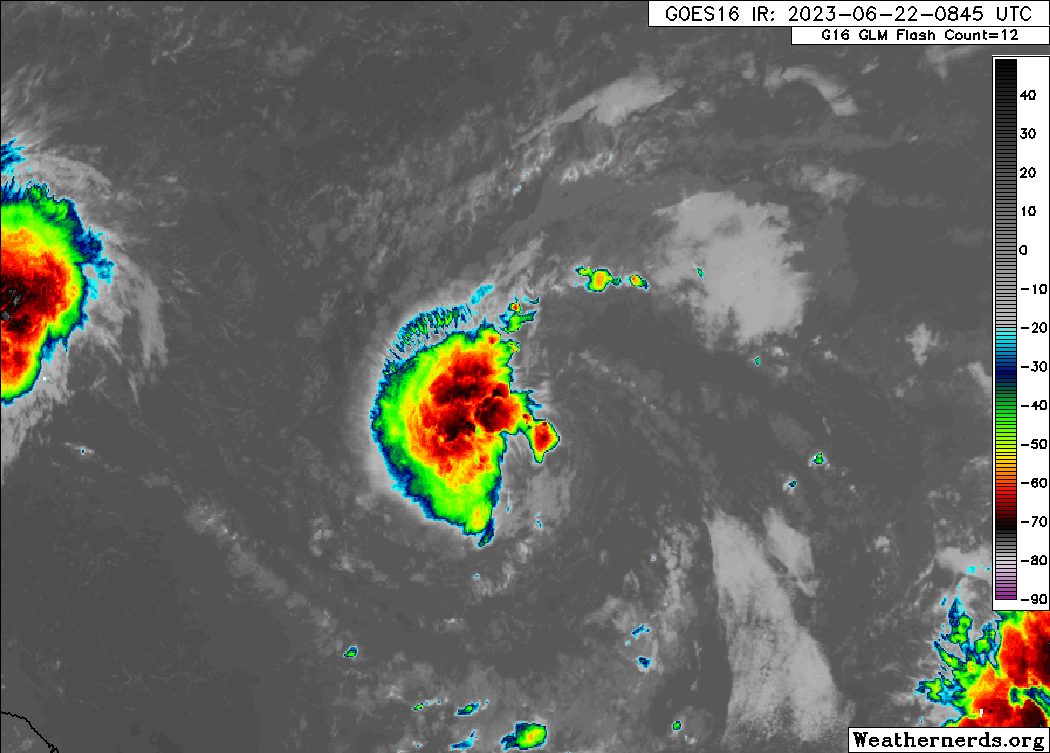 The forecast for TD 4 is pretty straightforward. It will be more apt to turn northwest into a weakness between high pressure systems in the Atlantic, which should allow it to run head on into wind shear by Sunday or Monday.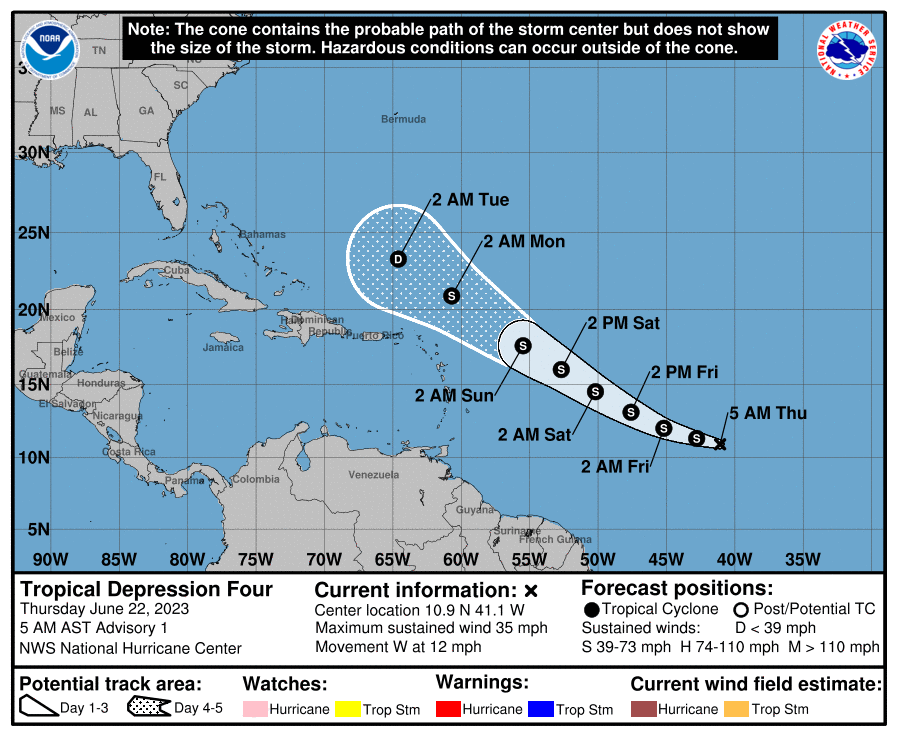 Whatever the case, this system is currently no real threat to land.
The medium range (days 6-10): Beginning to settle down a bit
There is another wave trailing TD 4, but as of right now support for that to develop seems to have dropped off some. So at this point, we don't expect anything meaningful in days six through ten.
Fantasyland (beyond day 10): Nothing of note
There is nothing of note out in the long-range. Hopefully after TD 4 (or Cindy) we get a couple weeks of quiet.