One-sentence summary
Tropical Storm Cindy degenerated into an open wave yesterday, but there is at least a little chance the storm tries to give it another go near Bermuda on its way out to sea.
Happening now: Cindy slumps
Cindy was downgraded to an open wave last night, ending the current chapter of the storm. You can still see the remnant circulation this morning, virtually achieving "naked swirl" status.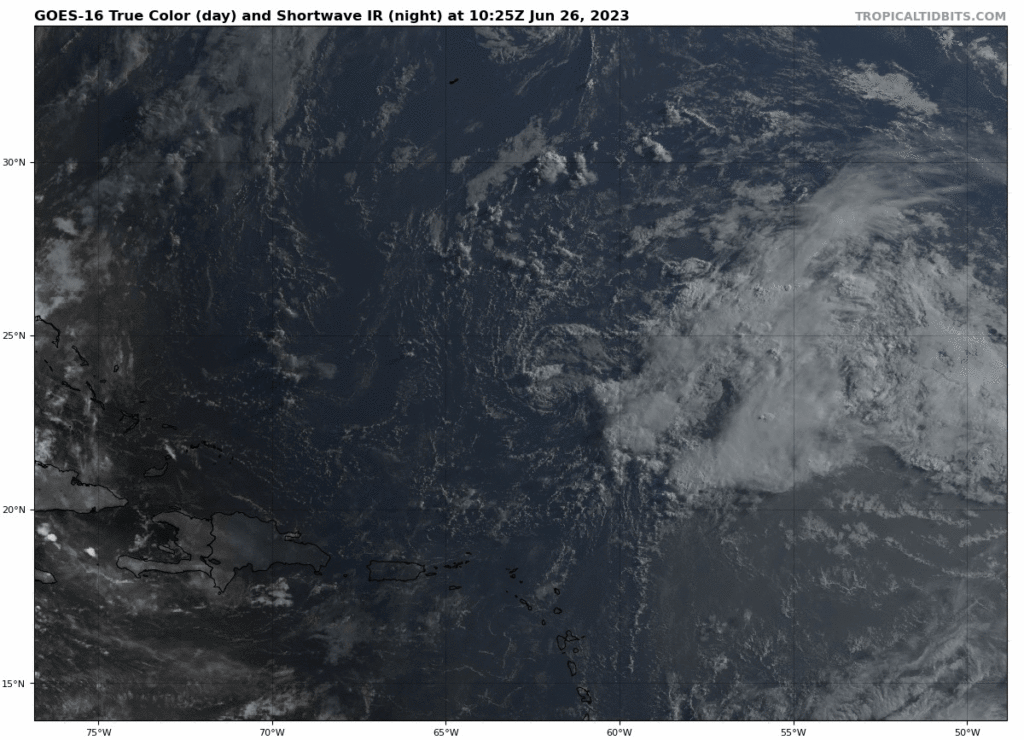 That said, there is some chance we are not done with Cindy just yet. The remnants are in a very high shear environment right now, so that's what has helped shred it up. But as it tracks northwest, that shear may relax some, allowing for the system to regenerate thunderstorms and possibly reorganize. Why does this even matter over the open Atlantic, you ask? Because this would happen not very far from Bermuda. Not that we're expecting a major storm for Bermuda. But it at least keeps Cindy alive and worth discussing over the next few days. The National Hurricane Center is assigning a 30 percent chance that this occurs.
Whatever the case, seeing a storm in this part of the Atlantic in June remains odd and speaks to just how warm the waters are. We will keep an eye on this as it meanders north, but again for Bermuda, while it's good to keep tabs on things, it's not too serious a threat.
The medium-range (days 6-10): Caribbean incoherence
I would expect to see some more storms (Editor's note: Disorganized showers & thunderstorms, not organized storms!) developing in the Caribbean as we head toward next week. Right now, it does not appear anything meaningful is going to come of it, but we will see showers and storms likely recharging in parts of the Caribbean. There will likely be dust and wind shear around to keep a lid on any sort of development. But that won't stop some models from showing spuriously strong systems in the Gulf or Caribbean at times. For now, nothing to worry about.
Fantasyland (beyond day 10): The GFS doing it again
As noted above, the GFS continues to fire off systems with a lack of any real consistency in terms of time or place, much as it did earlier the month. With the Caribbean likely to see some moisture around this time, you always have to at least watch. But a lack of any real meaningful ensemble support from models (meaning when we run the models 30 to 50 different times we get no real consistent outcomes) leads me to believe we won't see anything too big here. More tomorrow!