One-sentence summary
The Atlantic looks to remain mostly quiet, while the Pacific heats up over the next week or so.
Happening now: Dust in the wind
The Atlantic remains under the influence of a good bit of dust. Honestly, this doesn't look terribly impressive. But it is more than we've had for much of the nascent season to date.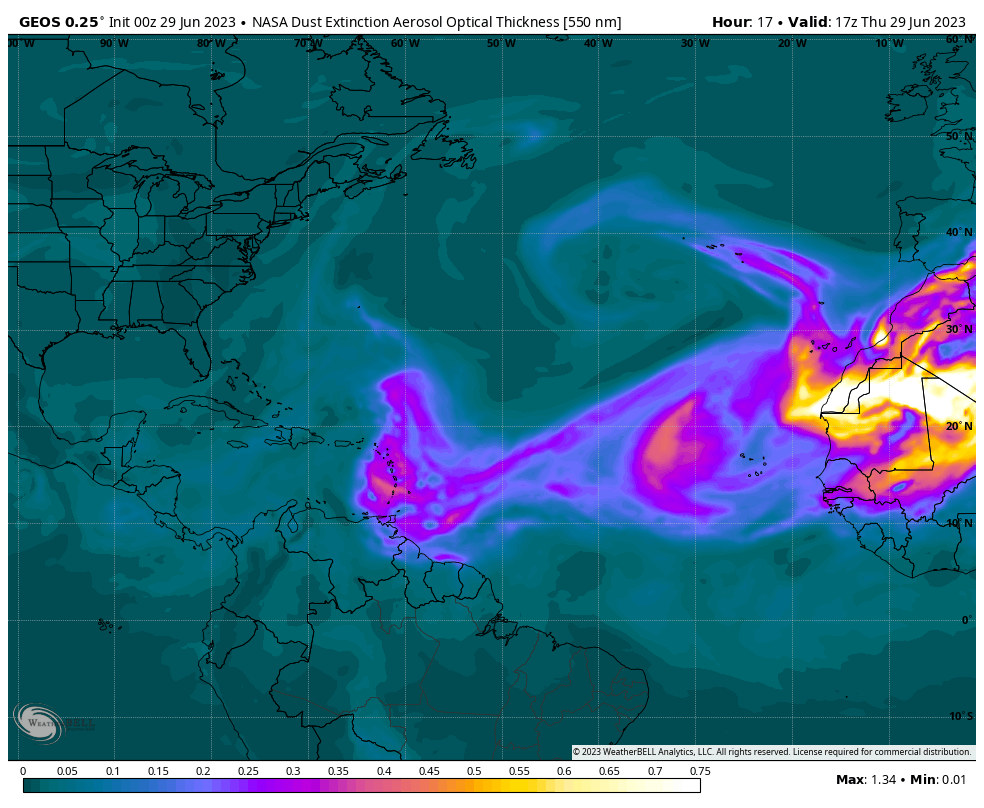 Dust will move into the Caribbean into the weekend. It may eventually make it to portions of far South Florida and the Gulf by Monday or Tuesday and then eventually the northern Gulf Coast later next week. Dust should be at its worst in the Caribbean before thinning out as it comes west. Dust will continue to impact most of the Caribbean islands well into next week, with Puerto Rico and Hispaniola really seeing a fair bit in the air. Additional dust may emerge off Africa later next week.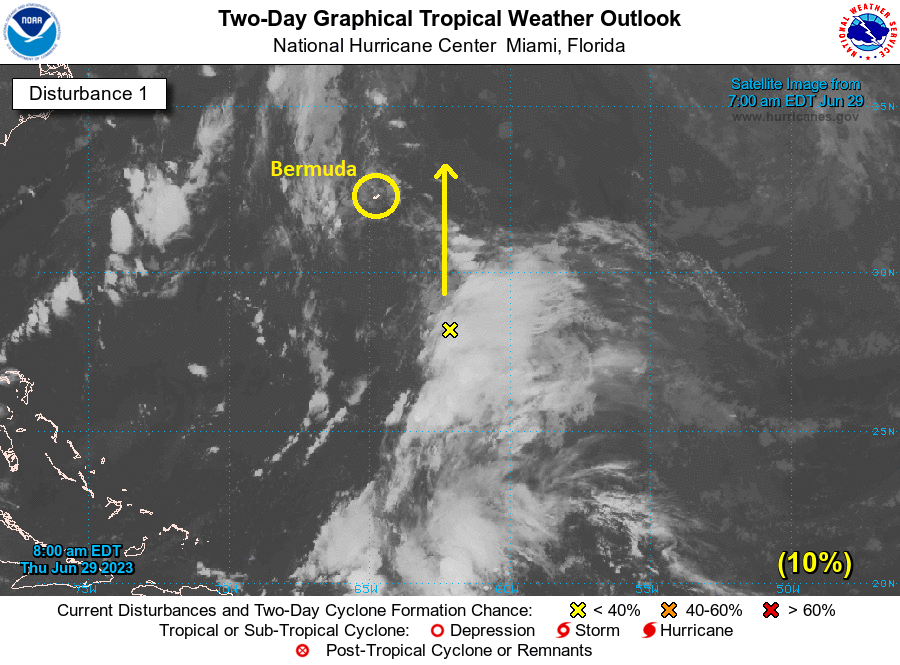 Aside from the dust, the Atlantic remains quiet, with just an area of thunderstorms south of Bermuda that has a very low probability of developing. No significant impacts are currently expected on the island.
Pacific
Meanwhile, on the other side of the Americas, the Pacific is heating up.
Hurricane Adrian strengthened, as expected yesterday. It's now a category 1 hurricane with 85 mph maximum sustained winds. It is headed out to sea and will not impact land as it weakens in the coming days.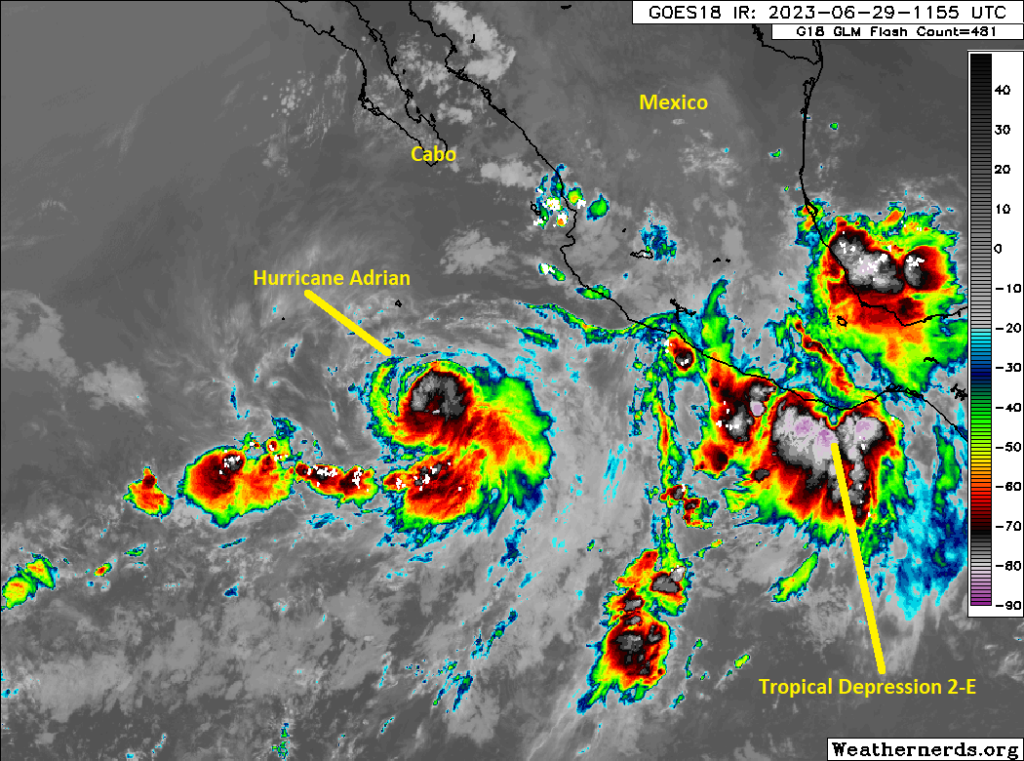 Behind Adrian, Tropical Depression Two-E developed late yesterday. It is expected to graze the coast of Mexico as it moves northwest. As a result, tropical storm watches and warnings are in effect for the west coast of Mexico from north of Manzanillo southeast to Punta Maldonado.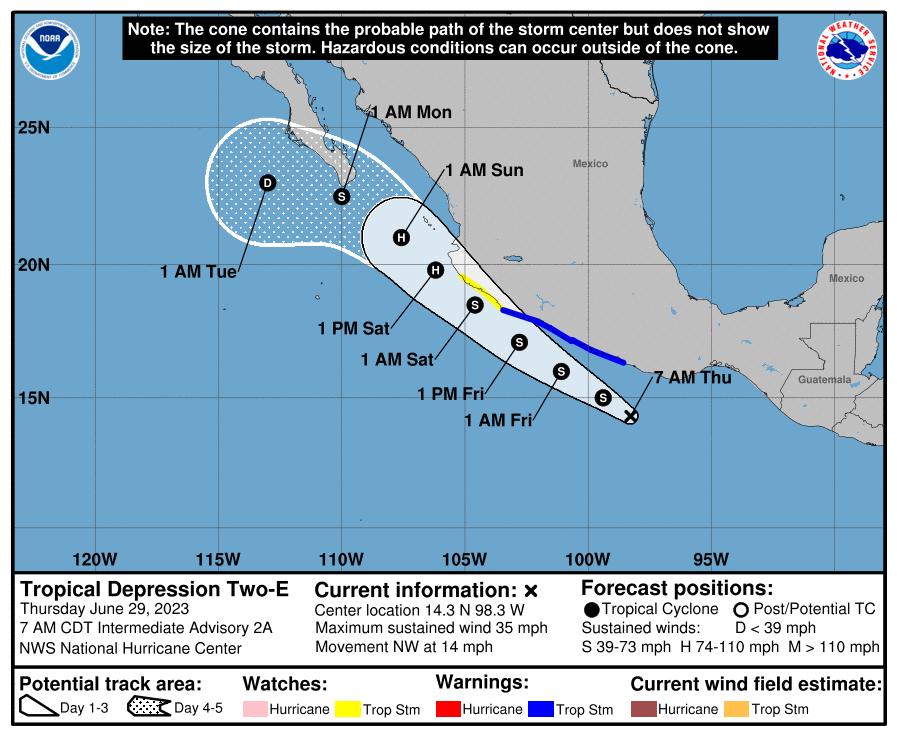 The exact center may maneuver some over the coming day or two, which could impact just how close this gets to the coast of Mexico, but it will probably become a strong tropical storm or hurricane as long as it stays over the water. However, it will run out of runway for strengthening by the end of the weekend and should weaken before getting to Cabo.
There may be a third system sometime later next week as well. As you'd expect in an El Niño year, the Pacific should be revving up some.
The medium-range (days 6-10): Nothing of note
All looks quiet for now in the medium range. If there is some place to watch, it would be the Gulf of Mexico, as some tropical moisture may work in there next week. As of now, it seems highly unlikely that anything of note would come of that, but as always, we'll keep tabs on things.
Fantasyland (beyond day 10): Not much to worry over!
At risk of sounding like a broken record, the longer-range looks quiet right now as well. If we want to dig, I do see some ensemble members doing some funky things in the far north Atlantic, away from any land. Remember, we have operational models, which are single, deterministic model runs, and ensemble models, which are those models tweaked a little bit and run 30 to 50 different times to give us a spread of possible outcomes. The European model just underwent a significant upgrade in the ensemble model resolution that should improve its performance in tropical systems. We'll be watching that intently this season. Anyway, there are some ensemble members on both the American (GFS) and European models that try to form something between Atlantic Canada and Bermuda late, but other than that, we see nothing of note out there in fantasyland.
More tomorrow!