Good morning. Eric here, and I'm thrilled to extend my welcome to readers of The Eyewall. Matt has been doing a fantastic job so far, and the response we've received to the site has been great. Thank you for reading, and telling your friends and families in other states vulnerable to tropical weather. In today's post we'll talk about the lack of activity right now, and the GFS model's propensity to develop spurious storms. Matt also continues his look at what to expect from the 2023 hurricane season, overall.
One-sentence summary
No meaningful tropical development is expected over the next week or so, though a system near the Azores Islands has a very low chance to briefly become something before the weekend.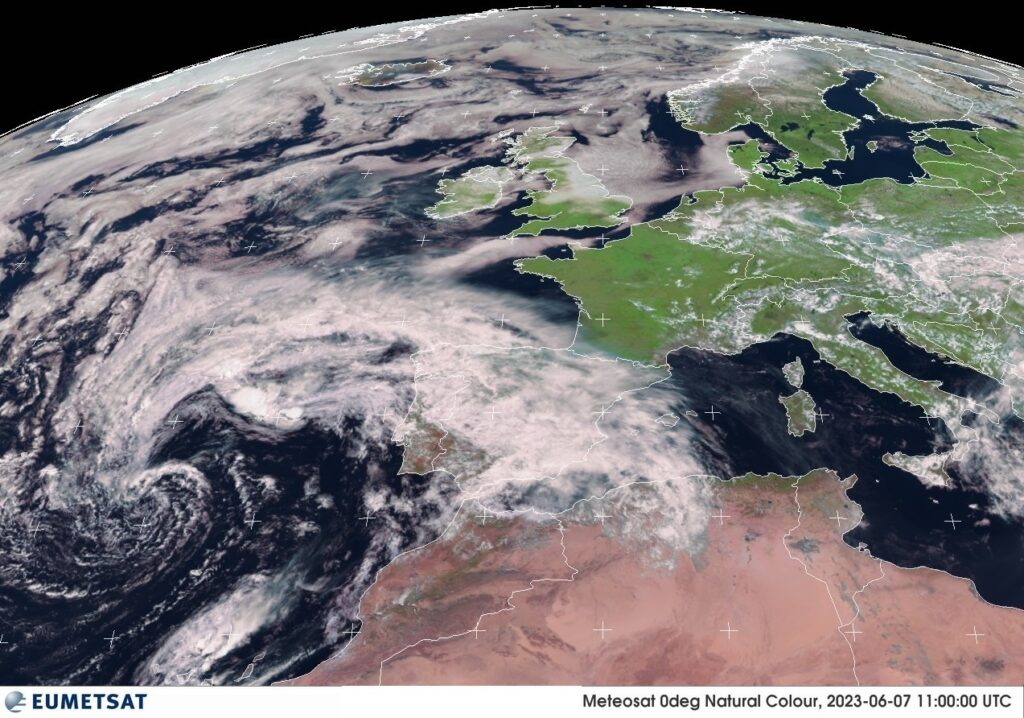 Happening now
Beyond the Azores system, nothing is happening now. Just a word on that storm, however, which is interesting to US readers in the sense that it allows us to talk about something relatively new. For the last eight years several European countries have started naming "windstorms," and like we have a hurricane season they have a windstorm season. In this case, the Azores storm is named "Oscar," and it could have impacts on the Canary Islands later this week. Some weather warnings are in place.
The medium range (days 6-10): Still quiet
If we look at the 10-day forecasts from the major global models, there is still really nothing to shake a stick at. This is perfectly normal for the early part of June.
Fantasyland (beyond day 10): No changes in thinking
There is life in fantasyland, however. In about 11 days from now, the GFS model develops a tropical low in the Caribbean Sea, and then drags a fairly potent looking storm into the Gulf of Mexico by about day 14 or 15. There are two reasons why this system is likely spurious. First of all, we commonly see these kinds of far-out tropical systems in the GFS model at this time of year. And secondly, when we look for support for this idea in the ensembles, it's just not there.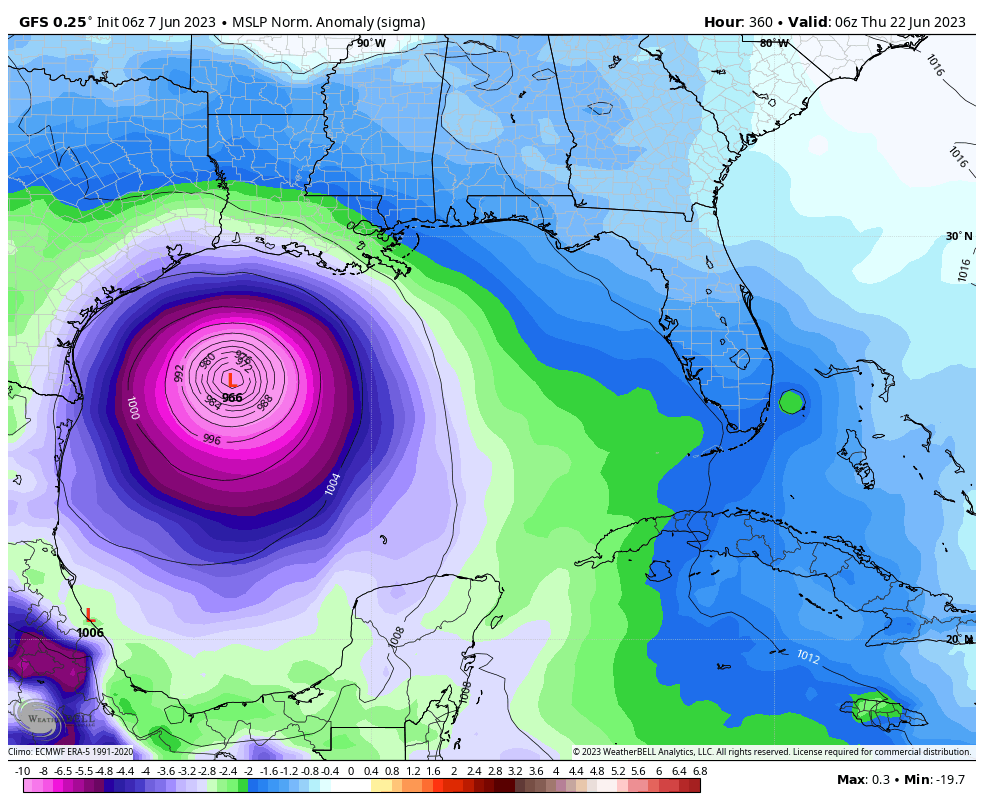 Nevertheless, I would expect to see some chatter about this possibility over the next few days, as excitable observers look at the GFS model and say, "Oh look, a hurricane is going to hit Texas on June 23!" I mean, anything is possible, right? But it's not something I'd lose any sleep over. We're certain to face much more credible threats later this summer, so save your angst for something that's more likely to be real.
The 2023 seasonal outlook Part 2: El Niño
When you hear the phrase "El Niño," we would assume that most Gen X'ers, Xennials, and geriatric millennials think of Chris Farley and his 1997 take on the weather event on Saturday Night Live. Truthfully, that clip has aged pretty well. They got the gist of things correct.
What is El Niño? By definition, it is a periodic warming of the water around the Equator in the Pacific Ocean, west of Peru to the central Pacific, near the Dateline. In reality, it's a pretty complicated phenomenon involving both the ocean and the atmosphere, and because of where it unfolds, it sends ripple effects around the world in the form of changes to weather patterns. You can read more about the "what" behind El Niño here, but we're going to focus on how it impacts hurricane season.
How does El Niño impact the tropical Atlantic? What tends to happen during El Niño events is an uptick in tropical activity in the Pacific Ocean. With more warm water available in the tropics, with more thunderstorm activity spreading east from the Western Pacific, and with generally lower wind shear, the Pacific tends to be the action center during hurricane seasons with El Niño.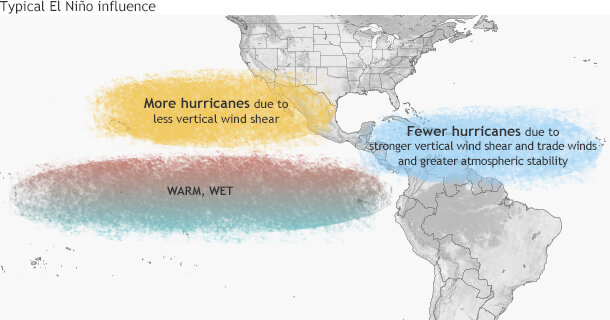 Because the structure of the upper atmospheric pattern changes when that happens, a situation develops where there is generally a mean ridge of high pressure (calm conditions) over the subtropical Pacific. With the jet stream, what goes up usually must come down, and that typically produces a mean trough (unsettled conditions) over the Caribbean and southwest Atlantic. Hurricanes like calm conditions in the upper atmosphere. That means reduced wind shear. So during an El Niño, the Pacific side usually has less wind shear than usual, while the Atlantic side usually has more of it, limiting the amount of hurricanes that form.
As a "for instance," if we took the 10 strongest Oceanic Niño Index values (the statistically strongest summertime El Niño events) for the 3-month period of July through September going back to 1950, those hurricane seasons averaged 9 storms, 4 hurricanes, and 1 major hurricane, well shy of the 30 year average of 14, 7, and 3 respectively. Of course, within those 10 "quiet seasons" we had a handful of memorable storms: Betsy in 1965, Agnes in 1972, Joaquin in 2015, Audrey in 1957, Flora in 1963, Charlie in 1951, and Isidore and Lili in 2002. It only takes one! But the takeaway here is that El Niño does tend to favor less busy Atlantic seasons.
What's El Niño doing right now? Well, we're technically not yet in El Niño. There are certain criteria that need to be met over the course a few months. However, we're all but officially there. The Australian Bureau of Meteorology this week declared an El Niño Alert, giving at least a 70 percent chance that it will happen. NOAA has us in an El Niño watch. A look at a sea surface temperature anomaly map clearly shows that the Pacific is warm.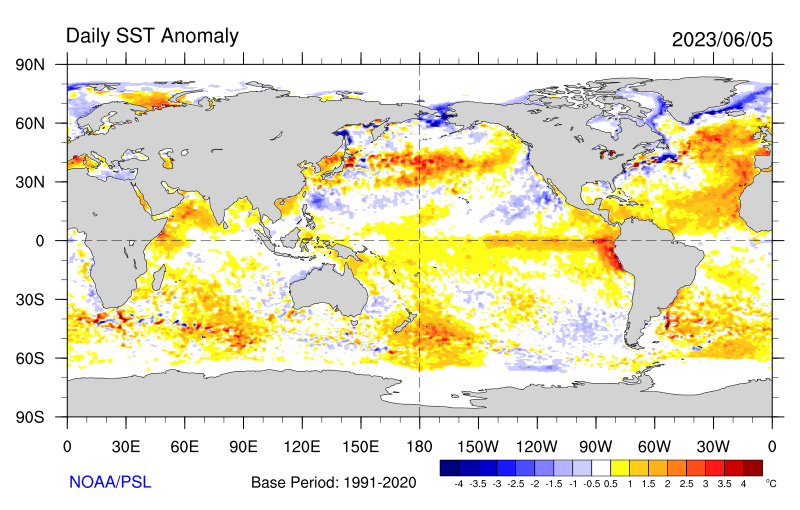 Most of the global oceans are warm right now, but the El Niño certainly stands out. You can see this in an even more telling manner by looking under the surface of the ocean across the Equatorial Pacific.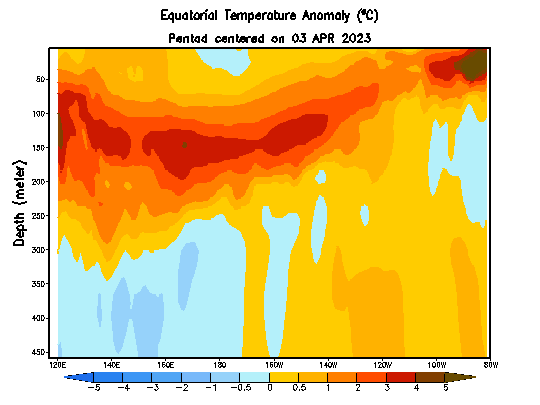 There is nothing but warmer than normal water from the surface down about 700 feet across the Equatorial Pacific. Basically, El Niño is just about here, and it would be safe to assume that we will have one in place for the majority of hurricane season. Thus, when making the seasonal hurricane outlook, the first key point for 2023 is El Niño, so this should likely act against a busy season.
But these things are complicated, and while El Niño certainly gives us optimism that the season may be a bit more subdued than normal, that map of global water temperature anomalies above shows a big problem in the Atlantic. We'll discuss that in more detail tomorrow.