One-sentence summary
Hurricane Lidia will make landfall near Puerto Vallarta late this evening as a moderate hurricane before weakening and merging in with a bunch of other tropical moisture that will quickly transit the Gulf toward Florida.
Tropics: Lidia makes landfall in Mexico tonight, combines with other systems to bring rain to the Gulf & South
Hurricane Lidia will approach Mexico later this evening as it intensifies, likely making landfall on the coast very near Puerto Vallarta.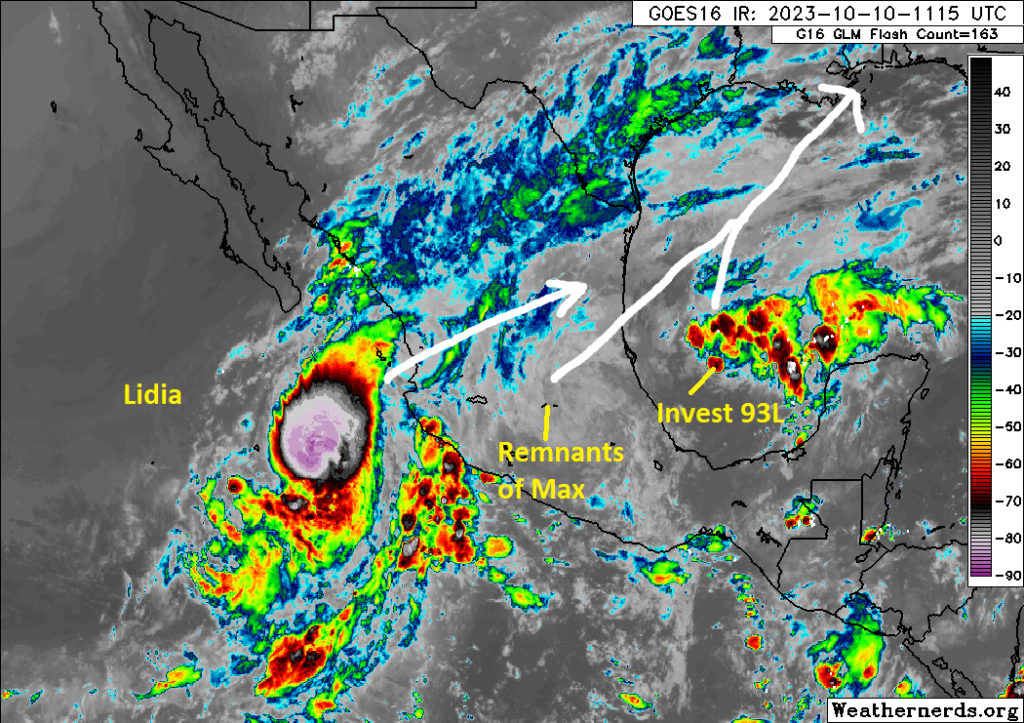 Lidia will bring heavy rain in Jalisco, southern Sinaloa, and Nayarit in Mexico and storm surge to areas south of where it comes ashore. Hurricane Warnings are in effect on the coast of Mexico from Playa Perula to Escuinapa. The hurricane-force winds only extend out about 25 miles, so the worst wind will be felt near the eventual landfall point not far from Puerto Vallarta. Lidia will rapidly weaken once inland in Mexico, but its remnant circulation and moisture will get drawn into a conglomerate of systems in the western Gulf of Mexico that will rocket east toward Florida.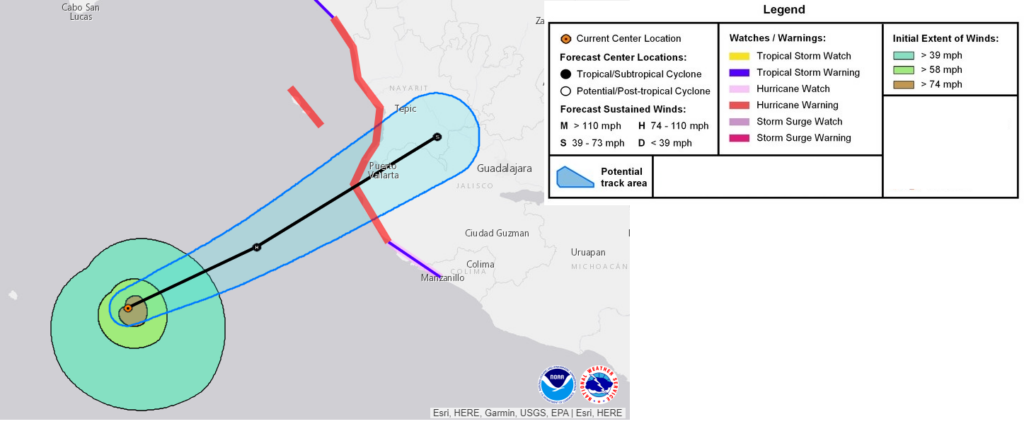 This mashup includes Invest 93L in the Bay of Campeche and the remnants of Tropical Storm Max which made landfall yesterday. As this family of outcasts speeds east across the Gulf Wednesday, it will bring a burst of rainfall from South Texas, into the open Gulf, and across extreme southeast Louisiana and Florida.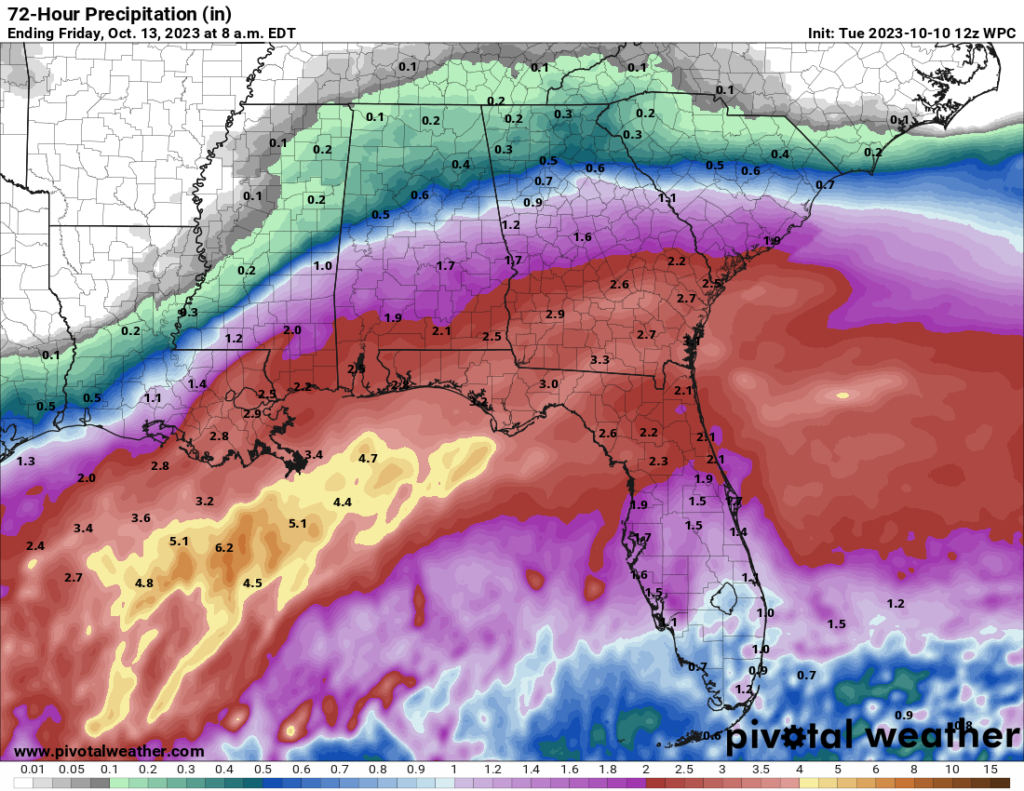 This rain looks fairly manageable overall, with about 1 to 3 inches in the Rio Grande Valley and Corpus Christi areas, New Orleans, much of the Florida Panhandle, and the southern half of Georgia. Isolated areas will see more. There will also likely be a pretty sharp gradient on the northern fringe of this precipitation that perhaps limits amounts a bit in San Antonio, Houston, Baton Rouge, Montgomery, and Atlanta.
Aside from this sloppiness, the Atlantic tropics are quiet in terms of land impacts. Invest 92L continues to look like a late season Cabo Verde system, likely to develop over the next few days. But it will not impact land. There's a little bit of model percolation in the Caribbean in about 10 to 12 days, but I am not ready to jump aboard that train just yet.
Central & Eastern U.S. storm to bring heavy rain and a whole lotta wind late this week
I presume most of the country's attention with respect to weather late this week will be on the significant storm that is going to develop tomorrow night into Thursday over the Central Plains. This storm will bring a variety of weather to much of the northern half of the country.
Rainfall/flooding
In terms of rain, we're looking at a slight chance of flash flooding on Thursday from northern Nebraska and southeast South Dakota into northwest Iowa and southwest Minnesota. On Friday, that expands east to include Chicago, Madison, and Milwaukee east to western Michigan.

By Saturday, that will move toward the Mid-Atlantic and southern New England, including, again, New York City.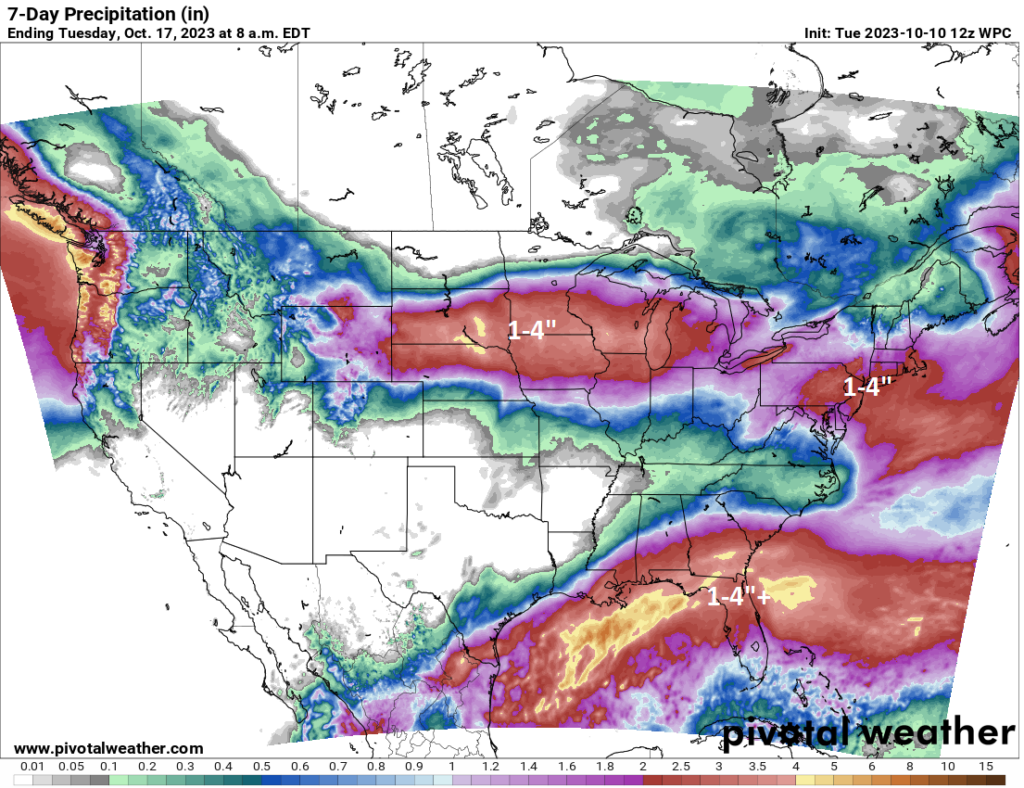 Expect about 1 to 4 inches from western Michigan west through Nebraska and South Dakota. Another 1 to 3 inches is possible in portions of eastern Pennsylvania and the New York City metro. Much of this region only needs an inch or two of rain over 6 to 12 hours to get flash flooding started. So I would expect to see flood watches get posted at some point in many areas.
Severe weather
With a powerful area of low pressure developing on the Plains, you almost always get some kind of severe weather. For Thursday that will probably be in Kansas and southeast Nebraska. On Friday that potential may moderate some as the storm comes east, but I still wouldn't be shocked to see some reports of severe weather.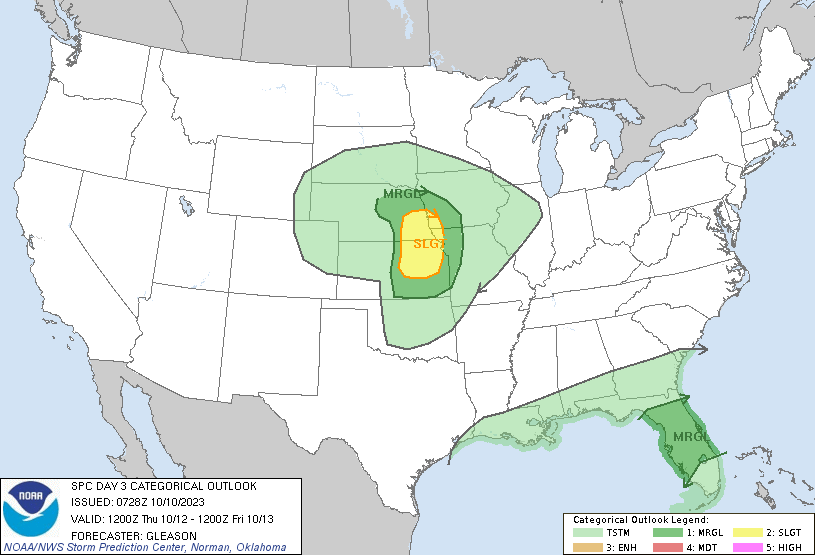 Strong winds and large hail are probably the main concerns, along with a non-zero tornado risk. There will be only a moderate amount of warm, moist Gulf air available so that may cap this event a little bit. Either way, expect to see (and hear) rumblings about that this week.
Strong winds
Expect to see a wide swath of 30 to 50 mph wind gusts across Wyoming, the Central Plains, and the Midwest as this storm marches east. The strongest winds will probably be in the Texas Panhandle, western Kansas and Nebraska, and portions of South Dakota.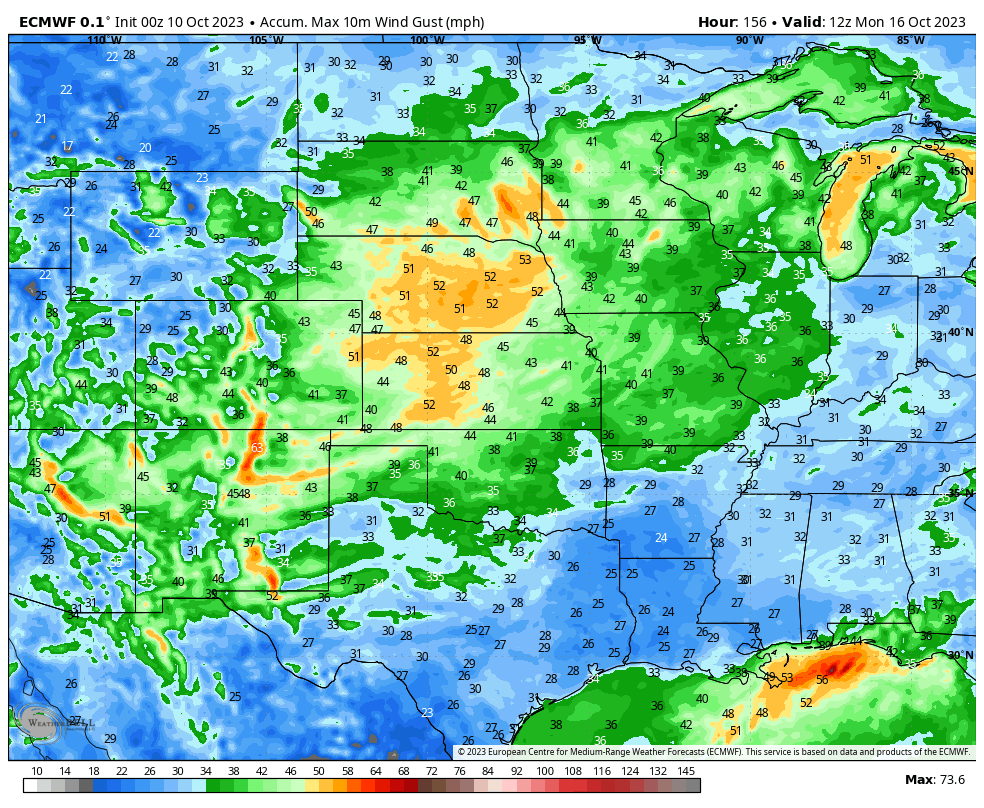 Strong winds will march east as well, but they will probably ease up a bit once to the Ohio Valley and East.
Snow
Lest we ignore the powder! Snow will likely fall in Colorado and Wyoming (and perhaps Utah) as this system unfolds. Some snow may even fall in the Black Hills as well. Winter Storm Watches are already posted for a number of higher elevation spots from Wyoming into western South Dakota.
It's getting to be that time of year! We'll have more on this for you through the rest of the week.