One-sentence summary
We'll be watching the western Caribbean next week for potential development, though any details and specifics are impossible to hone in on just yet.
Tropical Update: Tammy's ghost, Pacific 92E meanders, and watching the western Caribbean
Tammy's remnants continue to swirl in the Atlantic this morning, with expectations that it will bend back to the east and out to sea. It is likely to regenerate into a tropical entity today or tomorrow. I wouldn't say it bears watching, but it could be around in some capacity for awhile in the open Atlantic.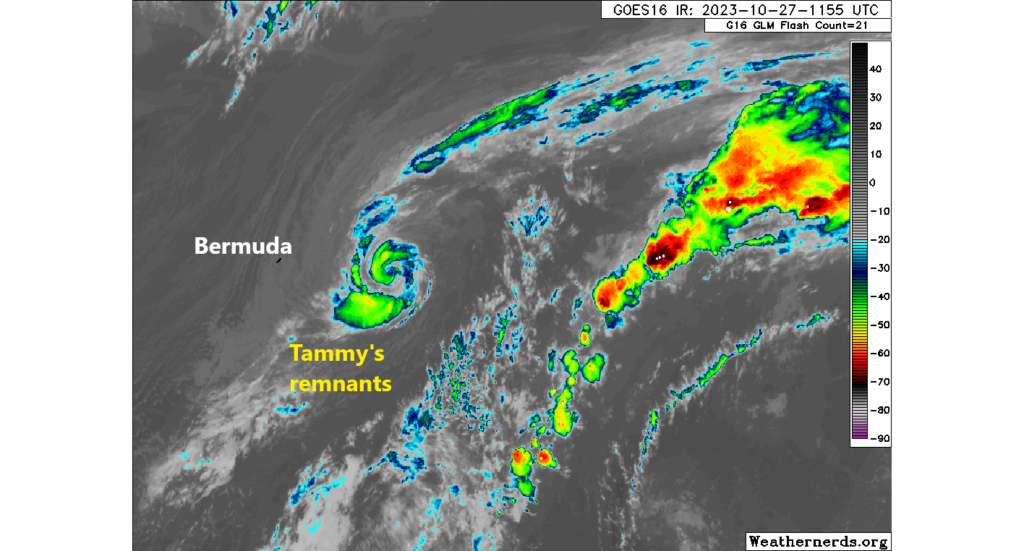 Meanwhile, in the Pacific, Invest 92E is expected to develop over the next several days off the coast of El Salvador. This is not an area with a lot of history of tropical systems. A few smaller systems have impacted El Salvador in the past, mostly tropical storms. However the track forecast for 92E is rather uncertain still, with possibilities of out to sea, a track toward El Salvador or even Nicaragua, or even a drift northwest toward Guatemala or far south Mexico. The current best odds seem to favor a meander offshore of Central America. There will be a reflexive temptation to compare 92E to Otis due to its proximity and south/east placement, but initially there do not appear to be any meaningful similarities. That said, waters here are warmer than average, which will only help with development. Something to watch heading into next week.
Elsewhere, we continue to see rumblings in model guidance toward something trying to develop in the western Caribbean later next week. It's too soon to say anything with any confidence or certainty, but this would be a place to watch in early November traditionally.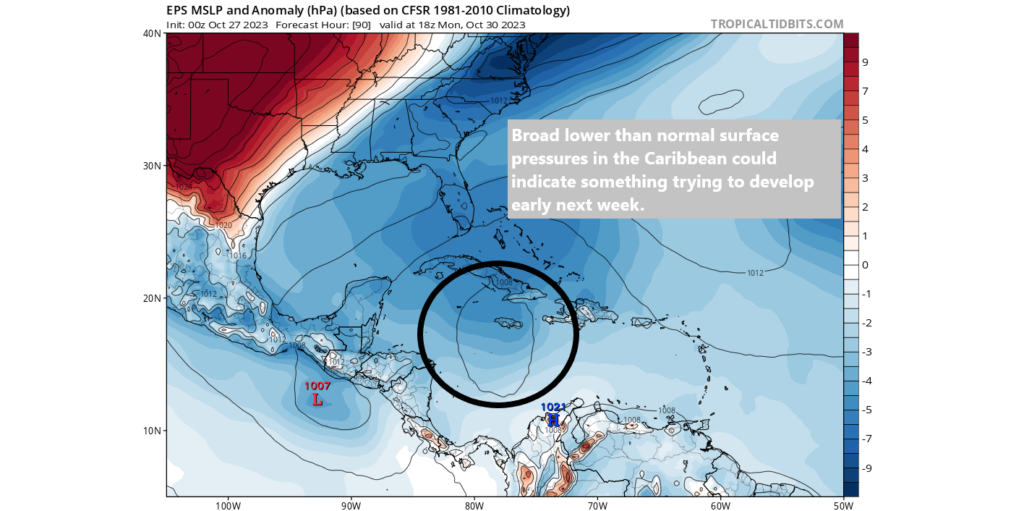 We'll watch trends this weekend and report back with the latest on Monday.
U.S. Weather: Winter takes hold for a few days in much of the country
The main weather story is precipitation, with heavy rain in the south-central and heavy snow in the north. Snow is likely tomorrow across much of Nebraska, as well as in the Rockies. Snow will spread into the Denver area on Saturday night and into Sunday.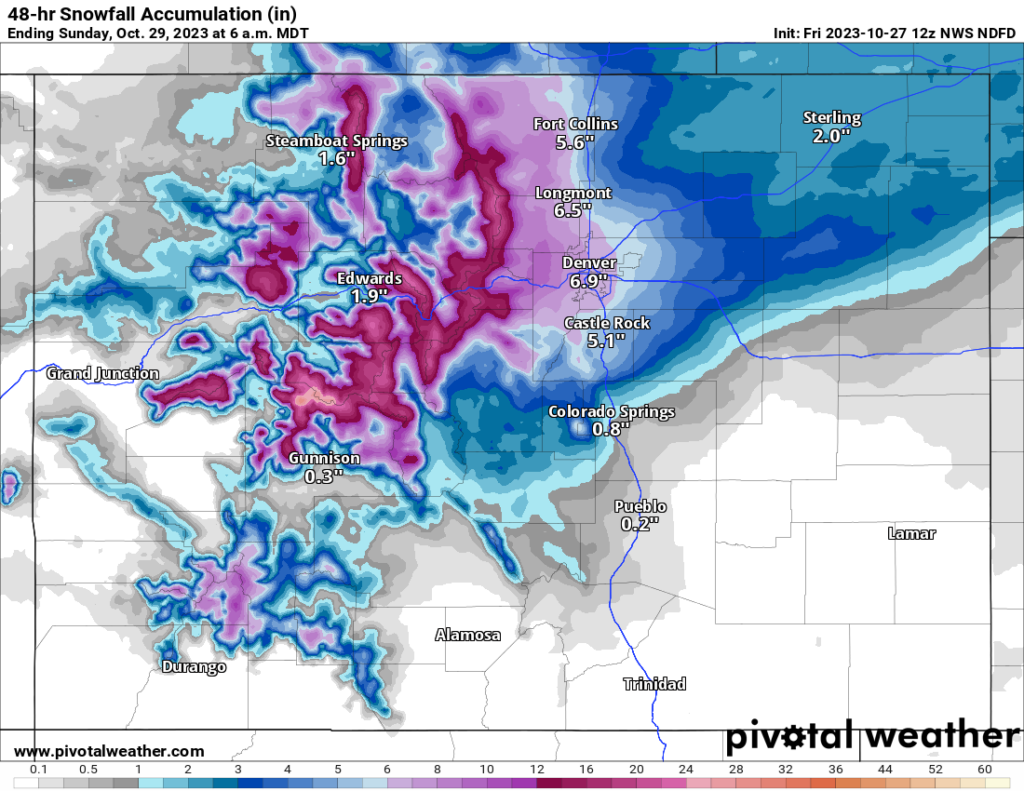 To the south, it's rain. Yesterday, we noted radar estimates of 9"+ in parts of Texas. More heavy rain fell Thursday in the I-35 corridor and points east to just northwest of Houston. There was even a reported tornado in San Antonio. Additional rain today could cause localized flooding issues.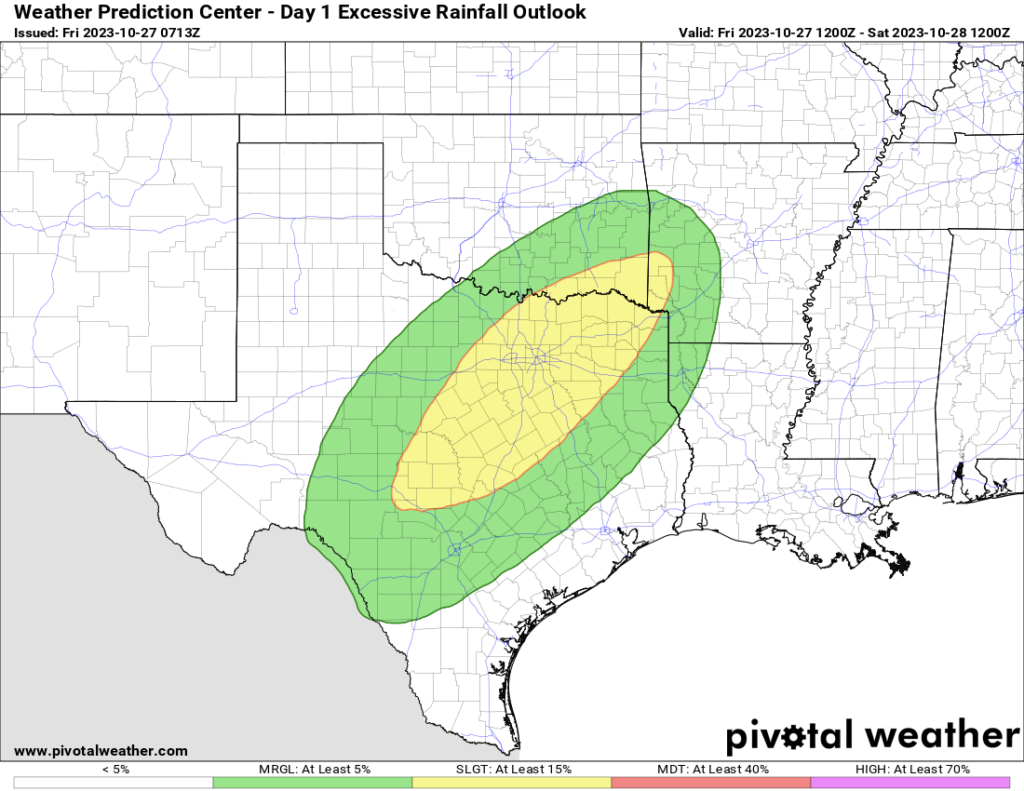 The highest risk of flash flooding today is probably between Waco and DFW.
That risk of rain will expand north and east as well, focusing southeast of the Tulsa area, much of northwest Arkansas, and southern Missouri tomorrow. Similar areas will be at it on Sunday. Finally, that cold front helping to cause the unsettled weather will shift east after Sunday and Monday, ushering in our first real true Arctic air mass of the season, which could produce record lows next week.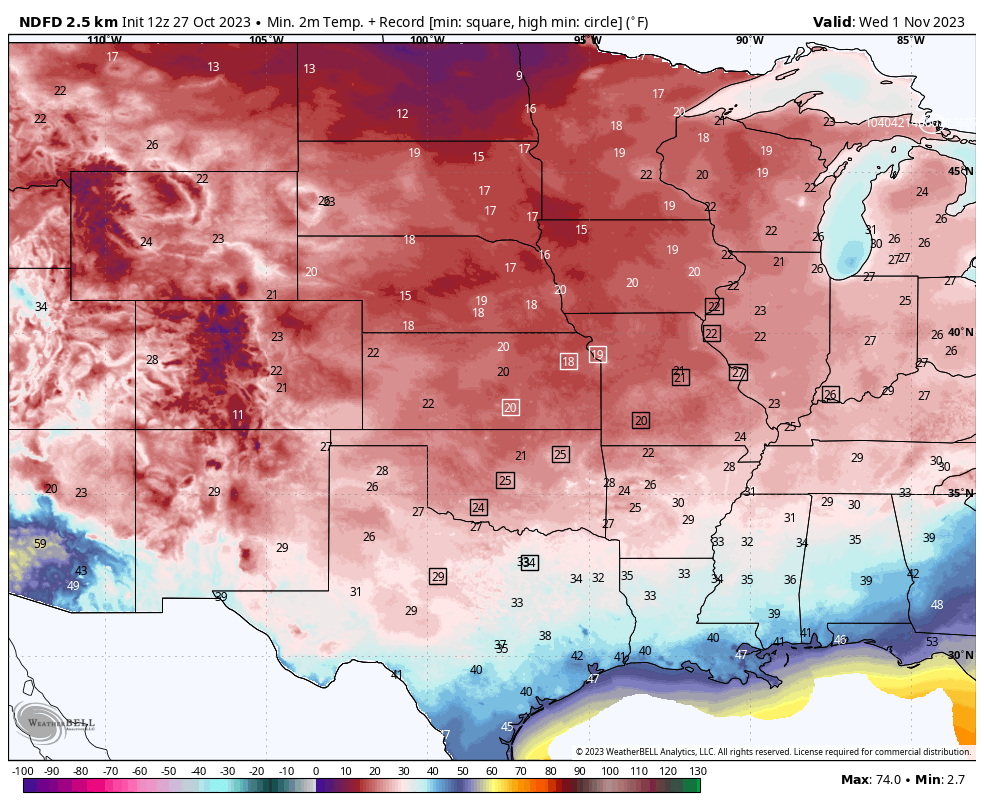 Temperatures are forecast to be in the teens in Kansas City, 20s in Oklahoma City, and mid-30s in Dallas on Wednesday morning, all possible record lows.