One-sentence summary
Hurricane Lee is slowly starting to weaken, but remains a large and powerful hurricane as it turns northward on Wednesday morning and it will eventually bring significant impacts to parts of eastern New England and Atlantic Canada this weekend.
Current status of Lee
As of 8 am ET on Wednesday morning, Lee has sustained winds of 115 mph and is moving to the northwest at 6 mph. In terms of timing, it will bring impacts to Bermuda starting late tonight through Friday, and then into New England and Atlantic Canada by later on Friday and Saturday. By that time Lee will be weakening, but should still pack a punch given its large size.
Lee track forecast
Our confidence in where Lee will go over the next couple of days is high. After turning today it should move more or less north, passing to the west of Bermuda. A tropical storm warning is in effect for the island due to the threat of heavy rainfall and strong waves. However, Bermuda thankfully should be spared the worst effects of Lee along this track.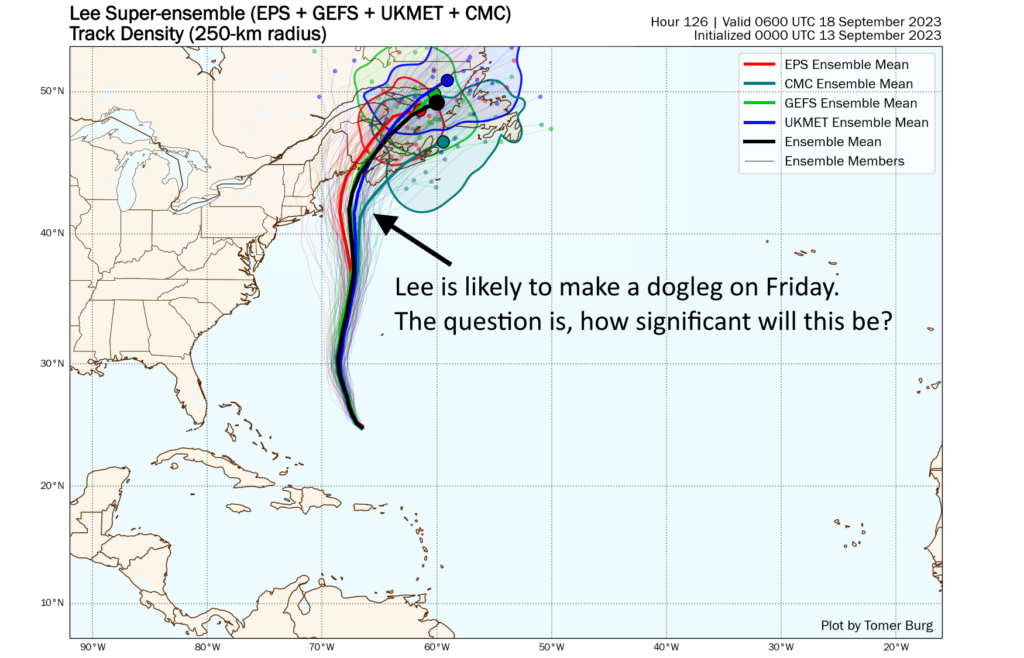 After days of uncertainty, we should finally start to get some clarity today on Lee's track at the end of this week, and its implications for residents of New England and Atlantic Canada. At this point I'm leaning toward a northward track until Friday, at which point the storm should make a dogleg to the left. Our main forecast question, in regard to track, is how significant will this westward bend be? It depends on the strength of a trough of low pressure over the Pennsylvania and New York region.
Our best hurricane and global models indicate that this turn will bring the center of Lee fairly close to the Cape Cod region of Massachusetts early on Saturday morning, although the storm is still expected to remain largely offshore. The center would then move into coastal Maine by Saturday night or Sunday morning. The center would subsequently move through Atlantic Canada and make its exit to the northeast. Again, we should get a better handle on the details of this dogleg over the next 24 hours, and we'll have an update for you late this afternoon.
Lee intensity forecast and impacts
Lee now faces a number of factors that should lead to a gradual diminishment in strength, including increasing wind shear and a track that will bring it over cooler seas. However, this process should be slow, and it is likely that Lee will approach Cape Cod and Maine this weekend as a broad, Category 1 hurricane. As it likely will be starting to transition into an extratropical storm, you can probably expect the storm to behave more or less like a very large nor'easter.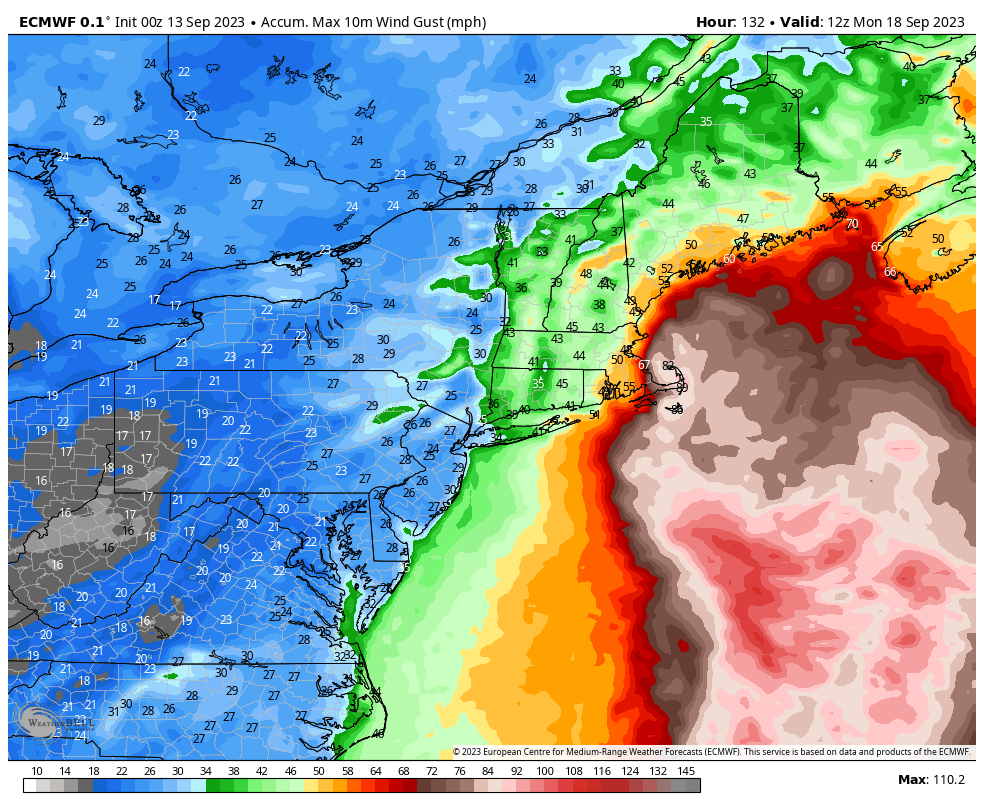 After bringing tropical storm impacts to Bermuda, Lee could start to bring Tropical Storm-force winds to the Cape Cod area of Massachusetts by Friday night, and into Maine and Nova Scotia by Saturday morning. How strong will these winds be? That will depend ultimately on the storm's track and how much its intensity wanes, but the following wind gust forecast from the European model offers a decent representation of risk. Note that wind gusts are short bursts of wind, and that sustained winds will be lower.
Rainfall totals are likely even less predictable than winds, because they're not only dependent on track but also more localized conditions that will determine where thunderstorms train. The heaviest totals are likely accumulate in Maine and Nova Scotia, where some areas may see 3 to 6 inches of rainfall in a fairly short period from Lee.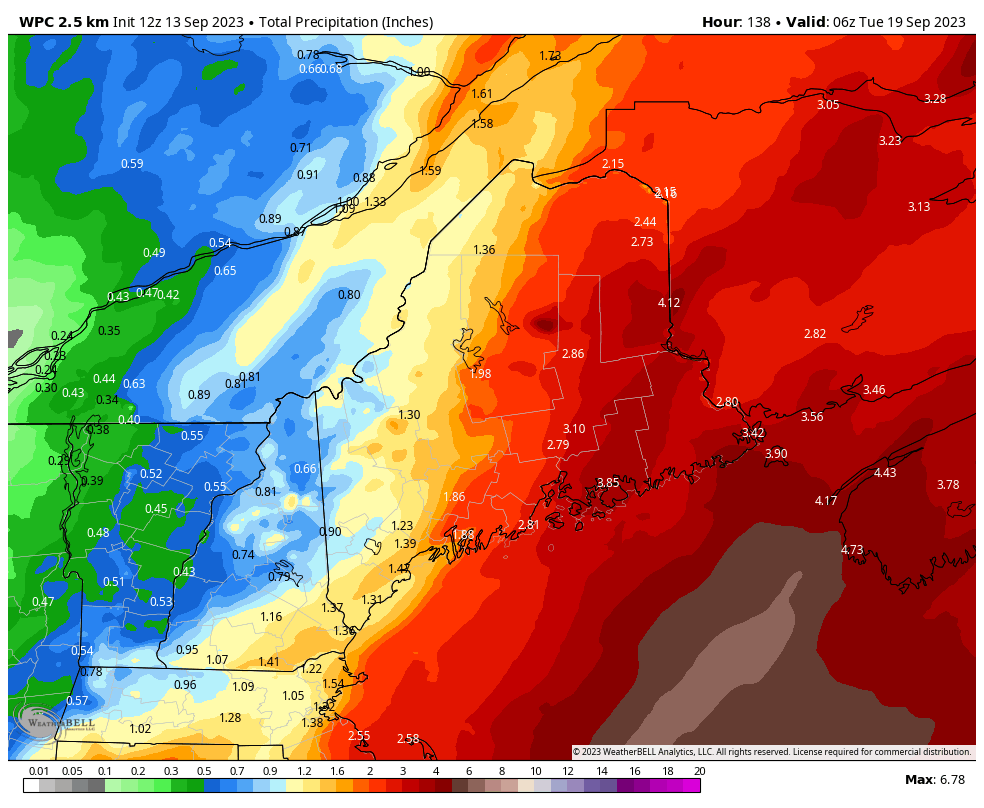 There will, of course, be myriad other effects from this storm. One of them is storm surge. We have seen in the past the larger hurricanes tend to produce a more significant surge of water, and it appears as though Lee could bring a pretty significant coastal surge event into Maine and parts of Canada. The details of this will be worked out in the next day or two as we fine-tune the track forecast. Accordingly, Beach erosion, rough surf, and rip currents are a lock for the East Coast and Atlantic Canada. Not a good beach weekend, to be sure. Areas that see stronger winds and rainfall will likely see downed trees, which could in turn knock down power lines. So be prepared for some disruptions of that kind, as well.
Hurricane Margot and the rest of the gang
Margot is a hurricane at sea. Fortunately there is nothing to see. After spinning and going whee. In a few days, it should cease to be.
Beyond Margot there is another system that is very likely to develop into hurricane over the next several days. This system is probably not a concern for the continental United States or Caribbean islands, but could definitely be something for Bermuda to watch. If so, impacts would occur about a week from now, or maybe a bit longer. But we have a lot of questions to answer before getting into a specific forecast for a storm that would be called Nigel, should it form.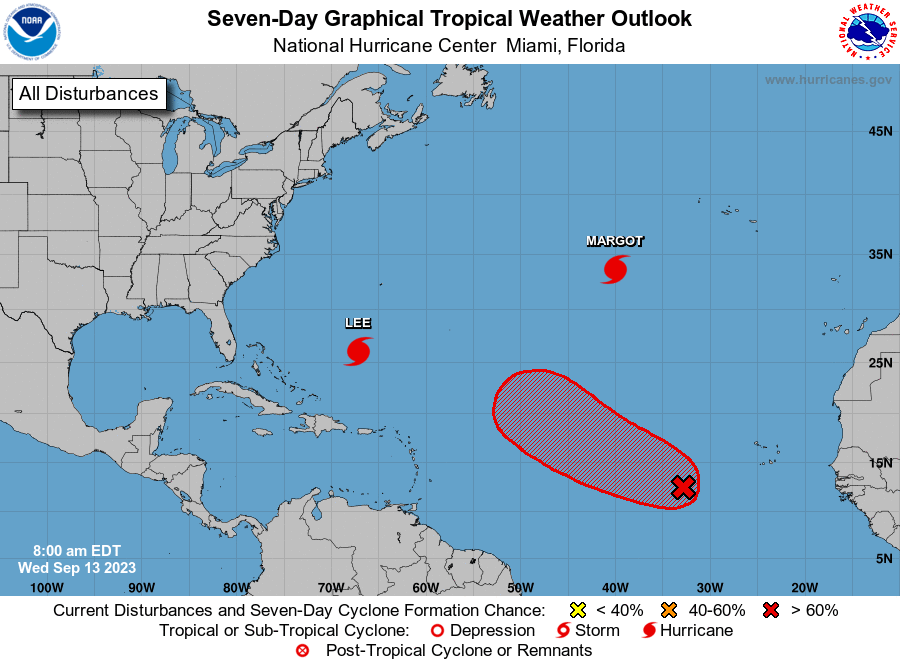 Look for our next update on Lee late this afternoon.