One-sentence summary
Hurricane Lee will impact Bermuda with tropical storm conditions in a couple days, as Lee's wind field now extends out nearly 250 miles from the center.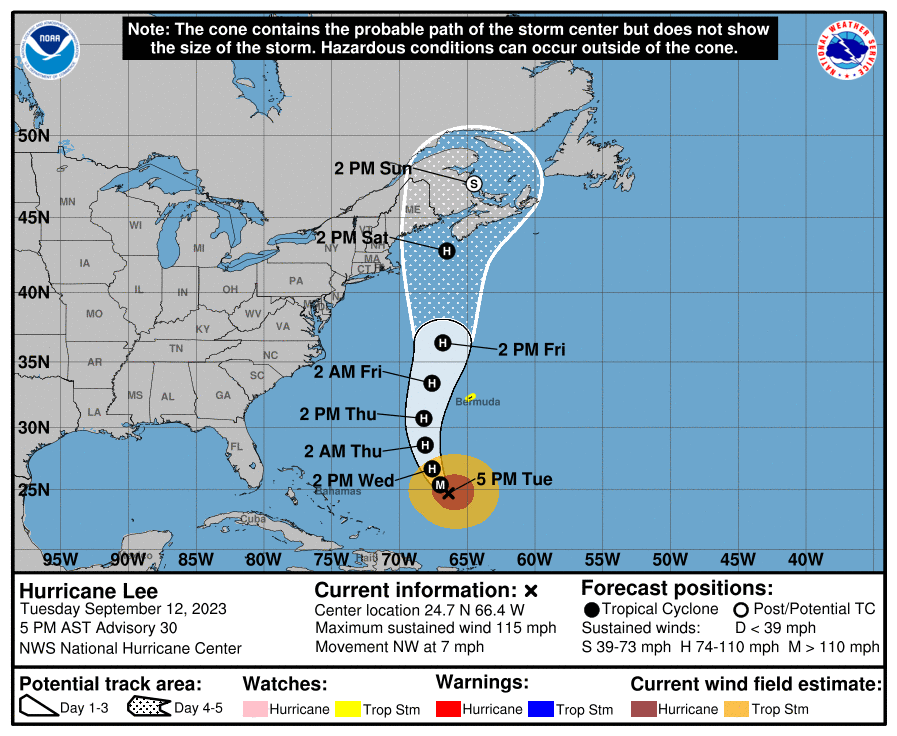 Hurricane Lee: 115 mph, moving NW 7 mph
What's changed since this morning?
Bermuda is now under a Tropical Storm Watch, with Lee expected to bring some impacts to the island in a couple days.
The forecast track this weekend continues to wobble a bit between Maine and Nova Scotia. While impacts will extend far from the center of Lee, the actual track does matter in terms of what to expect from storm surge. This will need further fine tuning.
Lee is growing in size, with tropical storm force winds extending out nearly 250 miles from the center.
Bermuda impacts
Expect very rough surf, a period or periods of rain, and gusty tropical storm force winds on Bermuda. Tropical storm force winds should arrive Thursday afternoon at the latest I'd think with rain reaching Bermuda by late Thursday morning or early Thursday afternoon.
Lee's forecast focus: Rain
Let's talk a little about rain. The good news with Lee is that it will be moving quickly. There have been and will continue to be some rains in Maine and portions of eastern New England this week, as well as in New Brunswick. When Lee marches into Maine or Nova Scotia, there will be rain spread all over, but there will be a core of rain that could be a bit troublesome. The GFS, which tracks Lee into Nova Scotia brings that 4 to 8 inch (100-200 mm) core of rain mostly toward Nova Scotia or into the Bay of Fundy. The European model, which tracks Lee into Downeast Maine brings it toward Acadia National Park and Bar Harbor. Also notice on the maps below that there are significantly different rainfall forecasts between the Euro and GFS for Massachusetts as well. The Cape, Islands, and Boston see heavier rain from the Euro, while the GFS delivers only some rain to the Cape. New Hampshire also sees differences here too.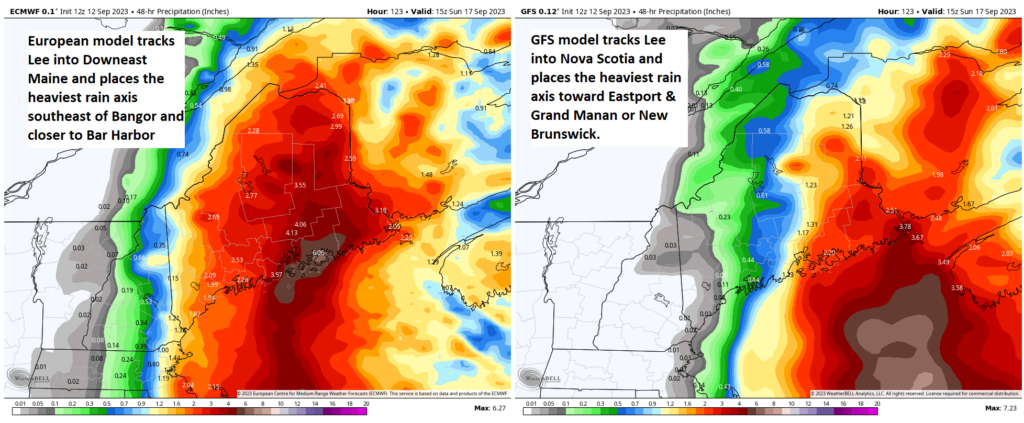 This trend actually holds up within the model ensembles right now as well. The European model tends to bend back to the west a bit toward Maine and New Brunswick, while the GFS ensembles are placed more to the east, aiming at Nova Scotia.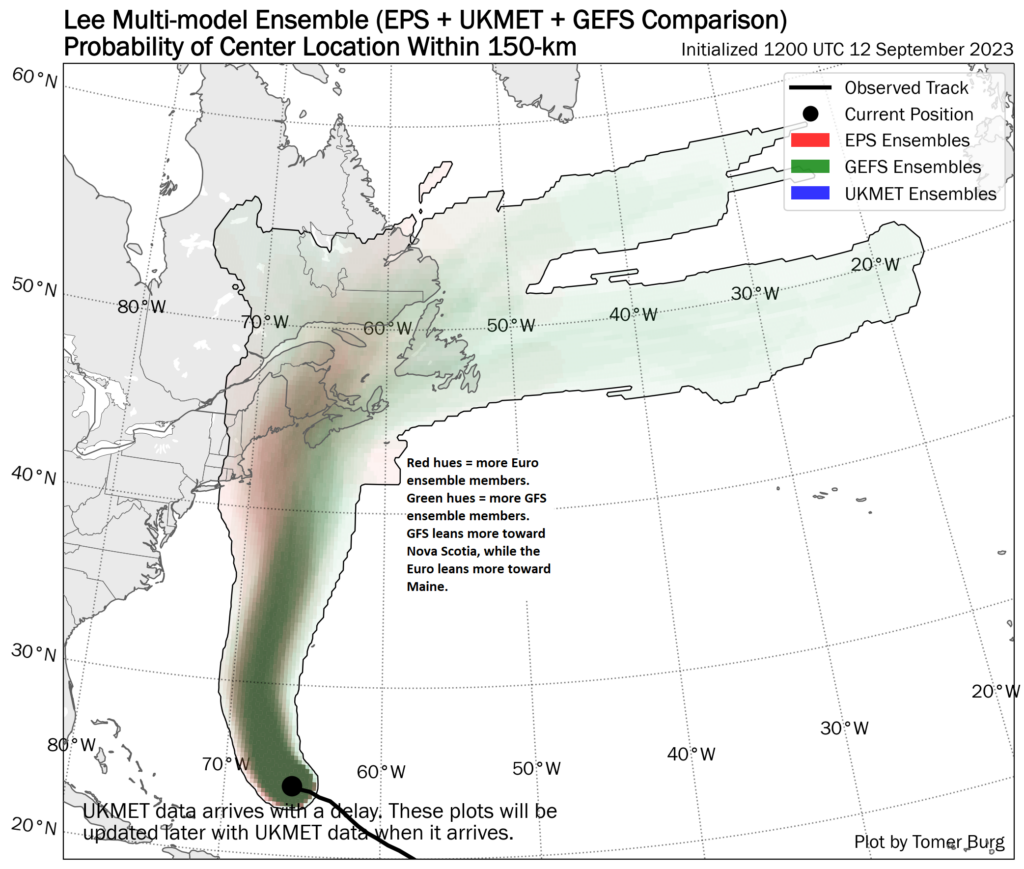 Interestingly, the European model has the support of the new HAFS-B hurricane model, which does currently show the storm clipping Massachusetts before coming in over Bar Harbor. The HWRF, our previous top hurricane model shows the storm coming in near Yarmouth, NS. So to say we're confident in which camp is right would be lying. However, the HAFS-B has had a bit of a hot hand lately, and when I see the Euro and a top hurricane model on the same page, it makes me believe a track closer to Maine may be slightly more likely than the alternative. We'll see.
The bottom line in all this remains that folks on Cape Cod, Nantucket, Downeast Maine, New Brunswick, and Nova Scotia should be preparing for heavy rain, wind, and tidal impacts from a hurricane this weekend. Please, again, don't assume that just because Lee is weakening on approach that that makes it worth downplaying. As I noted this morning: Lee will punch well above its weight class when it comes ashore. The size of Lee means that it will be bringing a significant amount of water north with it, and that will cause surge/coastal marine impacts equivalent to a much stronger storm than Lee may be classified as.
We'll have more in the morning.