One-sentence summary
Hurricane Lee will pass west of Bermuda tomorrow and into Atlantic Canada or Downeast Maine on Saturday, bringing widespread wind and potentially severe storm surge impacts to portions of New England and (especially) Atlantic Canada.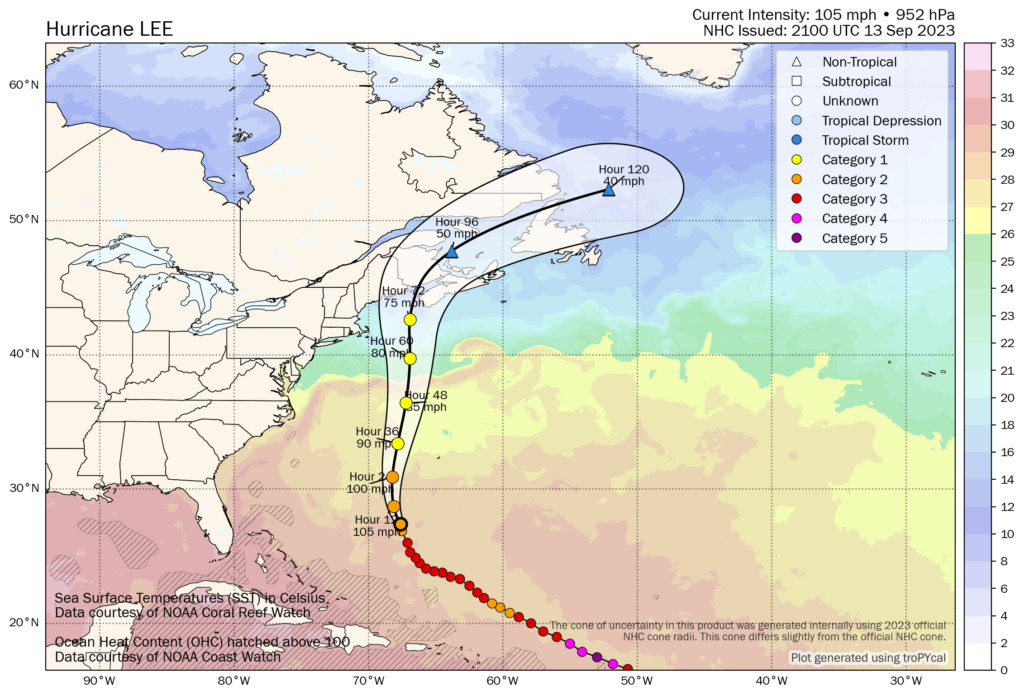 Hurricane Lee: 105 mph, moving NNW 10 mph
What's changed since this morning?
Hurricane Watches have been posted for Downeast Maine from Stonington to the Canadian border, including Acadia National Park and Bar Harbor.
Tropical Storm Watches have been posted from Watch Hill, RI to Stonington, ME, including Cape Cod, Block Island, Martha's Vineyard, and Nantucket.
Storm Surge Watches have been posted for Cape Cod Bay and Nantucket.
These watches will shift and be upgraded to warnings as Lee approaches closer.
Lee's track forecast is coming into better agreement this afternoon, with an expected wobble toward but not into Massachusetts before an eventual landfall in either Downeast Maine, New Brunswick, or far western Nova Scotia.
Lee right now: Approaching Bermuda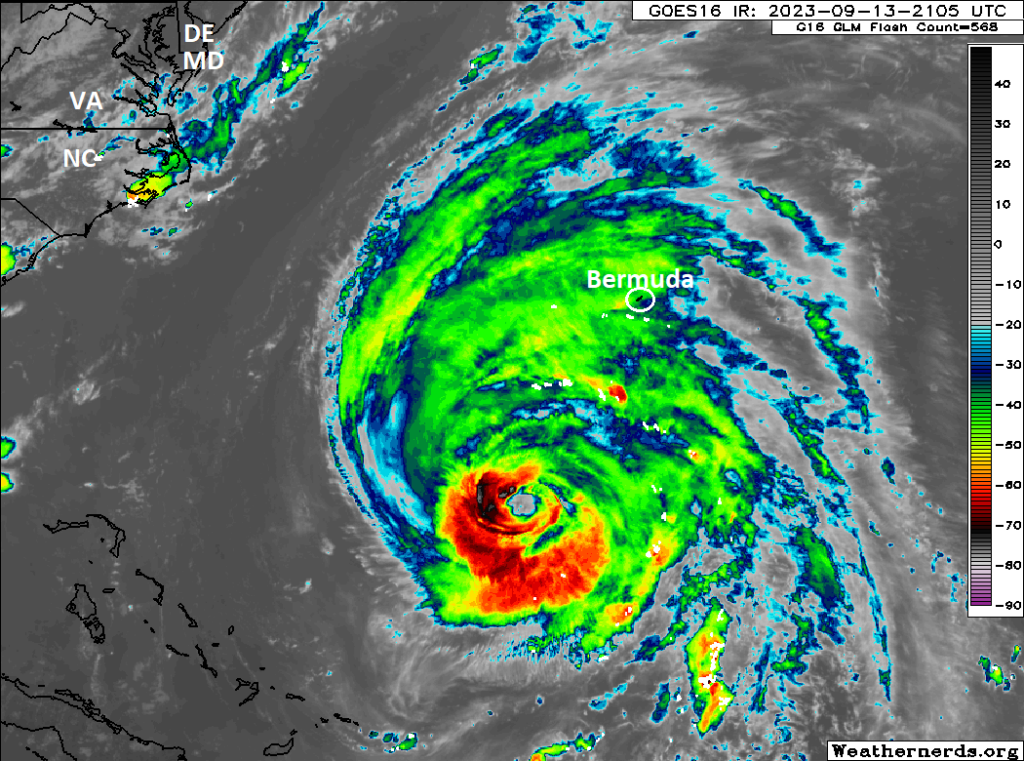 Lee's intensity is at 105 mph, making it a category 2 hurricane on the Saffir-Simpson Scale. However, because Lee's hurricane-force winds extend out 115 miles and tropical-storm force winds extend out 265 miles, Lee is in rarefied air in terms of sizeable storms. It will likely bring tropical storm conditions to Bermuda tomorrow.
Lee's forecast track: Getting closer to resolution
Yesterday saw a pretty severe lurch back toward the southern New England coast on modeling, and while that continues to a lesser extent today, we're starting to narrow the track of Lee a bit. Lee will probably wobble back to the west as it approaches the latitude of Nantucket and southeast Massachusetts. But the mantra will be "bend, don't break." Lee's track will bend west, but then it should wobble back northward or north-northeastward as it passes Cape Cod. In other words, it will get close but the core will probably stay east of Cape Cod and Boston.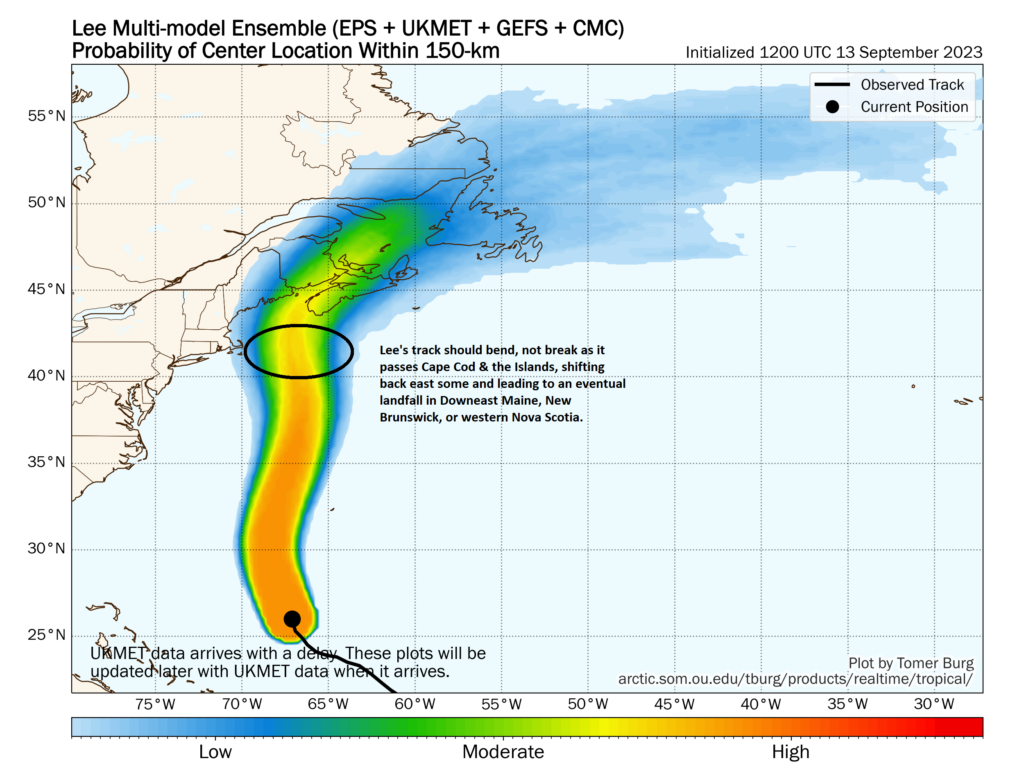 Lee's impacts: Wind
Given the size of Lee's wind field, the specific track matters very little for wind impacts from Lee (with one notable exception in Cape Cod). They will spread over a broad area extending from coastal Rhode Island through western Newfoundland. I mean, the expanse of likely tropical storm force winds from Lee is mammoth.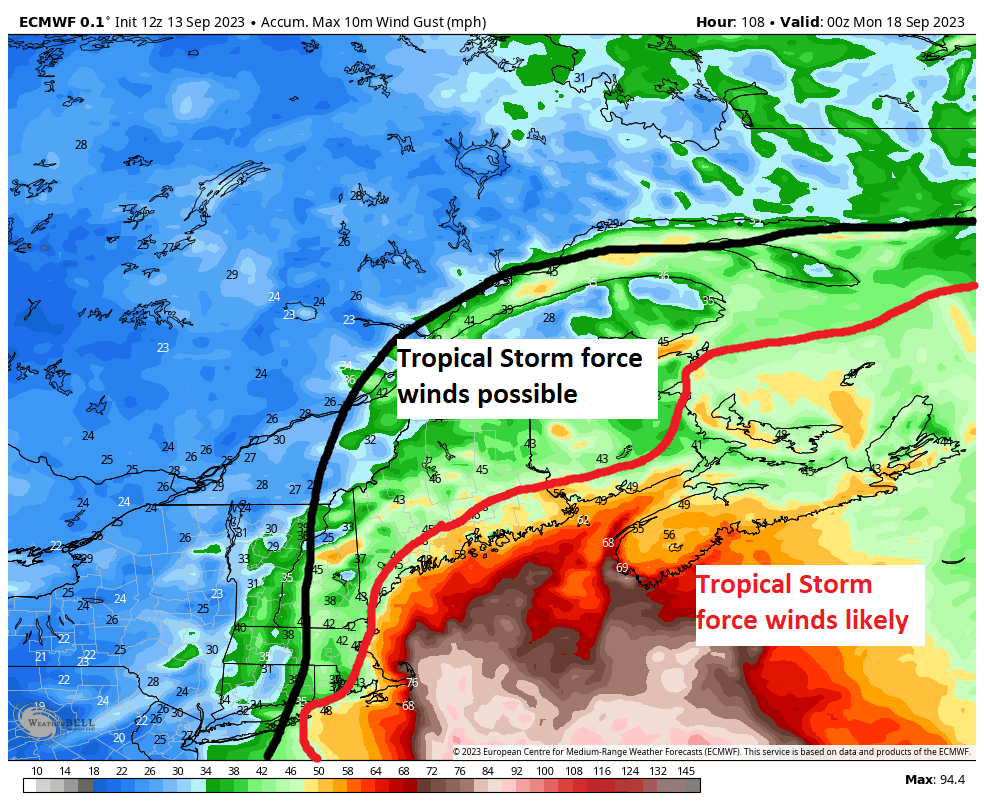 The map above shows the forecast wind swath from today's European operational model. Don't focus on specifics here. I've tried to draw attention to how wide the wind field is with tropical storm force winds of 40 to 60 mph or stronger possible and likely. For portions of coastal Nova Scotia or even Downeast Maine, there may be the potential for hurricane-force wind gusts as well.
Even Cape Cod *may* get into the stronger winds depending on exactly how close Lee's core gets to the coast on Saturday. Lee will still be a firm hurricane we think at that point, so if the core can approach the Cape, a period of 60 to 80 mph wind gusts will be possible. If Lee's core stays far enough away, you probably will still gust to maybe 60 or so there, but the more damaging winds would stay offshore. Either way, we're looking at widespread wind impacts from Lee, likely leading to numerous power outages, especially in Maine and Canada.
Lee's impacts: Surge, an extremely serious concern in Nova Scotia, the Bay of Fundy, and portions of Maine
I am very, very concerned about the storm surge from Lee. Lee will behave far beyond what is "normal" or expected from a tropical storm or category 1 hurricane. For all intents and purposes, the equivalent of at least a category 2 or 3 surge will come ashore near and east of Lee's track. Comparable analogs to Lee in terms of surge are Hurricane Ike in 2008 and Hurricane Sandy in 2012. Couple that by bringing Lee smack into the Bay of Fundy with the highest tides in the world and a new moon (with elevated tides already) and you have a potential problem brewing.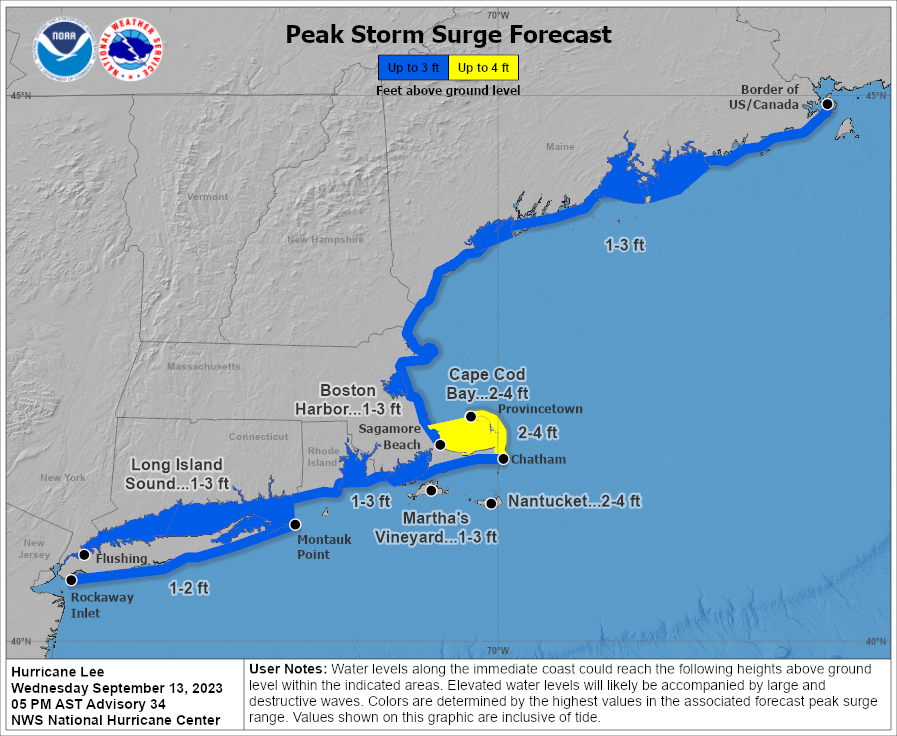 There is nuance, and the exact track will matter in terms of who sees how much surge. But for folks on Cape Cod and in Maine, you should prepare for a healthy coastal flooding/surge event. In Atlantic Canada on the coast, you should be preparing for serious flooding risks. In terms of analog tracks. Hurricane Ginny from 1963 may be the best fit here for Canada. I plotted Ginny, Juan, and Fiona on the map below just for comparison to Lee's forecast track.
Juan and Fiona were too far east to be considered adequate analogs to Lee in terms of surge or even wind impacts. Ginny was a little stronger than Lee will be, but I am assuming Lee's wind field is larger.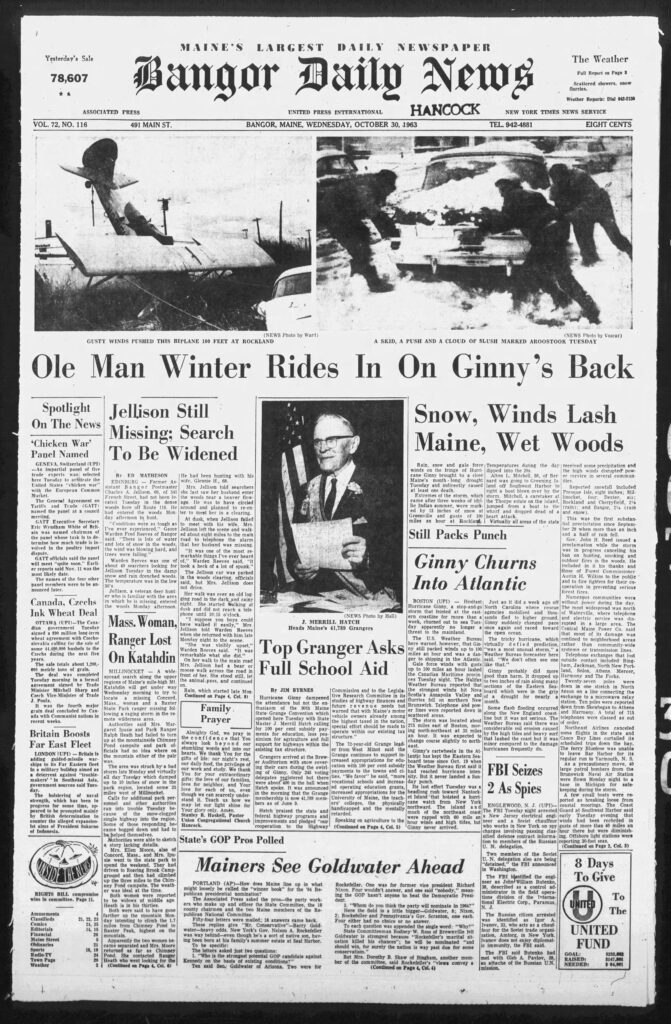 Whatever the case, I think it's important to recognize the risk of serious surge here. Per the Canadian Hurricane Centre, the Bay of Fundy and coastal mainland Nova Scotia should see the worst surge impacts. We'll provide more information once surge forecasts start populating.
In addition to surge, high waves and beach erosion will be an issue from the Southeast U.S. into Canada, along with rip currents.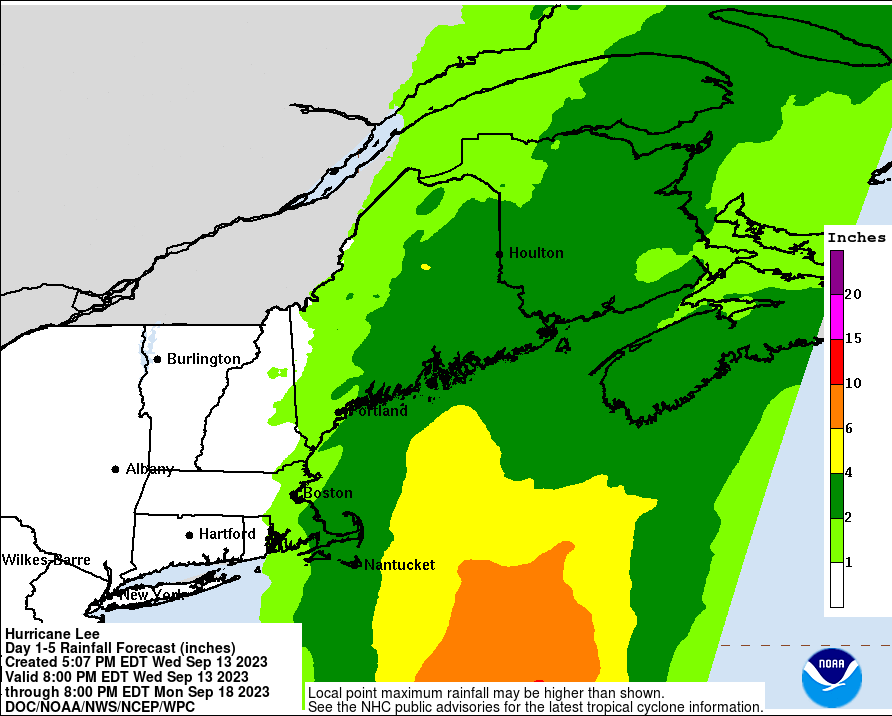 Lee's impacts: Rain
Rain is not the most serious or concerning impact of Lee. However, there will be the potential for areas of heavy rain and flooding in portions of eastern New England, especially as those areas have seen a fair bit of rain lately. The heavy rain risk in Canada is primarily confined to Nova Scotia and New Brunswick. Rain should thin out some over Prince Edward Island.
We'll stop there for this evening. Our next update will be as usual on Thursday morning.