One-sentence summary
Post-tropical cyclone Lee is on its way across the Gulf of St. Lawrence and should be completely out of the picture by tomorrow morning, tracking well south of Greenland.
Post-tropical Lee: 45 mph, moving NE 22 mph
We first started talking about Lee as it was about to become Invest 95L back in the closing days of August while Idalia was readying to impact Florida. When we say hurricane season is a marathon, not a sprint, this is what we mean. Now, mercifully after nearly 3 weeks of tracking, Lee is implementing its exit strategy across the Gulf of St. Lawrence and eventually out to sea.
Lee's center is off the coast of PEI and moving toward the Great Northern Peninsula in Newfoundland. Lingering tropical storm conditions will continue over PEI, portions of Nova Scotia, and Iles-de-la-Madeleine. Gusty winds are expected in Newfoundland, but impacts should be relatively minor. Rough surf will continue across Atlantic Canada, but any risk of damaging tidal flooding has diminished.
Rain totals were a bit spread out, but I found over 5 inches near Eastport, ME, almost 5 inches (125mm) near Fredericton in New Brunswick, and there were reports of around 100mm in Gaspe in Quebec and Grand Manan just east of Maine.
Nova Scotia power reports about 75,000 customers without power as of 11 AM (ADT), there are about 12,000 without power in New Brunswick, and about 40,000 in Maine.
That about closes the book on Lee.
Elsewhere
We'll go into more detail on this tomorrow or Tuesday, but the rest of the Atlantic is busy but of no concern. For now. Nigel and Margot will not impact land, though Margot could brush the Azores as a remnant depression. The next wave, which the NHC gives a 40 percent chance of development over the next week is worth watching, particularly in the Caribbean, as there are questions as to exactly what the steering pattern in the Atlantic is going to look like when it gets there.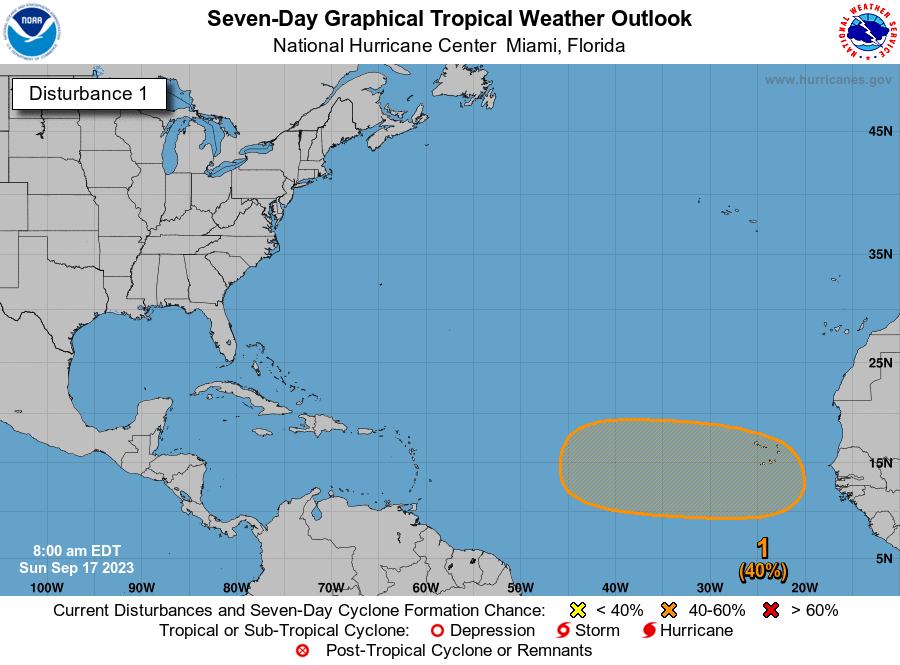 I would say the odds still favor a track north of the islands, but confidence in this is far less than it was for Lee, Margot, and Nigel.
Otherwise, there is at least reason to watch near Florida this week, as an upper low may develop in the neighborhood. While that seems unlikely to lead to a surface low developing, you never can be certain. Regardless, it means increasing rain chances for Florida and perhaps the Bahamas and Southeast. We'll see how things evolve. More tomorrow.