One-sentence summary
Two systems may try to develop late this week or weekend, a deep Atlantic Cabo Verde wave and a subtropical system off the Florida or Georgia coast.
Near term Nigel
Let's clear the deck first. Nigel? Still out there.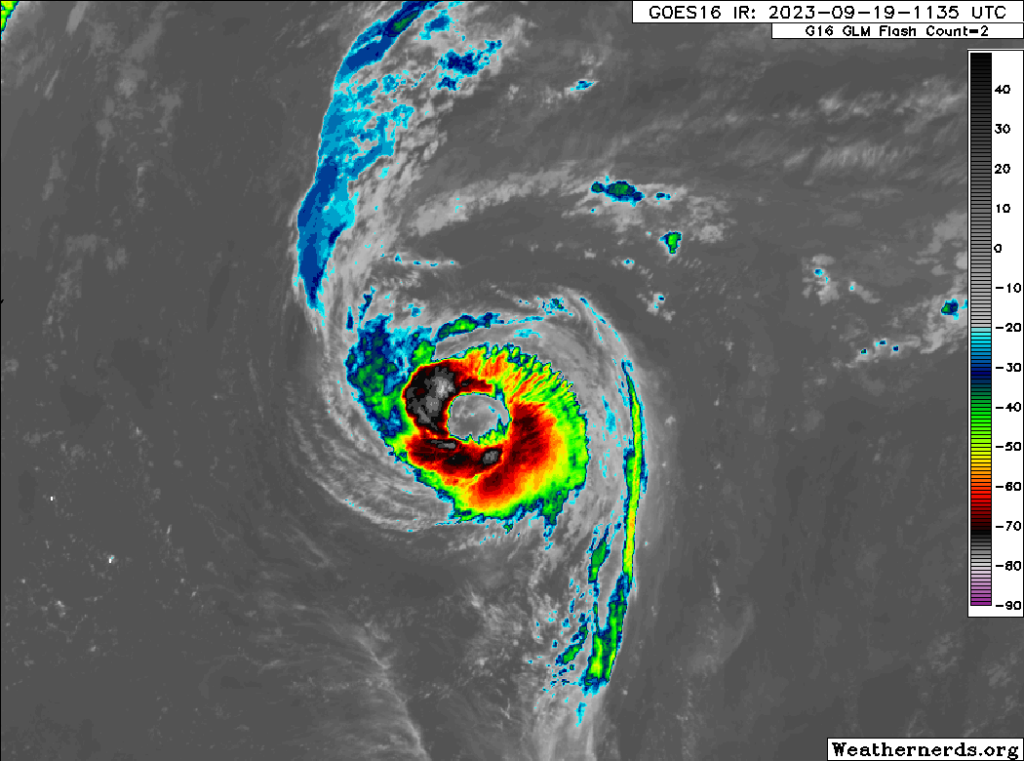 The stand out feature of Nigel is the size of its eye. It's tough to specifically measure, but I am estimating this is about 40 to 60 miles across. Dry air has been a persistent issue for Nigel, and it seems to be impacting its intensity and holding it back from becoming more than a minimal hurricane. Nigel will continue to track northwest and then eventually north and northeast, out to sea, no threat to land.
The medium-range (days 6 to 10): Subtropical Southeast vs. Classic Cabo Verde
Two systems may enter. Both systems will eventually leave. The hope is that neither will produce any serious impacts to land. Let's start close to home.
Southeast subtropical shenanigans
The general theme for this week will be: Upper low forms over Florida, drifts offshore to the east, undergoes a top-down process to form a surface low which may develop into a storm as it tracks north toward the Carolinas. It would probably be a subtropical storm, but the impacts would essentially be similar to a tropical storm, so I don't want folks to get hung up on technicalities here. There will likely be a coastal storm this weekend that tracks north from Florida toward the Carolinas. Exactly where, how strong, etc. remains to be determined.
The impacts will probably include locally heavy rain, rough surf, possible beach erosion, and gusty winds on the South and North Carolina coasts.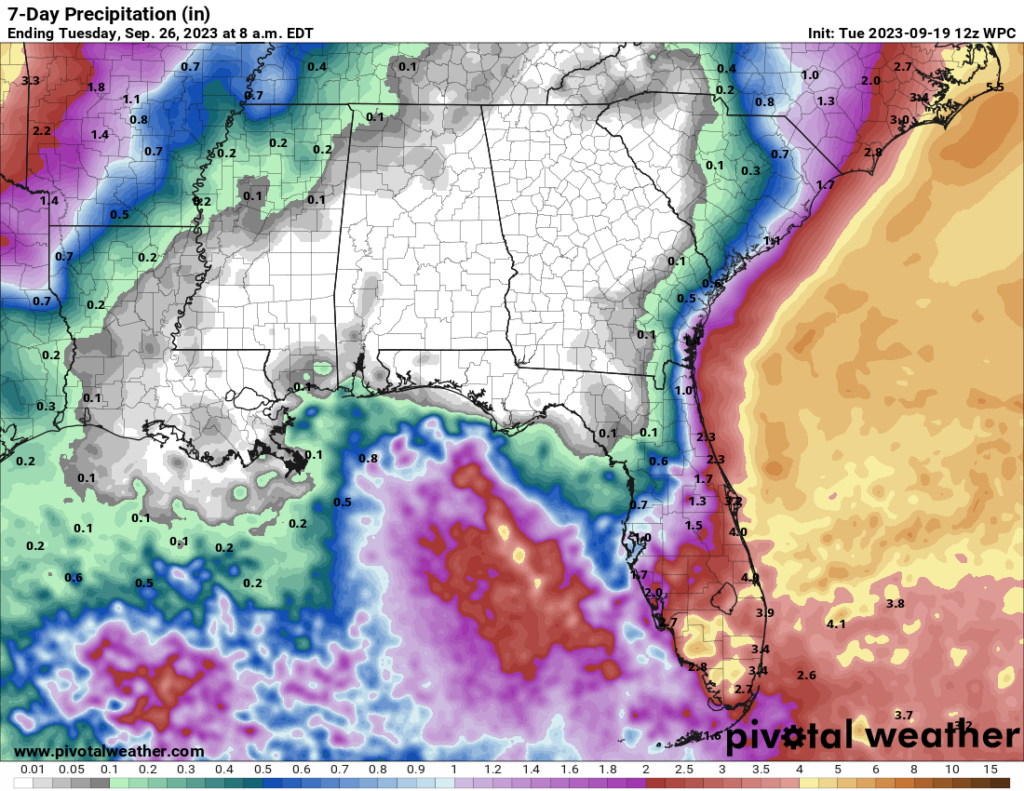 The map above is a preliminary rainfall forecast through Tuesday morning. Florida gets their rain this week, locally heavy at times. As the system organizes that will spread north, certainly into the coastal Carolinas, but also perhaps up Delmarva, the Jersey Shore, Long Island, and southern New England. As of now, this looks like an early autumn nor'easter type impact. Although exactly what intensity the impacts of this system arrive with remains to be seen. We will have more on this tomorrow and Thursday.
Cabo Verde wave
The deep Atlantic is a little sloppy right now, but emerging from this mess will likely be the next wave off the coast of Africa. We continue to have model support for this to develop, however that support seems to have waned a bit since yesterday. The 70 percent chance of development assigned by the NHC is probably a good spot to be right now.
Anyway, this wave will come west over the next week or so and eventually end up near the Lesser Antilles or Puerto Rico. It may swing north of there, or it may enter the islands. It will be steered by high pressure over the central Atlantic.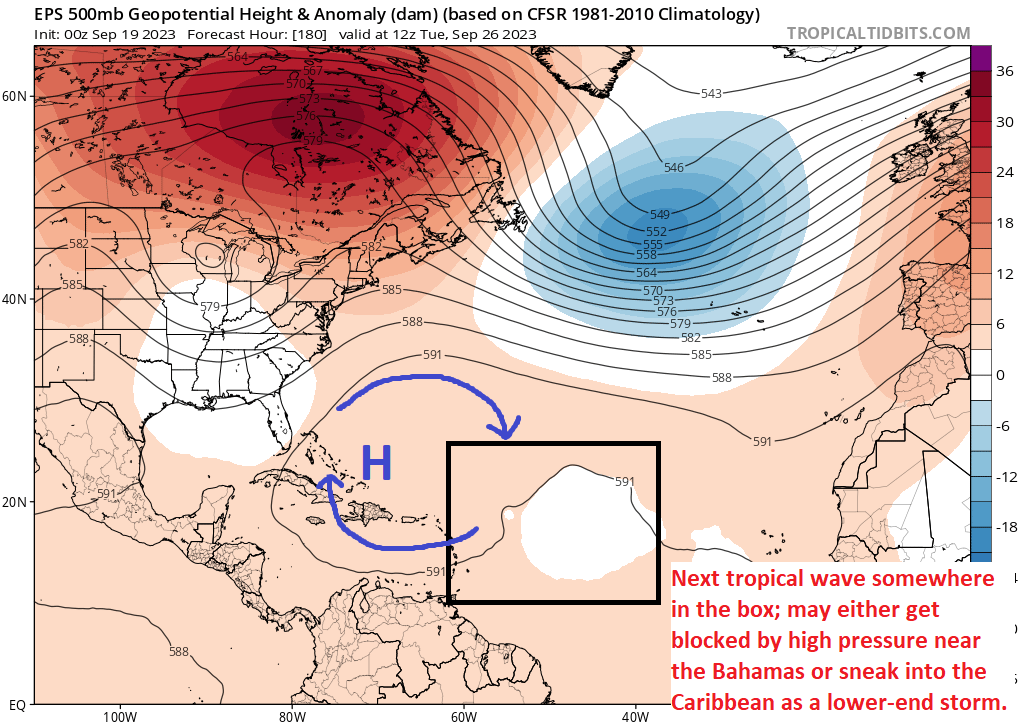 There is some chance that this high may build far enough west and south to perhaps block out the tropical wave or cause it to slow enough to be picked up by that trough in the North Atlantic. Odds probably favor that latter scenario in this situation. Still, I think in general this area merits watching because of the time of year, the warmth of the water, and the potential track. But it remains too early to say whether or not it's a particularly serious concern for the islands. We'll monitor it over the next few days.
Hopefully the most exciting aspect of these two waves will be who gets a name first, if either does. My bet is on the Southeast system today. The next two names are Ophelia (o-FEEL-ya) and Philippe (fee-LEEP).
Fantasyland (beyond day 10): Nothing brewing of note
We continue to keep an eye on the extended period to look for signs of trouble. As of now, it looks like things will be fairly quiet. Wind shear is expected to be well above average in the Gulf and northwestern Caribbean, which would be two key areas to watch in early October. So I'm cautiously optimistic that things will calm a bit, but as always we'll keep watching.