One-sentence summary
Overall things don't look too concerning for late September, as Tropical Storm Philippe continues to be a fading force, and Invest 91L appears most likely to track north of the Caribbean Sea and its islands.
Happening Now: Some pesky storms
Let's begin with Tropical Storm Philippe. Frankly, it does not look like much of a tropical system this morning, as the storm is battling against both the influx of some drier air as well as wind shear. This is kryptonite for a tropical storm, and the most likely outcome is that Philippe will dissipate over the next day or two. By this weekend a remnant low should approach Puerto Rico, bringing some elevated rain chances. But I am not seeing anything in this forecast that particularly concerns me.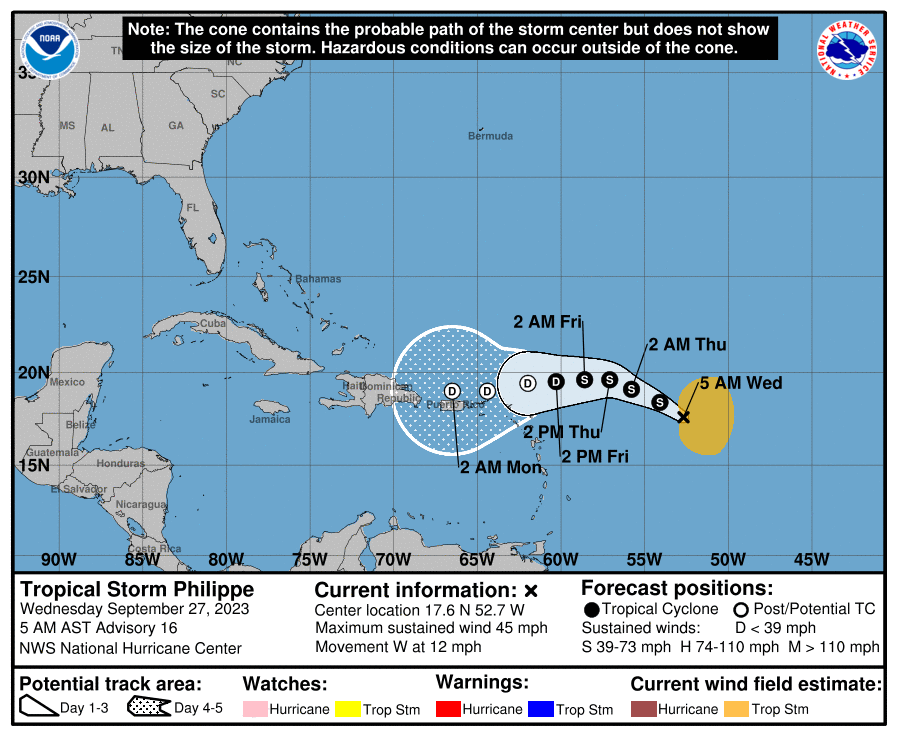 Just behind Philippe in the Atlantic lies Invest 91L, which should become the better organized system over the next couple of days. It probably will become Tropical Storm Rina fairly soon as it tracks across the Atlantic Ocean toward the Caribbean Sea. Fortunately, the preponderance of our modeling suggests that this tropical system will mostly likely turn north before reaching the northern Leeward Islands. The continued evolution of 91L will be worth watching, but again it is not something which provides us too much concern at this time.
The medium range (days 6 to 10): Bahamas high jinks
We're getting to the point of the forecast that is more speculative. However, after the remnants of Philippe move into Puerto Rico and Hispaniola, there may be an opportunity for some sort of low pressure system to congeal in or near the Bahamas about one week from today.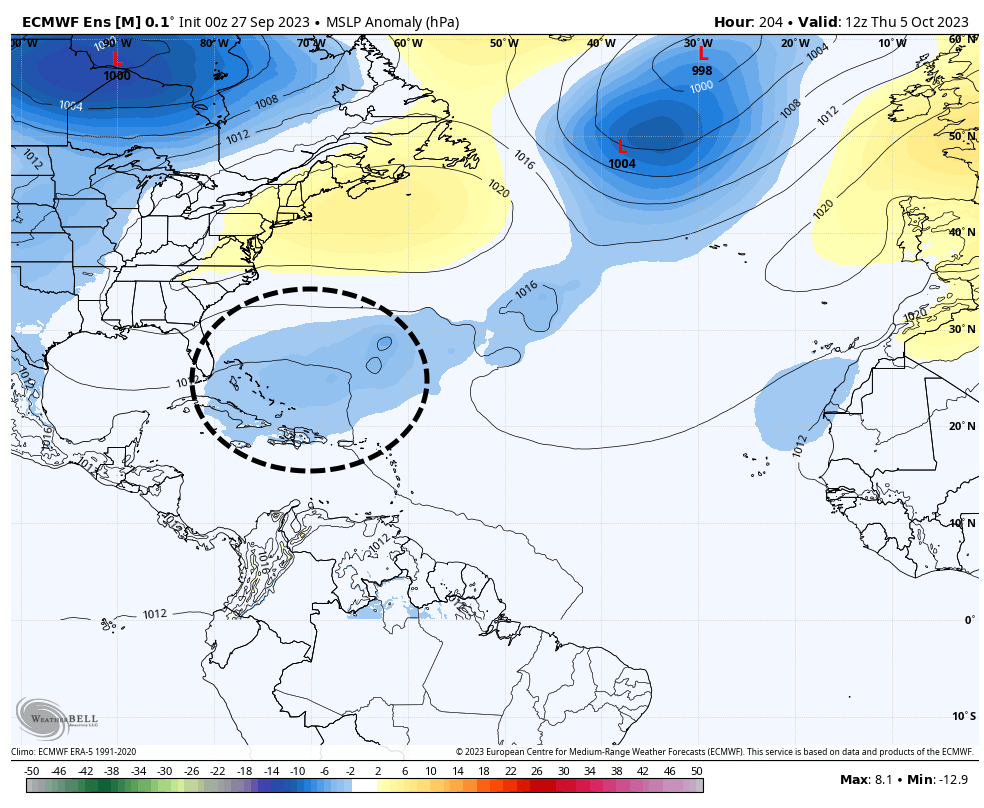 There is a definite signal in some of the global models ensembles for this scenario, and the ocean waters are plenty warm in this area. But the signal is not particularly strong, so I would not put too much stock in it. As we get to the end of September, this is the kind of thing we sometimes see in the tropics, with systems spinning up closer to land. If such a system were to develop it probably would get drawn north, perhaps toward Florida or the Eastern United States. But that is super speculative at this point.
Fantasyland (beyond day 10): Some noise, but not a whole lot
When we look even further into the future, well into the first week of October, there's just not a whole lot out there. We'll continue to watch the area near the Bahamas mentioned above, as well as the southeastern Gulf of Mexico for potential development. But again this is all pretty vague, and we can't point to any specific threat. In my book, that's a good thing.