One-sentence summary
As Gert and Katia fade away, the Atlantic will be left with one primary feature, Invest 95L, whose progress should be monitored closely this week in the Lesser Antilles and Puerto Rico.
Happening Now: Gert & Katia
The Atlantic map is now down to two named storms and one invest that may develop in the next few days.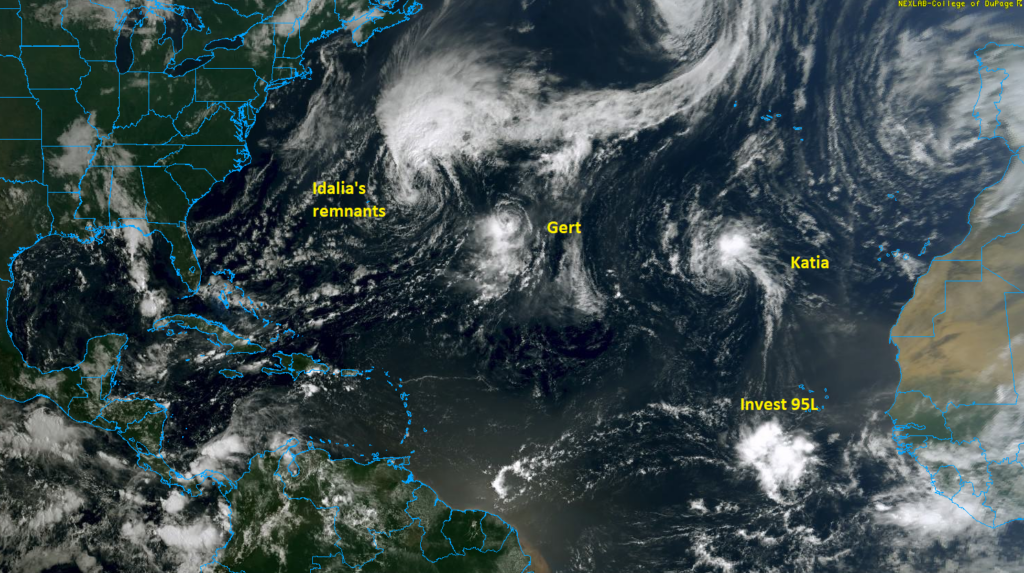 Idalia is no longer expected to regenerate into a tropical storm, however it is a fairly potent extratropical system. Rip currents remain high on East Coast beaches for the holiday weekend into tomorrow, so swimming caution is advised.
Tropical Storm Gert is expected to finally be absorbed into Idalia's remnant circulation tomorrow, finally ending its run. Well off to the east, in the middle of the eastern Atlantic, Tropical Storm Katia formed this weekend. It is expected to fizzle out basically in place over the next 2 to 4 days.
Invest 95L: A system to watch
While Invest 95L is not much to look at right now, other than a blob of cloudiness, modeling continues to suggest it will come west and west-northwest and gradually develop into a formal tropical entity this week. The challenge right now is trying to predict when and at what latitude that will happen, because that may have critical implications on the Leeward Islands, Virgin Islands, and Puerto Rico in time.
We can look at lots of modeling right now for track potential from Invest 95L, and we'll get a map that looks, broadly, like the one here: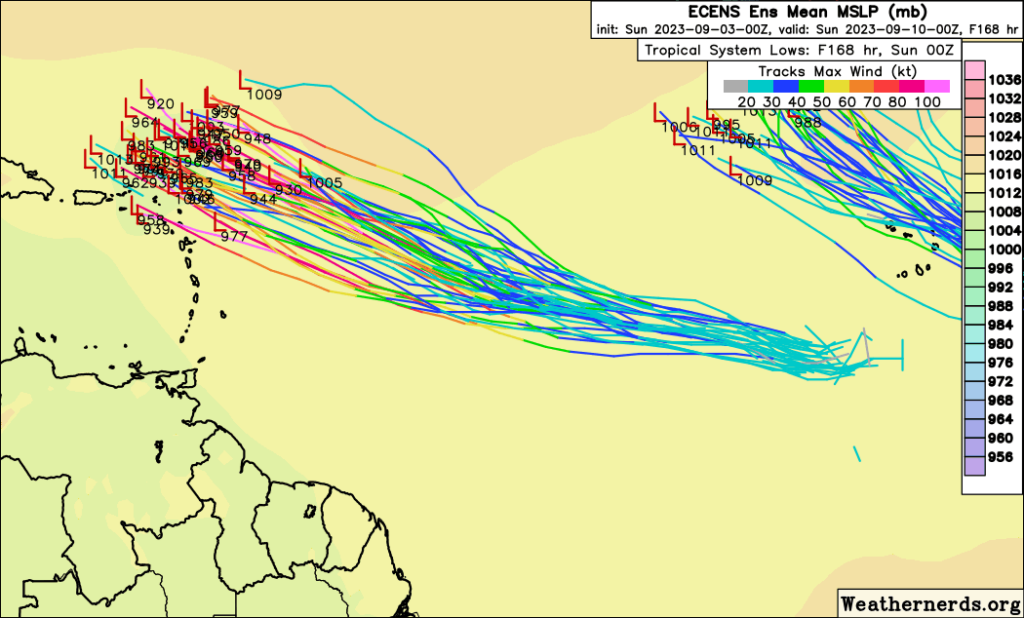 This shows about 90-95% of European ensemble members missing the islands to the north with a stronger system. Remember, the ensemble takes a model and runs it many times (in this case 51) to produce a "spread" of possible outcomes, giving us a more realistic picture of what may happen down the line.
Importantly, this track goes north in most cases because of a weaker ridge of high pressure over the Atlantic and a rapidly intensifying storm that would curve "into" the high as it erodes the southwest periphery.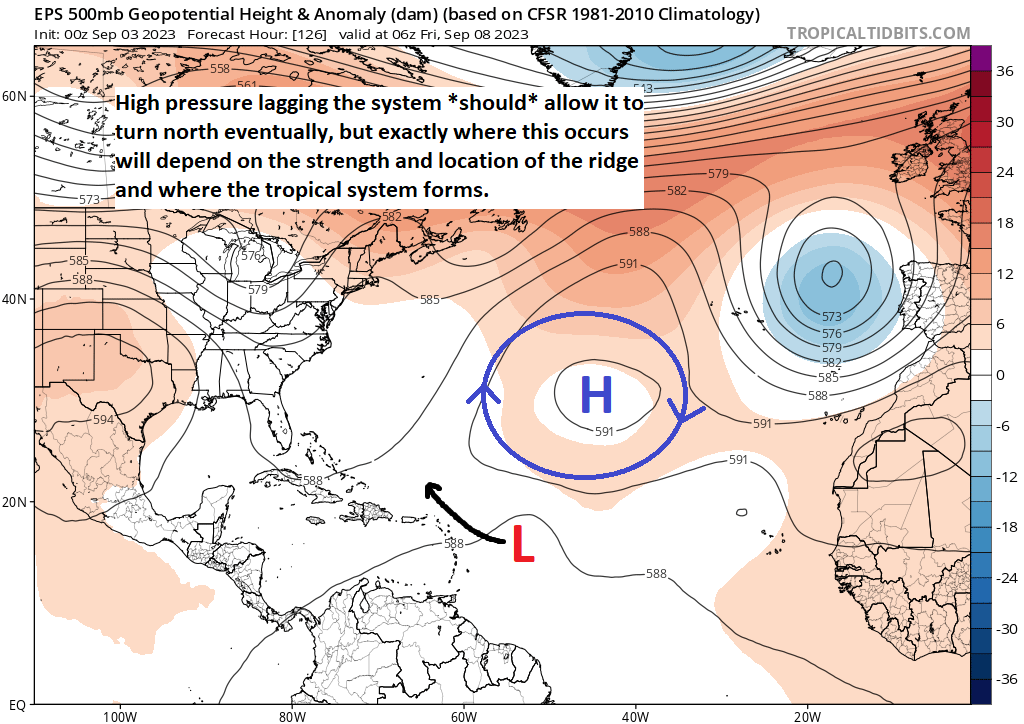 But here is the rub. If that high pressure area comes in stronger than forecast or a little more southwest of forecast, the exit door out to sea may (initially) be blocked or may not be as robust as it looks above. Or it could force the system to temporarily track more south of west for a short time. In that case, 95L would continue tracking much closer to the islands and a potential impact. In my own opinion, this setup is very, very precarious and needs to be watched closely because the models are generally in good agreement on the idea that this could become a relatively strong system. So interests in the Caribbean should be watching this very closely.
Assuming it does eventually recurve, interests in Bermuda may need to watch this one as well. We will keep you posted.
Elsewhere
Modeling has really, really quieted down elsewhere. The western Caribbean and Gulf look very quiet over the next 7 to 10 days with nothing really showing up even in fringe ensemble cases. We may see yet another Katia-type system in the Atlantic later this week, but that is TBD. Either way, it's not looking like a land impact system.
Basically, the only item to watch (closely) is Invest 95L and its progress this week.