One-sentence summary
While Tropical Storm Lee's ultimate future is unknown, it is likely to become a hurricane today, and it is still forecast to miss to the north of the islands with some modest fringe impacts there.
Tropical Storm Lee: 65 mph, moving WNW 14 mph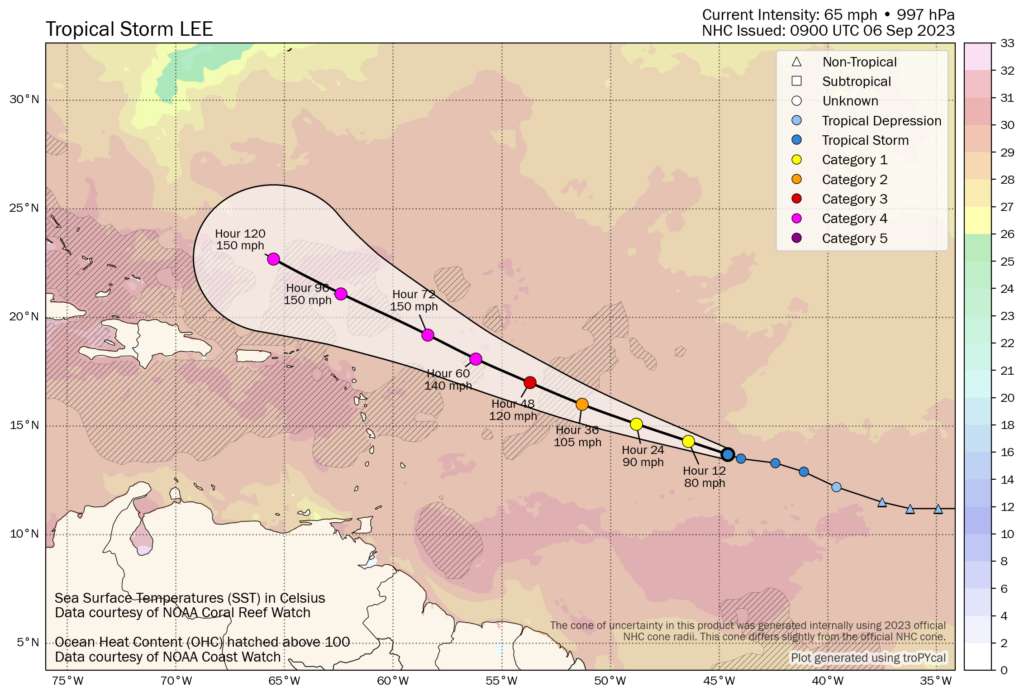 What's changed since yesterday?
Invest 95L became Tropical Depression 13 briefly, and then it became Tropical Storm Lee yesterday afternoon. It is organizing and tracking west-northwest. Confidence that it will miss a direct impact on the islands is increasing. Confidence on anything beyond there is low.
Lee's intensity
Lee is in a tremendously ideal environment for intensification. It has deep warm water, low shear, and plenty of moist air in the neighborhood for the next 5 or 6 days. Models have suggested since last week that this would go to the moon intensity-wise, and there's no reason to doubt that today. The NHC forecast for Lee was one of its most aggressive on record, taking it to a category 4 storm by Sunday or Monday, something they will not commit to without confidence.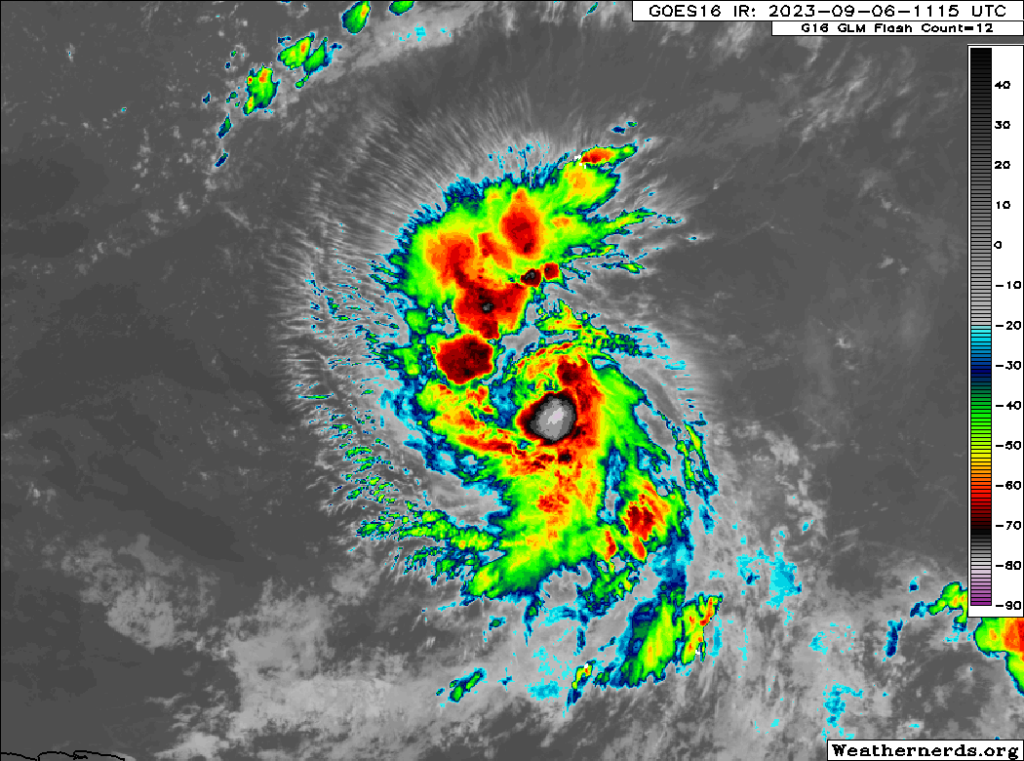 Once Lee manages category 4 or 5 intensity by Friday or Saturday, it will likely fluctuate in intensity up and down for a few days, probably remaining a major, if not Cat 4-5 storm much of the time. Heading into next week, the question will become where Lee tracks relative to the cold wake in the Atlantic from upwelled water left behind by Hurricanes Franklin and Idalia.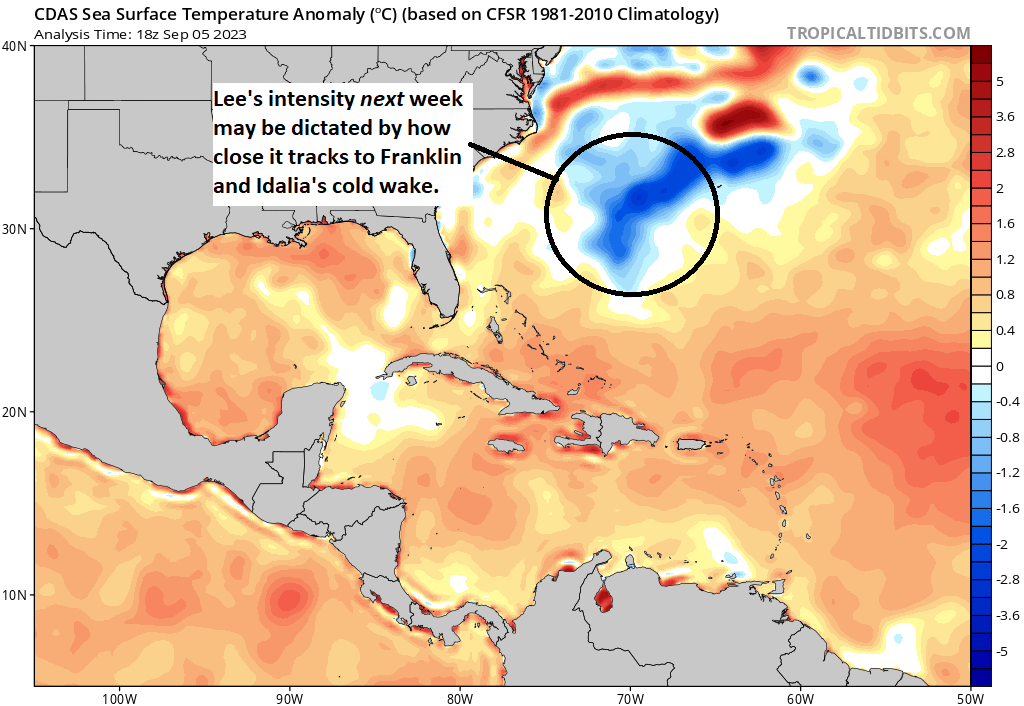 So, for now, expect a pretty impressive hurricane into early next week, followed up by some potential significant fluctuations in intensity as it comes northwest.
So where is Lee headed?
We have about 5 hurdles with respect to Lee's track over the next 10 days or so. First, Puerto Rico and the Leeward Islands. Second, the Turks and Caicos and southeast Bahamas. Third, Bermuda. Fourth, the US coast, and lastly the Canadian Maritimes.
First, with respect to Puerto Rico and the islands, Lee is expected to pass to the north, comfortably enough to avoid significant impacts but definitely close enough to keep watch and expect fringe impacts (a few outer bands with gusty winds, rough surf, rip currents, etc.). So if you're in Puerto Rico or the Virgin Islands, stay tuned and keep watch, but you are almost at the point of being able to exhale.
Beyond that, it remains to be seen what happens. Lee will be steered around the periphery of high pressure over the Atlantic. This should ensure it gets to a point northeast of the Bahamas early next week. From there, the players on the field become more difficult to assess. How strong is the high? Does it collapse, weakening steering currents? If it doesn't collapse, where is it centered? Will the trough over the Great Lakes be strong enough to try to "capture" Lee and draw it more toward the East Coast? If Lee splits the gap between Bermuda and the Carolinas, will New England or the Maritimes be in the way on its way out? Will Lee be strong enough to just barge north toward Bermuda anyway? How much of a role will the cooler water out there play in Lee's intensity? The map below shows the situation on Sunday evening.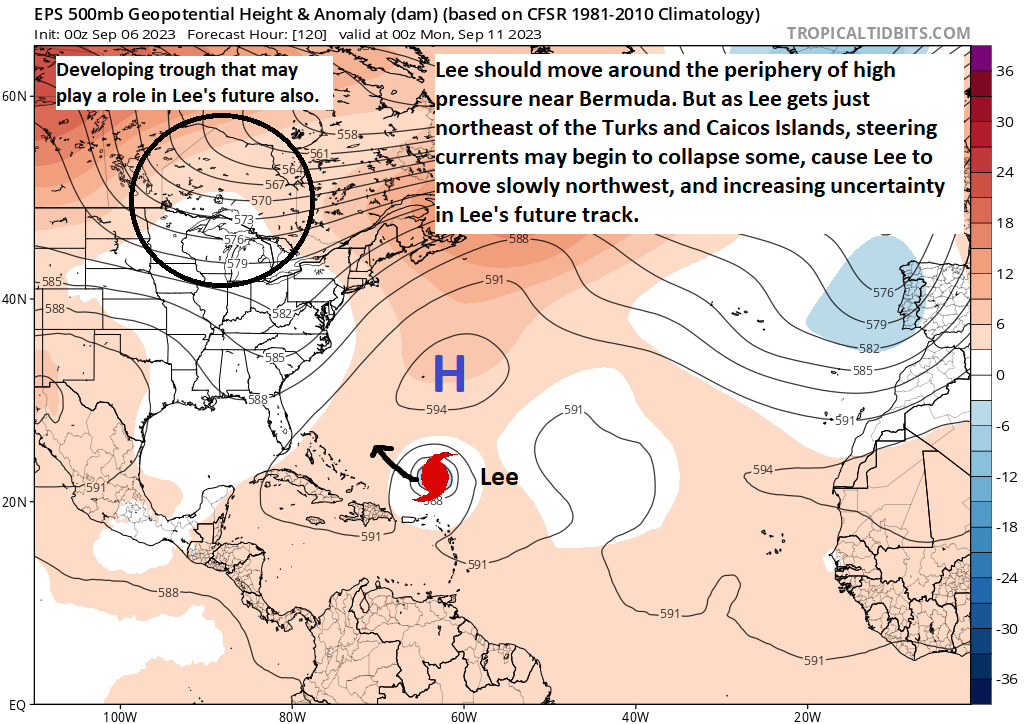 There will be some people out there speaking with conviction about the future of Lee, and if so, you can tune them right out. Every question I just rhetorically asked has no answer yet. None. I personally think Lee will split the gap between Bermuda and the Carolinas and then hook out to sea, but I see a path where the trough digging in from the Lakes could try to draw it back west, especially if it's weakened some by the cooler water west of Bermuda. I see how it could hit Bermuda directly or pass very close. I see a path where it misses Bermuda and the US but runs into Atlantic Canada. What I don't have is confidence in any of those outcomes right now. There are too many "known unknowns" for confidence. I realize this answer won't generate a lot of excitement, but this is exactly why we're here…to provide sober, steady analysis of significant storms. Welcome to The Eyewall!
Anyway, let's keep tabs on this over the next few days, and we'll monitor the progress of the features that will steer Lee in the future. One thing I can say with confidence? Expect more rough surf and rip currents on the East Coast next week.
Beyond Lee
We recycled into Invest 96L yesterday, which is a very robust tropical wave just off the coast of Africa. That has a decent chance to become either Tropical Depression 14 or Tropical Storm Margot in the coming days. It is unlikely to threaten land other than some initial heavy rainfall in the Cabo Verde Islands.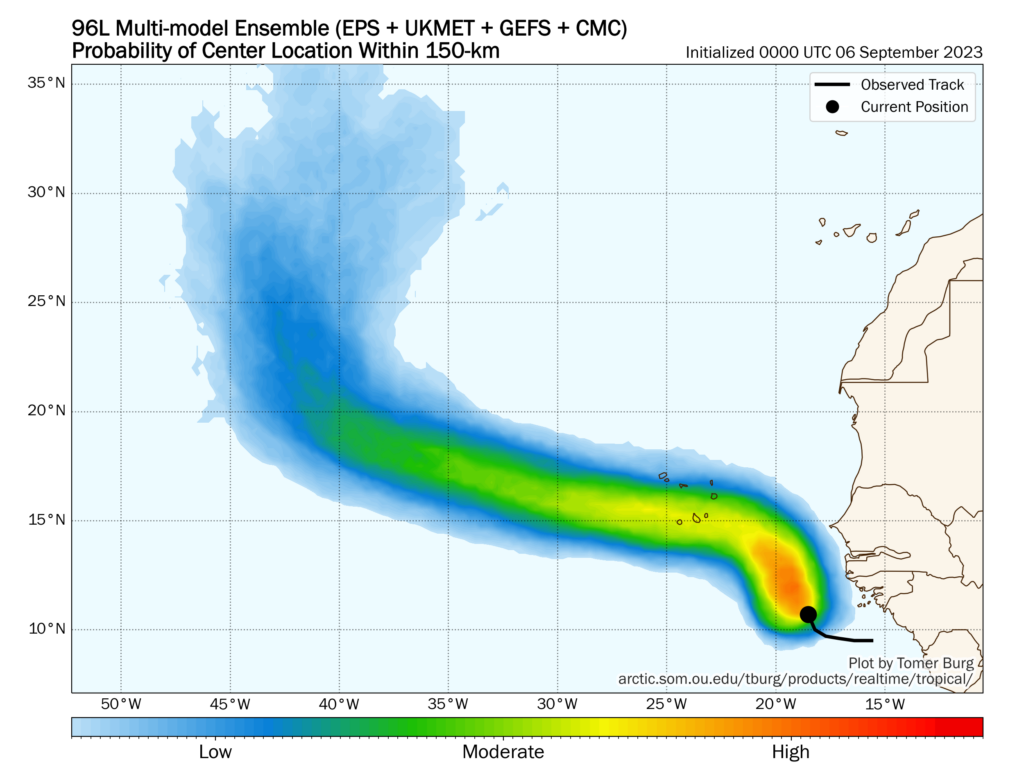 After we get past 96L, there is a minimal chance of additional development in the Atlantic next week. The Gulf looks closed off, as does the western Caribbean, loaded with shear. The overall background state of the basin should be hostile to tropical development into next week. We may flip back to a more lively pattern again in the final 10 days of the month. We'll see!