One-sentence summary
Hurricane Lee is intensifying east of the Caribbean Islands, and it will likely become a category 4 or 5 storm this weekend before tracking northeast of the Bahamas and slowing down some, increasing uncertainty as to where it will ultimately track next week.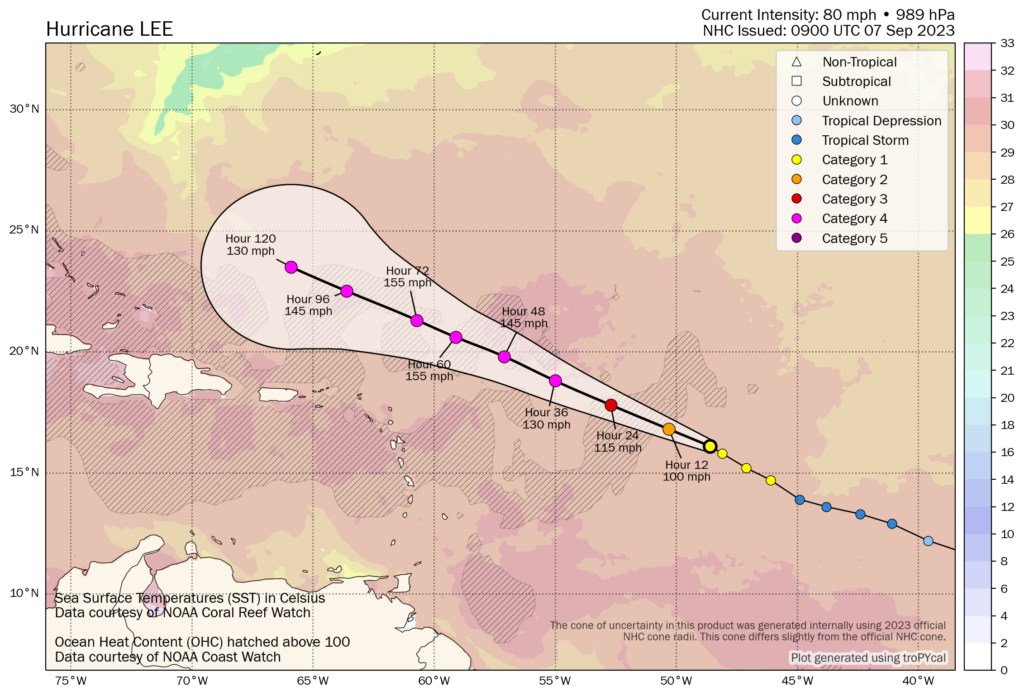 Hurricane Lee: 80 mph, moving WNW 13 mph
What's changed since Wednesday?
Lee is now a hurricane and likely beginning its rapid intensification process. The forecast track remains highly uncertain beyond the weekend.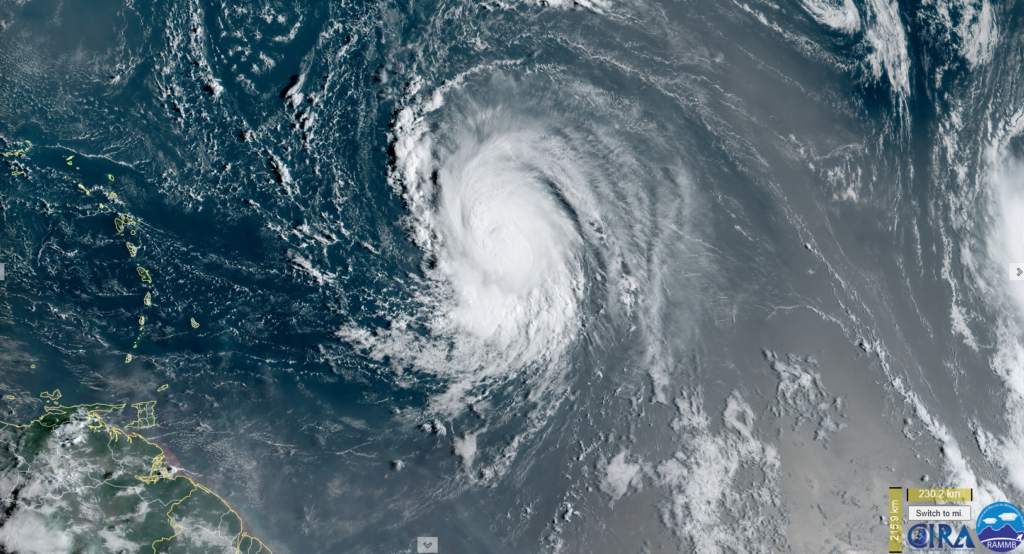 Lee's intensity outlook
Hurricane Lee should be in an environment conducive to steady, if not rapid intensification over the next couple days. We're likely to see this become a category 4, if not a category 5 storm. Once it gets there, it will hold, with some fluctuations for a few days. Storms that achieve category 5 intensity usually do not stay there for more than a day or so, as the storm becomes vulnerable to eyewall replacement cycles which weaken winds but expand the radius of strong winds. Other factors like shear and forward speed can impact storms more when they reach top-end intensity. It is going to remain a powerful hurricane for awhile, but its peak intensity may be (relatively) brief.
Once Lee comes farther west and begins to turn more northward, it will likely encounter more unstable water temperatures as well. It could be dealing with remnant cooler water churned up by Hurricanes Franklin and Idalia. It may also slow down for a time to a point where it churns up cooler water itself that could lead to some "self-destructive behavior" (insert your own jokes here). Just to be clear, I'm not trying to downplay it, quite the contrary. Folks should know that you are going to observe these fluctuations in intensity, and that is absolutely normal, expected behavior for powerful hurricanes that should not lead to dismissing it as a "bust" or to qualify it as "weaker." Despite lower top-end wind speed, the storm will probably grow in physical size some as it figures out where it's going next week.
Lee's track
I really can't emphasize enough that there are so many factors that will dictate Lee's ultimate track. Each one of these factors will matter daily next week. Imagine trying to forecast for five completely disparate locations 6 to 7 days in advance and nailing every aspect of that forecast perfectly. You probably can't. I've done this for almost 20 years now, and I know I can't. Because to unlock the key to Lee's end game, you have to basically do just that.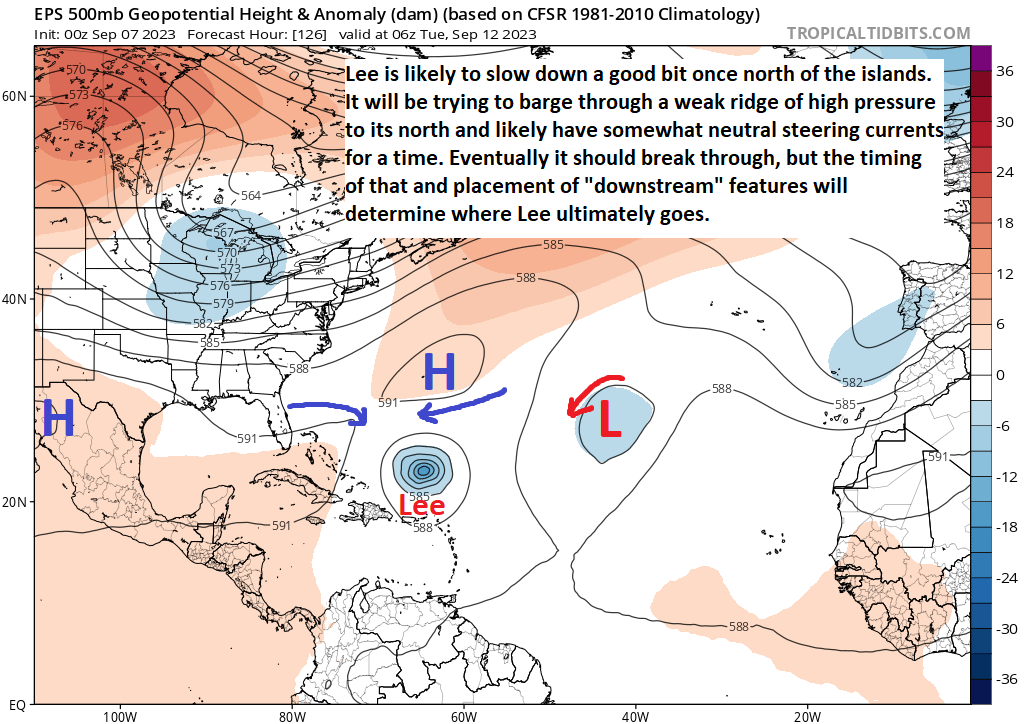 So the map above shows you what's happening around 20,000 feet up on Monday night. Lee at this point is north of the Caribbean islands and east of the Turks and Caicos Islands. High pressure to the north of Lee should weaken enough to allow Lee to barge through and start coming northwest or north. Additionally, Invest 96L may play some role (the "L" on the map above) in determining the orientation of things to the east of Lee. One of the big issues will be exactly what things look like when that turn happens. Where does that happen and when does that happen, and what will the trough (blue area) over the Great Lakes look like when that occurs. Because ultimately, that trough is going to have a say in Lee's trajectory, and that could determine if Lee tracks close enough to the East Coast to cause impacts. Additionally, high pressure over Atlantic Canada (which has strengthened some in forecasts since yesterday) may also play a key role. In other words, we're still at a loss as to Lee's future simply because there are too many players out there trying to influence Lee's movement and trying to precisely place them 5 to 7 days out is difficult. That placement matters a lot.
So, folks on the East Coast should continue to monitor Lee. Bermuda and the Canadian Maritime provinces should continue to monitor Lee. And, yes, the Turks and Caicos and Bahamas should as well. This is a tricky, delicately balanced situation and hopefully some consensus will emerge in the coming days.
Elsewhere
As noted above, Invest 96L is still out there and going to make a go for development into the weekend. It will not threaten land, but it will be part of Lee's answer key. The next name on the list is Margot. Besides that, I don't see much else over the next week or so of note.
Pacific Hurricane Jova
Quick note because I have a minute. Here is Hurricane Jova.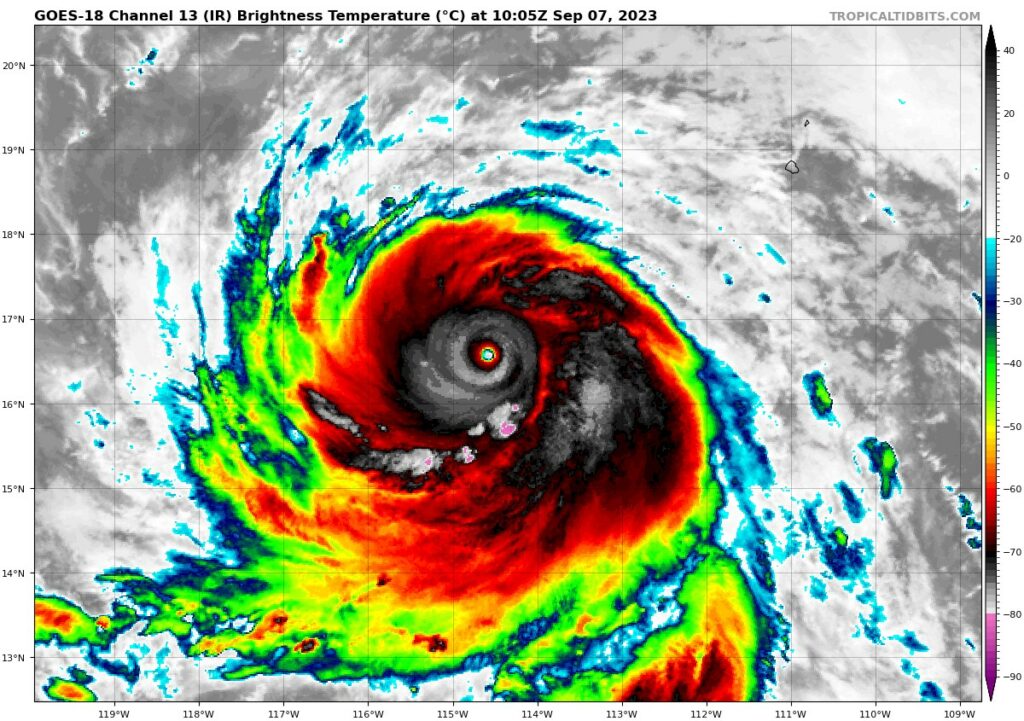 Jova is a beastly storm thankfully in the open waters of the East Pacific. It will not threaten the U.S. or Mexico. But I point it out because it has 160 mph winds and is a category 5 storm after rapidly, furiously intensifying. Storms this large can influence some things around it, so there's probably some inherent forecast uncertainty to the west of Lee thanks in part to this storm. Aside from that, category five storms are a heck of a thing to observe in real-time. Glad it's over the open ocean.