One-sentence summary
Tropical Depression 10 continues to slowly organize off the Yucatan, and it continues to look to come north as a hurricane, impacting somewhere in Florida by Tuesday night.
Tropical Depression 10 Tropical Storm Idalia
Editor's Note: Tropical Depression 10 was upgraded to Tropical Storm Idalia immediately after pressing "Publish." While the content is unchanged, "TD 10" should now be referred to as Idalia.
One look at TD 10 this morning on satellite allows for two thoughts for me as a meteorologist. First, where is the center? Second, that's a *lot* of thunderstorms.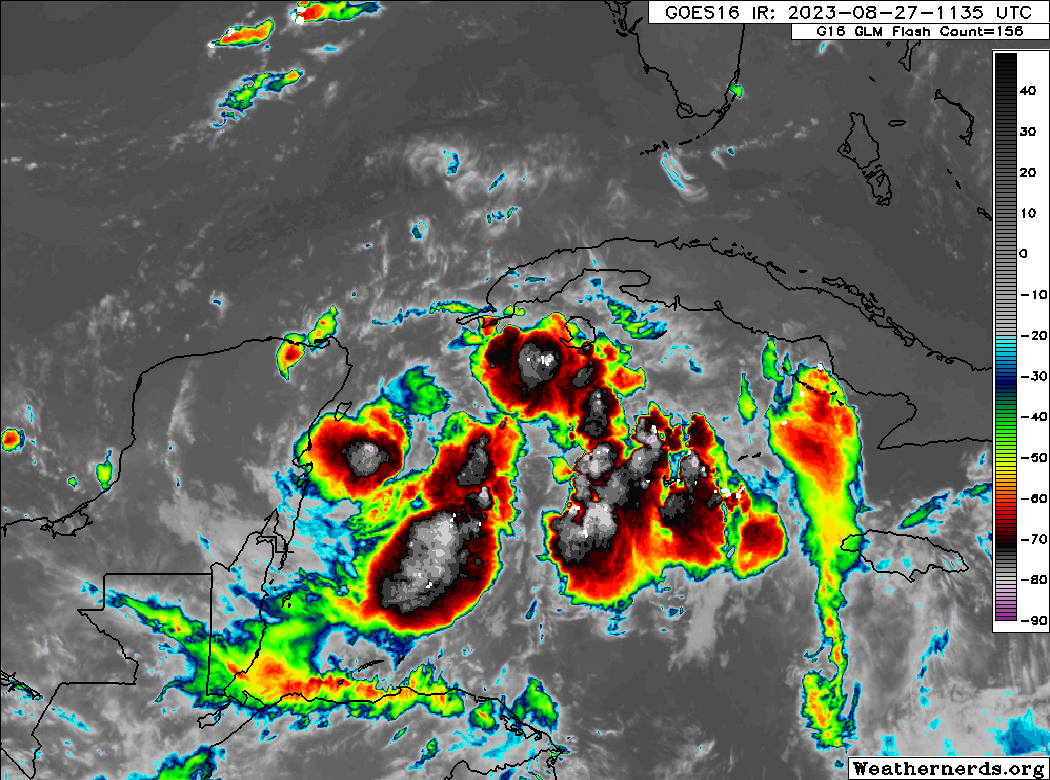 In terms of the first point, the center seems to be located near Cozumel. The NHC just placed the center about 75 miles ESE of Cozumel. It's been doing a bit of a loop, but it remains in tact at least. TD 10 is expected to drift north over the next 24 hours, slowly organizing as it does so. We could have a tropical storm by later today or tomorrow.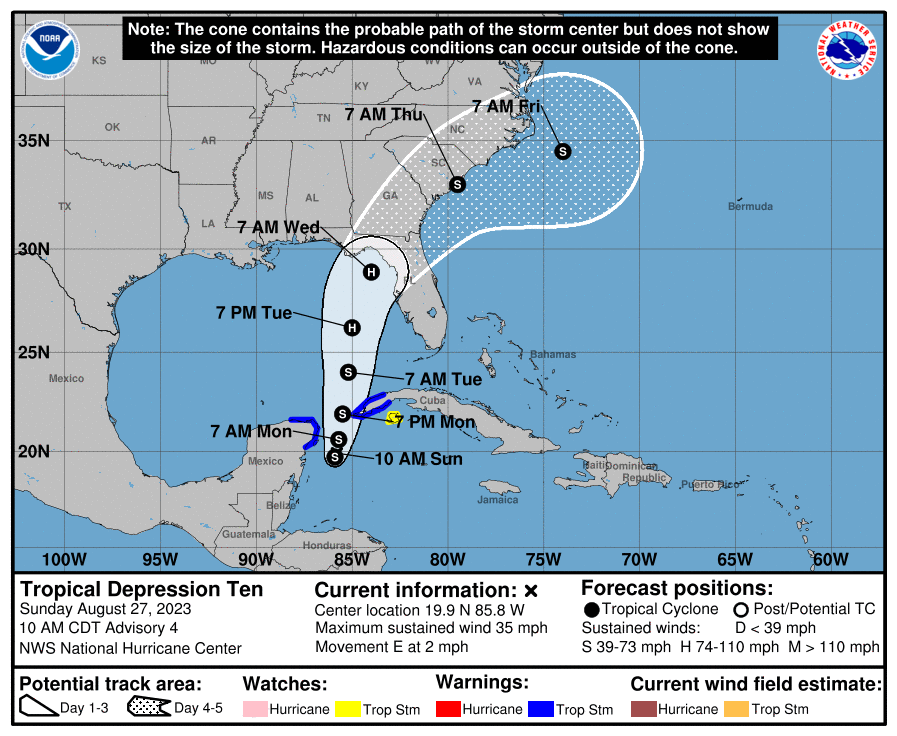 Thereafter, steering currents should direct this north/north-northeast toward the Florida coast. There are two important changes today in terms of track outlook that may not be obvious from the NHC outlook. First, the organization of TD 10 is still an issue. Until this thing can really wrap up and get going, there is some risk that the center tries to "reach" for the thunderstorms, which is to say, it's entirely possible the center relocates at some point today. Second, model consensus on TD 10's future track has shifted a little to the right (or east) since yesterday. This keeps the west coast, especially north of Tampa along the Nature Coast in play, as well as the Big Bend and Panhandle. Basically, everyone from about Destin to Sarasota should continue monitoring TD 10's progress closely.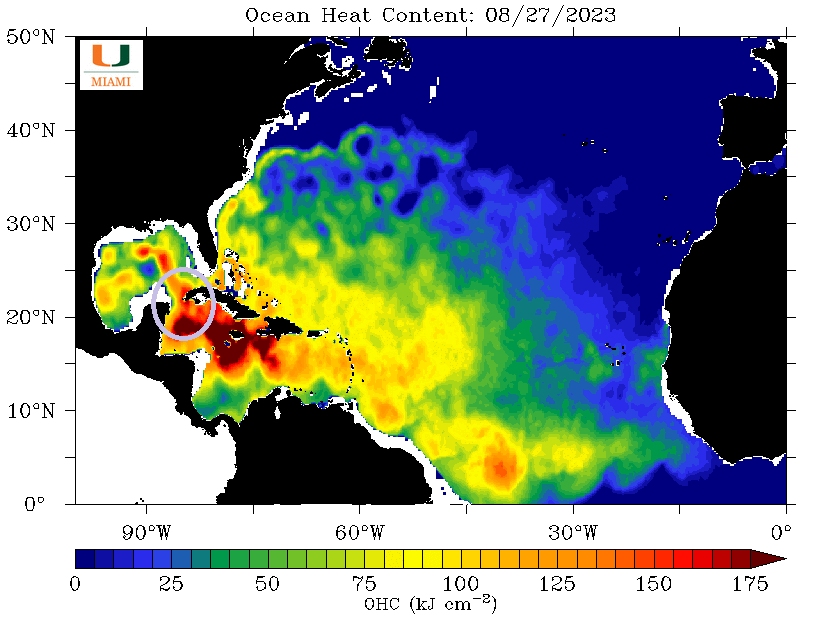 The reason you may be hearing a lot about TD 10 and its future is because of where it's located. It's over deep, rich warm water, an untapped resource it can probably tap into as it organizes. If and when that happens, TD 10 could quickly go from funky to formidable. And it remains likely that portions of the Florida coast will be dealing with hurricane impacts by Tuesday night. The NHC forecast brings maximum winds to 90 mph as TD 10 (then Idalia) comes ashore. It's possible it could be stronger than that. In addition to wind, storm surge will probably be an issue as well as this storm comes ashore. The West Coast of Florida will need to watch this, as well as the Big Bend area, where surge could be maximized depending on the exact track of the storm.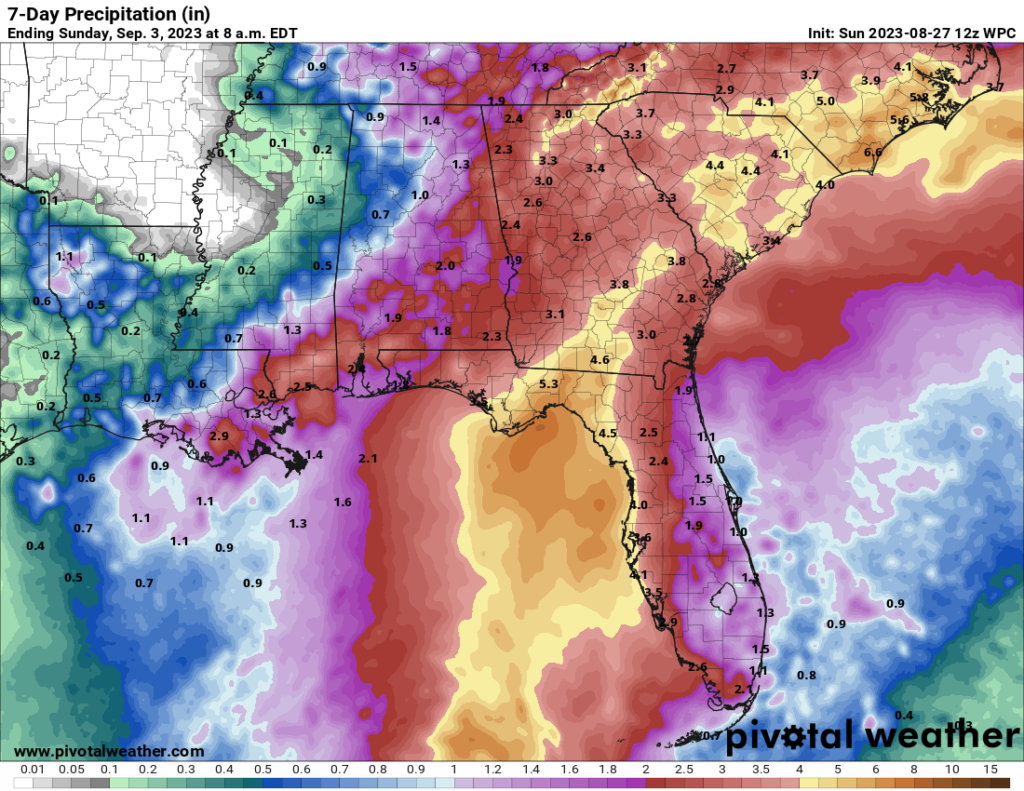 In addition to wind and surge, there is always the rainfall. A general 3 to 6 inches is likely along TD 10's track as it comes north. Areas to the east of the track may also see some enhanced rain. Higher amounts are likely in spots and the potential for inland freshwater flooding is possible for Florida into Georgia and the Carolinas.
Bottom line on TD 10:
Gradual organization is expected today and tomorrow, leading to a hurricane impact by Tuesday night somewhere on the west coast or Panhandle of Florida.
Rapid intensification is possible as TD 10 enters the Yucatan Channel or Gulf.
Storm surge flooding will likely be an issue on Florida's west coast or in the Big Bend area.
Specific track details still need to be ironed out.
Heavy rainfall from TD 10 will lead to localized flooding concerns from Florida and Georgia through the Carolinas.
Our next update on TD 10 will be Monday morning, unless things change or become sharply clearer later today.
Hurricane Franklin
Meanwhile, in the Atlantic, Franklin had become a bit of a curiosity and afterthought yesterday as it looked to pass west of Bermuda as a hurricane. That has since changed some.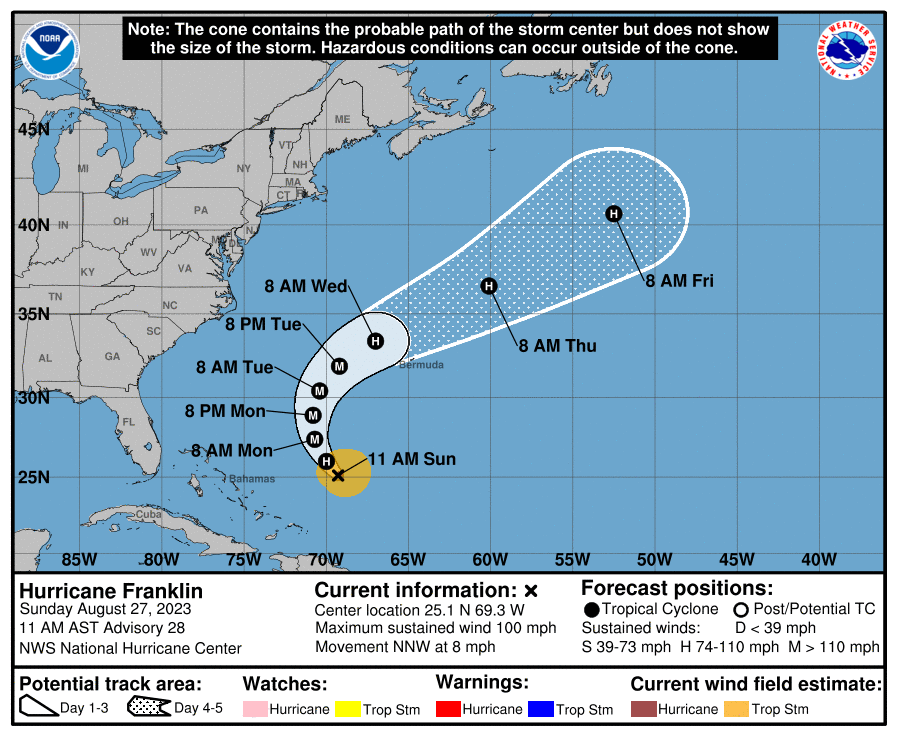 While Franklin should still miss Bermuda comfortably to the northwest, it may be large enough to produce fringe impacts on the island, including gusty winds and heavy rain, in addition to rough surf, rip tides, and beach erosion (something we may also see on the U.S. East Coast later this week). Franklin is forecast to peak in intensity before passing Bermuda, but still a decent, large-sized hurricane passing 100 to 150 miles away is capable of producing some impacts. Folks in Bermuda will want to monitor Franklin's progress closely. For Newfoundland, this should mean fewer impacts ultimately.