Happy Friday! Congratulations, we made it through the week without a named storm. Let's do it again next week. There's not a lot new to add forecast-wise today, so we'll keep it brief and then tie together all the threads of our seasonal outlook below. Next week, we'll touch on dust, and look for a bit of a longer-form piece on the spate of recent major hurricanes in the Gulf of Mexico and what it does or does not tell us about the future. A lot of effort went into that and I think it's important to understand, so I hope you'll check it out next week.
Meanwhile, be sure to give our social feeds a follow on the right (or bottom on mobile) and spread the word to your family and friends on the East Coast, Gulf Coast, Atlantic Canada, Caribbean, or Central America!
One-sentence summary
No tropical development is expected over the next seven to ten days.
Happening now: All's quiet
Take a quick peak at the satellite image across the Atlantic basin, and while it's definitely not quiet, there is nothing of note anywhere out there, as you expect in June.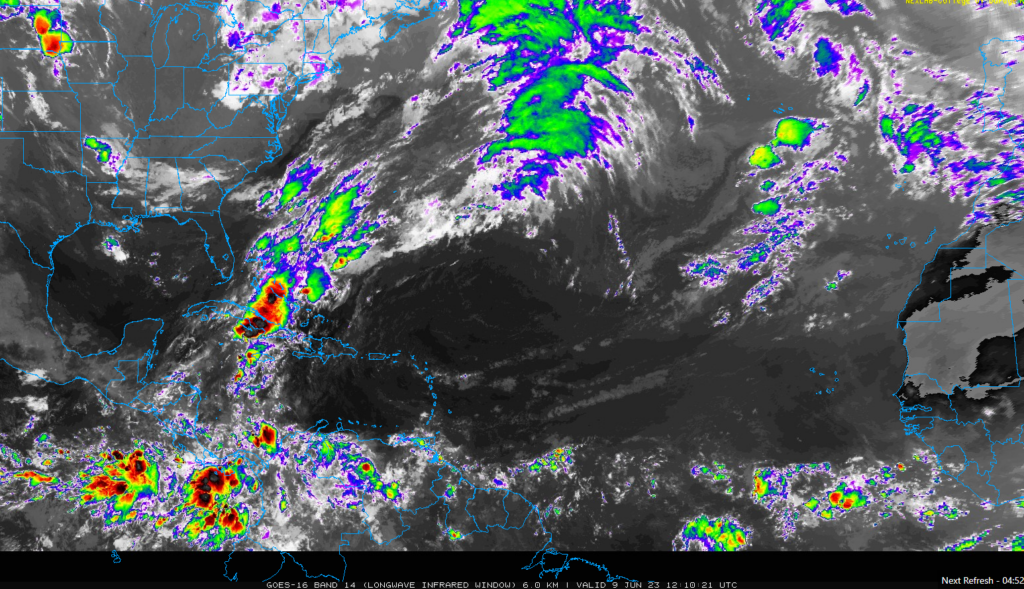 The medium range (days 6-10): Still nothing
We continue to watch for activity to get a little more interesting late, but through day 10 at least, there's nothing to really speak of out there.
Fantasyland (beyond day 10): No change in thinking
We explained yesterday in some detail why we did not believe the operational GFS model. We continue to hold those truths to be self-evident today.
Tying together the seasonal outlook: "Average" is the path of least resistance
On Tuesday we talked about the various seasonal forecasts from different government, private sector, and academic institutions. On Wednesday we noted how El Niño makes a convincing case for a quieter hurricane season. But yesterday we noted how the Atlantic Ocean was in a condition that typically correlates with very active seasons.
So what do we make of all this?
Well, yesterday, NOAA declared that we're officially in an El Niño now. This gives us a bit of confidence that we're going to maintain at least a weak, if not a moderate El Niño (or stronger) through the peak of hurricane season. The wind shear imparted on the Atlantic by El Niño is a tough barrier to get past. It would be difficult to expect an active hurricane season given El Niño. But given the setup in the Atlantic, it seems difficult to expect this season to behave quite as quietly as past El Niño seasons. One need only look at the European model forecast for the season to see this.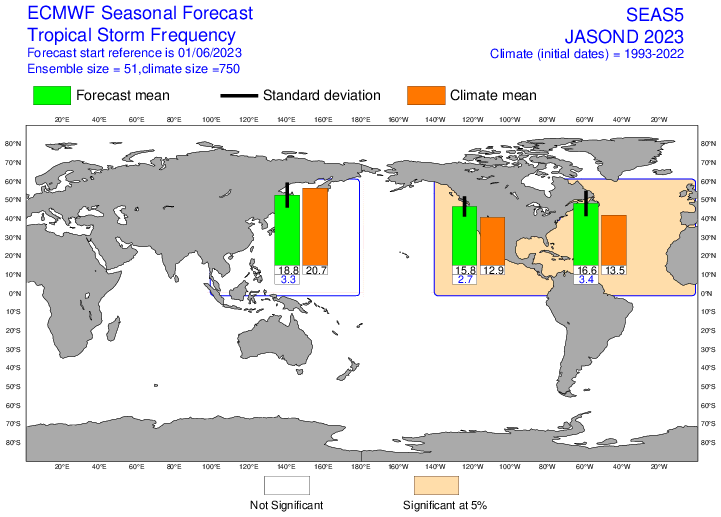 It calls for an above average hurricane season. It says, to heck with El Niño, the Atlantic is blazing, let's rev it up! I think it's notable to look back to last year in June, however. The ECMWF was also calling for a very active season (as were most of us), and that did not materialize. Last year was "average" statistically.
So given all this, I call forecasting an average season the path of least resistance. What I ultimately think could happen is that the Caribbean struggles due to shear, the eastern Atlantic is very busy, and the most concerning items this season will be systems close to home that form when wind shear relaxes some, possibly off the Southeast and in the Gulf. I believe it will be tough to relax shear enough this season to produce the ultra high-end storms we've seen in recent years, but that's completely speculative on my part. We've also seen some instances in recent years where shear has actually helped some storms along, depending on where exactly it was placed. So never say never.
Back on Tuesday I said that the consensus forecast (16 storms, 7 hurricanes, 3 major hurricanes) was as good a forecast as you could offer right now. I stand by that, with perhaps slightly higher odds for a little under those hurricane/major hurricane numbers.
As always, prepare for the season the same way you would if we told you it was be insanely active, which is to say: Know your zone, have a plan, build a kit.
Enjoy the weekend. We'll be back with you again Monday!